Searching for AIP snacks when on the autoimmune protocol diet can be daunting. In particular, packaged snacks usually have at least a couple of non-compliant ingredients (if not many). Boo!
This can make an already restrictive diet even more frustrating. Luckily, there tons of easy AIP snack recipes and healthy AIP store-bought snacks out there. 
If you have an autoimmune condition and you're following an AIP diet, snacks can be vital for helping you to get through the day. Keeping your favorite snacks around the house takes a little planning but will make your AIP journey much smoother.
It's also crucial to have easy snacks with you when you're away from home. Whether you're at school, work, traveling, camping, or just on the go, these AIP snack ideas should help to keep you on track.
If you're looking for handy AIP packaged snacks or some quick and easy AIP recipes you can make, you will find both here. In addition, I'll offer a few snacking tips as well as the best places to find AIP snack foods. All of the ideas listed in this post are elimination phase compliant. 
To learn more about the paleo autoimmune protocol, check out the Beginner's Guide to AIP. For more info on AIP pantry items, check out AIP Pantry Staples and What to Do with Them.
If you'd like additional ideas on AIP foods, check out 73+ AIP Comfort Food Substitutes.
Best Places to find AIP Packaged Snacks
Fully Healthy
Fully Healthy is an amazing resource for finding some of the best AIP products out there. It takes a lot of the stress and headache out of AIP food shopping because they have foods labeled by stages of AIP reintroductions.
This way, you know that you're staying compliant whether doing the elimination phase or working through reintroductions.
In general, they're a cool place to find a lot of unique AIP snack foods that you may not have previously heard about.
Amazon
I certainly seek Amazon out pretty regularly when it comes to special AIP baking flours and snacks that I can't find at my grocery store. 
You gotta love Amazon Prime and super fast free shipping. If you don't have Prime yet, you can try it free for 30 days here.
Thrive Market
Thrive Market is another great resource for accessing AIP-friendly snacks online. If you can't find certain items at your local store OR if you can find them locally but they're expensive, Thrive Market is a great place to check out. 
Costco and Sam's Club
I've been able to find quite a few AIP snack foods in bulk at both of these stores. Costco is my favorite but I'm currently closest to Sam's Club.
If you have a membership to either one, keep your eyes open for deals! Need a shopping list? Check out my Costco AIP Shopping List and Sam's Club AIP Shopping List.
Your Grocery Store
Keep an eye out for AIP snacks at your regular grocery store. Aside from the obvious fresh produce, many grocery stores have specialty snack items that are compliant.
What I'm trying to say is don't underestimate your local store and don't forget to explore! Sometimes I find the best AIP snacks at my Kroger and Walmart!
Confused about what to buy? Check out my many store-specific AIP shopping lists. The Trader Joe's AIP shopping list has been the most popular by far.
Farmer's Market
I love scouting out the farmers' market whenever possible to find unique products to incorporate into snacks and meals. This is a great way to keep things fresh and exciting, allowing you to focus on all the wonderful things you can eat vs. can't. 
Paleo on the Go
Paleo on the Go primarily sells ready-made AIP meals but they also carry a few quick snack items like Bone Broth, Apple Cinnamon Paleo Tarts, Empanadas, and Carrot Cake Muffins. 
Sweet Apricity
Sweet Apricity sells awesome AIP treats like caramels, marshmallows, and caramel sauce which is great for an occasional fun sweet snack.
Sweet Potato Awesome
Sweet Potato Awesome's chips and fries are made with organic sweet potatoes. They make the perfect tasty snack. You can choose from a variety of flavors including Cinnamon, Dill and Garlic, and Sea Salt. Their AIP Super Sampler Pack is a fun way to try them out. 
Best Places to Find Simple Snack Recipes
Aside from the obvious Pinterest, here a few other cool places to find AIP friendly snack recipes:
Firstly, this a very active and fun group of more than 95k members. Secondly, there are tons of great ideas, recipes, and questions to keep you busy for hours.
If you're looking for something specific, you can just use the search function to find it. For example, if you searched "snacks," you'd find several lengthy discussions with everyone offering their favorite go-to AIP snack recipes and tips.
This is a meal planning app/service that provides easy AIP snack recipes and meal recipes in a very organized fashion. Additionally, you can add recipes from around the web and it'll incorporate them into your meal plan and shopping list.
Certainly, it's much easier and faster than doing it all manually. It does cost a little bit of money but it's handy and they do offer a 10-day money-back guarantee. I did an extensive review about it here if you'd like to learn more about it.
Fruit and Veggie Snacks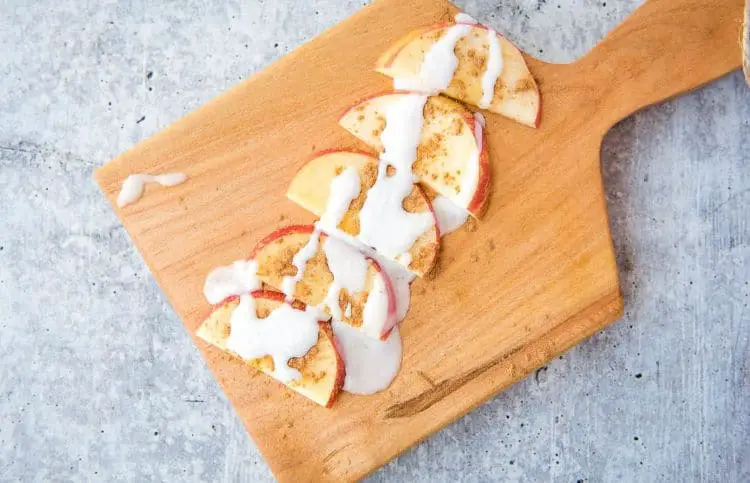 Paleo AIP Cinnamon Apple Snack, Thriving on Paleo
Cinnamon Apple Snack (Thriving on Paleo)- This simple snack is an easy way to satisfy a sweet craving. It utilizes coconut butter as a healthy fat to balance things out.
Baked Apples, Nyssa's Kitchen
Carrot Sticks or Celery Sticks with AIP Ranch Dressing
Carrot Fries, Parsnip Fries, Jicama Fries, or Sweet Potato Fries
Sweet and Savory Fried Plantains, Fed and Fulfilled
Bacon-Wrapped Pears, A Squirrel in the Kitchen
Cinnamon Crispy Date Bites, Lichen Paleo Loving AIP
Dried Fruits: Figs- Be sure to choose unsulfred with no added sugar.), Dried Dates, Dried Apricots
Whole Avocado
Fresh Fruit
Applesauce Cups- Be sure to choose a product without added sugar or "natural flavors" which tend to be dicey ingredients when it comes to AIP. Ascorbic acid may or may not be ok depending on its source as it is often sourced from corn. Thus, I find it easier to just find a product without ascorbic acid.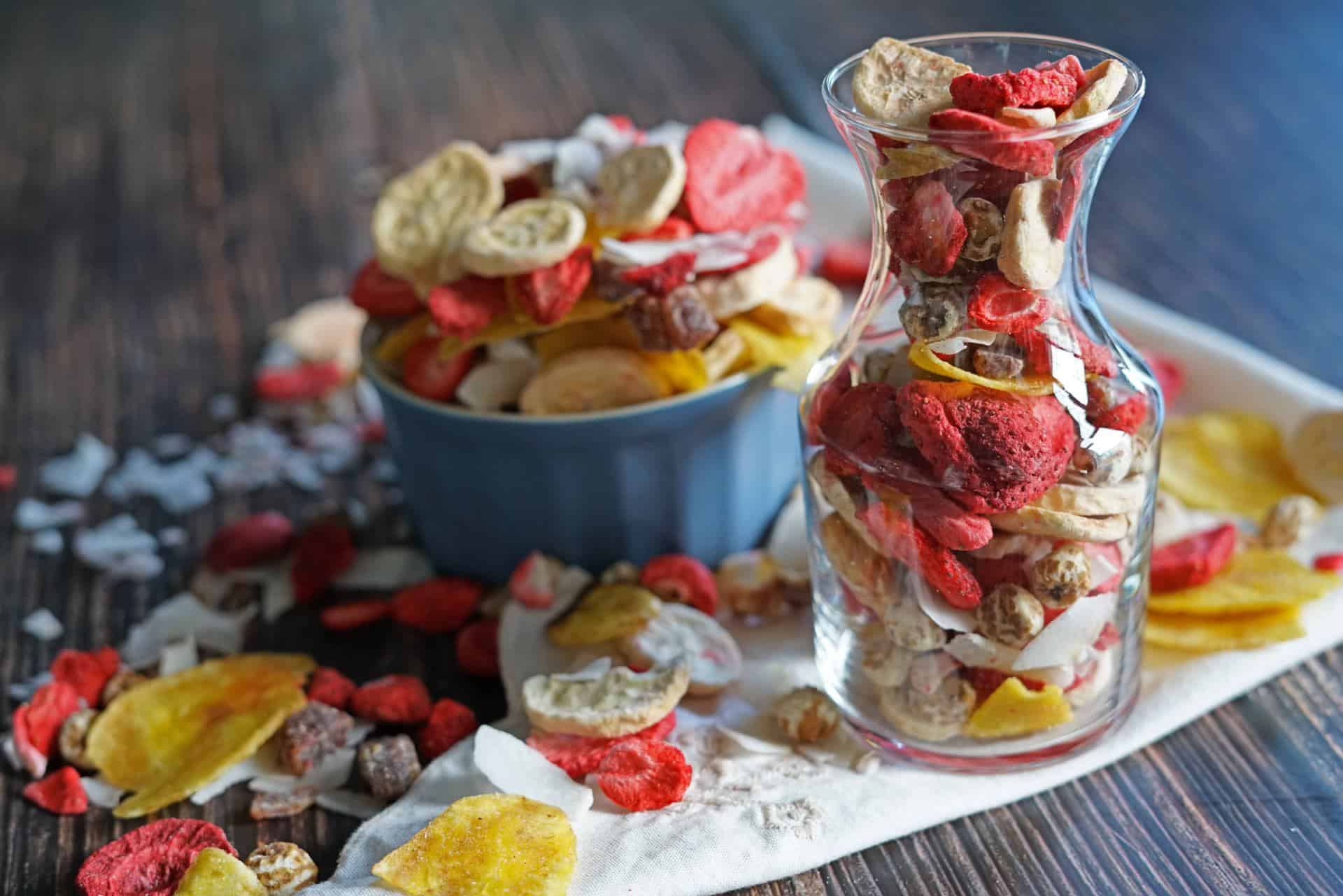 AIP Trail Mix, Food Courage
Soup
Drinks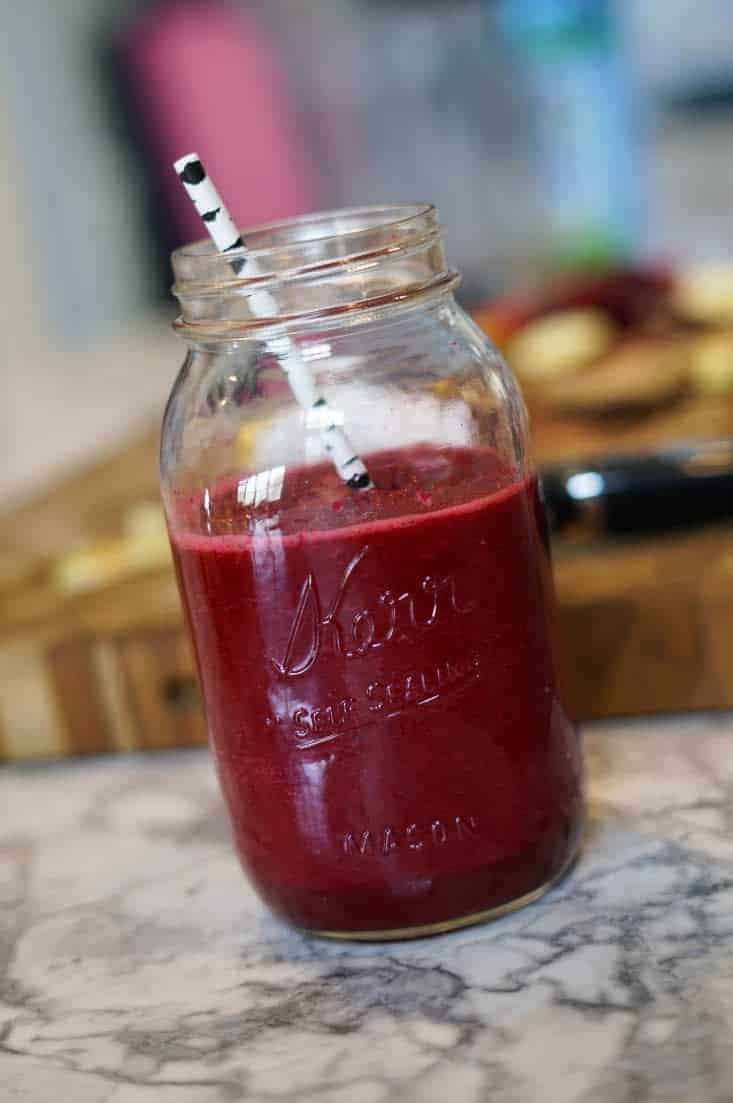 AIP Beet Berry Apple Ginger Smoothie, Food Courage
Sweet Snacks and Treats
Sweet Apricity Sea Salted Caramels- These make a fantastic sweet treat.
Grass-Fed Gelatin Vanilla Marshmallows- These marshmallows promote a healthy gut by providing high-quality grass-fed beef gelatin.
Organic Dried Dates and Tigernut Butter- This is such a simple yet awesome snack. Though dates have a high sugar content, they're also packed with vitamins and minerals. Plus, their natural sweetness easily satisfies a sweet tooth. Add some tiger nut butter to them and you've got a winning combo.
Parfait with AIP Coconut Yogurt (The Roasted Root), Fruit, and AIP compliant cereal like Lovebird or NUCO. You can also buy AIP compliant yogurt- best bets to find them are at Sprouts or Whole Foods but you may find them other places too. Cocoyo, Culina, Anita's, Harmless Harvest, and Cocojune are a few compliant brands.
Carob Covered Fruit- You can get carob powder here. 
"Nice Cream": Vanilla (A Squirrel in the Kitchen), Strawberry (Grazed and Enthused), "Chocolate"/Carob (Hurried Health Nut)
Coconut Butter- Coconut butter is a great condiment but it's not bat to nibble at on it's own as well. Since it's high in fat, it's very satiating.
Gummies- Check out this roundup post with 37 awesome gummy recipes made with the gut-healing power of gelatin. 
Banana Chips- Read the ingredient list on these as they're often made with non compliant oils and random preservatives. Try to find banana chips made with healthy fats like coconut oil or maybe avocado oil.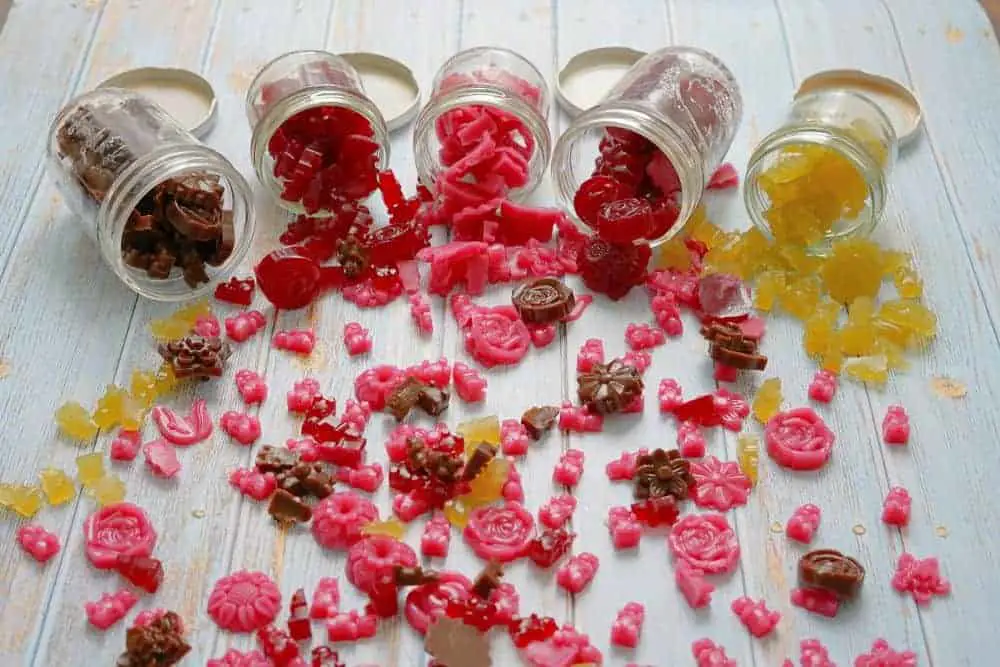 AIP Paleo Gummies , Food Courage
5-Ingredient Banana Bread Mug Cake- This treat is a supper easy homemade AIP snack. It's relatively nutrient-dense, being made mainly with bananas and tiger nut flour.
Strawberry Rhubarb Muffins- These muffins are delicious. They're also pretty easy to make and store so you can snack on them throughout the week.
Crackers
Chips
Protein Bars, Snack Bars, Bites, and Balls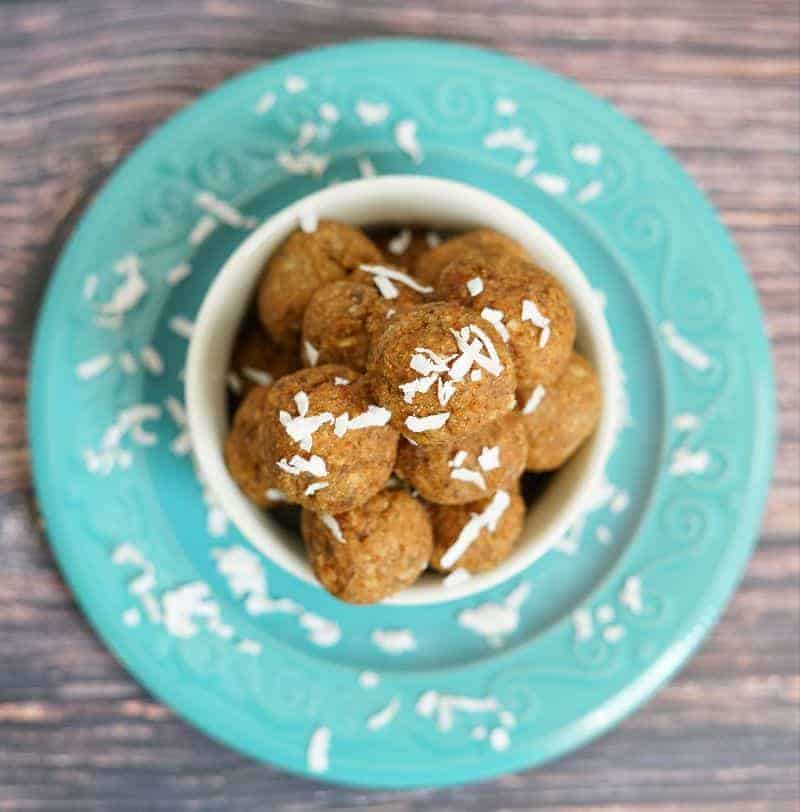 AIP Carrot Cake Protein Balls, Food Courage
Key Lime Pie Energy Balls- This recipe is super easy to make and so tasty. Dates, coconut flour, and lime juice are a few simple ingredients you'll need to make it.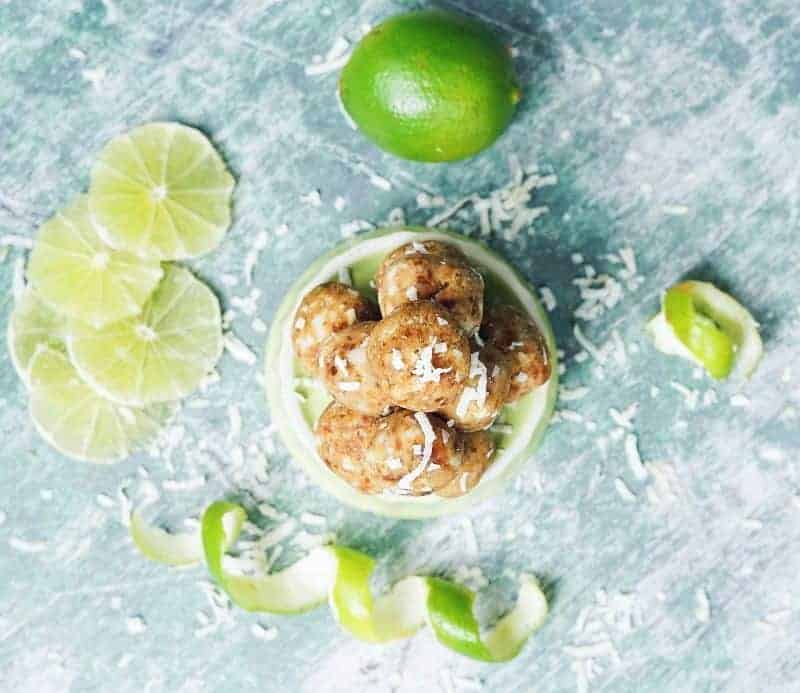 Key Lime AIP Energy Balls, Food Courage
Jerky and Meat Sticks
Crunchy Snacks
Dips, Spreads, and Salsas
Need something to dip your chips, crackers, or fruit in? Check out these AIP dips: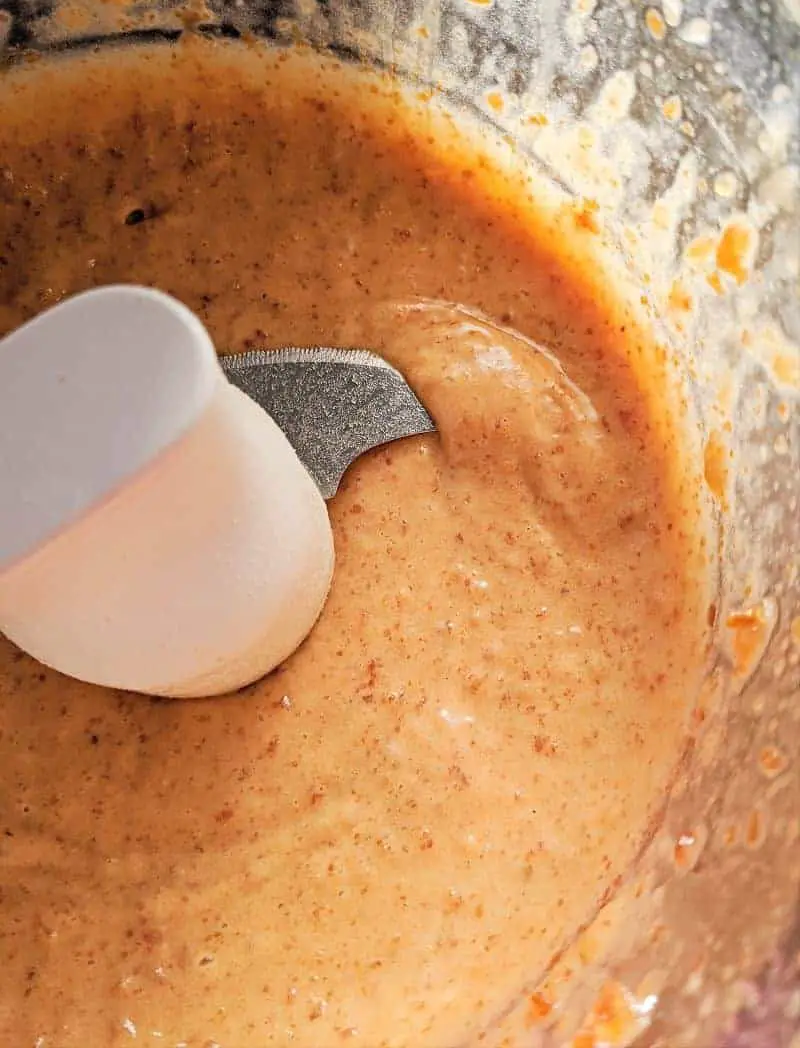 4 Ingredient Caramel Sauce, Food Courage
Other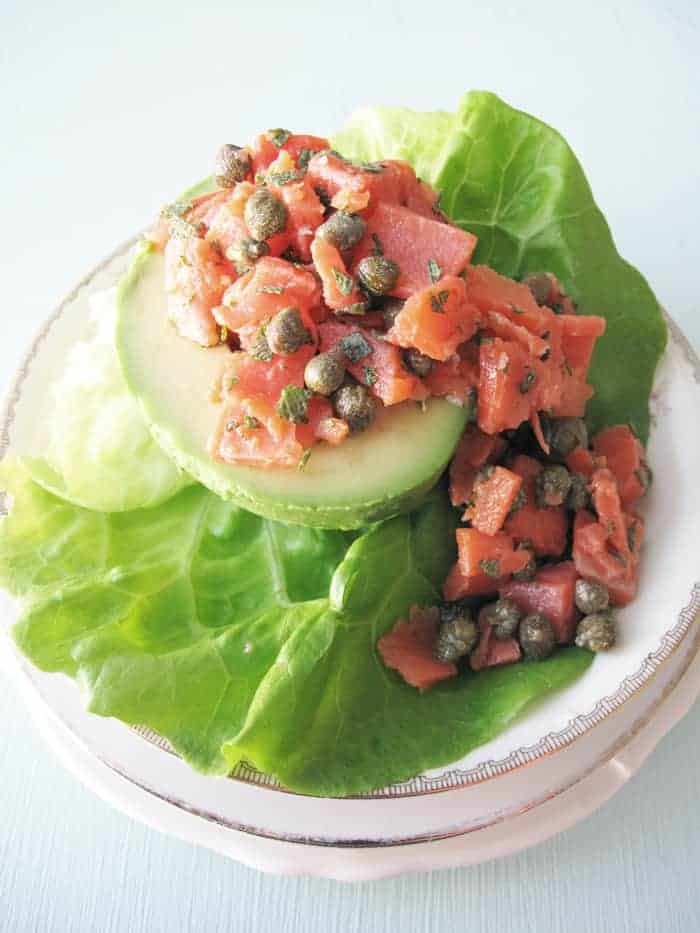 Smoked Salmon Avocado Boats, A Squirrel in the Kitchen
Snacking Tips
1. Keep It Simple
Photo by Lisa Fotios from Pexels
While it's fun to try new fancy AIP snack recipes, focusing on simple whole foods is the most sustainable way to go about the autoimmune paleo diet.
2. Buy Packaged Snacks in Bulk and Pre-Portion
If you're able to find healthy AIP packaged snacks in bulk, it's probably worth stocking up. Just portion them into zip lock bags or containers, so they are ready to take with you in a hurry. Additionally, pre-portioning will also help to limit overeating.
3. Buy Pre-Cut Fruits and Vegetables
Pre-cut fruits and veggies do cost more but if you're lacking time to properly prep healthy foods, these can be a life-saver. 
4. Combine Protein, Carbohydrates, and Fats
Balancing the macros in your meals will help you to stay satisfied longer and keep blood sugar and energy levels stable. This is to say, just make sure you get a little bit of protein, fat, and carbs in each meal. Don't worry about getting too specific with the actual macro numbers. 
5. Don't Over-Do it on AIP Packaged Snacks and Treats
AIP packaged snacks are super handy, help to squash cravings, and soothe the soul. That being said, try not to lean on them too heavily, as fresh whole foods still need to remain the focus of your diet. 
6. Eat Mindfully
Try to listen to your body and figure out the reason you're snacking. For example, if you notice your hunger/cravings are stress or boredom-related, try to address those things in another way.
7. Be Aware of Calorie Intake
I don't think it's always necessary or even healthy to track calories all the time. However, it's good to have an idea of what you're taking in. This can be helpful if you are trying to lose (or even gain weight) so you know how to modify your current intake. Fitness Volt has a handy calorie intake calculator that can tell you how many calories you should be getting in a day to meet your goals.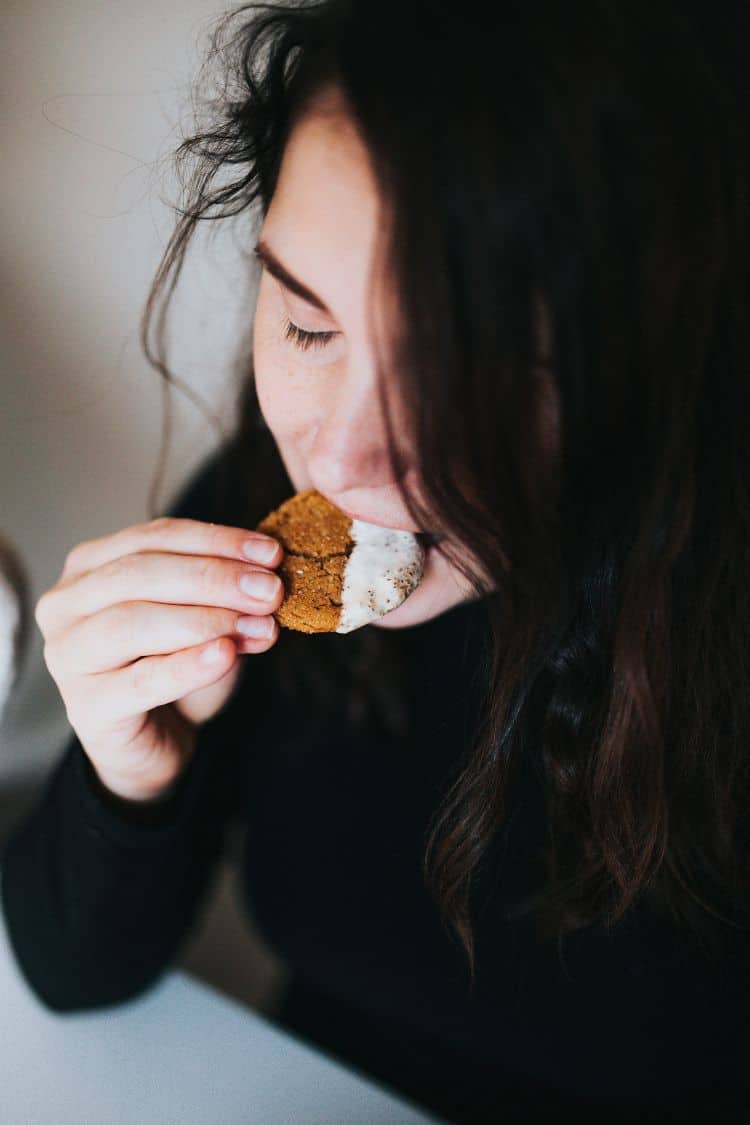 Photo by Nathan Dumlao on Unsplash
Conclusion:
I hope you found this post useful. If you have any great go-to AIP snack recipes or products to add to this list, please leave a comment below!
Don't forget to follow me on Instagram @foodcourage for the latest AIP/Paleo recipes, autoimmune nutrition info, and Food Courage happenings!
This post is shared on the Paleo AIP Recipe Roundtable.
If you enjoyed this post, you may also like: 
24 Easy Fast Paleo Snack Ideas
The 7-Day AIP Meal Plan For Busy People