If you're looking for a Sprouts AIP shopping list, it's here! If you're doing an AIP diet or Paleo diet, you know how much it helps to have a food list to go by. That being said, each grocery store offers slightly different things. Thus, I've started making store-specific paleo autoimmune protocol shopping lists. These lists mainly include elimination phase compliant foods only. You may see the occasional stage 1 reintroduction, but it will be noted.
If you missed my Trader Joe's AIP Shopping List, Whole Foods AIP Shopping List, Kroger AIP Shopping List, Walmart AIP Shopping List, Aldi AIP Shopping List, Sam's Club Shopping List, Meijer AIP Shopping List, Safeway AIP Shopping List, and Costco AIP Shopping List, definitely check them out.
My AIP Pantry Items post may be of use too, especially if you're new to AIP and still figuring out what certain products are used for.
I visited two Sprouts Farmers Market stores while making the list and honestly, it probably is still just scratching the surface of AIP foods offered by Sprouts. They're amazing. I used to shop at Sprouts all the time when I lived in Colorado but now that I'm in Tennessee, I'm about 40 minutes away from the nearest one. So, I don't go very often now- this was a treat!
As you know, AIP is focused on getting high-quality nutrients from whole foods including grass-fed meats, organ meats, fresh fruits, organic vegetables, healthy fats, etc. To read more about the specifics of the AIP diet, check out my Beginner's Guide to the Autoimmune Protocol Diet (which has a full list of foods) and my 7-Day AIP Meal Plan. Sprouts is a great place to get nutrient-dense foods for good prices. Their organic produce selection is super impressive.
While going through the list, I tried to link to some product sites here and there. That way, you can get a good visual and look at ingredient labels for anything I haven't pictured in the post. A few are affiliate links but most are not.
**Just a quick heads up- this post contains affiliate links which means if you click on them and buy something,  I will earn a small commission (at no additional cost to you) to help continue maintaining this site. 
Produce
Vegetables and Herbs
Artichokes
Baby Bok Choy
Bako Organic Sweet Potatoes in a Steam Bag- green and clear bag
Broccolini/ Broccolette
Cauliflower Rice
Celeriac/Celery Root
Cubed Butternut Squash
Cubed Sweet Potatoes
Earthbound Farm Organic Broccoli Slaw
Fresh Herbs
Frieda's Organic Turmeric- 6 oz bag
Jicama Sticks
Micro Arugula
Micro Broccoli
Micro Cilantro
Micro Radish Mix
Napa Cabbage
Organic Easter Egg Radishes- multicolored
Okra
Orange Cauliflower
Organic Arugula
Organic Baby Bella Mushrooms- Use these for Philly Cheesesteak Skillet or Chicken Marsala.
Organic Baby Carrots
Organic Beets
Organic Gold Beets
Organic Lacinato Kale- Try this in AIP Irish Colcannon, Roasted Sweet Potato Kale Salad, or Warm Kale Salad with Apples
Organic Lemongrass
Organic Oyster Mushrooms
Organic Peeled and Steamed Red Beets (refrigerated)
Organic Romaine Lettuce- Romain Hearts
Organic Shredded Kale
Organic Sweet Onions- 2lb bag
Parsnips
Persian Cucumbers
Purple Cauliflower
Purple Sweet Potatoes- Use these to make my Purple Sweet Potato Breakfast Bowl.
Rainbow Carrots
Season& Steam Brussels Sprout halves- just contains brussels sprouts, produce section
Sprouts Organic Super Greens Mix
Sunset Qukes- Teeny Tiny Cucumbers
Vidalia Onions- 3 lb bag
White Sweet Potatoes
Whole Garlic Cloves in a bag
Whole Jicama
Yuca Root- This is a fantastic mashed potato substitute but I know a lot of people have trouble finding it. I use it in my AIP Bierocks and Colcannon recipes.
Fruit and Coconut
Avocados
Dragon Fruit
Organic Papaya
Organic Peaches
Plantains
Whole Coconut (with shell)
Young Coconut (shell removed)
Drinks
GT Synergy Kombucha- GT's Synergy is AIP compliant because it uses kiwi juice and fruit purees instead of sugar. A few compliant flavors include Trilogy, Gingerade, Guava Goddess, Cosmic Cranberry, Gingerberry, Mystic Mango, and Golden Pineapple.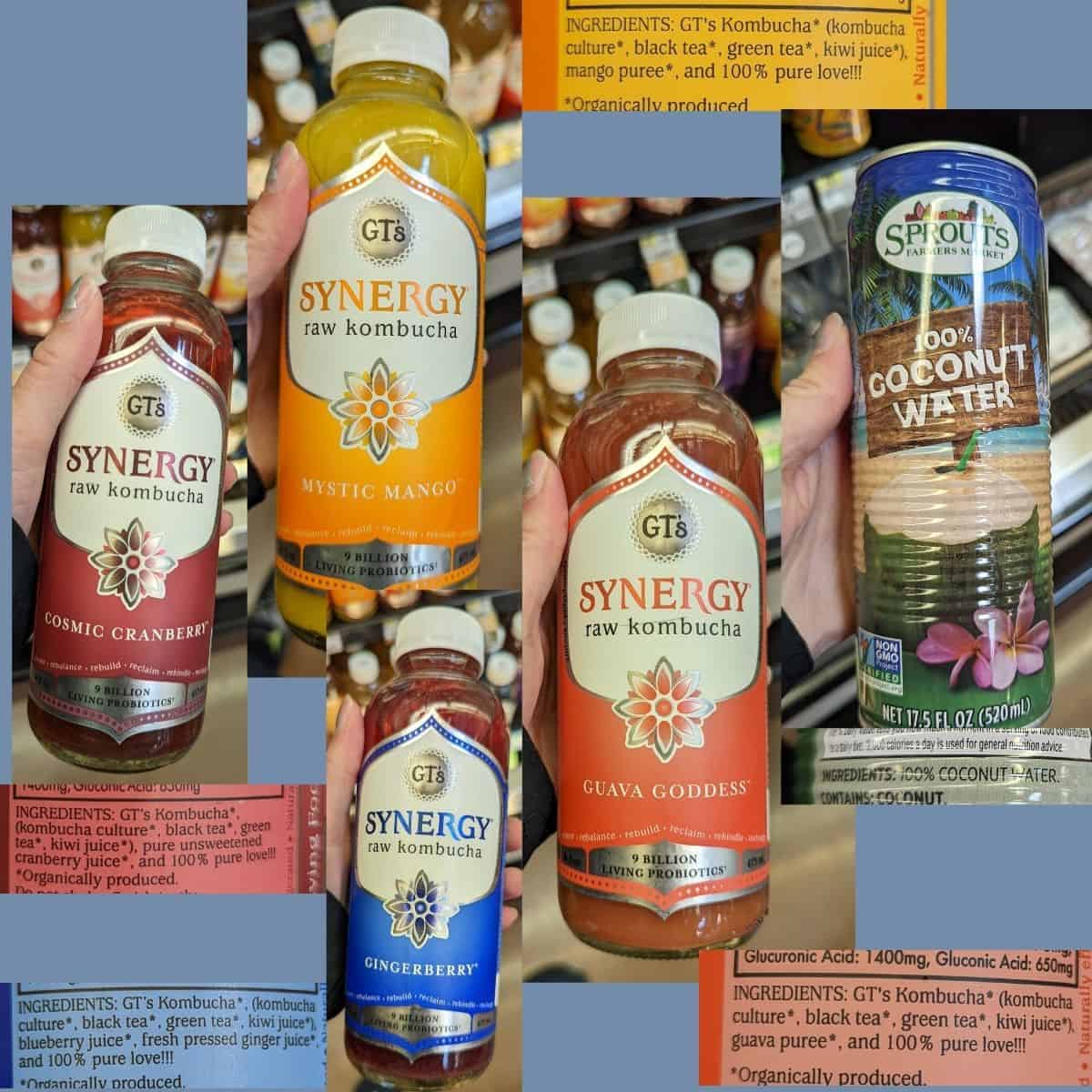 Bolthouse Farms 100% Carrot Juice (52 oz)
Evolution Fresh Mighty Watermelon Juice- YUM!!
Evolution Fresh Organic Defense Up- Pineapple, Mango, apple, acerola cherry
Evolution Fresh Organic Essential Greens Juice
Harmless Harvest Organic Coconut Water- refrigerated
Healthy Roots Deep Clean Cold Pressed Juice- Pineapple, cucumber, spinach, lime, kale
Healthy Roots Heart Beet Cold-Pressed Juice- Contains pineapple, carrot, lime, beet
Healthy Roots Immunity Cold Pressed Juice- pineapple juice, orange juice, carrot juice, lemon juice, ginger juice, turmeric juice.
Pom Wonderful Juice 48 oz
Smoothie Genius Just Coconut Drink
Sol-Ti Organic Dragon Fruit Superade- Wow
Sprouts Market Corner Green Power Juice- apple juice cucumber juice, kale juice, spinach juice, lemon juice.
Suja Organic Cold-Pressed Uber Greens Juice
Yogurts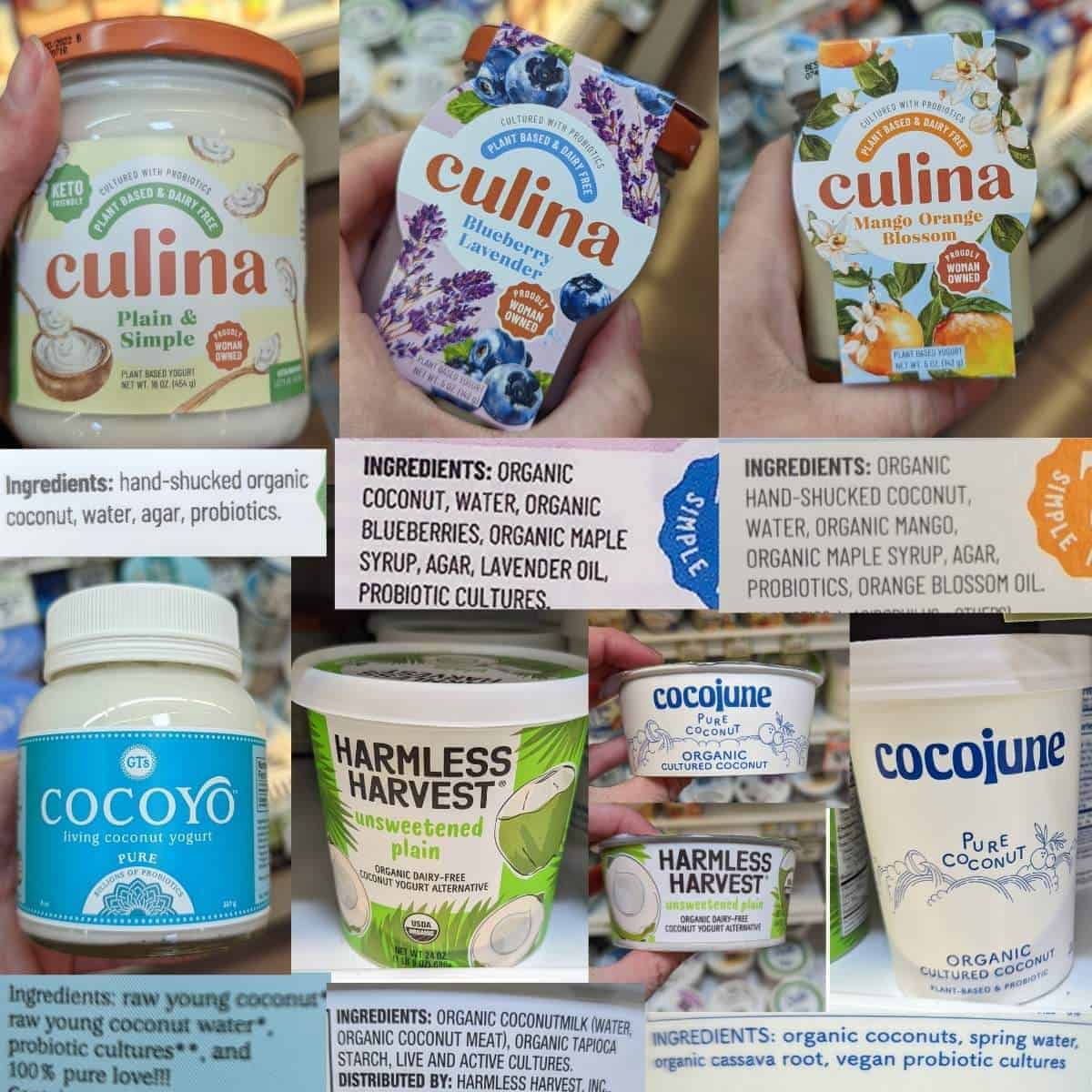 Lot's of choices for Coconut Yogurt!
Cocojune Coconut Yogurt (Pure Coconut flavor)- White and blue container. Come in single-serve and huge multi-serving containers.
Cocoyo Coconut Yogurt- Pure flavor only (teal label). The other flavors have stevia.
Culina Coconut Yogurt- Plain and Simple, Blueberry Lavender, Mango Orange Blossom, and Strawberry Rose flavors are compliant. Check labels as some have almond extract, which is not compliant. *The strawberry rose has rose oil- I haven't found anything that says it's not AIP compliant. Same goes for the orange blossom oil and lavender oil in the other flavors. I believe these are fine for AIP. However, if you know something otherwise, please let me know.
Harmless Harvest Unsweetened Plain Coconut Yogurt- Comes in single-serve and 24 oz container. **NOTE: It needs to be specifically unsweetened plain. There is one that just says "plain" and this one is NOT compliant as it contains cane sugar.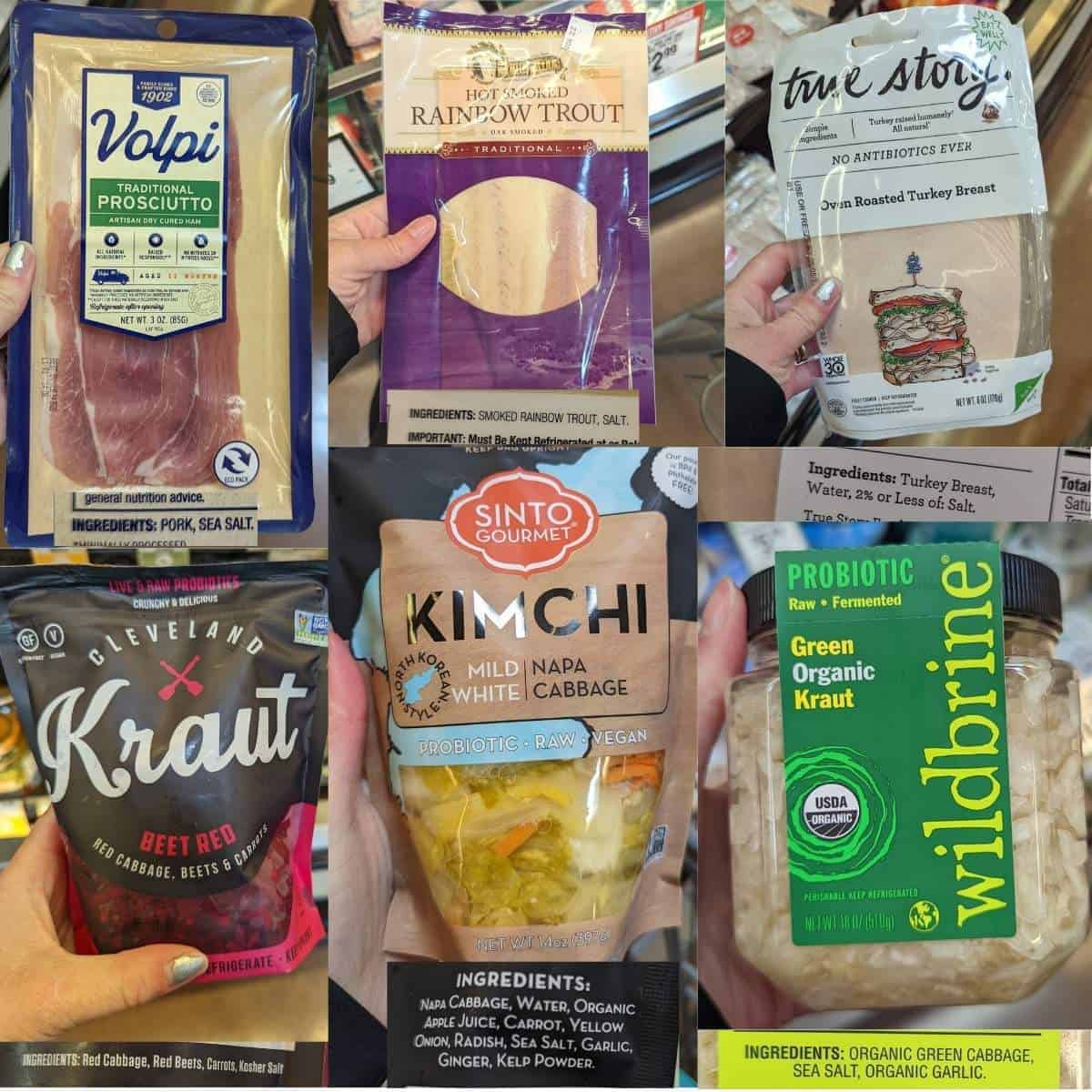 Fermented Foods
Cleveland Kraut- Beet Red- Refrigerated section near the hummus.
Sinto Gourmet Kimchi- Mild Napa Cabbage Kimchi(14oz): Napa Cabbage, Water, Organic Apple Juice, Carrot, Yellow Onion, Radish, Sea Salt, Garlic, Ginger, Kelp Powder
Wild Brine Green Organic Kraut
Organic Coconut Chunks- Fridge
True Story Uncured Black Forrest Ham Lunchmeat
Volpi Prosciutto
Frozen Section
Atlantic Sea Farms Ready Cut Kelp Noodles
Organic Frozen Asparagus Spears
Organic Frozen Zucchini Slices
Woodstock Organic Shitake Mushrooms
Stahlbush Island Farms Frozen Veggies (all are organic): 
Broccoli Florets
Butternut Squash
Cauliflower Florets
Colorful Sweet Potato Cubes
Cool Cauliflower- multi-colored
Golden Beets
Multi-Colored Sliced Carrots
Sliced Red Beets
Sweet Potato Cubes
Sprouts Frozen Veggies:
Organic Asparagus Spears
Organic Butternut Squash Cubes
Organic Cauliflower Florets
Organic Chopped Kale
Organic Riced Broccoli
Organic Riced Cauliflower
Wymans Frozen Fruits: 
Berry Banana
Cherry Berry and Kale
Mango Berry
Mango Chunks
Strawberries
Triple Berry
Wild Blueberry
Sprouts Frozen Fruits:
Berry Medley
Blueberries
Mango Chunks
Atlantic Sea Farms Kelp Cubes (Add them to smoothies)- Original (just kelp) or Wild Blueberry and Ginger
Organic Sliced Bananas- Yessss. I know you can make your own but this is sooo convenient. I don't know why it's hard to find frozen sliced bananas elsewhere.
Pitaya Foods Smoothie Packs: Dragon Fruit, Passion Fruit
Pomegranate Arils (whoa!)
Rhubarb
Other Frozen Foods:
Angus Bubba Burgers- Freezer
Durham Ranch Wygu and Bison Beef Patties- Freezer. I didn't see an actual ingredient label on these. I even looked online after the fact and it's just a nutrition label. So, I'm assuming they contain the meat only. Double-check when you see them though.
Frozen Bags of Bone Broth- Bonafide Brand Beef and Chicken. I did not personally see these when I went but maybe I just missed them. Others report finding these at Sprouts.
Siete Cassava Tortillas- Burrito Size in the teal bag is the only compliant one.
Wild Caught Scallops
Pantry
Baking
Apple Cider Vinegar- Bragg, Sprouts brand
Balsamic Vinegar
Cranberry Apple Cider Vinegar- Bragg
Red Wine Vinegar- Pompeian
White Wine Vinegar
Avocado Oil Spray- Primal Kitchen, Chosen Foods, or Sprouts Brand
California Olive Ranch Avocado Oil Blend
Avocado Oil- Nutiva, Primal Kitchen, and others
Extra Virgin Olive Oil- various brands
Extra-Virgin Olive Oil Cooking Spray- California Olive Ranch
Nutiva Coconut Manna
Epic Duck Fat
Epic Pork Tallow
Artisana Organics Raw Coconut Butter
SapJack Organic Maple Butter
BHU Tigernut Butter- I hear this is a new compliant item Sprouts has added- I couldn't easily find the ingredients online-please double check the ingredient label when you buy.
Coconut Cream- Native Forest is compliant (green and white label). Sprouts brand is not compliant.
Organic Coconut Milk- Native Forest is compliant (green and white label- make sure it says "no guar"). *Note that Sprouts brand has guar gum so it's not compliant. Also, some of the Native Forest coconut milk/cream products do contain guar gum so pay attention. The ones without it, say "no guar" on the front of the can.
Organic Coconut Milk with Turmeric- Native Forest Brand
Organic Pumpkin Puree
Organic Raw honey- so delicious! Several to choose from.
Sprouts Organic Maple Syrup
D'Vash Organic Date Nectar
Big Tree Farms Organic Coconut Sugar
Big Tree Farms Organic Vanilla Coconut Sugar- made with vanilla beans- yum!
Organic Coconut Flour- Arrowhead Mill's, Bob's Red Mill, Sprout's brand
Tapioca Flour/Tapioca Starch- Arrowhead Mills, Bob's Red Mill, and others
AIP Paleo Powder Seasoning
Cassava Flour- Pamela's (light blue bag), Otto's
Pamela's Organic Tigernut Flour- Red bag
Bob's Red Mill Shredded Unsweetened Coconut
Bob's Redmill Arrowroot Starch
Carob Powder
Sprouts Vanilla Beans
Sprouts Baking Soda
Organic Bulk Herbs and Spices
Native Forest Coconut milk and cream have varieties with and without guar gum. Pay close attention to labels! The ones with no guar say it right on the front of the can.
Other
Avocado Powder- Contains just avocado. Good for smoothies, toast, and guac
Beet Root Powder- Carrington Farms
Organic Turmeric Powder- Navitas
Coconut Aminos
Collagen Powder- Sprouts Unflavored Grass-Fed, Vital Proteins Unflavored, Vital Proteins Marine Collagen Unflavored
Navitas Organic Elderberry Powder
Navitas Organic Matcha Powder
Organic Acai Powder- Navitas
Crown Prince Anchovy Paste
Crown Prince Wild Caught Boneless Skinless Sardines in Olive Oil
Wild Planet Canned Anchovies
Wild Planet Canned Sardines
Henry and Lisa's Wild Caught Canned Pink Salmon (purple box)
Epic Hickory Smoked Uncured Bacon Bits
GimMe Organic Sushi Nori Seaweed Sheets
Nourish Fond Delight Organic Chicken Bone Broth
Solely Dehydrated Spaghetti Squash Noodles
Sweet Potato Flour Noodles/Glass Noodles
Jovial Cassava Pasta- I didn't see this at my store(s) but some stores definitely carry it according to Jovial's product locator.
Sprouts Black Olives
Sprouts Green Olives
Herbal Teas and Organic Bulk Teas- tons of options
Shelf-Stable Drinks
Note about juices- Go easy on juice (if you drink them at all) and try to favor whole fruits when possible. Fruit juices should be limited due to their high sugar content and fructose intake should be kept under 40 grams per day (although 20 grams is considered optimal) during the elimination phase. Read more on this here.
Sprouts Juices
Organic Lemon Juice
Organic Lime Juice
RW Knudsen Juices (glass bottles):
Just Grapefruit
Organic Carrot Juice
Organic Concord Grape
Organic Just Prune Juice
Lakewood Juices (glass bottles):
Organic Beet Carrot Orange
Organic Mango Blend
Organic Pure Beet
Organic Pure Blood Orange
Organic Pure Celery
Organic Pure Lemon Juice
Organic Pure Lime Juice
Organic Pure Orange
Pure Cranberry
Santa Cruz Juices (glass bottles)
Organic Pure Lime Juice
Organic Pure Lemon Juice
Meat/Poultry
You'll notice several bacon brands in this section. For more info on AIP and which bacon brands are AIP compliant, check out my Guide to AIP/Paleo and Whole30 Bacon.
Applegate Organic No-Sugar-Added Bacon- Ingredients: Organic Pork, Water, Sea Salt. Contains Less Than 2% Of The Following: Celery Powder.
Pedersen's Uncured No-Sugar-Added Bacon- Ingredients: Pork, Water, Less Than 2% Of: Salt, Vinegar, Citrus Extracts, Pomegranate Extract, Rosemary Extract.
Sprouts Uncured No Sugar Added Bacon
The Butcher Shop Uncured Applewood Bacon- No Sugar Added
Grass-Fed Beef Short Ribs
Grass-Fed Organic Ground Beef
Meyer Applewood No Sugar Added Smoked Uncured Bacon
Niman Ranch Applewood Smoked Uncured Bacon
Organic Boneless Skinless Chicken Breasts
Organic Chicken Thighs
Organic Free-Range Ground Turkey
Organic Ground Chicken
Organic Whole Chicken
Thomas Farms Free-Range Lamb Chops
Thomas Farms Free-Range Lamb Stew Meat
Thomas Farms Free-Range Leg of Lamb
Thomas Farms Free-Range Rack of Lamb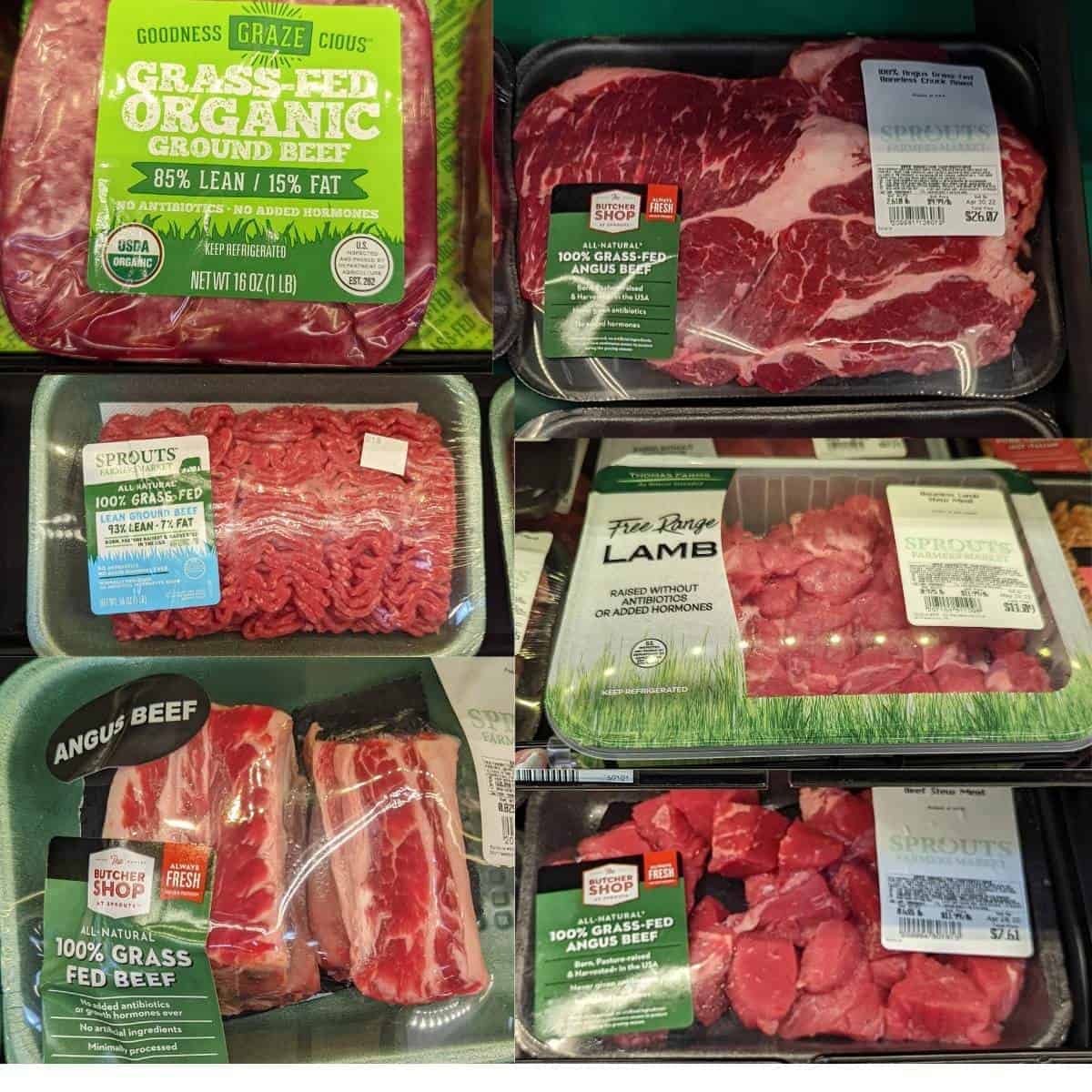 Dried Fruit/Sweet Snacks
North Coast Organic Fruit and Veggie Applesauce Pouches
Solely Fruit Snacks and Fruit Sticks
Sprouts Applesauce Pouches
Jacks Paleo Kitchen Cookies- Lemon Zing
Bahri Dates- Sprouts Brand
Halawi Dates- Sprouts brand
Dates rolled in Coconut
Medjool Dates- Joolies Organic, Natural Delights, Sprouts
Deglet Dates- Sprouts brand
Bare chips (apple, carrot, strawberry banana, etc)
Bear Fruit Rolls- Raspberry, Mango, Strawberry
Dried Peaches- Clear non-descript container. Basically packaged by Sprouts
Dried Persimmons- Clear non-descript container. Basically packaged by Sprouts
Dried Prunes- Made in Nature, Newman's Own (Organic)
Dried Tart Apples- Clear non-descript container. Basically packaged by Sprouts
Made in Nature Organic Sliced Mangos
Made in Nature Unsulfered Organic Apricots
Sprouts Organic Coconut Chips
Sprouts Organic Raisins
Stretch Islands Fruit Leather
That's It Fruit Bars
Turkish Figs- Bulk Section- contains just figs according to Sprouts website. Check labels at your store to be sure though.
Savory/Salty Snacks
4505 Chicharonnes Pork Rinds- Sea Salt flavor only (blue bag)
Chomps Beef Sticks
Epic Beef Sticks
Epic Chicken Crisps
Epic Pork Rinds- Pink Himalayan Sea Salt
Jackson's Avocado Oil Sweet Potato Chips with Sea Salt
Lesser Evil Paleo Puffs- Pink Himalayan Sea Salt only
Plantain Chips- Terra, Barnana
Sea Snax Seaweed
Terra Cassava Chips- Sea Salt Flavor- Black Bag with light blue stripe.
Conclusion:
I hope you love this list! If you have items to add to it, please let me know. Leave a comment below!
Don't forget to follow me on Instagram @foodcourage for the latest AIP/Paleo recipes, autoimmune nutrition info, and Food Courage happenings!