This beet smoothie is a great way to get a whole lot of veggies and fruits down in one fairly compact drink. I love smoothies for this simple reason. In particular, this smoothie makes beets taste really good. 
For other smoothie recipes, check out my Kiwi Avocado Banana Smoothie Bowl and Purple Sweet Potato Breakfast Bowl.
I've been continuing on my veggie kick since reading The Wahl's Protocol. One of Dr. Terry Wahls' recommendations is to get in 9 cups of vegetables a day, 3 cups of which should be brightly colored vegetables. This smoothie mostly covers the brightly colored vegetable requirement.
I've mostly just been throwing together smoothies with bunches of random veggies (and some fruits) in them mainly for the sake of getting in as many nutrients as possible. They don't always taste fantastic, but I just drink them. This smoothie is actually very tasty so I wanted to share it. 
Beets, in particular, are one of those veggies that people tend to love or hate. They're fairly earthy tasting so complementing them with the right flavors can make or break the overall taste of a recipe.
Lots of recipes, especially beet smoothie and juice recipes,  put lemon and ginger with beets because they just work well together. The ginger offsets the earthiness of the beets and adds some tang. The lemon does something similar. The apple just gives a little sweetness. The berries add to the brightly colored veggie/fruit requirement, contribute important micronutrients, and they're frozen so they make the smoothie nice and cold. 
**Just a quick heads up- this post contains affiliate links which means if you click on them and buy something,  I will earn a small commission (at no additional cost to you) to help continue maintaining this site. 
Here's What's in This Smoothie:
Beets- 1 beet actually, peeled.
Carrots- I use baby carrots for sake of ease- they're already small and peeled, ready to go in the blender. If you want to use regular carrots, that's of course fine. Just peel, dice, and add to the blender!
Granny Smith Apple- I really like the Granny Smith apple in this recipe because it adds a little bit of tartness but you can really use any type of apple. 
Frozen Mixed Berries- As mentioned above, this contributes brightly colored fruit to the mix and cools the smoothie off. I've also used frozen dragon fruit packets in this recipe in place of the berries and it works great. 
Lemon- Lemon also adds to the tartness and balances out the earthy flavor of the beets. 
Ginger- Ginger adds a hint of spiciness to the drink and goes perfectly with the lemon. 
Coconut Water- You can use coconut water or regular water. If using coconut water, make sure there's no added sugar in it. 
Collagen- This smoothie has an optional scoop of collagen which is great for added protein and gut-healing benefits.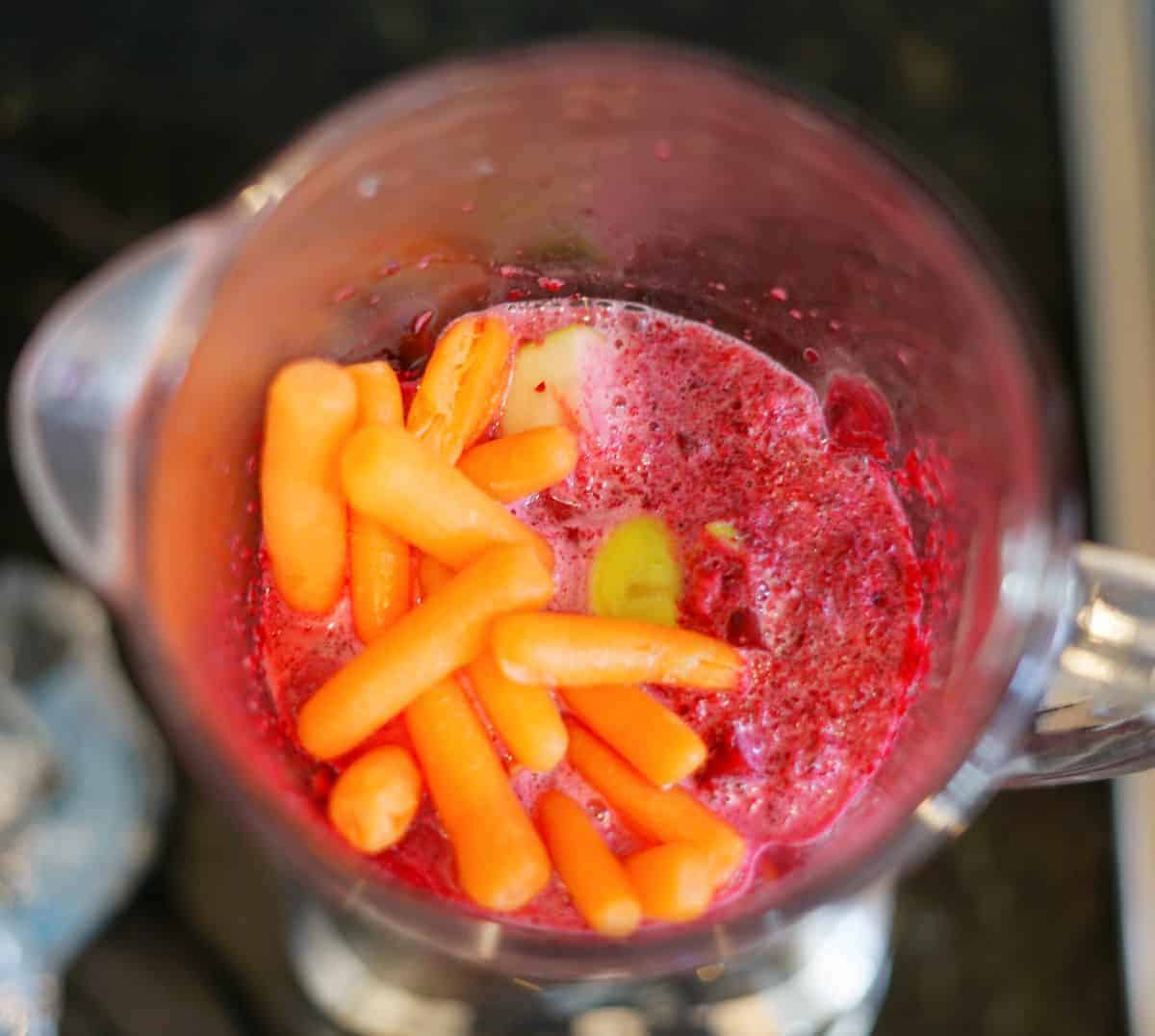 Do You Have to Cook the Beets First to Make a Beet Smoothie?
If you have a really powerful blender like a Vitamix or Blentec, there's no need to cook the beets first. I usually throw all the ingredients into my Vitamix raw and it turns out great. 
If you don't have a super powerful blender, it's probably best to cook the beets first. I tried making this smoothie raw in my regular (non-Vitamix) blender to see if it would work and it turned out ok but it was super "pulpy" and separated a lot easier. 
How to Cook Beets
If you decide to use cooked beets for your beet smoothie, you can check out how to steam them here. If you like this smoothie and want to have it more than once, I would recommend cooking several beets at once and storing them in the fridge until you need them for the smoothie. They should stay good for about 5 days in the fridge.
Can You Eat Beet Greens?
The beet greens often get thrown away but they are perfectly edible and really easy to prepare. I like to just cut them up and saute them in a pan with olive oil, garlic powder, and sea salt. You can also throw them into smoothies!
How to Peel Ginger
The easiest way to peel ginger is to simply use the end of a spoon to scratch the skin off.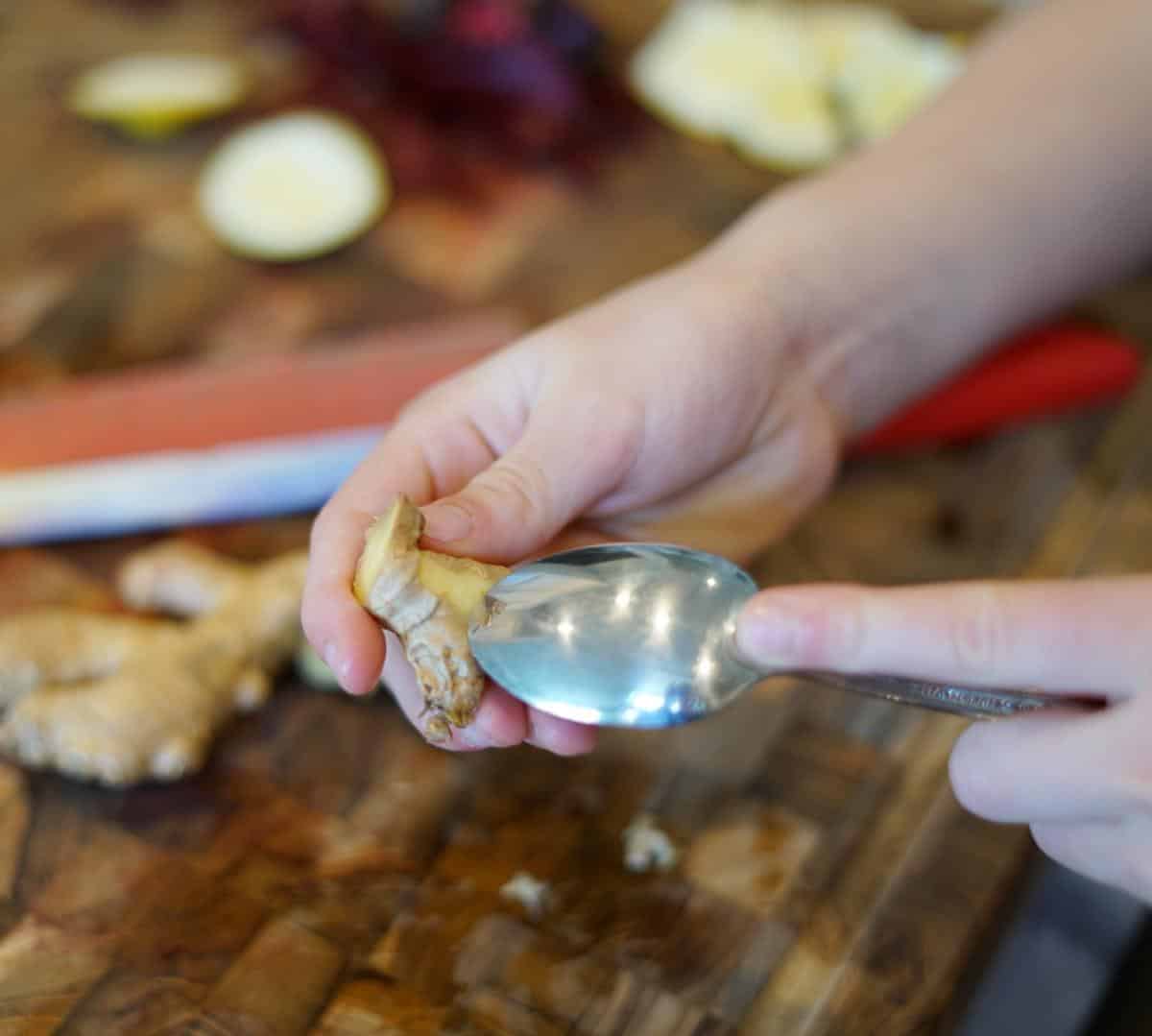 How to Cut and Peel the Lemon
You can really do this any way you want but I thought I would run through how I do it. Slice off the ends of the lemon. Cut the lemon in half, while not cutting through the ends you just sliced. Take half of the lemon and turn it face down. Slice the peel off around the edges. Make sure the remove the seeds before adding it to the blender.
Perfect Smoothie Cups
I've been making my smoothies before I leave for work in the morning and if I'm running out the door, I'll throw it in whatever to-go cup I have..usually it's a plastic shaker bottle (yes I know glass if much better) but I still like the plastic shaker bottles so that's what I've been doing.
The problem, well one problem, with these bottles is that they don't keep the drink cold very long, so sometimes I'll get busy and not end up drinking the smoothie until almost lunchtime. By then it's a lukewarm kind of gross mess. 
However, I recently made a smoothie that was too big to fill my regular container so I needed a second cup to hold the extra liquid. I grabbed a Yeti cup that my husband got as a swag gift from work, put the smoothie in it,  and threw it in my bag. I couldn't believe how cold it still was at noon when I got around to drinking it. I know this is nothing new- I've always heard Yetis are amazing but wow, so cool. I'll be shopping for a new Yeti cup of my own soon specifically to use just for smoothies. Something like this is perfect.  
Conclusion
I hope you enjoyed this recipe. What are some of your favorite ingredient combinations to use in smoothies? I'd love to hear your ideas!
Don't forget to follow me on Instagram @foodcourage for the latest AIP/Paleo recipes and Food Courage happenings!
Click the button or image below to get your free AIP Food Lists PDF!
Get PDF!
Apple Beet Berry Smoothie
This bright smoothie is refreshing and nutrient-dense. It's also AIP, Paleo, Whole 30, Vegan.
Ingredients  
1

beet

medium-sized, peeled and diced

1/2

lemon

with rind and seeds removed

1/2

cup

baby carrots

1/2

inch

raw ginger

skin removed

1/2

cup

frozen mixed berries

1

granny smith apple

medium-sized

8-10

oz

coconut water

or plain water

1

scoop

unflavored collagen powder

(optional, omit for vegan option)
Instructions 
Combine all ingredients in the blender and blend until smooth.
Notes
If you don't have a super powerful blender like a Blendtec or Vitamix, I'd recommend steaming the beets first. I tried making this smoothie raw in my regular (non-Vitamix) blender to see if it would work and it turned out ok but it was super "pulpy" and separated a lot easier. 
Nutrition
Nutrition Facts
Apple Beet Berry Smoothie
Amount per Serving
% Daily Value*
* Percent Daily Values are based on a 2000 calorie diet.