AIP and Autoimmune Guides
Check out the categories below to explore resources and guides on the autoimmune protocol diet, Hashimoto's and hypothyroidism and autoimmune lifestyle topics.
*Just a quick heads up- this page contains affiliate links which means if you click on them and buy something, I will earn a small commission (at no additional cost to you) to help continue maintaining this site. You can read more about this in the Privacy Policy.
AIP Online Grocery Shopping
Fully Healthy- Wild Zora and ShopAIP have combined to form Fully Healthy which still offers tons of AIP pantry items sorted by elimination and reintroduction phases. It also offers healthy food items outside of AIP.
Misfits Market- Organic produce, organic meats/poultry, pantry and deli items
Thrive Market- Pantry items, household goods, meat/poultry/seafood
High Quality Meat and Seafood
For a big list of where to source high quality beef online check out my post on the Top Organic and Grass-Fed Beef Online Delivery Services.
Specialty Snacks and Drinks
Sweet Potato Awesome-Freeze dried sweet potato fries and chips. Use the code "foodcourage" to save 10%
Sweet Apricity- AIP Caramels, Caramel Sauce, and Marshmallows
Sip Herbals- AIP Coffee Substitutes and Coconut Creamer. Use the code "foodcourage" to save 10%
Skin Care
AIP Meal Planning
AIP Meal Delivery
Paleo/AIP/Autoimmunity Websites
AIP and Autoimmune Facebook Groups
YouTube Channels
Autoimmune Courses and Masterclasses
The Kharrazian Institute Courses
The Kharrazian Institute was developed as an educational institute focused on teaching clinical practice models to healthcare professionals that are interested in a nutrition, dietary, and lifestyle approaches to help improve the lives of patients suffering from chronic conditions. It is intended for practitioners but works for anyone wanting a detailed look at how to address autoimmune conditions. Go to the Kharrazian Institute
Hashimoto's Self-Management Program
This is a 12-week self-management, self-paced program for Hashimoto's patients. It walks patients through the steps to identify and address the various triggers of autoimmune thyroid disease and associated symptoms.
You can save $100 off the Hashimoto's Self-Management Program by using my affiliate discount link here. 
Paleo Mom's Free Member's Area
Paleo Mom has a huge free member's area with over a dozen free e-books including both guides and cookbooks, several videos.
Paleo Mom's AIP Lecture Series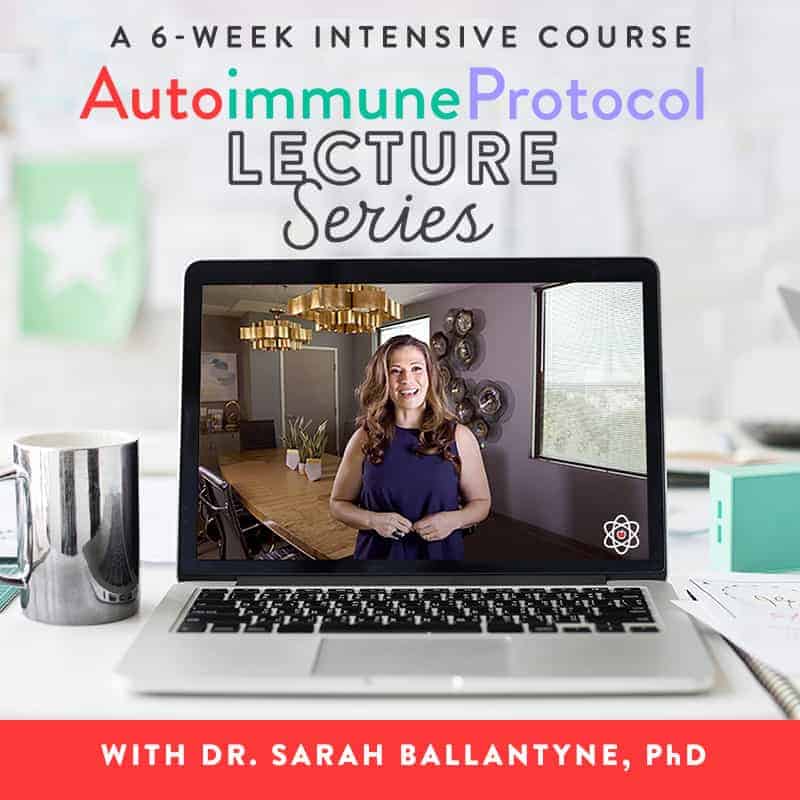 The AIP Lecture Series features 42 on-demand video lectures (totaling 16 hours!), all taught by Dr. Sarah Ballantyne, PhD. It includes:
Printable Guides
Action Steps to Apply What You've Learned
Daily Self-Discovery Exercises
An online forum to connect with Other Students and Ask Questions
Guided Discussions in the Online Forum
Weekly FAQ videos by Dr. Ballantyne, in the online forum
Recommended reading for every topic
Interactive quizzes to test your knowledge
Support and guidance from Dr. Ballantyne herself
One on One AIP Coaching
The AIP Certified Coach Practitioner Training Program
Consider finding an AIP coach to help guide you through the AIP process and troubleshoot any speed bumps that come up.
The AIP Certified Coach Practitioner Training Program was developed by Sarah Ballantyne of Paleo Mom and Angie Alt and Mickey Trescott of Autoimmune Wellness.
The program was created as a way to train professionals already working in the healthcare and nutrition fields to integrate AIP into their practices.
Here is the practitioner directory if you are interested in searching for an AIP coach near you. Keep in mind, if you don't see a practitioner that is geographically near you, "virtual" is an option in the drop-down box. This way you can still potentially find someone to work with even if they're not local to you.
Books on Thyroid Disorders and Autoimmunity
AIP Cookbooks and Guides
The Alternative Autoimmune Cookbook by Angie Alt and Jenifer Beehler
AIP Indian Fusion, Indira Pulliadath
The Autoimmune Protocol, Dr. Sarah Ballantyne
The Paleo Approach, Dr. Sarah Ballantyne
A Simple Guide to the Paleo Autoimmune Protocol, Eileen Laird
The Hashimoto's AIP Cookbook, Emily Kyle, Chef Phil Kyle
The Autoimmune Protocol Made Simple Cookbook, Sophie Van Tiggelen
The Autoimmune Paleo Cookbook, Mickey Trescott
The Easy Autoimmune Protocol Cookbook, Karissa Long, Katie Austin
The Nutrient Dense Kitchen, Mickey Trescott