If you've been looking for a Kroger AIP shopping list, it's here! It is geared specifically towards the elimination phase. You can get a printable PDF list at the bottom of this post.
If you're looking other AIP shopping lists, you may want to check out the Trader Joe's AIP Shopping List, Whole Foods AIP Shopping List, Walmart AIP Shopping List, Aldi AIP Shopping List, Meijer AIP Shopping List, Safeway AIP Shopping List and Sprouts AIP Shopping List.
The great news about this list is that it will likely be useful for other stores in the Kroger family as well. I can't guarantee that your store will have everything on this list but there should be a lot of similarities.
The Kroger family of stores includes:
Baker's
City Market
Dillons
Food 4 Less
Foods Co
Fred Meyer
Fry's
Gerbes
Jay C Food Store
King Soopers
Kroger
Mariano's
Metro Market
Pay-Less Super Markets
Pick'n Save
QFC
Ralphs
Ruler
Smith's Food and Drug
This list is not all-inclusive but I did my best to include as much as I could. For example, there are a million different orange juices that are compliant but I tried to select a few of the higher quality products and mostly gravitate towards organic when possible. 
I included lots of pictures for visuals but if you need to see what a certain product looks like or are curious about the ingredients, the Kroger website has everything listed. Let's get to the list!
Fresh Produce
Organic Fruit
Avocado
Bananas
Blackberries
Blueberries
Fuji Apples
Green Grapes
Honeycrisp Apples
Gala Apples
Lemons
Limes
Raspberries
Red Grapes
Strawberries
Organic Vegetables
Arugula
Asparagus
Baby Carrots
Baby Kale
Beets
Broccoli Bunch
Brussels Sprouts
Butternut Squash
Cauliflower Head
Celery
Chives
Chopped Kale- Use this for Warm Kale Salad with Apples and Lemon Maple Dressing
Cilantro 
Curly Parsley
Gold Jewel Sweet Potatoes
Green Cabbage
Green Leaf Lettuce
Green Onions
Iceburg Lettuce
Lacinato Kale
Leeks
Living Butter Lettuce
Long English Cucumber
Mini Seedless Cucumbers
Organic Girl 50/50 Mixed Greens
Organic Girl Baby Arugula
Organic Girl Baby Spinach
Organic Girl Baby Spinach
Organic Girl Spring Mix
Portobello Caps
Rainbow Baby Carrots
Red Cabbage
Red Leaf Lettuce
Red Onions
Romaine Hearts
Romaine Lettuce
Shiitake Mushrooms
Simple Truth 50/50 Salad Blend
Simple Truth Baby Romaine
Simple Truth Baby Spinach Blend
Simple Truth Baby Spinach Kale Mix
Simple Truth Baby Spring Mix
Simple Truth Broccoli and Cauliflower Florets
Simple Truth Broccoli Florets
Simple Truth Cauliflower Rice
Simple Truth Organic Mediterranean Style Medley Salad Starter
Simple Truth Organic Very Veggie Medley Salad Starter
Simple Truth Power Greens
Spinach Leaves
White Sweet Potatoes
Whole Baby Bella Mushrooms
Whole Carrots
Whole White Mushrooms
Yellow Squash
Zucchini
Fresh Herbs

Baby Dill
Basil
Garlic Bulbs
Ginger
Italian Parsley
Lightly Dried Basil
Mint
Rosemary
Sage
Poultry Herb Blend- Rosemary/Sage/Thyme
Roasting Herb Blend- Italian Parsley/Rosemary/Thyme
Tarragon
Thyme
Additional Produce Items
Anjou Pears
Genuine Coconut Organic Coconut Chunks
Horseradish Root
Kiwi
Jicama
Mangoes
Oranges
Papaya
Red Cherries
Ruby Red Grapefruit
Taro Root
Turmeric
Yuca Root- Use this for Bierocks (German Stuffed Beef Rolls)
Whole Pineapple
Pre-Cut Fruits/Veggies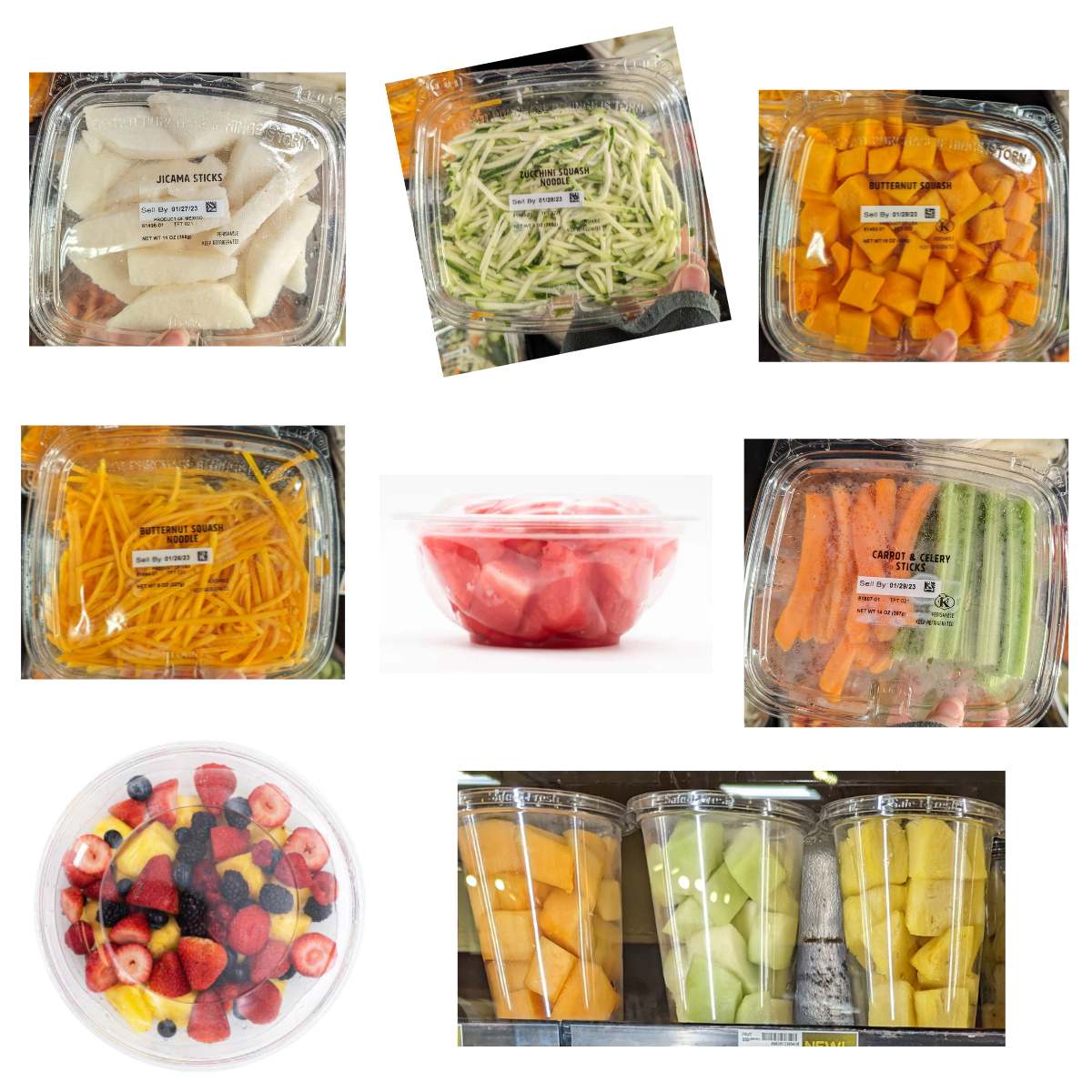 Butternut Squash Cubes
Butternut Squash Noodles
Carrot and Celery Sticks
Diced Onions
Fresh Kitchen Mixed Fruit Bowl
Honeydew Chunks
Jicama Sticks
Mixed Berries
Mixed Melon Chunks
Sliced Green Onions
Strawberries
Taylor Farms Chopped Onion and Cilantro
Watermelon Chunks
Zucchini Squash Noodles
Refrigerated Juices/Drinks
Note about juices- Whole fruits should take priority over juices but AIPers do use them here and there. Fruit juices should be limited due to their high sugar content and preferably consumed with food to cushion the impact on blood sugar. The recommended limit for fructose is 40 grams per day (although 20 grams is considered optimal) during the elimination phase. Read more on this here.
Bolthouse Farms 100% Carrot Juice
Evolution Cold Pressed Organic Orange Juice
Evolution Fresh Cold-Pressed Watermelon Juice Blend
Simple Truth 100% Cold Pressed Orange Juice
Lakewood Organic Pure Orange Juice
Simple Truth Organic No Pulp 100% Orange Juice
Simply Orange Pulp Free Orange All Natural Juice
Kroger Adorbs Mandarin Orange Juice
Uncle Matt's Organic Pulp-Free Orange Juice
Simple Truth Orange Pineapple Juice
Evolution Fresh Organic Citrus Ginger Zest Vegetable and Fruit Juice Blend
Evolution Fresh Organic Defense Up® Cold-Pressed Juice Smoothie
Evolution Fresh Organic Green Devotion Cold-Pressed Juice Blend
Evolution Fresh Organic Greens & Ginger Cold-Pressed Vegetable & Fruit Juice Blend
Evolution Fresh Organic Sweet Apple Greens Cold Pressed Vegetable & Fruit Blend Juice
Harmless Harvest Coconut Water
POM Wonderful Juice
Suja Organic Celery Juice Drink
Suja Organic Uber Greens Juice Drink
Suja Organic Tart Cherry and Beet Recovery Shot
Suja Organic Ginger Juice Shot
Synergy Kombucha- Guava, Golden Pineapple, Trilogy, Mystic Mango, Watermelon Wonder, Gingerade, Gingerberry
Tropicana Pure Premium Original No Pulp Orange Juice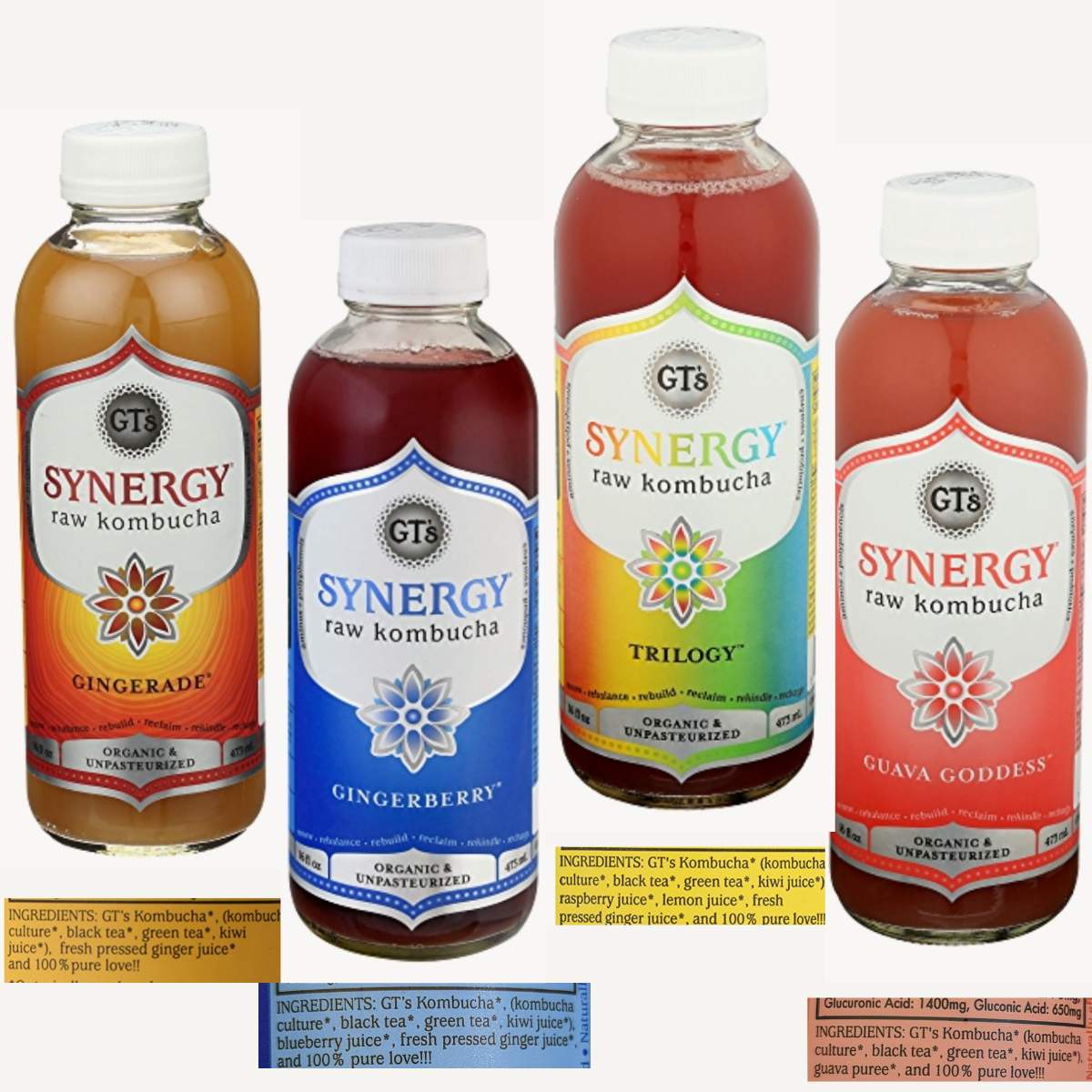 Shelf Stable Juices/Drinks
Simple Truth Organic Fruits & Roots Juice
Simple Truth Organic Citrus Greens Cold Pressed Juice Blend
Simple Truth Organic Berry Cold Pressed Juice Blend
Simple Truth Organic Cold Pressed Citrus Raspberry Juice Blend
Simple Truth Organic Coconut Water (Original)
Spindrift- Raspberry Lime, Lemon, Grapefruit, Lime, Strawberry Lemonade,  (NOT Mango or Pineapple- contain citric acid)
RW Knudsen Juices:

Organic Just Concord Grape
Organic Just Grapefruit
Fresh Meat/Poultry
Laura's Lean Ground Beef
Simple Truth Organic Ground Beef
Sunfed Ranch 100% Grass Fed Organic Ground Beef
Simple Truth Natural Angus Beef Ribeye Steak
Simple Truth Organic Beef Tenderloin
Simple Truth Natural Bison Ribeye Steak
Simple Truth Natural Ground Bison Patties
Simple Truth Natural Lean Ground Bison
Simple Truth Natural Ground Lamb
Simple Truth Natural Lamb Loin Chops
Simple Truth Natural Lamb Shoulder Chops
Simple Truth Organic Boneless Skinless Chicken Tenders
Simple Truth Organic Boneless Skinless Chicken Thighs
Simple Truth Organic Chicken Drumsticks
Just Bare Boneless Skinless Chicken Breasts
Simple Truth Organic Whole Chicken
Simple Truth Natural Lean Ground Turkey
Refrigerated- Other
Blue Hill Bay Smoked Salmon
Cleveland Kraut- Roasted Garlic *Reintro- black pepper
La Quercia Prosciutto
Murray's Italian Prosciutto Di Parma
Principe Prosciutto
Private Selection Old World Prosciutto
Veroni Italy Prosciutto Italiano Dry Cured Ham
Snacks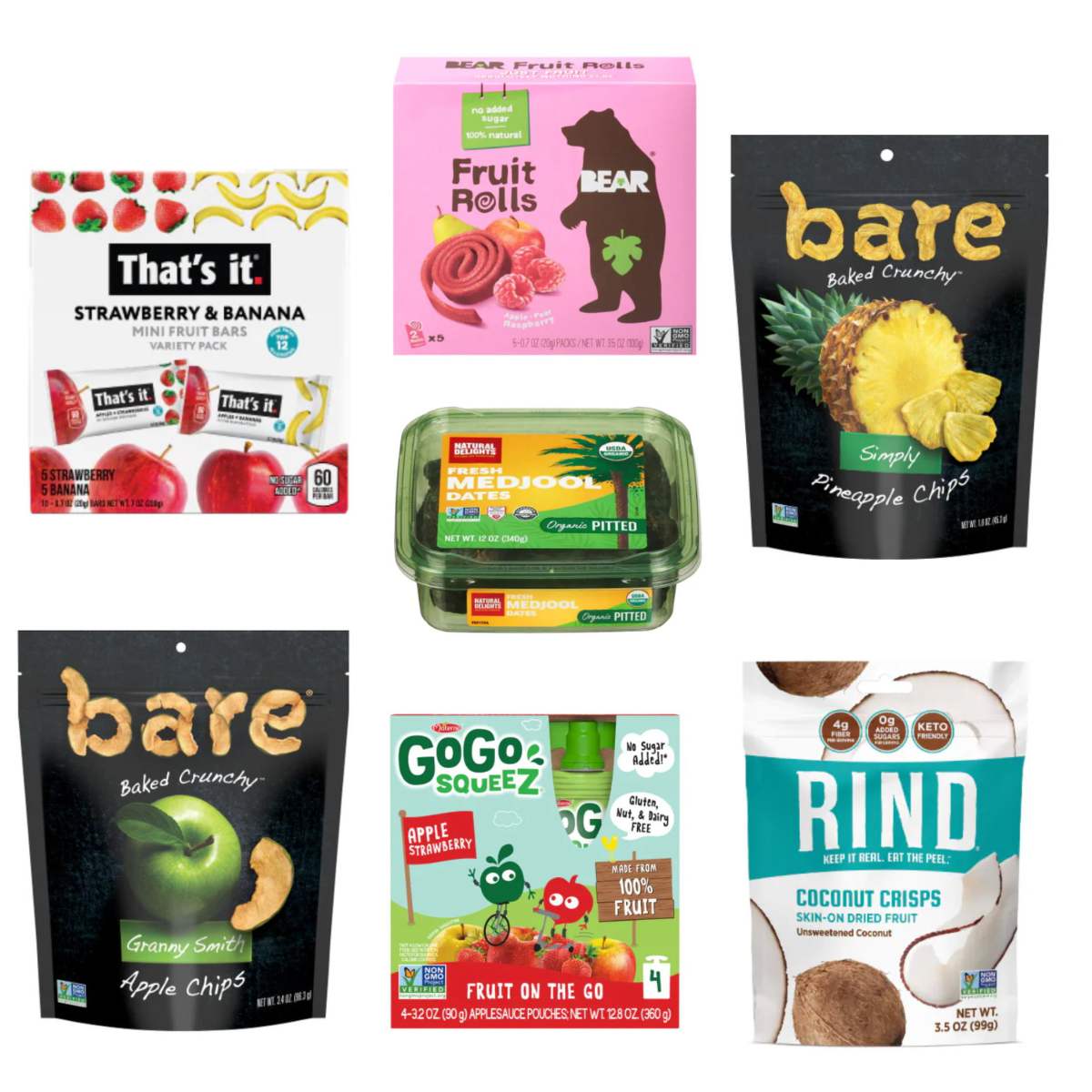 Bare Apple Chips- Fuji and Reds, Cinnamon, Granny Smith
Bare Pineapple Chips
Bear Fruit Rolls- Apple/Pear/Raspberry
Barnana Organic Himalayan Sea Salt Plantain Chips
Dang Lightly Salted Coconut Chips- Blue Bag
Epic - Salmon Strip - Smoked Maple Salmon Fillet
Epic Pork Rinds with Pink Himalayan Salt
GoGo Squeeze Fruit Pouches Apple Apple, Apple Mango, Apple Mango Guava, Apple Pineapple Passion Fruit, Apple Peach, and Gimme 5 Blend
Natural Delights Medjool Dates
Rind Chewy Straw-Perry (pear, apple, strawberry)
Rind Coconut Crisps
Simple Truth Organic Unsulfured Apricots
Simple Truth Freeze Dried Cinnamon Apples
Simple Truth Freeze Dried Mangoes
Simple Truth Freeze Dried Mixed Berries
Simple Truth Freeze Dried Strawberries
Terra Plantain Chips with Sea Salt
That's It Bars- Apple/Mango, Apple/Blueberry, Apple/Strawberry, Apple/Banana, Apple/Cherry
That's It Organic Crunchable Apples or Apples and Bananas
Canned Seafood/Poultry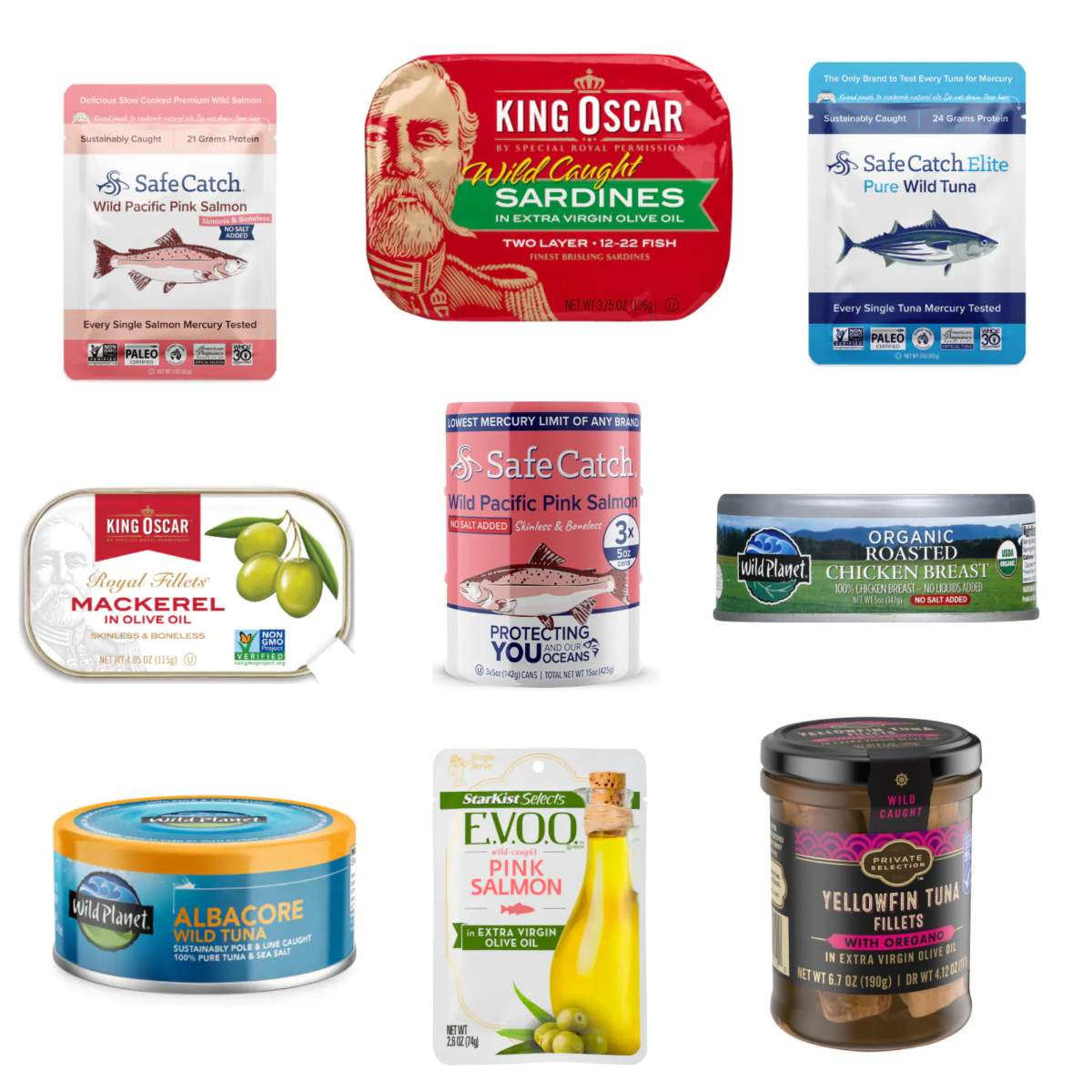 King Oscar Royal Fillet Mackerel in Olive Oil
King Oscar Wild Caught Sardines in Extra Virgin Olive Oil
Kroger Premium Whole Oysters
Kroger Wild Caught Pink Alaskan Salmon
Kroger Flat Anchovies in Olive Oil & Salt
Private Selection Wild Caught Tuna Fillets in Olive Oil- Glass Jar
Private Selection Wild Caught Tuna Fillets with Oregano- Glass Jar
Safe Catch Pure Wild Tuna- Single Serve Packet
Safe Catch Wild Pink Salmon- Cans or Packets
Simple Truth Organic Canned Chicken Breast in Water
Simple Truth Pole & Line Albacore Tuna in Spring Water with Sea Salt- packet
Simple Truth Pole & Line Albacore White Tuna in Salted Water
Simple Truth Pole & Line Skipjack Chunk Light Tuna with Sea Salt
Snows Clam Juice
Starkist EVOO Pink Salmon in Extra Virgin Olive Oil- Single Serve Pack
Starkist EVOO Yellowfin Tuna in Extra Virgin Olive Oil- Single Serve Pack
Bumble Bee Canned Wild Caught Pink Salmon
Wild Planet Organic Canned Roasted Chicken Breast
Wild Planet Skip Jack Wild Tuna
Wild Planet Wild Albacore Tuna
Wild Planet Wild Pacific Mackerel
Wild Planet Wild Sockeye Salmon
Oils/Vinegars/Sauces/Broths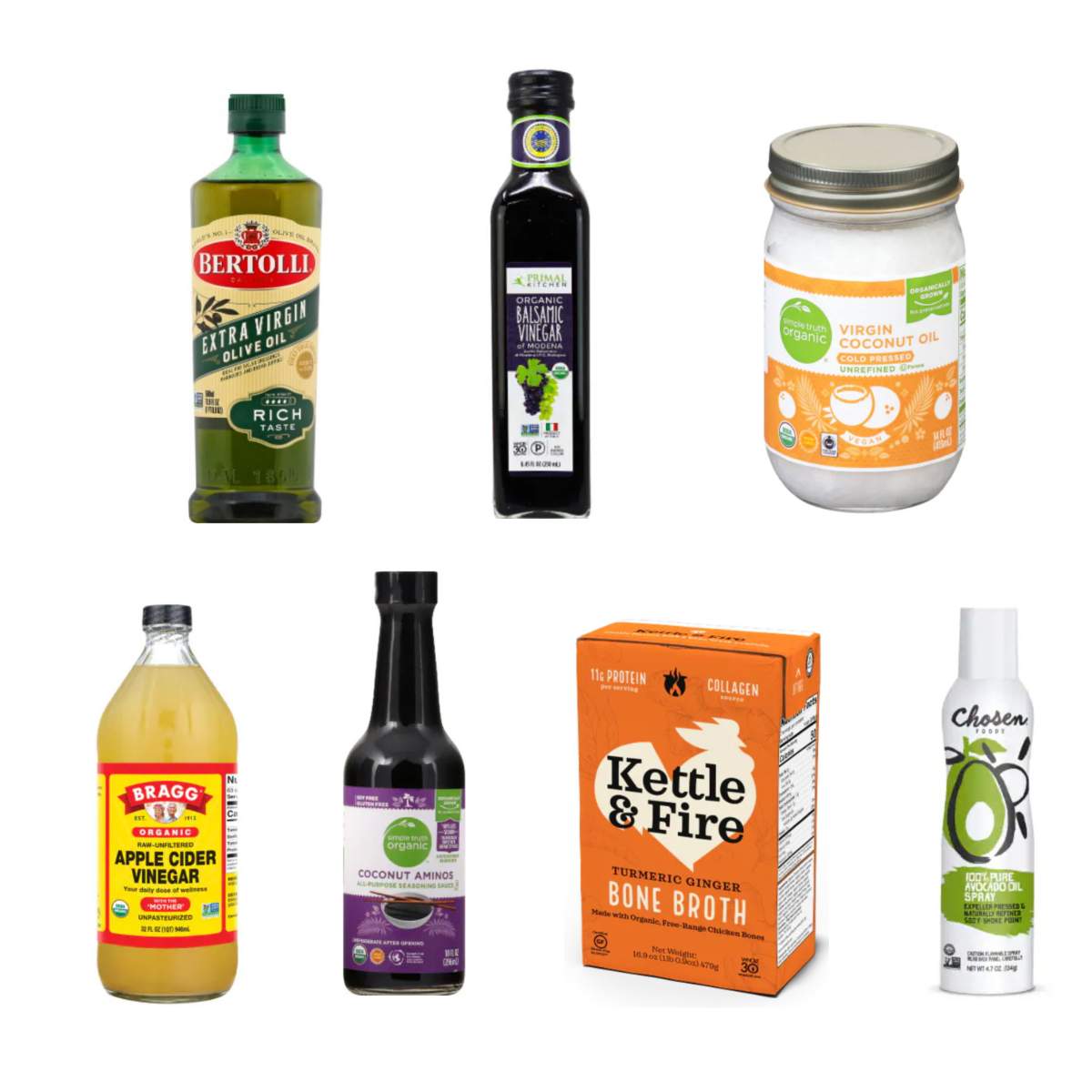 Bertolli Organic Extra Virgin Olive Oil Spray
Bertolli Organic Rich Extra Virgin Olive Oil
Spectrum Organic Extra Virgin Mediterranean Olive Oil
Simple Truth Organic Unfiltered Extra Virgin Olive Oil
Chosen Foods Avocado Oil Spray
Nutiva Organic Avocado Oil
Simple Truth Organic Refined Avocado Oil Bottle
Nutiva Organic Virgin Coconut Oil
Simple Truth Organic Unrefined Cold Pressed Virgin Coconut Oil
Simple Truth Organic Refined Expeller Pressed Coconut Oil
Primal Kitchen Organic Balsamic Vinegar
Simple Truth Organic Red Wine Vinegar
Simple Truth Organic White Wine Vinegar
Spectrum Organic Balsamic Vinegar
Pompeian Red Wine Vinegar
Simple Truth Organic Coconut Aminos
Kettle and Fire Turmeric Ginger Bone Broth
Baking/Pantry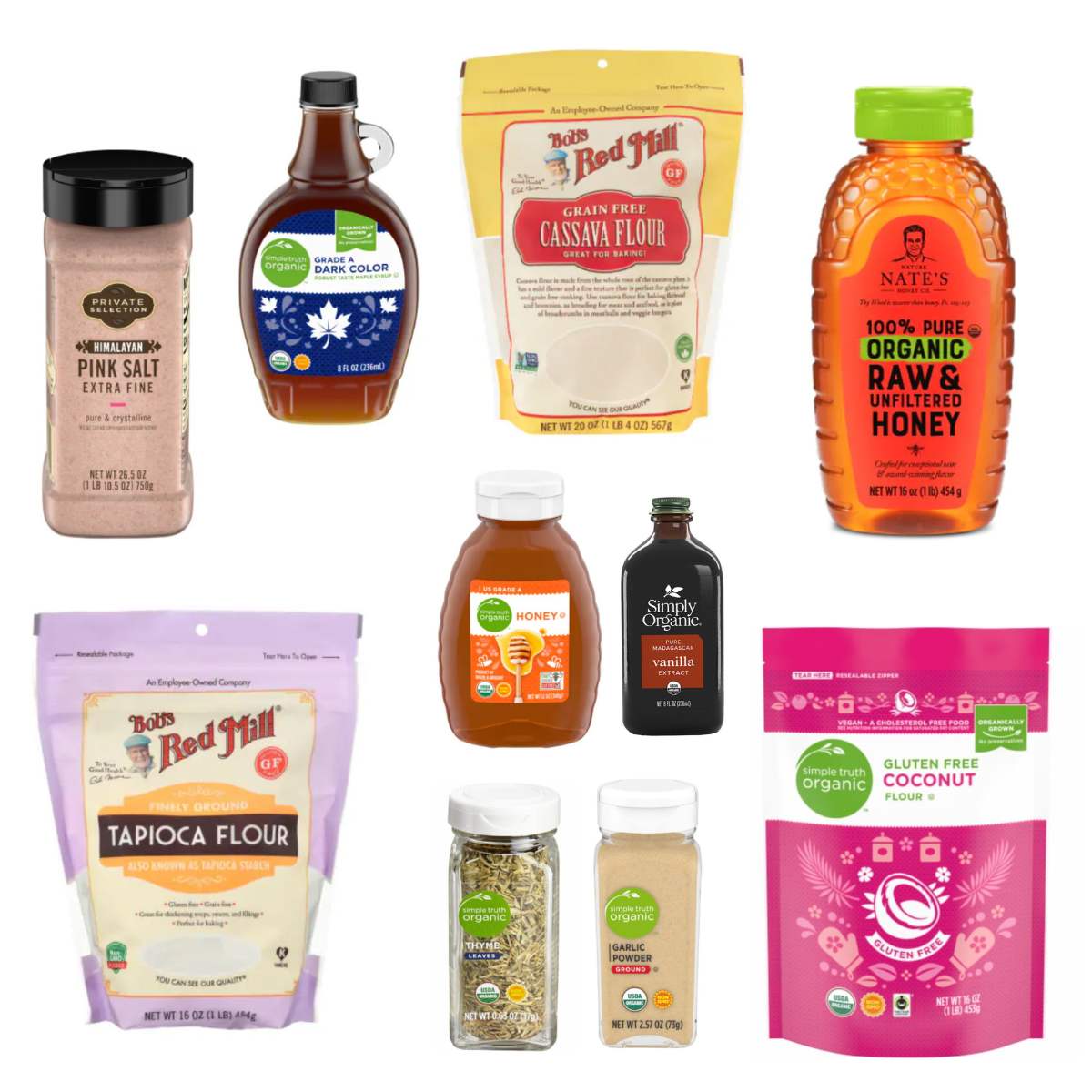 Bob's Red Mill Tapioca Flour
Bob's Red Mill Coconut Flour
Simple Truth Coconut Flour
Simple Truth Organic Cassava Flour
Simple Truth Organic Unsweetened Coconut Flakes
Bob's Red Mill Unsweetened Coconut Flakes
Baking Soda- Bob's Red Mill, Kroger, Arm and Hammer
Simple Truth Organic Coconut Sugar
Nature Nate's Organic Raw Unfliltered Honey
Simple Truth Organic Maple Syrup- Amber or Dark
Simple Truth Organic Honey
Pure Vanilla Extract- Simple Truth Organic, McCormick, Simple Truth Organic Madagascar Vanilla, Spice Islands, 
Pink Himalayan Sea Salt- Morton or Private Selection
Simple Truth Organic Dried Herbs/Spices:

Garlic Powder
Crushed Rosemary
Italian Seasoning Blend
Ground Turmeric
Basil Leaves
Minced Onion
Ground Ginger
Onion Powder
Oregano Leaves
Thyme Leaves
Saigon Cinnamon
Sage Leaves
Parsley Flakes
Mint Flakes
Teas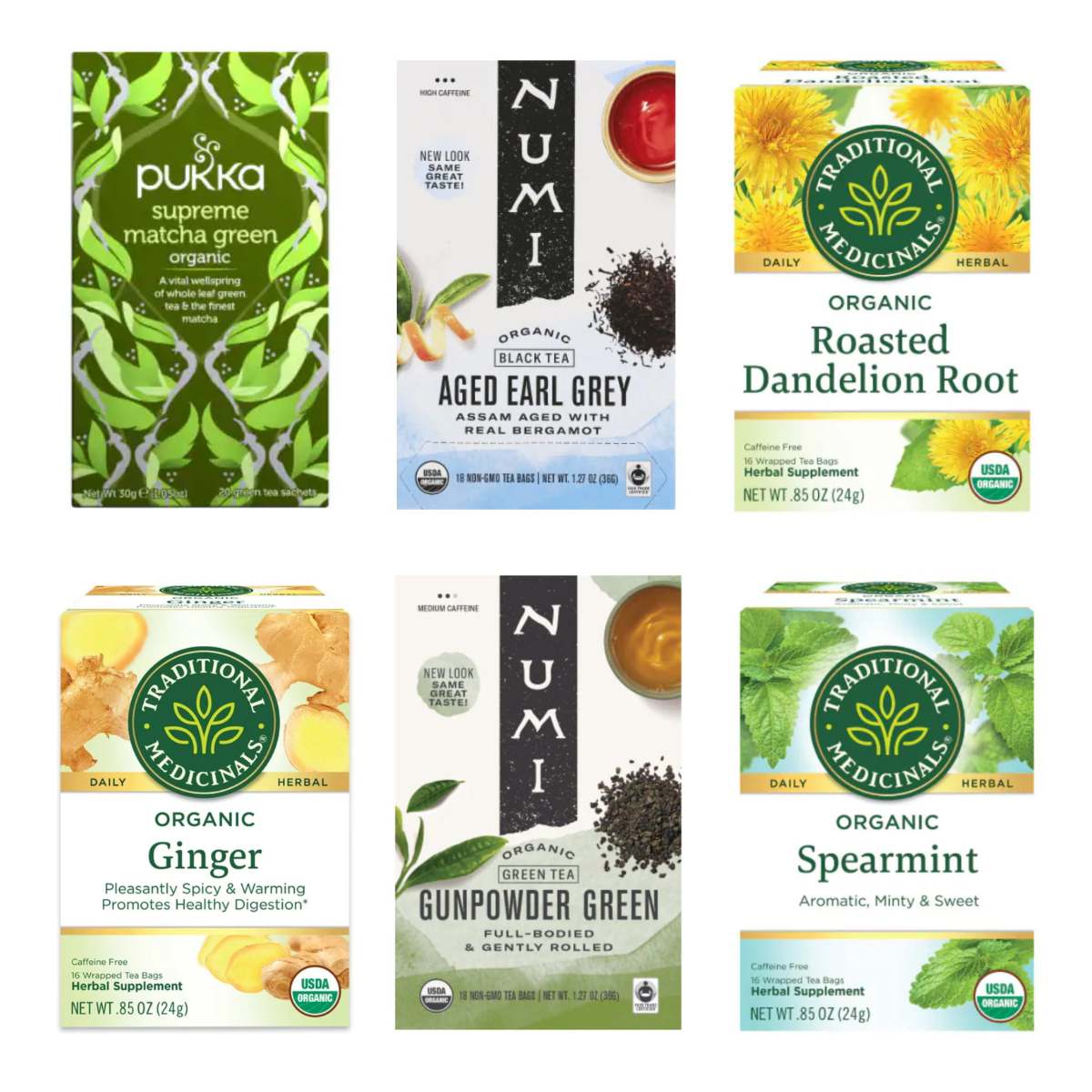 Numi Aged Earl Grey Organic Tea
Numi Gunpowder Green Organic Green Tea 
Numi Organic Jasmine Green Tea Bags
Numi Organic Rooibos Tea
Pukka Supreme Matcha Tea Herbal Green
Simple Truth Organic English Breakfast Black Tea 
Simple Truth Organic Jasmine Green Tea
Yogi Pure Green Tea
Traditional Medicinals Teas

Organic Camomile Tea
Organic Chamomile & Lavender Tea
Organic Ginger Tea
Organic Green Tea
Organic Peppermint Tea
Organic Raspberry Leaf
Organic Roasted Dandelion Root
Organic Spearmint Tea
Peppermint Probiotic Tea
Freezer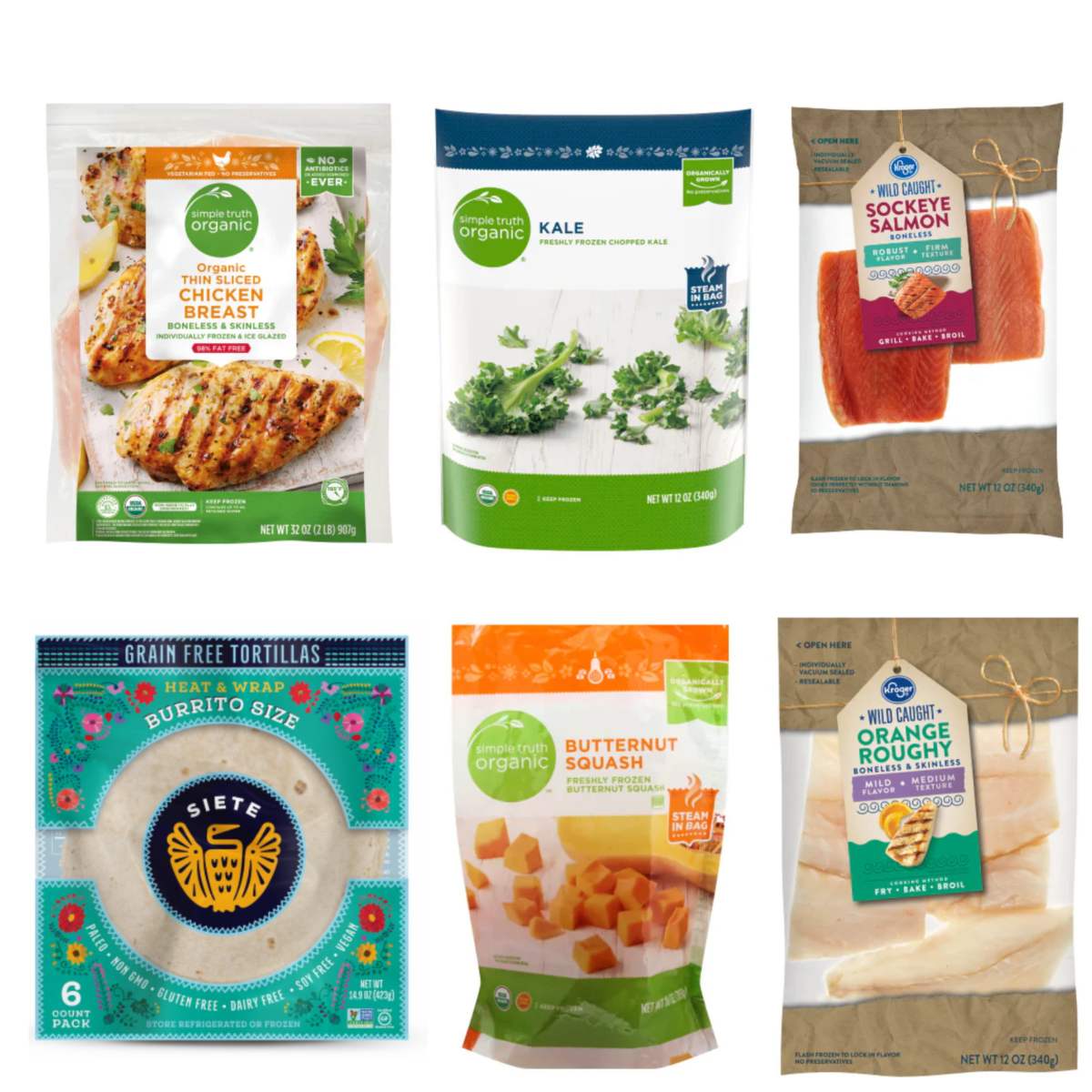 Frozen Vegetables/Other
Bird's Eye Steamfresh Broccoli Florets
Kroger Brussels Sprouts
Kroger Chopped Onions
Kroger Crinkle Cut Carrots
Kroger Cut Leaf Spinach
Kroger Frozen Chopped Spinach
Private Selection Broccoli Florets
Simple Truth Organic Broccoli Florets
Simple Truth Organic Brussels Sprouts
Simple Truth Organic Butternut Squash Cubes
Simple Truth Organic Cauliflower Florets
Simple Truth Organic Chopped Kale
Simple Truth Organic Chopped Spinach
Simple Truth Organic Frozen Sweet Potato Cubes
Ocean Choice Wild Snow Crab Clusters
Simple Truth Organic Spinach Leaves
Simple Truth Organic Thin Sliced Chicken Breasts
Siete Burrito Size Tortillas (teal bag)
Wild Caught Orange Roughy
Wild Caught Sockeye Salmon- *Note- Be sure to choose the Sockeye. The regular wild caught salmon (not sockeye) contains sodium tripolyphosphate which is not AIP)
Frozen Fruit
Farmer's Own Individually Packed Pineapple Wedges
Private Selection Tropical Mango Chunks
Simple Truth Organic Berry Medley
Simple Truth Organic Blueberries
Simple Truth Organic Mango Chunks
Simple Truth Organic Mixed Fruit Medley
Simple Truth Organic Pineapple Chunks
Simple Truth Organic Raspberries
Simple Truth Organic Strawberries (sliced or whole)
Simple Truth Organic Sweet Dark Cherries
Simple Truth Organic Sliced Peaches
Conclusion
I hope you enjoyed the list! If you have anything to add, please comment below. Also, while I read every label and try to make sure this list is perfect, I'm human and may make a mistake here and there. If you see something that's questionable in it's compliance, please reach out to me so I can fix it!