If you're looking for the perfect  AIP bread stuffing, continue reading! The holidays can be a bit of a weird time when you're doing AIP. There are some classic holiday foods like turkey, sweet potatoes, salads, and roasted veggies that are naturally AIP compliant for the most part but what do you do about stuffing??
Stuffing is kind of a tricky one. Most AIP stuffings either have you making an AIP bread first, then incorporating it into a stuffing mixture, while others leave out the bread entirely. These methods are fine but if you're wanting a bread-like stuffing without the added time and effort of making the bread first, this is the recipe for you!
This stuff is so darn easy to make and so delicious. My husband said it's one of his favorite dishes I've ever made (and he is brutally honest when it comes to tasting my recipes). The beauty of this recipe as mentioned above is that you get the breadiness without having to make the bread.
Instead, you'll just saute some veggies (and fruit), mix in some tigernut flour, then add a gelatin/broth mixture and bake it. It bakes up beautifully with a fluffy texture and a satisfying balance of flavors.  
Being AIP and all, this recipe is gluten-free/grain-free, nut-free, egg-free, soy-free, dairy-free, (and probably a couple other "frees") and Whole30 compliant!
**Just a quick heads up- this post contains affiliate links which means if you click on them and buy something,  I will earn a small commission (at no additional cost to you) to help continue maintaining this site.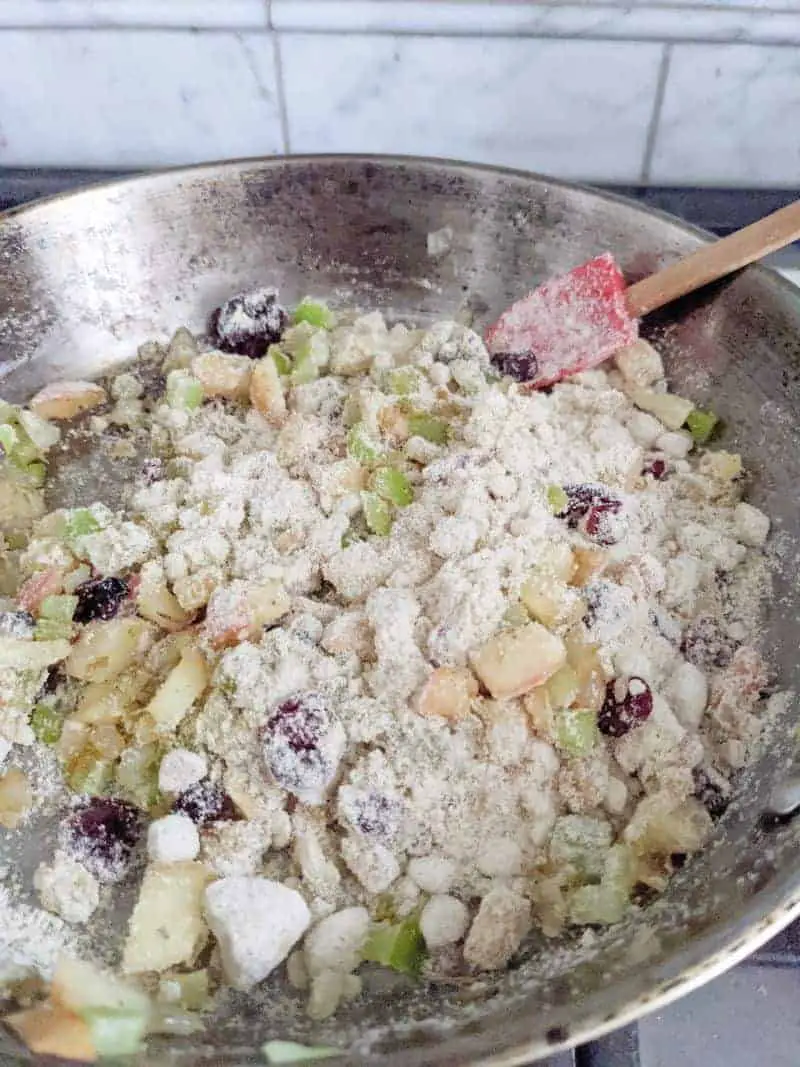 Here's What's in This:
Veggies: Onions and Celery
Fruit: Apples and Dried Cranberries- Make sure you get AIP compliant dried cranberries, meaning no processed oils or added sugar
Coconut oil (or oil of choice)
Gelatin and Chicken Broth-The gelatin and broth work together as a "gelatin egg." Some people get intimidated when it comes to gelatin but it's easy to use. Just mix warm broth and the gelatin powder in a small dish and allow to sit for about a minute then mix it into the other ingredients. Vital Proteins is a good brand. I also use NuNaturals. 
Tigernut Flour- This continues to be one of my absolute favorite AIP flours to use in baking because it is incredibly versatile and contributes a really soft but stable texture to baked goods. It behaves similarly to almond flour. Anthony's is generally the brand I use but Gemini is very popular too.
Dried Rosemary, Garlic Powder, and Pink Sea Salt
Storage
This will stay fresh in the fridge for 3-4 days in an air-tight container. 
Freezing- I have not tried freezing this but I would expect it to do fairly well in the freezer for up to a month or so. 
Substitutions
If you don't want to use onion, celery, or apples, these can be swapped out for other veggies and fruit that better fit your taste preferences. It's a fairly flexible recipe. 
If you prefer not to use cranberries or don't have any, raisins would be an appropriate substitute. 
What if I don't have tigernut flour? I have not tried substituting for the tigernut flour yet, but my first choice to try this would be green banana flour or plantain flour, OR a mixture of coconut flour and cassava flour. 
If you like this recipe, you may also like: 
Kale Salad with Rainbow Carrots
Pumpkin Cherry Cake with Salted Caramel Sauce
Conclusion
I hope you enjoyed this recipe. If you made it, leave a comment below and let me know what you thought. I'd love to hear from you!
Don't forget to follow me on Instagram @foodcourage for the latest AIP/Paleo recipes and Food Courage happenings!
This recipe is shared on the Paleo AIP Recipe Roundtable. 
Below are some of the kitchen tools and food items that are mentioned or pictured in this post and/or that I use frequently in general and recommend. They are affiliate links which means that when you click and purchase a product, I may receive a small commission at no additional cost to you. These earnings help to buffer the costs associated with maintaining the site. 
AIP Bread Stuffing (Paleo, GF, Whole30)
If you're looking for the perfect AIP bread stuffing, this is it! Your non-AIP friends and family will love it too. The other great thing about this recipe is you don't have to make an AIP bread first to add to it.
Instructions 
Heat oil in a medium-sized pan over medium-high heat. Saute onions and celery for 3-4 minutes. Reduce heat to medium-low and add the apples and seasonings. Continue cooking another 3-5 minutes or until softened.

Stir in cranberries and remove from heat.

Preheat oven to 375 degrees Fahrenheit. Grease an 11x9 inch glass baking dish.

Mix the tigernut flour with the mixture in the pan and incorporate it evenly, working out any tigernut flour clumps.

In a separate small dish, combine the broth and gelatin and allow to sit for about 1 minute, then mix it in with the pan mixture.

Transfer the contents of the pan to the glass baking dish, distribute evenly, and press it down into the dish.

Bake at 375 degrees for 45-55 minutes or until slightly browned and a toothpick comes out clean. Remove from the oven and allow to cool slightly, then enjoy.
Notes
The baking dish size does not have to be exact but something around 11x9 or 10x10 inches will be about the right size.
Storage- this will stay fresh in the fridge for 3-4 days. 
Nutrition
Nutrition Facts
AIP Bread Stuffing (Paleo, GF, Whole30)
Amount per Serving
% Daily Value*
* Percent Daily Values are based on a 2000 calorie diet.