This 4 ingredient guacamole recipe is super simple and ready in 10 minutes or less. If you're wanting a guacamole without cilantro and with no onion or other fancy ingredients, this is it. It's so delicious, I could just eat it by itself. It is Paleo, AIP, Whole30, and Keto friendly- yay!
Ingredients for 4 Ingredient Guacamole
Avocados- I used medium-sized avocados.
Lime Juice- Use fresh for the best possible flavor. 
**Just a quick heads up- this post contains affiliate links which means if you click on them and buy something, I will earn a small commission (at no additional cost to you) to help continue maintaining this site.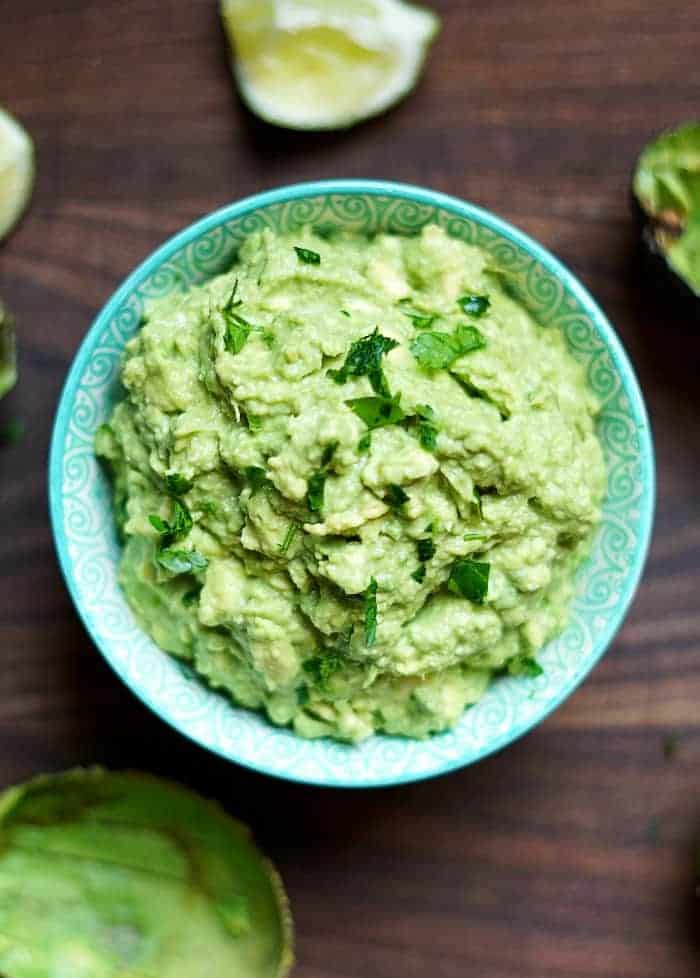 How to Make 4 Ingredient Guacamole
It really couldn't be a simpler recipe- love that! Just add all your ingredients to a medium-sized bowl. Then mash the mixture with a fork until it reaches your preferred texture. 
How Long is Guacamole Good For?
Guacamole will keep in the fridge for 3 to 4 days. It does turn a little brown on top but this doesn't hurt anything and doesn't change the taste much. 
How to Keep Guacamole from Browning
Browning happens because exposure to oxygen causes oxidation to occur. By reducing exposure to oxygen, we can reduce browning. 
For avocado halves, this is as simple as tightly wrapping it in plastic wrap. If you have the pit, leave the pit in as it protects from oxidation as well. 
For mashed avocado, the plastic wrap needs to be actually touching the surface of the guacamole. Wrap it tightly to keep air out.
Also, adding a bit of extra lime juice on top before putting it in the fridge can slow down the oxidation process. 
How to Freeze Guacamole
This guacamole recipe will freeze well because it doesn't have any vegetables in it that can get soggy and weird in the freezer. 
Simply store it in a ziplock bag, pressing out the air when you seal it. Alternatively, you can use a freezer-safe container and cover the guacamole with plastic wrap directly on the surface before adding the lid to the container. This will help prevent freezer burn. 
When you're ready to use it, thaw it in the fridge for a few hours or overnight. 
What Can You Eat With Guacamole?
Tons of stuff! To name a few….
Here are a few recipes where this guacamole would be great: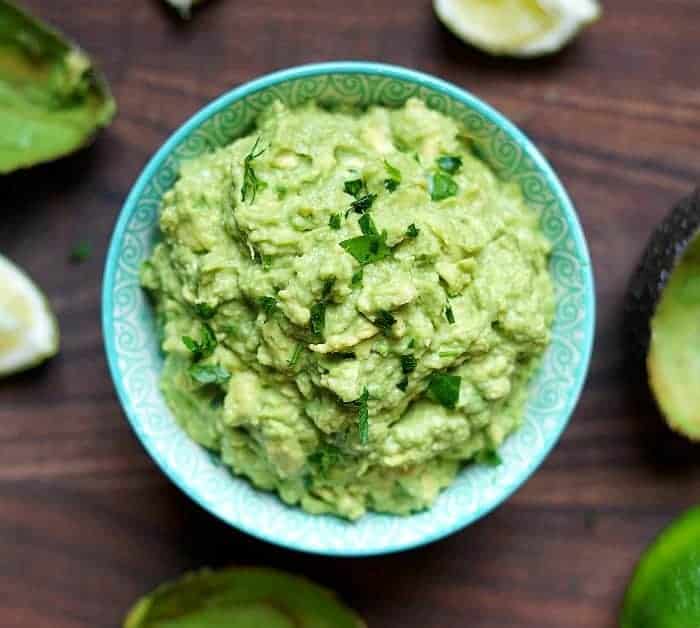 If you enjoyed this post, you may also like: 
Conclusion:
I hope you love the recipe. If you made it, please leave a comment below and let me know what you thought!
Don't forget to follow me on Instagram @foodcourage for the latest AIP/Paleo recipes, autoimmune nutrition info, and Food Courage happenings!
This post is shared on the Paleo/AIP Recipe Roundtable.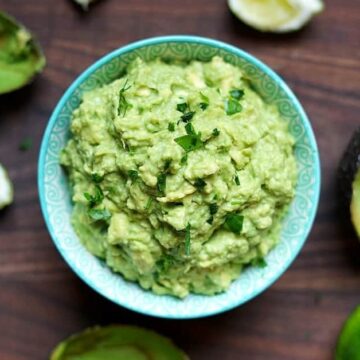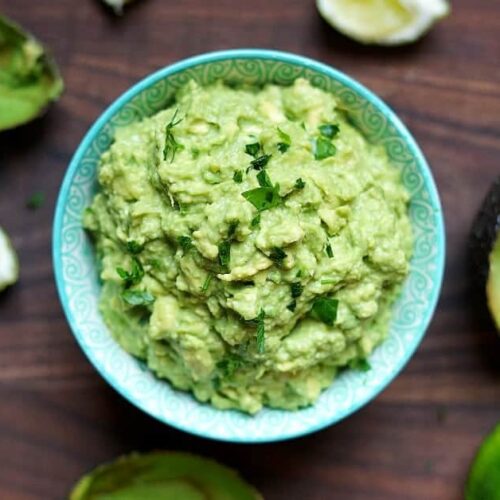 4 Ingredient Guacamole Recipe
This simple 4 ingredient guacamole recipe is super easy and is ready in 10 minutes or less.
Instructions 
Combine ingredients in a bowl and mash to desired smoothness.
Nutrition
Nutrition Facts
4 Ingredient Guacamole Recipe
Amount per Serving
% Daily Value*
* Percent Daily Values are based on a 2000 calorie diet.