Simple Sweet Potato Casserole with Cinnamon Crumble (AIP, Paleo, Vegan)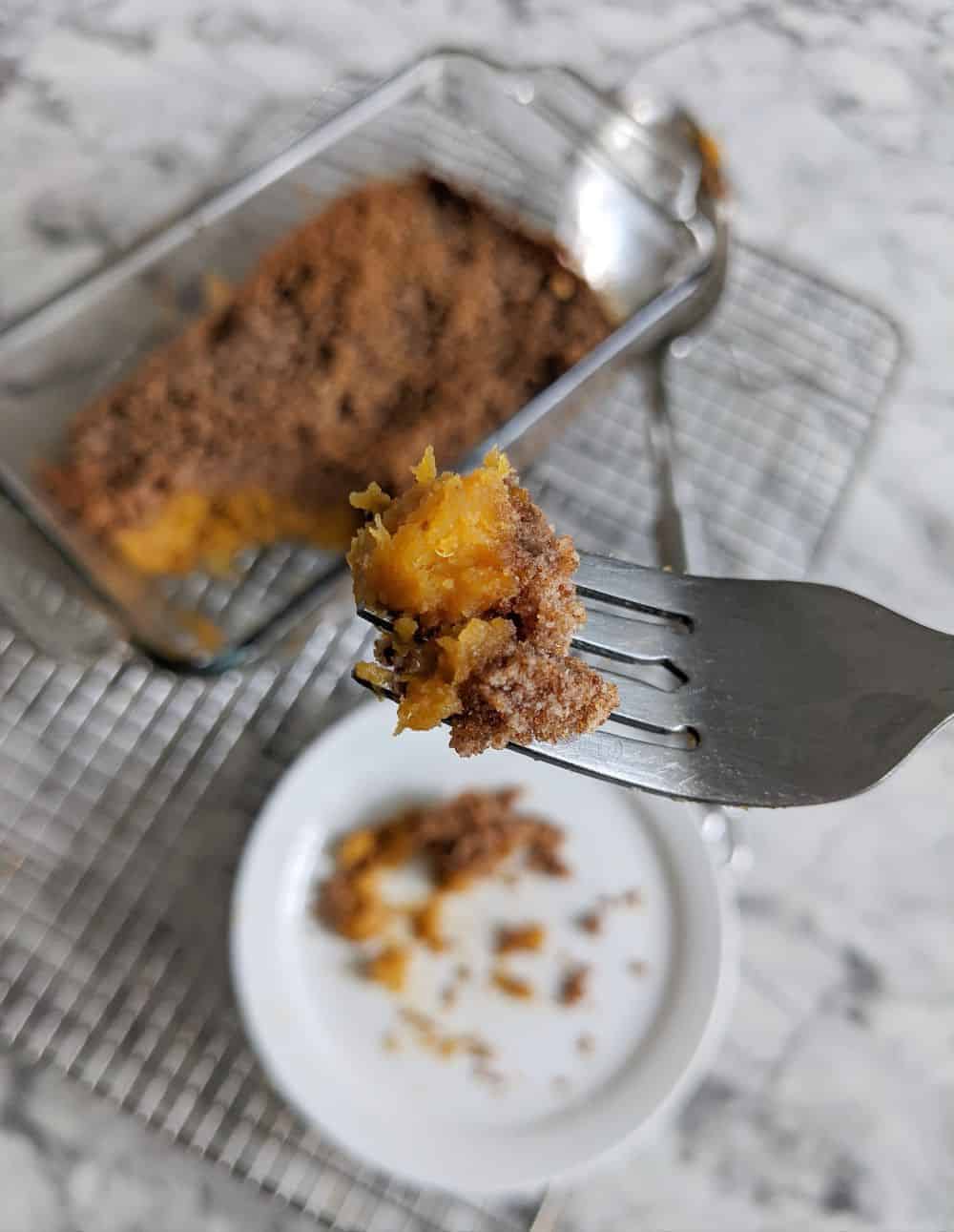 This yummy AIP sweet potato casserole sports a cinnamon crumb topping that is irresistible. It is easy, super tasty, and the perfect side dish for any holiday meal. This recipe is Paleo, gluten-free, egg-free, nut-free, and vegan. 
I can't believe Thanksgiving is almost here!! Are you guys ready? I feel like it's really snuck up on me this year.  
The weather has been weird here in Tennessee fluctuating between warm and sunny and freezing cold. We celebrated Halloween yesterday and the trick or treating weather was so nice and warm! This is fantastic for trick-or-treating but messes with me when the holidays are afoot! Either way, I'm loving experimenting with AIP Thanksgiving recipes and excited to share this one with you. 
**Just a quick heads up- this post contains affiliate links which means if you click on them and buy something,  I will earn a small commission (at no additional cost to you) to help continue maintaining this site. 
A Few Simple Ingredients:
If you ever struggle with what to substitute for certain AIP ingredients, you can get a cheat sheet here for some suggestions. You can also check it out below. 
The Crumb Topping
The gorgeous crumb topping consists of a mixture of coconut oil, coconut flour, coconut sugar, and cinnamon. 
When you make the crumb topping you will not melt the coconut oil but rather, just mix it in with the other ingredients to make crumbles. Be careful not to mix it too much though as it's possible to break all the crumbles. 
You'll then just add it to the top of the casserole and bake it! It'll caramelize a bit and get slightly browned and crunchy- yum!
If you like this recipe, you may also like: 
Pumpkin Cherry Cake with Salted Caramel Sauce
Conclusion
I hope you enjoyed this recipe. If you made it, leave a comment below and let me know what you thought. I'd love to hear from you!
Don't forget to follow me on Instagram @foodcourage for the latest AIP/Paleo recipes and Food Courage happenings!
This recipe is shared on the Paleo AIP Recipe Roundtable.
Below are some of the kitchen tools and/or food items that are mentioned or pictured in this post and/or that I use frequently in general and recommend. They are affiliate links which means that when you click and purchase a product, I will earn a small commission at no additional cost to you. These earnings help to buffer the costs associated with maintaining the site. 
Simple Sweet Potato Casserole with Cinnamon Crumble (AIP, Paleo, GF, vegan)
Print
Rate
Ingredients
Filling
4

medium

sweet potatoes, peeled if desired and boiled

about 4 cups mashed

1/2

cup

full fat coconut milk

3/4

cup

coconut sugar, adjust to desired sweetness

1/2

tsp

vanilla extract

1/4

tsp

pink sea salt
Instructions
Preheat oven to 350 degrees Fahrenheit and grease an 8x8" glass baking dish.

Mash the sweet potatoes. In a large bowl, mix in the coconut milk, coconut sugar, vanilla, and sea salt with the sweet potatoes until well incorporated.

Spoon the sweet potato filling into the glass dish and distribute it evenly.

Make the crumb topping by combining the topping ingredients in a small bowl. Be careful not to stir them too vigorously or all the crumbles will break- leave some intact.

Pour the crumb topping on top of the filling and distribute it evenly.

Bake at 350 degrees for about 40 minutes. Allow to cool slightly, then serve.
---
---