This yummy AIP sweet potato casserole sports a cinnamon crumb topping that is irresistible. It is easy, super tasty, and the perfect side dish for any holiday meal. This recipe is Paleo, gluten-free, egg-free, nut-free, and vegan. 
I can't believe Thanksgiving is almost here!! Are you guys ready? I feel like it's really snuck up on me this year.  
The weather has been weird here in Tennessee fluctuating between warm and sunny and freezing cold. We celebrated Halloween yesterday and the trick or treating weather was so nice and warm! This is fantastic for trick-or-treating but messes with me when the holidays are afoot! Either way, I'm loving experimenting with AIP Thanksgiving recipes and excited to share this one with you. 
**Just a quick heads up- this post contains affiliate links which means if you click on them and buy something,  I will earn a small commission (at no additional cost to you) to help continue maintaining this site. 
AIP Sweet Potato Casserole Ingredients:
Sweet Potatoes (obviously)- You can peel these (or not). If you are peeling them, it's easiest the remove the skin after you boil them because it pretty much just comes right off. 
Full Fat Coconut Milk- Use full fat and make sure it doesn't contain guar gum. I like Thai Kitchen's 2 Simple Ingredient product. It is not as thick as the stuff in the can but I use it for everything and it works great. 
Coconut Sugar- This is a very sweet dish with plenty of coconut sugar. The recipe calls for ¾ cup of coconut sugar in the filling (which I love and think it tastes great- that's why I wrote the recipe this way). However, since everyone has varying levels of the sweetness they desire in a sweet potato casserole, my recommendation would be to start with a ½ cup and taste it, then add more if you want. Also, keep in mind that the crumb topping adds some sweetness too. 
Vanilla Extract-  Simply Organic is a good brand. It does have alcohol which isn't typically allowed on AIP but it's ok in this case because we'll be cooking the donuts allowing the alcohol to cook off. 
Pink Sea Salt- Pink sea salt if preferred to some other salts because it contains healthy trace minerals.
The Crumb Topping
The gorgeous crumb topping consists of a mixture of coconut oil, coconut flour, coconut sugar, and cinnamon. 
When you make the crumb topping you will not melt the coconut oil but rather, just mix it in with the other ingredients to make crumbles. Be careful not to mix it too much though as it's possible to break all the crumbles. 
You'll then just add it to the top of the casserole and bake it! It'll caramelize a bit and get slightly browned and crunchy- yum!
If you like this recipe, you may also like: 
Pumpkin Cherry Cake with Salted Caramel Sauce
Conclusion
I hope you enjoyed this recipe. If you made it, leave a comment below and let me know what you thought. I'd love to hear from you!
Don't forget to follow me on Instagram @foodcourage for the latest AIP/Paleo recipes and Food Courage happenings!
This recipe is shared on the Paleo AIP Recipe Roundtable.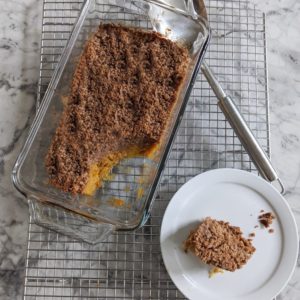 Sweet Potato Casserole with Cinnamon Crumble (AIP, Paleo, GF, vegan)
This AIP sweet potato casserole has an irresistible cinnamon crumb topping, it's easy to make, and it's the perfect side dish. It comes together in just under an hour.
Instructions 
Preheat oven to 350 degrees Fahrenheit and grease an 8x8" glass baking dish.

Mash the sweet potatoes. In a large bowl, mix in the coconut milk, coconut sugar, vanilla, and sea salt with the sweet potatoes until well incorporated.

Spoon the sweet potato filling into the glass dish and distribute it evenly.

Make the crumb topping by combining the topping ingredients in a small bowl. Be careful not to stir them too vigorously or all the crumbles will break- leave some intact.

Pour the crumb topping on top of the filling and distribute it evenly.

Bake at 350 degrees for about 40 minutes. Allow to cool slightly, then serve.
Nutrition
Nutrition Facts
Sweet Potato Casserole with Cinnamon Crumble (AIP, Paleo, GF, vegan)
Amount per Serving
% Daily Value*
* Percent Daily Values are based on a 2000 calorie diet.