Doing without your favorite condiments like cool creamy ranch can be a bummer on the AIP diet. Luckily, there are simple recipes like this one to get you through. If you're in search of a satisfying AIP ranch dressing recipe, you're in the right place. This stuff is super easy and fast to make and only requires a few ingredients. 
I can eat ranch with pretty much anything so I'm excited to have a good go-to recipe to use. It's great for salads, dipping veggies or chips, etc. 
**Just a quick heads up- this post contains affiliate links which means if you click on them and buy something,  I will earn a small commission (at no additional cost to you) to help continue maintaining this site. 
AIP Ranch Dressing Ingredients: 
Coconut Cream- Make sure you get one that's guar gum-free. It's best if it's cold because it'll be thicker. If you can't find a compliant coconut cream, you can use full-fat coconut milk but it'll be a little thinner. 
Lemon Juice- Just a little bit of lemon juice adds the right amount of tang for this sauce. 
Dried Dill Weed- Dill is a key ingredient in any ranch sauce. Note that dill weed is AIP compliant whereas dill seed is not because it's a seed. 
Onion Powder- Another simple but important ingredient. 
Garlic Powder- Garlic combined with the other herbs makes for a well rounded ranch-like flavor. Yum!
Sea Salt- Any sea salt is fine. I like Pink Himalayan Sea Salt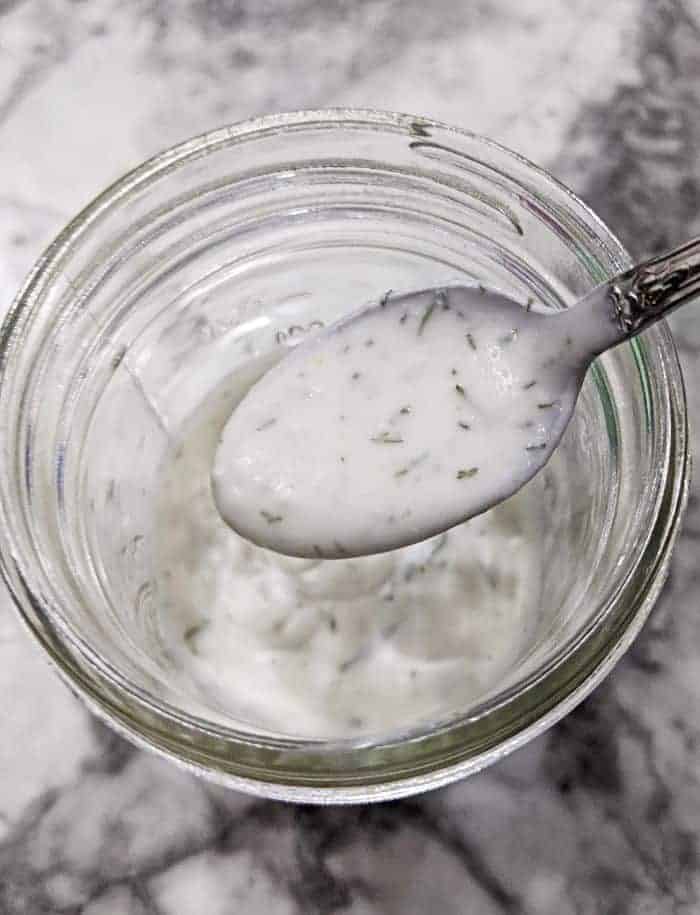 Storage
Keep in the fridge for up to 5 days in an airtight container. 
Ways to Use AIP Ranch Dressing:
If you enjoyed this post, you may also like: 
Super Easy Orange Cinnamon Dressing
57+ AIP Pantry Items and What to do With Them
Conclusion:
I hope you found this post useful. If you tried this recipe, leave a comment below and let me know what you thought!
Don't forget to follow me on Instagram @foodcourage for the latest AIP/Paleo recipes, autoimmune nutrition info, and Food Courage happenings!
If you liked this post, please share it!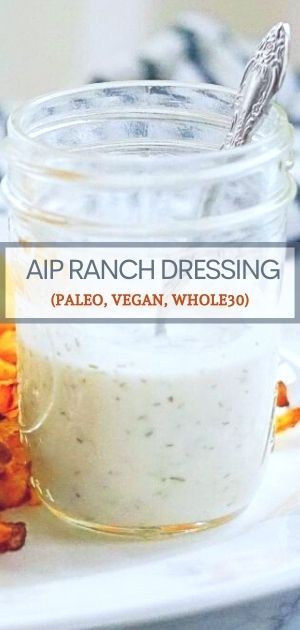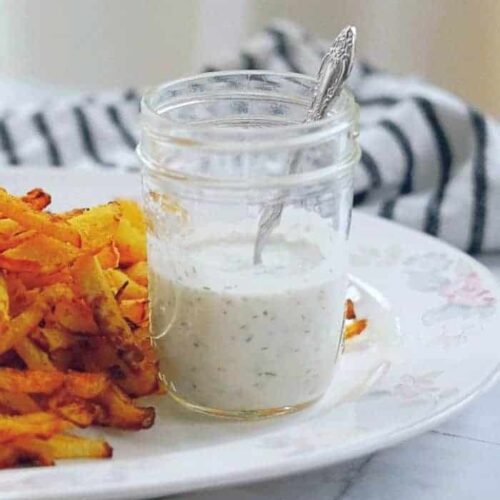 AIP Ranch Dressing
This AIP ranch dressing is thick, creamy, and delicious. It comes together in just 5 minutes using a handful of ingredients and it's extremely versatile.
Instructions 
Mix all ingredients together in a small dish and use as desired.

1 cup coconut cream (preferably cold),

1/2-1 tbsp lemon juice,

1 tsp dried dill weed,

1 tsp onion powder,

1 tsp garlic powder,

1/2 tsp sea salt
Notes
Makes about 1 1/4 cups of dressing.
Store in an airtight container in the fridge for up to 5 days. 
Nutrition
Nutrition Facts
AIP Ranch Dressing
Amount per Serving
% Daily Value*
* Percent Daily Values are based on a 2000 calorie diet.