Trying to stick to a Paleo diet when you live a busy life can be a challenge but is possible with some planning. Luckily there are tons of fabulous options when it comes to on-the-go Paleo snacks (both ones that are pre-packaged and ones you prep at home).
Whether you're running errands, traveling or just need a yummy paleo snack, there is likely something in the list below that will work for you. I've got quite a few Amazon accessible snacks below because I love the convenience of Amazon Prime and turn to Amazon for hard to find items...ok for most items. That being said, many of these things are available at most grocery stores too.
My husband travels frequently for work so I'm always looking for Paleo-friendly items he can take with him on trips because he often gets stuck in situations where it's tricky to get anything remotely healthy, let alone Paleo-friendly. Plus, he always does carry-on only for flights so it helps to carry easily identifiable items in the original packaging so there are no hiccups going through security (this is where single serving size items can be helpful). Things like random zip lock bags filled with collagen/protein powder are not ideal.
Here is my list of favorite snack items for busy people:
1. Jerky/Meat Sticks:
Lot's of great options to choose from here:
Mission Meats Beef Sticks- These are made with grass fed beef, are Paleo and Keto friendly, gluten free, dairy free, non GMO, etc.  Amazon sells them in 12 ct, 24 ct or 24 ct in Original, Hardwood Smoked Bacon Pork, Smoked Pepper Pork Flavors.  
Epic Bars- Paleo and Whole30 Compliant. No Dairy, Soy, Gluten, Grains, Refined-Sugars. Offered in 9 different Flavors. These are offered on Amazon but can sometimes be found cheaper on sale at the grocery store (like many things). I get them at Kroger when they are part of a "Buy 5, Save 5" sale. 
SoGo Snacks Grass Fed Beef Sticks- 100% Grass-Fed Beef, Non-GMO, No Added Hormones and No Antibiotics. Paleo, Whole30 and Ketogenic Friendly. Come from Amazon in packs of 12, 24 or 48 and in Barbeque and Pineapple, Buffalo Wing, and Original Flavors. 
CHOMPS Grass Fed Beef Jerky Meat Snack Sticks- These are made with 100% Grass Fed Beef & Venison, Free-Range Turkey. Antibiotic Free, No Hormones, Cruelty free. Comes in a 10 pack of (1.15 oz) sticks and is sold in 8 flavors: Cranberry Habanero Beef, Italian Style Beef, Jalapeno Beef, Jalapeno Turkey, Original Beef, Sea Salt Beef, Turkey, and Venison
The New Primal Classic Beef Meat Stick- Made with 100% grass-fed beef raised without the use of antibiotics or added hormones. Provides 90 calories and 6 grams of protein per serving. 20 (1 oz) sticks- Comes in BBQ, Cilantro Lime, and Classic Beef. These are also sold at Kroger.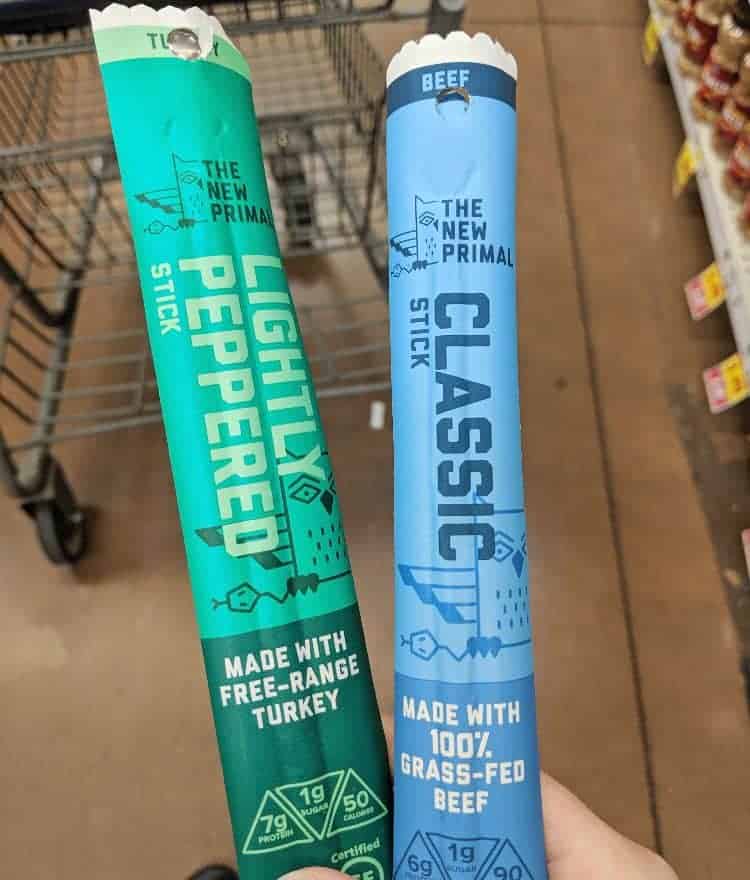 2. Fresh Veggie Sticks with Wholly Guacamole cups or other Paleo-friendly dip
If you're looking to switch it up a bit, Pistachio Butter is an interesting choice. This does not come in individual packs however.
If you prefer to buy nut butter in bulk, just put 1-2 Tbsp in a condiment container and take it with you. I get these little disposable containers at Kroger (like everything else.)
3. Fruit or Veggie Chips- These can be tricky to find without added sugar or a less than favorable oil. Making your own is a good way to control this but if you prefer to buy them, here are a couple options:
Thai Sweet Chili Flavored Banana Chips- Available in 6 single serving bags; comes in BBQ, Sea Salt, and Sriracha flavors.
Jackson's Honest Sweet Potato Chips- Made with only 3 ingredients (organic coconut oil, non-GMO sweet potatoes, and sea salt).
Bare Apple Chips: Just contains apples and maybe cinnamon if you go with the cinnamon variety. Sold on Amazon in sets of 6 or 24 snack size bags and in Cinnamon Flavor or Fuji and Reds Apple flavors. You can buy the larger bags at many grocery stores.
4. Snack Bars
There are a million Paleo friendly snack bars out there to choose from but here are few:
RX Bars- Generally just contain nuts, egg whites, dates. I get these at Kroger and Sam's Club.
Epic Bars- As with the RX bars, the fruity Epic bars are generally made with nuts, egg whites, and dates. They come in a ton of flavors. These are also available at Kroger (I generally wait until they go on sale).
Caveman Foods Paleo-Friendly Nutrition Bars: These have more ingredients than you'd find in Rx bars or Epic bars but they are Paleo certified and generally well liked. These are sold on Amazon in 12 ct boxes and come in Dark Chocolate Almond, Caramel Cashew, Cashew Almond, or Cherry Nut Flavors.
That's It Bars- These are very simple and delicious with only a couple ingredients per bar (usually fruit). Available in many grocery stores.
Larabars- These come in a ton of flavors, most of which are Paleo friendly. Generally dates/other fruits and nuts are the ingredients used. They're available in most grocery stores and of course on Amazon.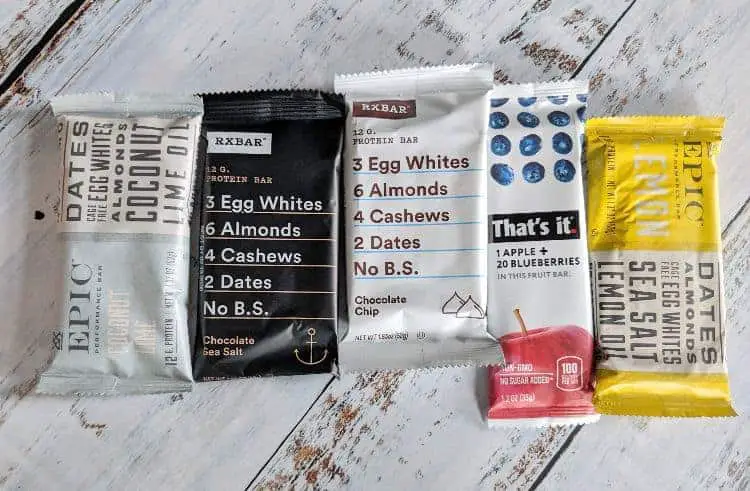 5. Freeze-dried Fruit- Kroger has a few varieties to choose from in its Simple Truth brand. In particular, the 6 pack below is nice and it's pretty affordable compared to some of the other brands. They also have regular sized bags which are better if you want to make a snack mix or trail mix. 
Another  brand: Crispy Green Freeze-Dried Fruit- Each variety is made with just one ingredient. Comes in packs of 16 (.35 oz) bags in Pear, Pineapple, Tangerine, Apple, Mango, Banana flavors.
6. Trail mix- Make your own (Strawberry Banana Trail Mix shown below) or try:
Enjoy Life Seed & Fruit Mix: Pack of 6 (6 oz) or 24 (1.63 oz bags), Mountain Mambo Flavor
7. Lillabee Brownie Thins These come in Chocolate, Chocolate Mint and Salted Caramel. Not a bad choice if you're jonesing for something sweet.
8.  Nature's Bandits Organic Fruit & Veggie Stix- Comes in set of 24 (.6 oz) bags and 4 flavors: Blueberry, Mix Berry, Apple, and Mango.
9. Hard-Boiled Egg with prosciutto, smoked salmon, or chicken sausage (Aidell's Apple Chicken Sausage is Paleo friendly)
10.  Lesser Evil Paleo Puffs- These are pretty delicious if you're in a snacky mood; the "No Cheese Cheesiness" is my favorite.  You can get them from Amazon in 18 snack size bags in 3 flavors: Himalayan Salt and Apple Cider Vinegar, No Cheese Cheesiness, and Himalayan Pink Salt. Organic, Non-GMO, Certified Paleo, Vegan, Gluten Free, Grain Free.
11. Paleo Crackers- Pair with canned or smoked salmon, homemade chicken salad, nut butter, paleo hummus, etc.
Make your own Cassava Almond Pepper Crackers, Trio Paleo Flour Blend Snack Crackers, Chia Cashew Snack Crackers or try:
Paleo & Primal Thin Crackers- Sold in packs of 2 (8.4 oz) boxes.
Doctor In The Kitchen, Flackers Organic Flax Seed Crackers- These come in Savor, Dill and Cinnamon and Currant Flavors.
Jilz Gluten Free Cracked Pepper and Sea Salt Crackerz- These are made with almond flour, various seeds, tapioca flour and spices. They come in Original, Mediterranean, and Tuscan Flavors.
12. Dang! Coconut Chips- These have only two ingredients- Coconut and Sea Salt and come in sets of 2 (3.17 oz) packages from Amazon. I get these at Kroger too. I use these to make the trail mix seen above.
13. Bard Valley Natural Delights Medjool Date Rolls- I get these at Kroger. They are delicious- Only 2 ingredients (coconut and dates) and only one or two will take care of a sweet tooth. They're high in sugar though so go easy on them.
14. Paleo Granola by itself or with Coconut yogurt
Make your own granola or try:
Supernola Healthy Paleo Grab & Go Snack Mix-  These are organic, non-GMO, vegan & gluten free. Comes in sets of 4 or 12 (1.5 oz) bags in  Dragonfruit Lemon Zest, Pineapple Ginger Fusion flavors,  and Variety Pack.
GrandyOats Grain Free Granola- Made from organic unsweetened coconut, nuts and seeds.  , Certified Gluten Free, USDA Certified Organic, Paleo, Non-GMO Verified, Dairy Free and Kosher. The company is very environmentally responsible with a solar powered bakery in Maine. Comes in 3 (9 oz) bags in Original, Chocolate Chunk or Coffee Crunch Flavor
Wild Way Vegan Granola Snack Packs-  These are organic, gluten free, non-GMO and contain no wheat, corn, or oats, added sweeteners, or artificial flavorings. Come in sets of 4 or 12 (2 oz ) bags and in Apple Cinnamon, Banana Nut, Coconut Cashew, Vanilla Espresso Bean.
Steve's PaleoGoods Cinnamon PaleoKrunch Cereal- Made with nuts, seeds, coconut and  honey. Free of GMO's, sulfites, sulfates, preservatives. Sold on Amazon in groups of 1, 3, or 6 (7.5 oz) packs and comes in Cinnamon Flavor. These are also sold at Kroger.
15. Canned Wild Caught Pink Alaskan Salmon, Mackerel, or Albacore Wild Tuna from Wild Planet- Their products are 3rd party mercury tested, sustainably caught, non-GMO. Eat this with Paleo crackers or over a salad. The salmon comes with an easy open lid (the others may as well) which makes it easier to take along for a quick snack.
16. Unsweetened apple sauce cup- While not anything glamorous or exotic, a simple applesauce cup is cheap and comes in really handy when you don't want to get your hands sticky with a piece of fruit. Pair it with some protein like nuts or a granola mix for a quick easy snack.
SeaSnax Roasted Seaweed Grab and Go Packs- Organic, Set of 12 (.18 oz) packs.
GimMe Snacks Organic Roasted Seaweed- Packs of 12, 20, or 48 (.17 oz) bags
Simple Truth Organic (Kroger, pictured below)- these are usually $1 each.
18.  Make a wrap using paleo friendly tortilla: add nut butter, eggs, avocado with bacon, etc.
Make your own or check out one of these:
Siete Almond Flour & Cassava Flour Tortillas
19. Protein Powder/Collagen Individual Packs
Vital Proteins Collagen Peptide Powder Sticks- Free of gluten, dairy, and sugar - Whole30 Approved and Paleo friendly. Contains 10 g collagen per serving. Sold in box of 20 (.35 oz) sticks.
Bulletproof Collagen Protein GoPack- Sourced from pasture-raised cows, without added hormones. Comes in a 15 ct. box of (.46 oz) sticks. 12 g of protein and 50 calories per serving.
Norcal Organics Marine Collagen Peptide Powder Made from wild caught cod collagen peptides. The company uses sustainable fishing practices and the fish are low in heavy metals. 30 Pack, 12 g Protein per Packet.
PaleoPro Protein Powder (Single-Serving 12 Packs)- No Whey or Soy, Contains 120 calories per serving, 26 g protein and 0 g sugar. Comes in Ancient Cacao and Aztec Vanilla for the single serve packs. Also comes in Mayan Mocha and Plain Naked if you buy a larger bag.
20. Bone Broth Individual Packs
Ancient Nutrition Organic Bone Broth Protein Powder- Organic, 120 calories and 20 g of protein and 1 g sugar per serving. Comes in 12 ct box of (1.2 oz) single serve packets. Comes in French Vanilla, and Cafe Mocha flavors.
LonoLife Chicken Bone Broth Powder- Packs 8-10 g of protein per serving and comes in stick packs, K-Cups, or bulk container.  I was blown away to find that there are K-Cups for bone broth! Basically as long as you have access to a Keurig or other hot water source, you're good to go.
21. Paleo Tortilla Chips and Salsa (or guacamole or Paleo queso)
A couple of chip options:
Siete Made from cassava flour and coconut flour.
Garden of Eatin' Grain Free Paleo Everything Seasoning Tortilla Chips- Made with organic cassava flour and are non-GMO. They're Paleo certified, vegan and do not contain hydrogenated oils, artificial flavors, colors or artificial preservatives. 
22. No-Bake Apricot Cashew Coconut Bites- This is a recipe I came up with recently and we are all hooked on it. 3-4 bites makes a good snack. 
23. 5-Minute Chocolate Brownie Bites- Another very quick easy snack to make- these are my daughter's favorite.
I hope this list was helpful- thanks so much for reading. Please leave a comment below if you have other ideas!
If you enjoyed this post, you may also like: 
87+ AIP Snack Ideas- Recipes and Packaged Foods
No-Bake Carrot Cake Protein Balls