These little AIP muffins are quick and easy and sure to satisfy a sweet tooth. If you're doing the autoimmune protocol, there's no need to miss out on bread items like muffins. These are lightly sweet and have a moist and fluffy texture. They're perfect for breakfast or on-the-go snacks.
Aside from being AIP friendly, they're also Paleo, egg-free, nut-free, soy-free, and gluten-free.
When it comes to types of flour, the more AIP baking I do, the more I keep going back to a combination of equal amounts of coconut flour, cassava flour, and tigernut flour as my base.
I have tried to use tigernut flour a little less lately because it's not usually found at the grocery store and has to be ordered online. However, I keep going back to it because it produces such nice soft, even-textured baked goods. 
**Just a quick heads up- this post contains affiliate links which means if you click on them and buy something,  I will earn a small commission (at no additional cost to you) to help continue maintaining this site. 
Strawberry Rhubarb Muffin Ingredients
Full Fat Coconut Milk

- It's hard to find a good coconut milk that does not contain guar gum.

Thanks to one of the AIP Facebook Groups I'm a member of,  I've recently discovered

Thai Kitchen Unsweetened Coconut Milk

per a recommendation from one of the members. Its ingredients are just coconut and water and so far, I've been extremely happy with it. The texture is very consistent and velvety smooth.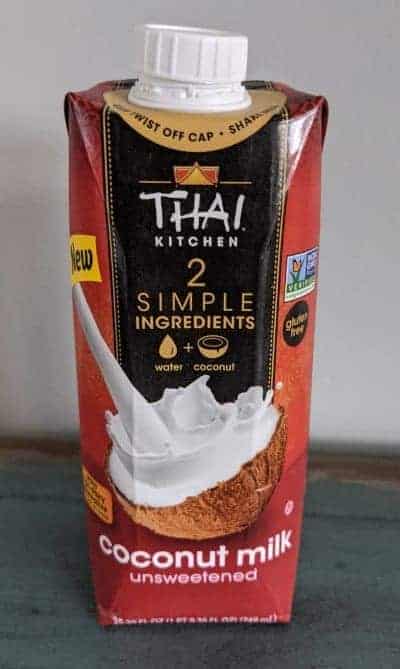 Unsweetened Apple Sauce

- I usually buy apple sauce cups because the recipe calls for such a small amount and we won't always use a larger jar of it. 

Apple Cider Vinegar

- The vinegar in combination with baking soda helps the muffins to rise and adds some "fluffiness."

Pure Vanilla Extract

- Vanilla extract can be a confusing ingredient when it comes to AIP compliance. If it is cooked to remove the alcohol, it is considered compliant. For foods that will not be cooked, you can use

vanilla powder

. It's more expensive than the extract but you only use a tiny amount at a time (usually .5 to 1 tsp for recipes). Generally, the conversion is ½ tsp vanilla powder per 1 tsp of vanilla extract.

Gelatin

- Gelatin is very popular in the Paleo world for its ability to repair the gut and to replace eggs (which contain inflammatory proteins) in baked goods. Gelatin powder combined with a little water works great as an egg replacement in AIP baked goods. I've been using this brand. 
In this recipe, you'll combine the gelatin powder with a little bit of lukewarm water to make a "gelatin egg." Just be sure not to get the water too hot as it can make the gelatin get clumpy very fast. You'll want to add the gelatin egg mixture to the wet ingredients right away so it gets incorporated before getting too firm.
When buying gelatin, look for a product that is sourced from grass-fed, pasture-raised animals that have not been given hormones, antibiotics, or GMO grains. Also, look out for sneaky additives and preservatives which are usually not AIP compliant. 
Tigernut Flour

- Tigernut flour, made from tigernuts, which are a tuber, not a nut, is a super versatile and very forgiving flour. It works in so many things and is by far my favorite AIP-friendly flour to bake with.  If you haven't tried it, I highly recommend it. I usually go with

Anthony's

brand. 

Cassava Flour

- Cassava flour, also made from tubers, is very similar to white flour. It's pretty versatile as well, but I don't like to use too much of it in any one recipe because it can be a little gritty. As long as you don't use too much of it, you won't notice this. Also, texture can vary from brand to brand.

Otto's Cassava Flour

is very soft and fine.

Anthony's

is pretty good too though and considerably cheaper. 

Coconut Flour

- Coconut flour is pretty affordable and widely available in grocery stores. It is very soft and fine so it contributes some nice qualities to texture but it's very finicky. I can only use a small amount in recipes; otherwise, things just fall apart.

Strawberries and Rhubarb

- A classic combination; the sweetness of the strawberries balances out the tartness of the rhubarb.

Just make sure to cut the fruit into really small pieces since they will be going into small muffins.

If the pieces are too big, they overtake the muffin and may make it a bit soggy in spots. This recipe calls for ½ tbsp of coconut flour to toss the fruit in before adding to the recipe just to absorb some of the moisture from the fruit as it bakes.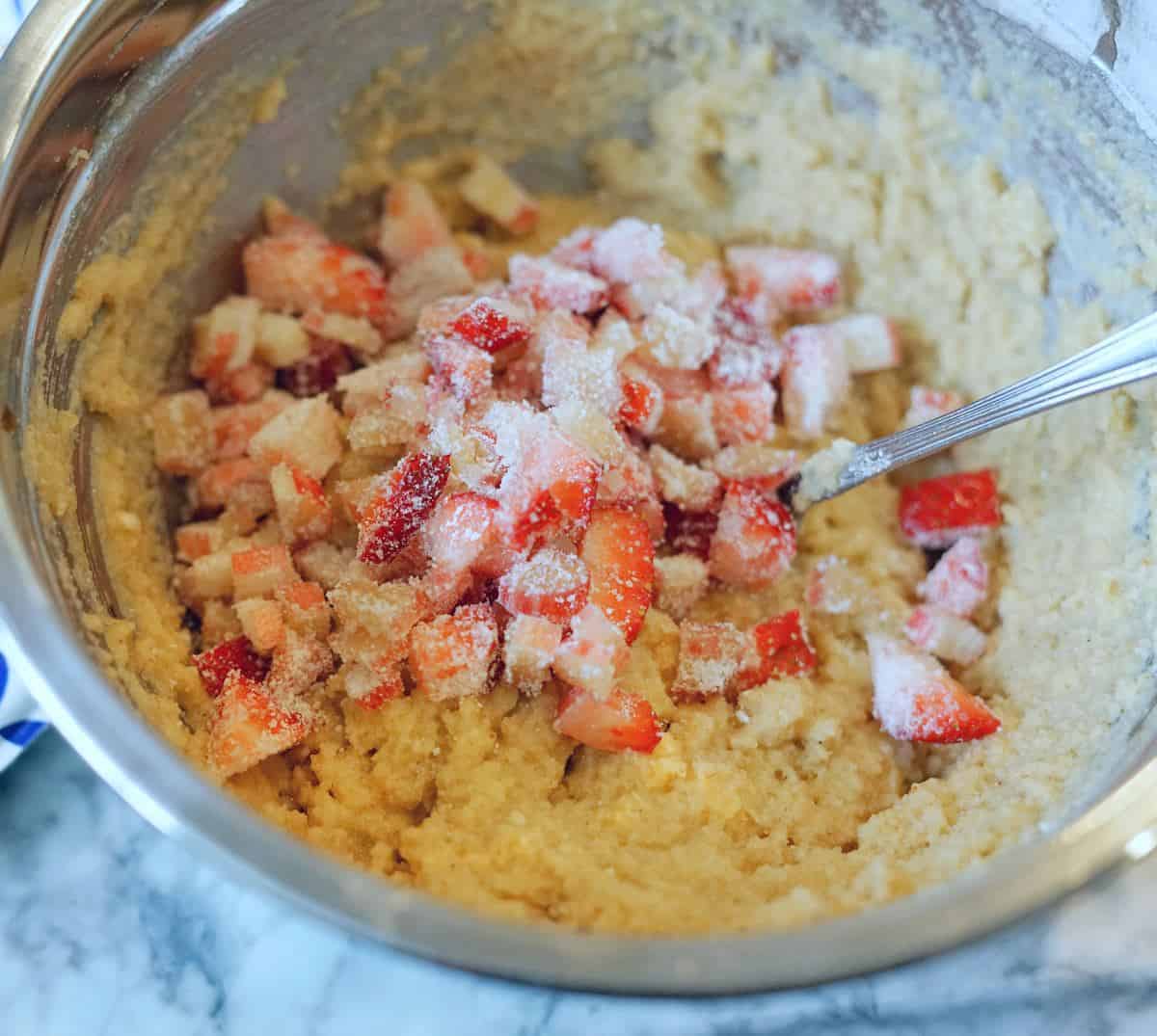 What is rhubarb?
Rhubarb is a vegetable sold in stalks by the pound at the grocery store. The stalks are the only edible part of the plant and leaves are actually poisonous.
What does rhubarb taste like and How Do You Eat It?
Rhubarb tastes to me like an extremely sour apple. It can be eaten raw though it tastes best if it's dipped in something sweet like sugar, maple syrup, honey, etc. It's commonly used in baked goods as well. I can also be used in savory recipes too though. 
A Note About the Batter/Dough
The batter is pretty thick and more like a dough than a batter. You can spoon it into the cupcake wrappers or even roll it into a ball with your hands, then place it in the wrapper/cupcake pan. I also pressed the dough balls down into the cupcake pan to form a flat surface on top. You'll want the dough to fill the cupcake wrappers about ¾ of the way to the top.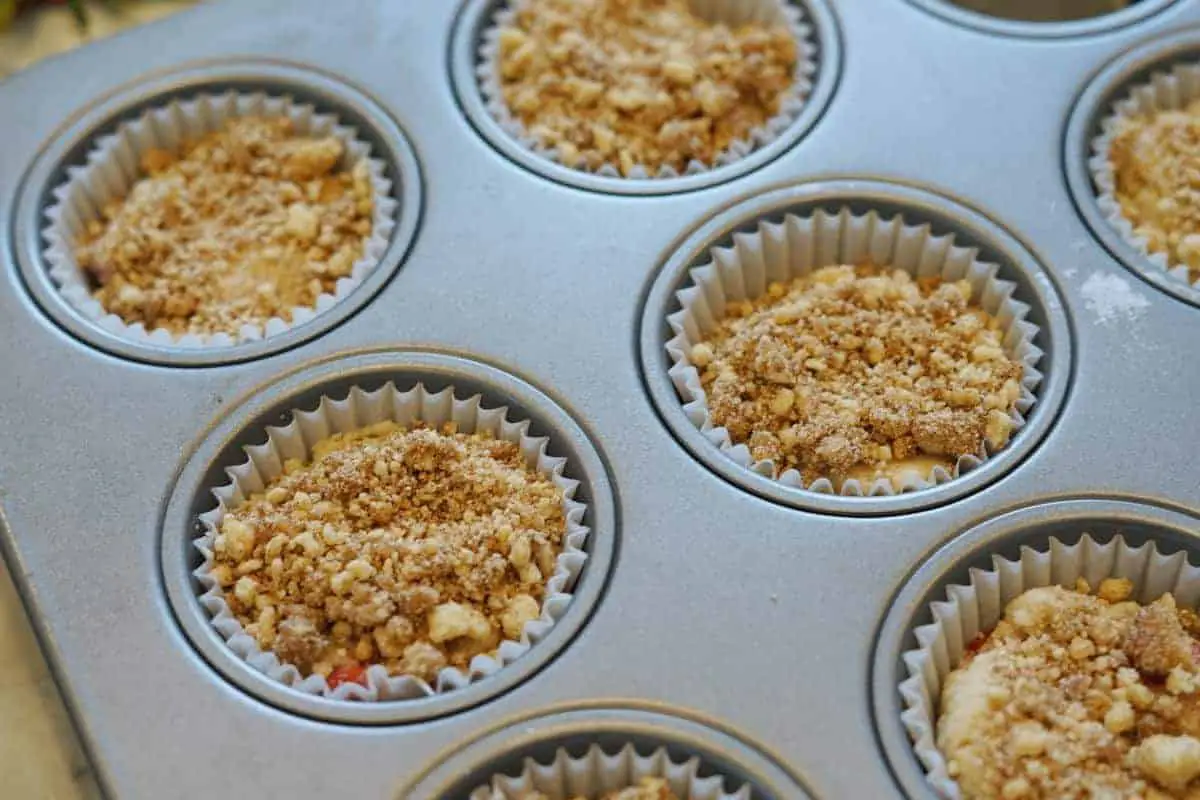 How to Keep AIP Muffins from Sticking
The first time I made these, I put the batter in a muffin wrapper and baked them. The muffins ended up sticking the to wrappers quite a bit. The second time I made these, I greased some wrappers with coconut oil and also greased a few cups of the cupcake pan with coconut oil (I didn't use wrappers) to try it both ways. Both approaches worked fine and I had no issues with sticking. If you can find non-stick cupcake wrappers, use those. Otherwise, you can just grease your muffin wrappers or pan. 
How to Store These
Store in an airtight container, preferably in the fridge. They will stay fresh for 4-5 days. They will keep fresh in the freezer for up to 3 months.
If you like this recipe, you may also like: 
100+ AIP Breakfast and Brunch Recipes
87+ AIP Snacks: Healthy Recipes and Packaged Foods
Simple 5 Ingredient Banana Bread Mug Cake
 Conclusion
I hope you love this recipe. If you made it, leave me a comment below and let me know how you liked it! 
Don't forget to follow me on Instagram @foodcourage for the latest AIP/Paleo recipes and Food Courage happenings!
Click the image or button below to get your free AIP Food Lists PDF!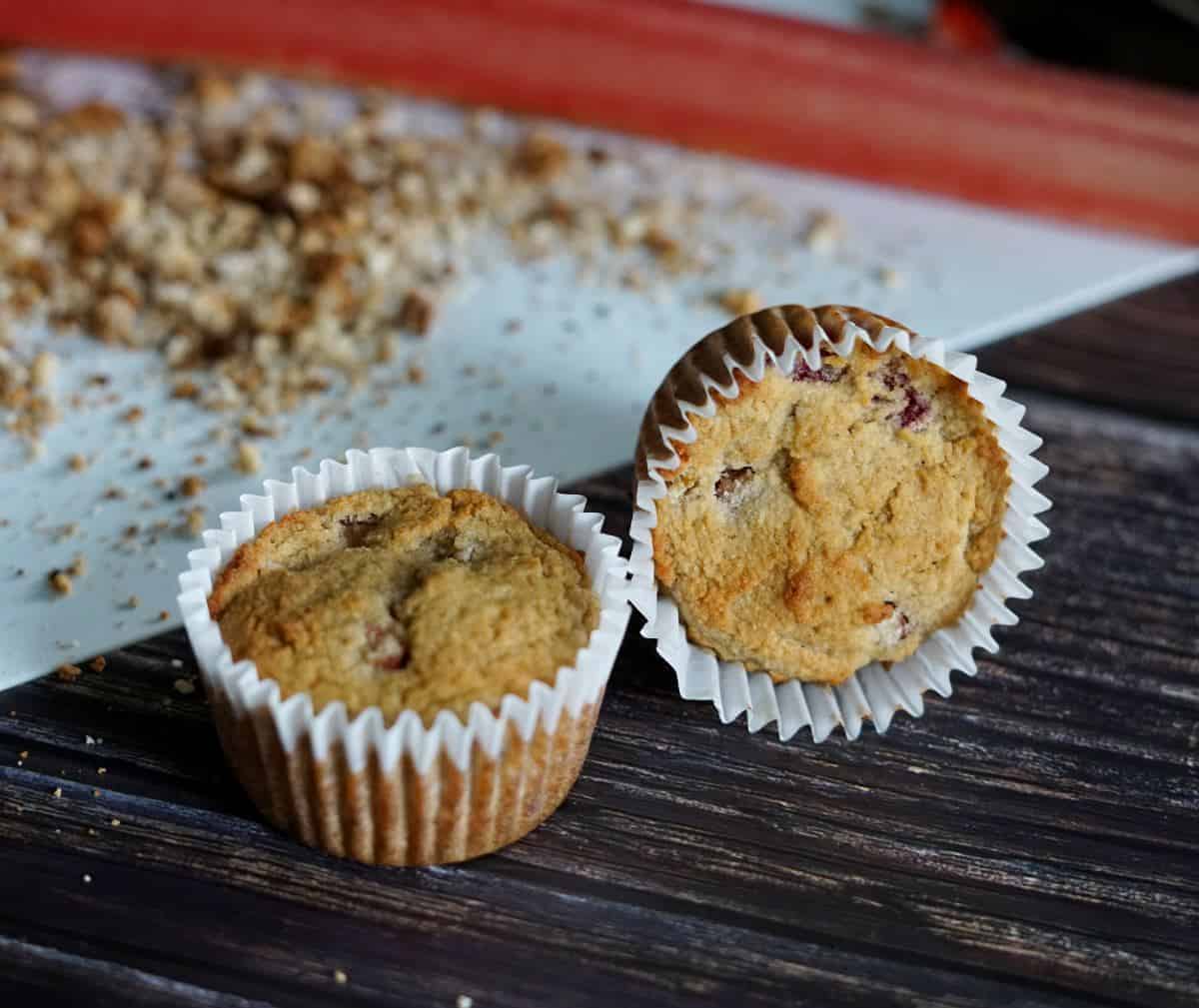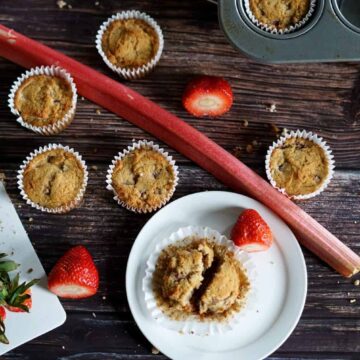 AIP Strawberry Rhubarb Muffins
These awesome paleo muffins are quick and easy and use a blend of tigernut flour, cassava flour, and coconut flour to achieve the perfect texture. Freeze them for snacks and breakfasts later on.
Equipment
8 cupcake liners

(optional)
Ingredients  
Instructions 
Preheat oven to 375 degrees fahrenheit. Line a muffin pan with non-stick muffin liners. Alternatively, you can grease regular muffin liners with coconut oil or grease the muffin pan with coconut oil.

In a medium sized bowl, mix wet ingredients. Set aside.

In a very small bowl/dish, mix lukewarm water and gelatin. Add mixture to wet ingredients and stir thoroughly. Set aside.

In a second medium sized bowl, mix dry ingredients, then combine with wet ingredients to form muffin batter.

In a separate small dish, combine strawberries, rhubarb, and 1/2 tbsp coconut flour (make sure the fruit is diced into very small pieces). Fold into muffin batter until well combined.

Spoon muffin batter into 8 muffin pan cups, filling the cups about 3/4 of the way full and press down to dough/batter slightly to flatten the tops of the muffins. Transfer muffin pan to the oven.

Bake for about 30 minutes or until toothpick comes out clean and muffins are slightly browned on top.
Notes
Store in an airtight container in the fridge for up to 5 days.
Store in the freezer in an airtight container for about 3 months.
Nutrition
Nutrition Facts
AIP Strawberry Rhubarb Muffins
Amount per Serving
% Daily Value*
* Percent Daily Values are based on a 2000 calorie diet.