Coming up with easy fast AIP friendly snacks can be tricky, especially during the elimination phase. Luckily there are options. If you're looking for a simple, healthy, homemade trail mix recipe, you've come to the right place. This AIP Tigernut Trail Mix takes less than 5 minutes to throw together and works great as a snack or on-the-go breakfast. 
Reasons to Love Trail Mix
It's fast and easy to prepare.
You can prepare it a million different ways by mixing different ingredients and in different ratios to suit your preferences.
It can stay fresh for a long time if stored correctly.
It doesn't require refrigeration.
It is usually relatively healthy and very satisfying.
What's in This Trail Mix
Freeze Dried Strawberries and Bananas- Freeze-dried fruits come in a lot of different varieties. Choose what sounds best to you. I usually get these at Kroger but you can also find them on here on Amazon as well.
Unsweetened Coconut Chips- I recommend using unsweetened wide coconut chips rather than coconut flakes because they are sturdy and easy to grab when snacking.
Plantain Chips- These add a salty crunchy element to the mix. I like Terra brand which I usually get at Kroger but Barnana is good too (also can be found at Kroger and probably quite a few other stores).  Terra makes a thinner more potato chip-like chip and Barnana make a thicker ridged chip.
 Are Tigernuts AIP-Friendly?
Tigernuts are AIP friendly and work well as a nut substitute. They are not nuts at all. As mentioned above, they are a type of tuber that comes from a plant called nutsedge. Tigernuts can be bought peeled or unpeeled. Peeled is a little easier to chew. They're a super versatile food and can be used to make things like "nut" butter, bread, pancakes, cookies, milk, pudding, and ice cream.
Freeze Dried Fruit vs Dried Fruit
Freeze-dried fruits are flash-frozen so they maintain much of their original shape, texture, and appearance and retain up to 90% of their original nutrients. They're also extremely lightweight and stay fresh for a long time.
Dried Fruits have essentially the same amount of nutrients as freeze-dried fruit but contain a little more moisture. 
I don't recommend mixing dried fruits and freeze-dried fruits together because the moisture from the dried fruits may make the freeze-dried fruits a little soft/soggy after a day or so. In the case of this trail mix, I did use some chopped dates initially and it made the mix soggy within a couple of days. I'd say if you're planing the eat the trail mix within 24 hours, it's probably ok to mix freeze-dried fruit and dried fruit but otherwise just pick one or the other.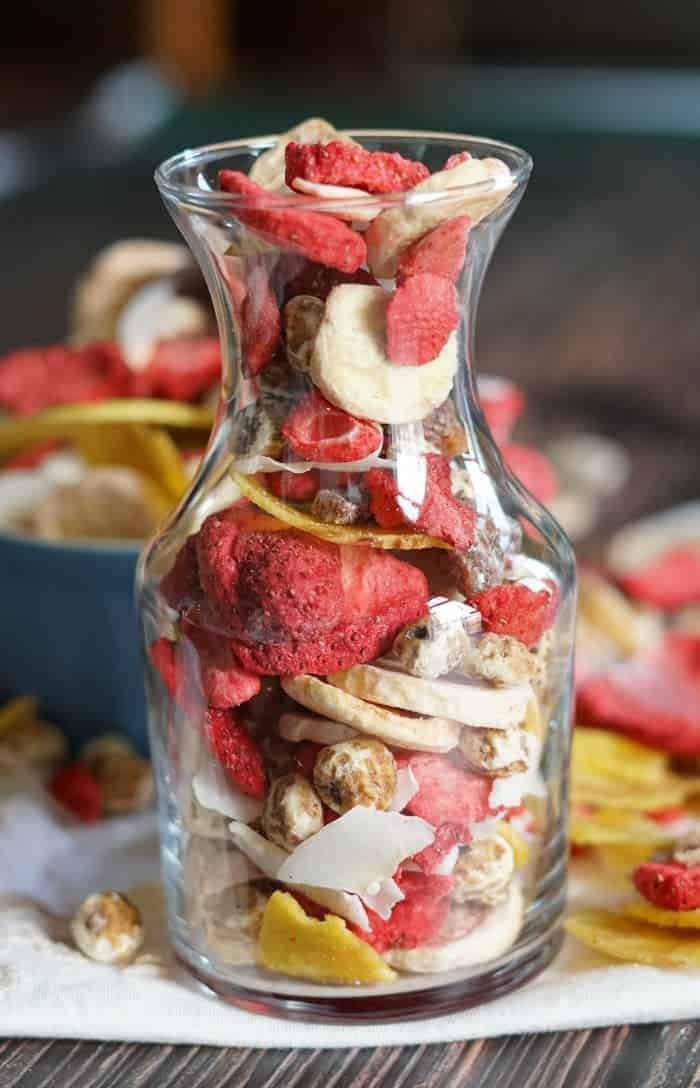 How to Make an AIP Trail Mix Without Nuts
With nuts being such an integral part of traditional trail mix, it can be a little sad to think about trail mix without them. That is until you realize how many options there are out there for adding a nice salty crunch to your trail mix while still keeping it AIP-friendly. Foods like plantain chips, tigernuts, and AIP crackers do a good job of filling in the gaps for nuts. 
How Much Trail Mix is Healthy?
Trail mix is usually packed with plenty of vitamins, minerals, and antioxidants but because many of the ingredients are dried, its caloric density is also very high. This being said, portion control is a good idea with trail mix, not only because of calories and sugar but also fiber content. Eating a large amount of trail mix in one sitting can overwhelm the gut and cause bloating and gassiness. I would recommend eating no more than about ½ of a cup of trail mix at a time, mainly to avoid any GI issues. Of course, this recommendation can vary a little bit depending on what you put in your trail mix. 
How to Control Portions of Trail Mix
This trail mix and many trail mixes are fairly addictive so portion control can be challenging. If this is an issue for you, I definitely recommend pre-portioning the mix into ½ cup portions and putting it into snack-sized zip lock bags or small storage containers. It can also help to use trail mix as a topping rather than snacking on it straight. 
You can Use Trail Mix as a Topping On Things Like:
AIP Waffles
AIP Pancakes
Sweet Potato Breakfast Bowls
Porridge or N'oatmeal
Coconut Yogurt
Smoothie Bowls
AIP Ice Cream
How to Store Trail Mix
Trail mix generally can be stored at room temperature and should be kept in an air-tight container. This particular trail mix will stay fresh under these conditions for at least a week, but likely longer. 
How to Make Your Own Trail Mix
Making your own trail mix is pretty much as easy as making a snack can be. There are many possible combinations you can use and it generally turns out pretty delicious no matter what ratios of ingredients you use. With that being said, here are a few tips:
Decide on about 4-8 ingredients that suit your taste.
Include a mix of sweet and salty ingredients for a balanced flavor.
Include at least one ingredient that will give it a good crunch.
As far as the amount of each ingredient goes, try to do relatively even amounts of sweet and salty ingredients. 
Check out the list below for some AIP friendly ingredient ideas.
Ingredient Ideas for Homemade AIP Trail Mix
Beet chips
Banana chips
Carob Chips- Store-bought ones are generally not AIP compliant because they often contain soy lecithin but you can make your own. 
Epic Meat Bars-Chopped- Bison Bacon Cranberry Bars, Beef Apple Bacon Bars, and Uncured Bacon Bars are AIP-Friendly. Wild Zora also makes meat and veggie bars that are AIP compliant. Use this link to visit Wild Zora and save 15% at checkout.
Raisins
Dried Cranberries
Dried Sour Cherries
Dried Blueberries
Dried Apricots
Dried Apples
Garlic Powder
Onion Powder
Cinnamon
Sea Salt
87+ AIP Snack Ideas- Recipes and Packaged Foods
57+ AIP Pantry Items and What to do With Them
Conclusion
I hope you love this trail mix recipe. If you made it, leave me a comment below and let me know how you liked it! Also, if you've made your own AIP trail mix, what are your favorite combinations of ingredients to use?
Don't forget to follow me on Instagram @foodcourage for the latest AIP/Paleo recipes and Food Courage happenings!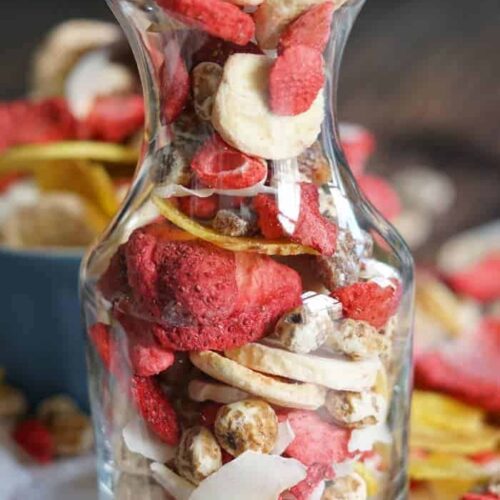 AIP Tigernut Trail Mix (Paleo, Vegan)
This colorful AIP trail mix is easy, fast and works great as a quick on the go snack.
Ingredients  
2.5

cups

freeze dried strawberries and bananas (or fruit of choice)

1

cup

raw tigernuts

1

cup

unsweetened coconut chips

1

cup

plantain chips
Instructions 
Combine all ingredients together and enjoy!
Notes
Use coconut chips rather than flakes
Store in an air-tight storage container or ziplock bag.