If you're looking for a Whole Foods AIP shopping list, this list will make your trip much easier! I am loving putting together these autoimmune protocol shopping lists because I keep discovering new AIP-friendly food products. It's awesome!! All the foods on the list are Paleo, and 99% of them are elimination phase AIP compliant. There are a few stage 1 reintros but I've noted them. 
For other store-specific AIP shopping lists, you may also want to check out my Sprouts AIP Shopping List, Kroger AIP Shopping List, Walmart AIP Shopping List, Sam's Club Shopping List, Costco AIP Shopping List, Aldi AIP Shopping List, and Trader Joe's AIP Shopping List as well!
Whole Foods Market has an awesome website that shows all the products they carry. I've linked to a lot of the products on this list so you can see what they look like and check out ingredient labels.
Keep in mind that each store carries slightly different products depending on the location. So, you may not find everything on this list at your store.
If you're looking for a specific item, you can find your store on the Whole Foods website by inputting your zip code or city. Then, just search for the item you want and see if they carry it.  
If you're not able to find certain items at your local store, consider checking out ShopAIP. They have tons of AIP-compliant items sorted by phases.
**Just a quick heads up- this post contains affiliate links which means if you click on them and buy something,  I will earn a small commission (at no additional cost to you) to help continue maintaining this site. 
Produce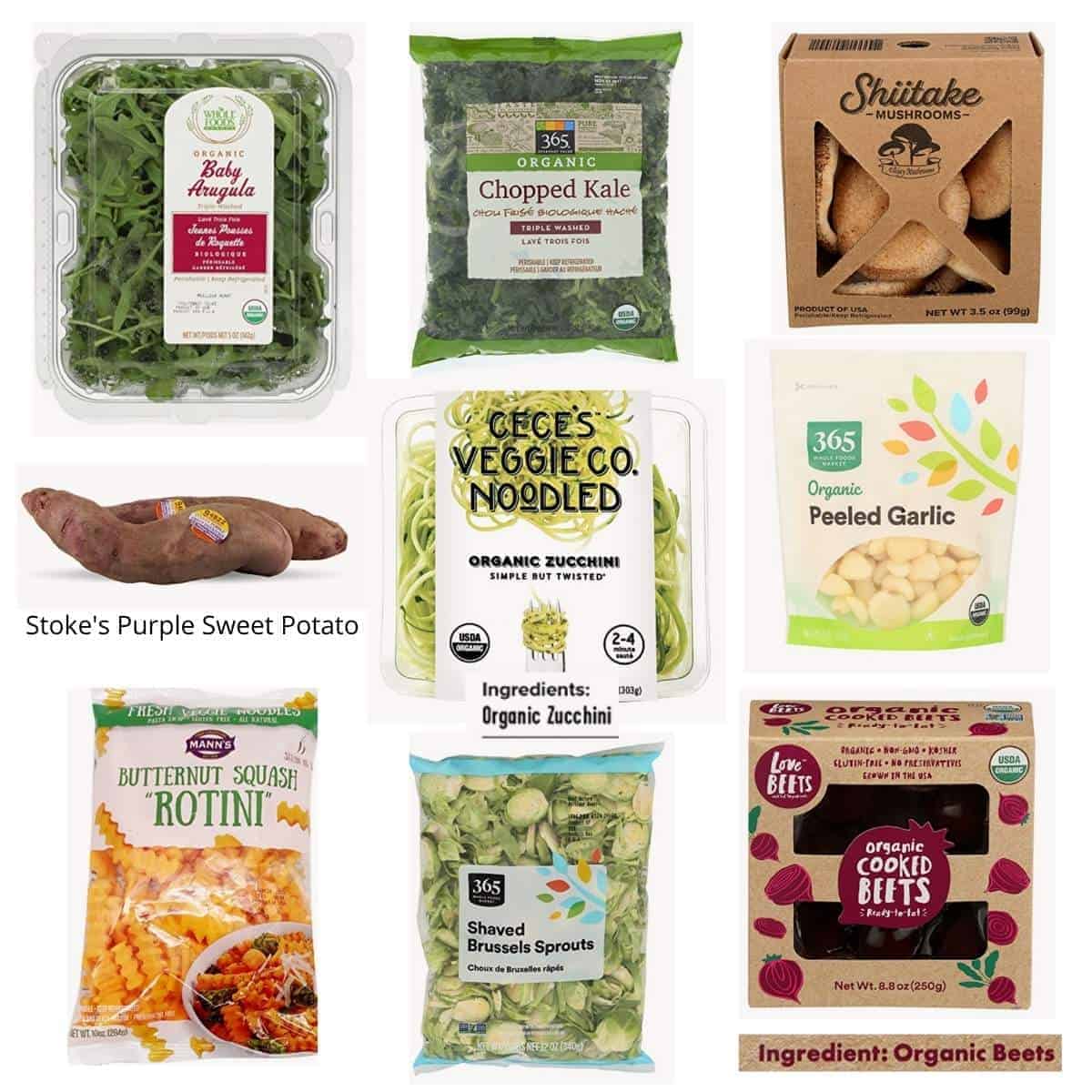 White Sweet Potatoes- I use these for my Green Enchilada Casserole, Green Enchilada Soup, and Creamy Fish Soup.
Organic Baby Arugula- Use this for Roasted Cauliflower Arugula Salad. 
Organic Spring Mix
Sliced Shitake Mushrooms
Red Beets
Organic Girl Super Greens Salad
Organic Baby Spinach- I use spinach in my Strawberry Basil Chicken and  Chicken Florentine recipes. 
Organic Japanese Sweet Potatoes
Whole Baby Bella Mushrooms- Use baby bellas for Philly Cheesesteak Skillet, Easy Chicken Marsala, or Ground Turkey Stroganoff.
Organic Girl Romaine Hearts
Organic Butternut Squash
Organic Peeled Garlic- comes in a bag. 365 brand.
Organic Baby Bok Choy
Organic Chopped Kale- 365 brand.
Organic Sweet Baby Lettuces- Whole Foods brand
Organic Lacinato Kale
Organic Baby Rainbow Carrots- 365 brand
Organic Purple Stokes Sweet Potatoes- I use these for my Purple Sweet Potato Breakfast Bowl.
Organic Riced Cauliflower- 365 brand
Organic 50/50 Baby Spinach and Spring Mix
Whole Artichokes
Organic Baby Kale (in clamshell)
Organic Broccoli Slaw
Organic Arugula and Baby Spinach mix- 365 brand
Organic Herbs
Shaved Brussels Sprouts- These are great for Creamy Ground Turkey Soup with Mushrooms and Brussels Sprouts.
Organic Red Chard
Organic Carrot Chips
Organic Parsnips
Organic Portabella Caps
Organic Red Kale
Organic Rainbow Chard- Use this for Sauteed Rainbow Chard with Sweet Potatoes and Mushrooms.
Wild Gourmet Mushrooms Blend (shitake, oyster, and bella)
Sweet Potatoes
Shitake Mushrooms
Cubed Butternut Squash
Yuca Root
Purple Asparagus
Organic Golden Beets
Cooked Beets
Organic Avocados
Organic Bosc Pears
Organic Sungold Kiwi (Zespri brand in clamshell)
Organic White Peaches
Apricots
Pantry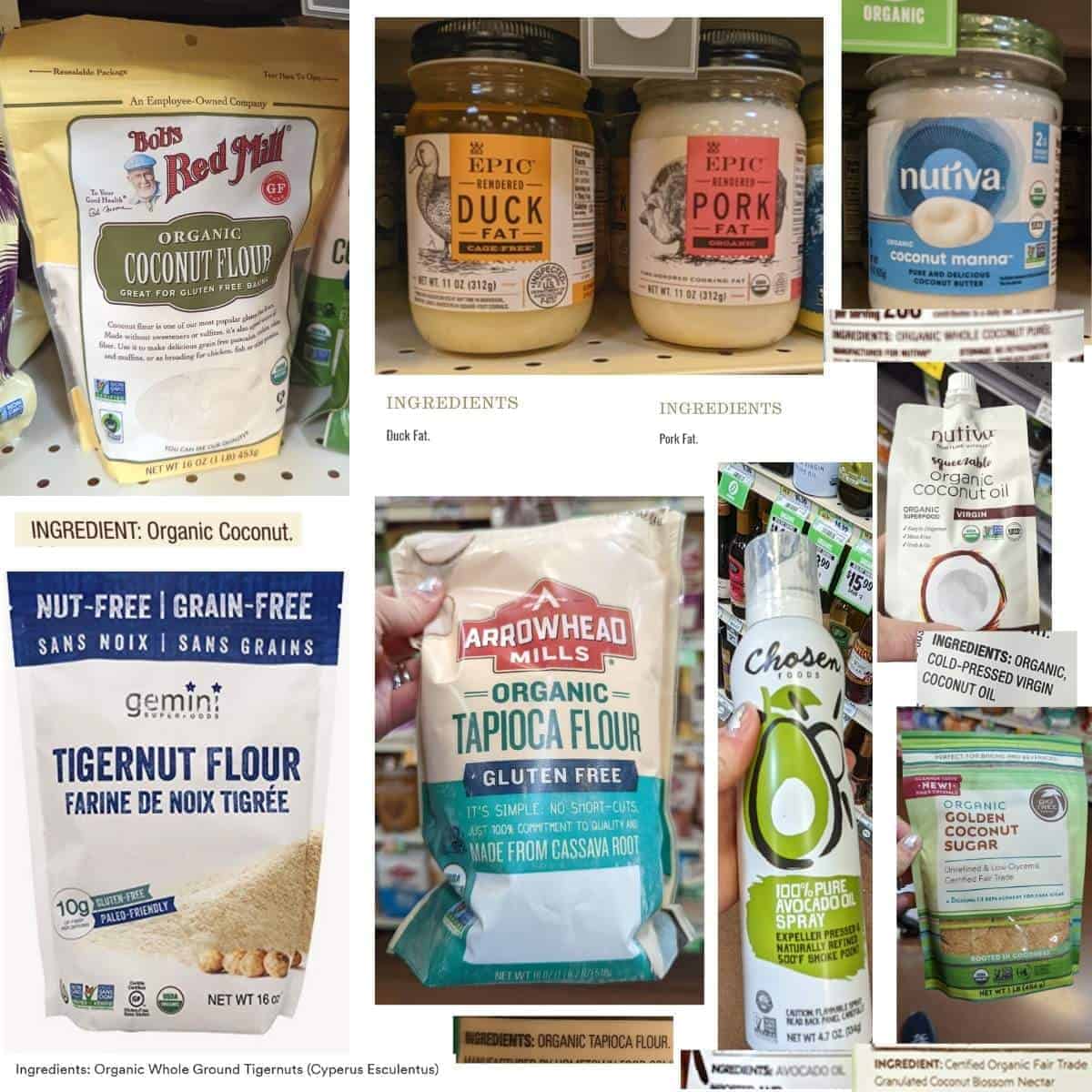 Native Forest Simple Coconut Milk- Make sure it says "no guar" on the front.
Let's Do Organic Heavy Coconut Cream- Purple and White Can
Herbal teas
Jovial Grain Free Pasta (blue box)
Jack's Paleo Kitchen Cookies (Lemon Zing, Snickerdoodle, Ginger Molasses, cinnamon raisin
Seggiano Artichoke and Garlic Tapenade: Ingredients Artichokes, Olive Oil, Garlic, Sea Salt
Seggiano Super Dense Classic Balsamic Glaze
Seggiano Balsamic Vinegar
Nutritional Yeast- Noble Made- make sure the only ingredient is yeast.
Big Tree Farms Coconut Aminos- original flavor
Coconut Aminos- Coconut Secret
Organic Pumpkin Puree- Farmer's Market, 365 brand
Organic Butternut Squash Puree- Farmer's Market
Organic Sweet Potato Puree- Farmer's Market
Organic Mushrooms- Native Forest
Sliced Beets- 365 brand
Black Olives- 365 brand
Green Olives 365 Brand
Epic Bone Broth- Tuscan Chicken
Epic Pork Lard
Epic Beef Tallow
Epic Duck Fat
Epic Chicken Fat
Avocado Oil- 365 brand, Spectrum
Avocado Oil Spray- Chosen brand, 365 brand, Primal Kitchen
Extra Virgin Organic Olive Oil- Jenin Olive Oil
Organic Coconut Oil- 365 brand, Dr. Bronner's, Nutiva
Coconut Manna- Nutiva
Organic Squeezable Coconut Oil- Nutiva
Bob's Red Mill Arrowroot Starch
Otto's Cassava Flour
Tapioca Flour- Bob's Red Mill, Arrowhead Mills
Coconut Flour- Bob's Red Mill, 365 brand, Arrowhead Mills
Genimi Tigernut Flour
Navitas Organic Cauliflower Flour
Baking Soda- Bob's Red Mill
Simply Organic Vanilla Extract
Red Star All Natural Active Dry Yeast- Make sure it says "all natural" and the only ingredient is yeast.
Unsweetened Shredded Coconut- Let's Do Organic
Cream of Tartar- Frontier Coop
Real Salt Ancient Sea Salt
Manuka Honey- several brands
Raw Organic Honey- Several brands
Organic Coconut Sugar- 365 brand, Wholesome, Supernatural Kitchen, and Big Tree Farms 
Organic Maple Syrup- Shady Maple Farm, 365 brand
Organic Unsulfured Blackstrap Molasses- Wholesome brand and Plantation Molasses
Just Date Syrup Organic Pomegranate Molasses
Organic Maple Sugar- Shady Maple Farms
Collagen Powder- Vital Proteins Unflavored, Vital Proteins Unflavored Marine Collagen
Acai Powder- Navitas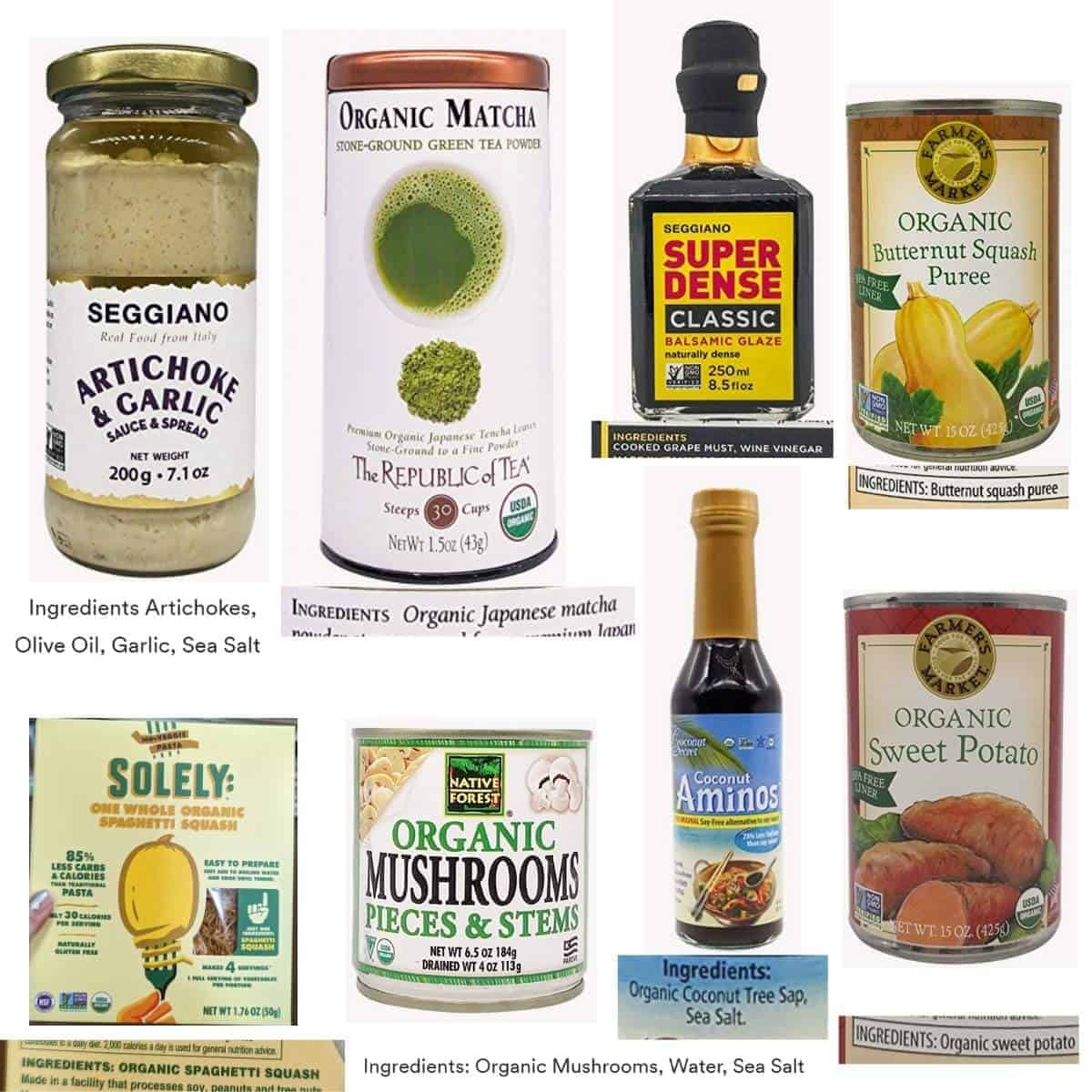 Conservas Ortiz Anchovies in Olive Oil
Sardines in Olive Oil- Crown Prince Natural, Season Brand
Smoked Oysters in Olive Oil- Crown Prince Natural
White Tuna in Olive Oil- Conservas Ortiz, clear jar with red lid
Yellowfin Tuna in Olive Oil- Tonnino Tuna, glass jar with a gold lid. 
Wild Pink Salmon- Wild Planet, 365 brand
Wild Mackerel Fillets- Wild Planet
Pole Caught Albacore Tuna- American Tuna
Wild Planet Albacore Wild Tuna Pouches
Wild Planet Organic Canned Chicken Breast
Quick note on juices- Try to use juice sparingly and opt for whole fruits when possible. Fruit juices are high in sugar so they should be limited and preferably consumed with food to lessen the impact on blood sugar. The recommended limit for fructose is 40 grams per day (although 20 grams is considered optimal) during the elimination phase. Read more on this here.
Whole Foods Juices:
Super Juice-Ingredients: Apples, Carrots, Beets, Spinach, Lemons, Turmeric
Santa Cruz Juices:
Organic Lime Juice
Organic Lemon Juice
RW Knudsen
Just Concord Grape Juice
Just Prune Juice
Lakewood Juices
Pure Cranberry
Organic Mango Juice
Organic Pineapple Ginger
Mango Juice Blend
Organic Pure Beet Juice
Pure Carrot Juice
Organic Pure Blueberry Juice
Organic Pure Pomegranate Juice
Martinelli's Organic Apple Juice
Martinelli's Organic Honeycrisp Cider
C2O Coconut Water- 100% Pure, With Pulp, 
Whole Foods 365 Organic Coconut Water
Amy and Brian Coconut Water with Pulp- yellow can
Spindrift Sparkling Waters- Grapefruit, Half Tea Half Lemonade, Raspberry Lime, Lemon
Frozen Foods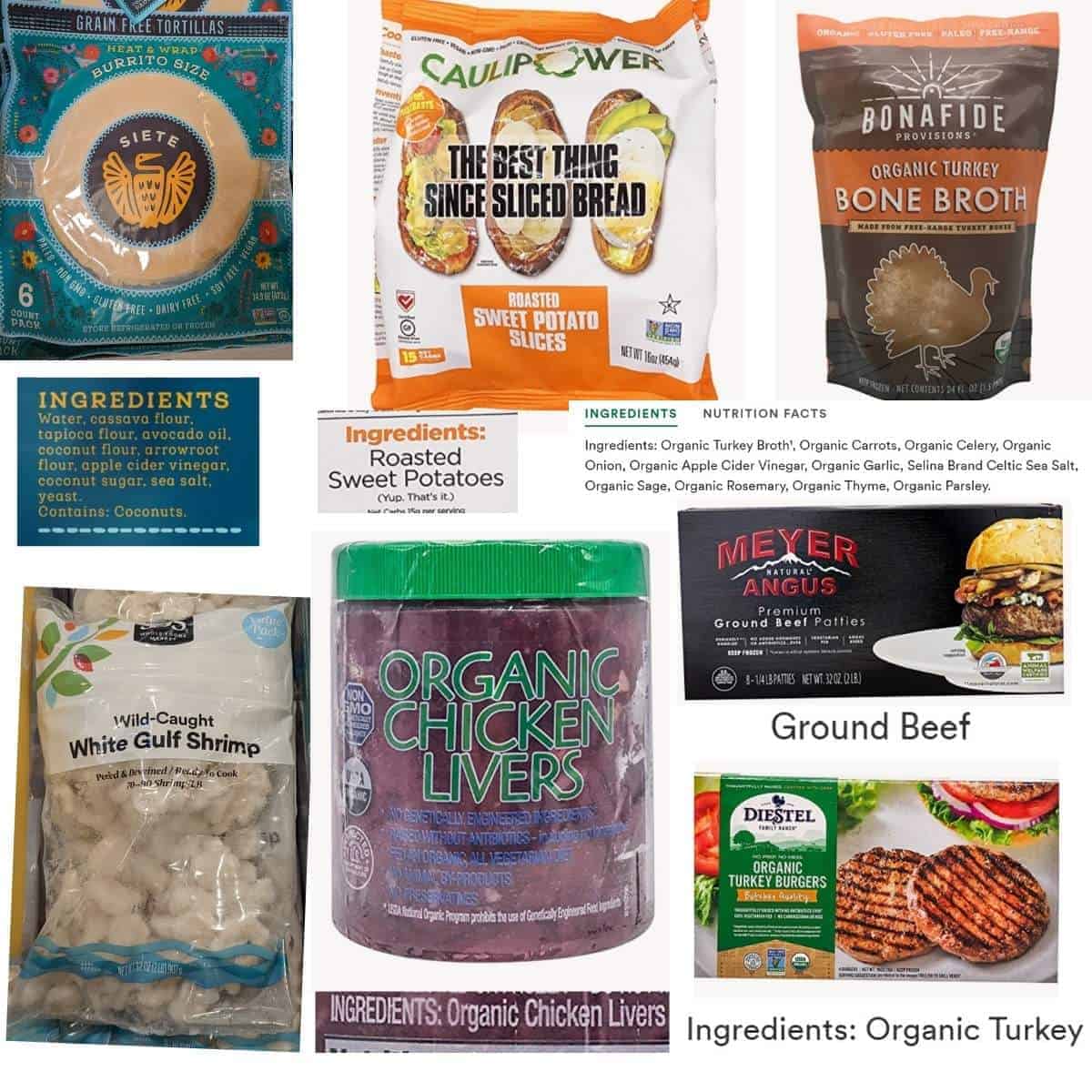 Check labels for frozen fruits and veggies. Occasionally I'll see fruits that contain citric acid or veggies that have added oils or spices. 
Applegate Organic Turkey Burgers
Diestel Organic Turkey Burgers
Organic Meat Co. Organic Beef Burgers
Meyer Angus Frozen Beef Patties
Bell & Evans Organic Chicken Livers
Bonafide Provisions Organic Turkey Bone Broth (bag)
Siete Brand Tortillas (burrito size is compliant)
Wild-Caught Sockeye Salmon- 365 brand
Wild-Caught Cod Fillets- 365 brand
Wild-Caught White Gulf Shrimp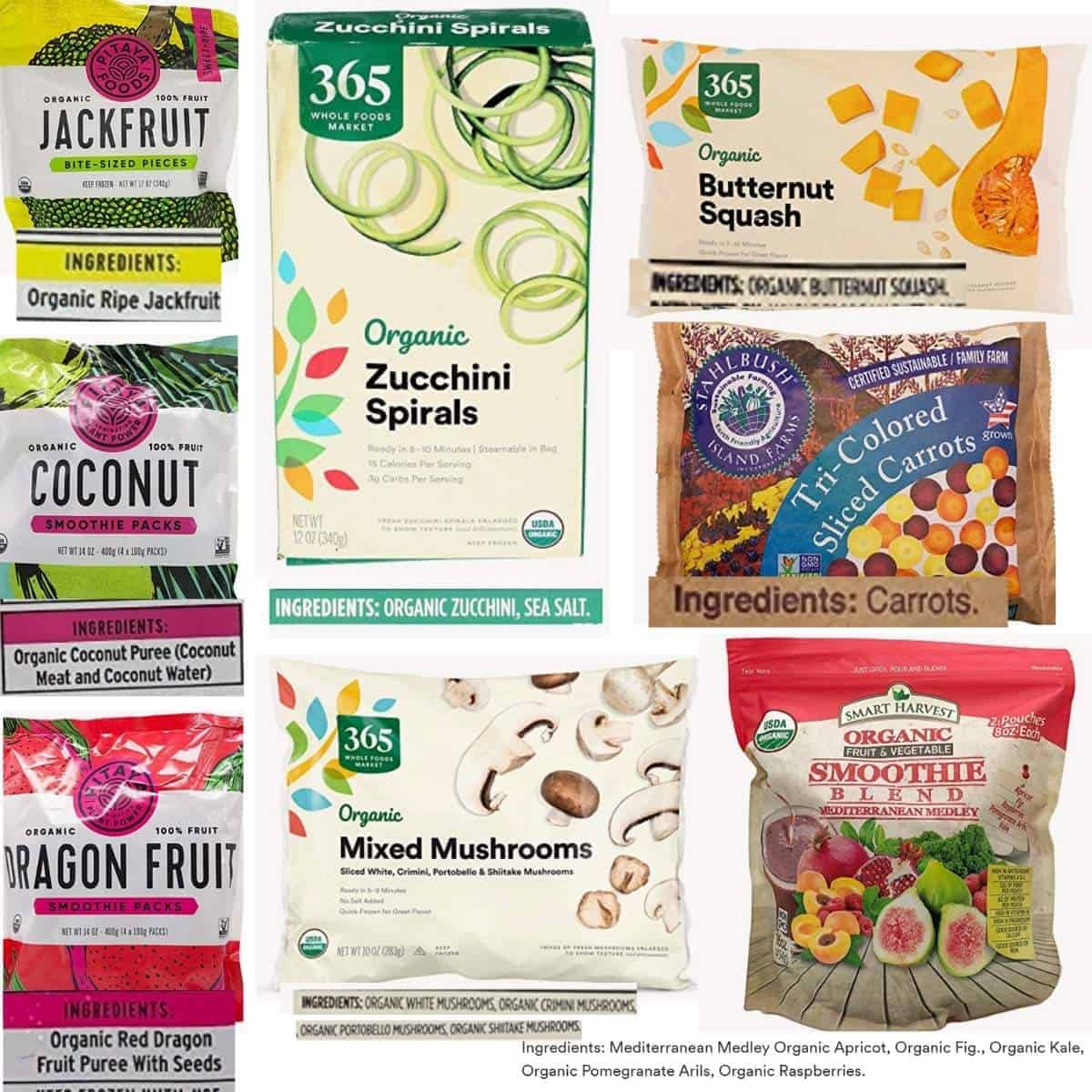 Whole Foods 365 Frozen Fruits:
Organic Blueberries
Organic Berry Blend
Organic Whole Strawberries
Organic Mango Chunks
Organic Dark Sweet Cherries
Organic Raspberries
Organic Pineapple Chunks
Organic Blackberry- 365
Pitaya Dragon Fruit Smoothie Packs
Coconut Smoothie Packs- Pitaya Plus and Inner-Eco
Pitaya Plus Organic Jack Fruit Pieces
Pitaya Plus Bite-Sized Watermelon Pieces
Wild Blueberries- Wymans, 365 brand
Triple Berry- Wyman's
Cranberries- Cape Cod Select
Organic Mediterranean Medley- Smart Harvest
Whole Foods 365 Frozen Veggies:
Organic Whole Leaf Spinach
Organic Chopped Kale
Organic Root Vegetables
Organic Zucchini Spirals
Organic Riced Cauliflower
Organic Butternut Squash Chunks
Organic Mixed Mushrooms
Organic Chopped Spinach
Organic Broccoli Florets
Cut Okra
Asparagus Spears
Organic California Blend Veggies
Brussels Sprouts
Organic Mirepoix Mix- Cascadian Farms
Caulipower Sea Salt and Olive Oil Sweet Potato Slices
Stahbush Island Farms:
Organic Sweet Potato Chunks
Organic Tri-Colored Sliced Carrots
Meat/Poultry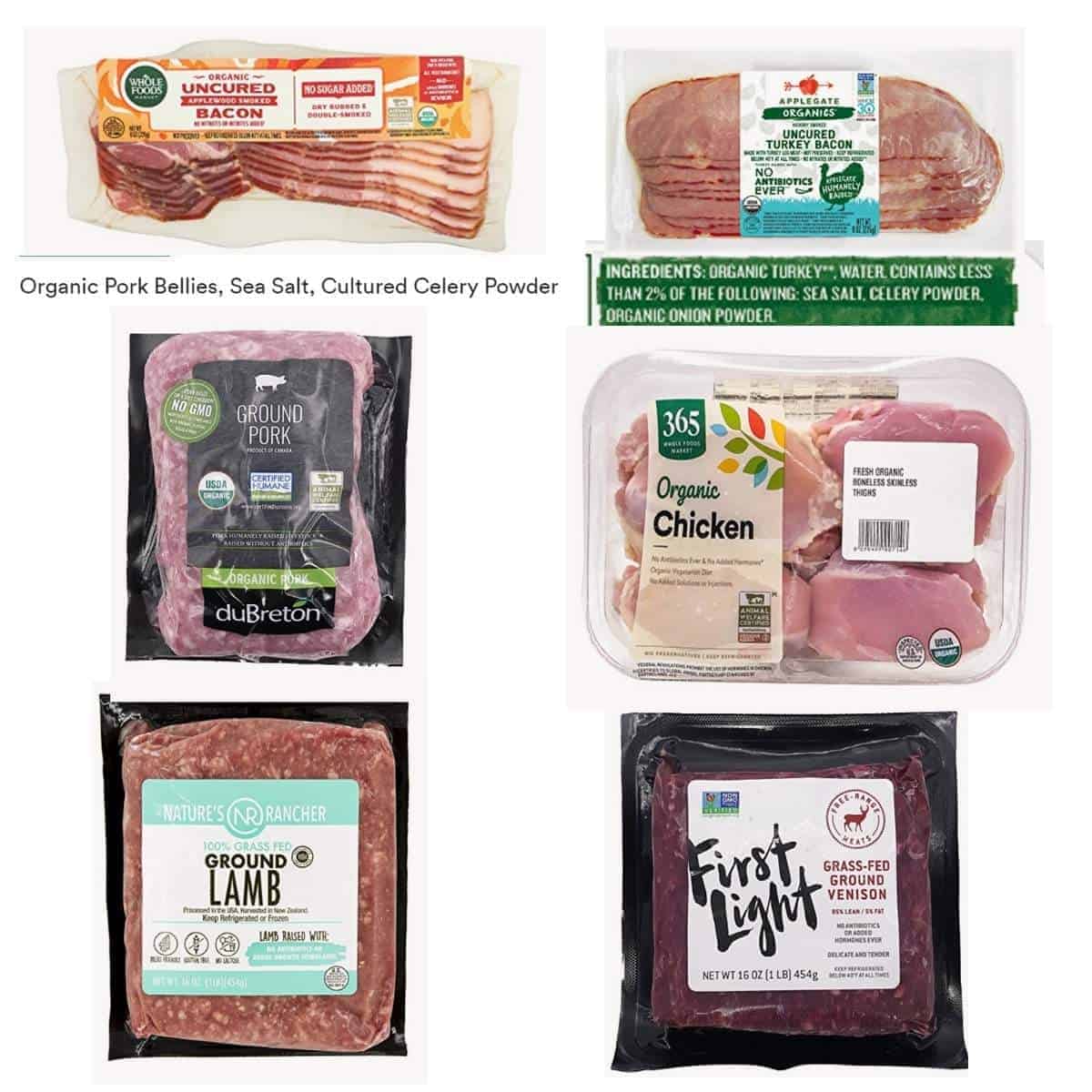 Organic Plain Whole Rotisserie Chicken- Ingredients just say "chicken." Featured image clearly shows spices on it but maybe they just used the wrong picture. 
Applegate Uncured Turkey Bacon- Ingredients: Organic Turkey, Water., Contains Less Than 2% of the Following: Sea Salt, Celery Powder, Organic Onion Powder
Whole Foods Organic No Salt Added Bacon
Organic Boneless Skinless Chicken Breasts
Organic Ground Turkey
Grass-Fed Ground Lamb
Organic Whole Chicken
Organic Boneless Skinless Chicken Thighs
Boneless Skinless Chicken Tenders
Organic Ground Chicken Breast
Grass-fed Ground Venison
Lamb Rib Chops
Organic Ground Pork
Nature's Rancher Thick-Cut Pork Chops
Refrigerated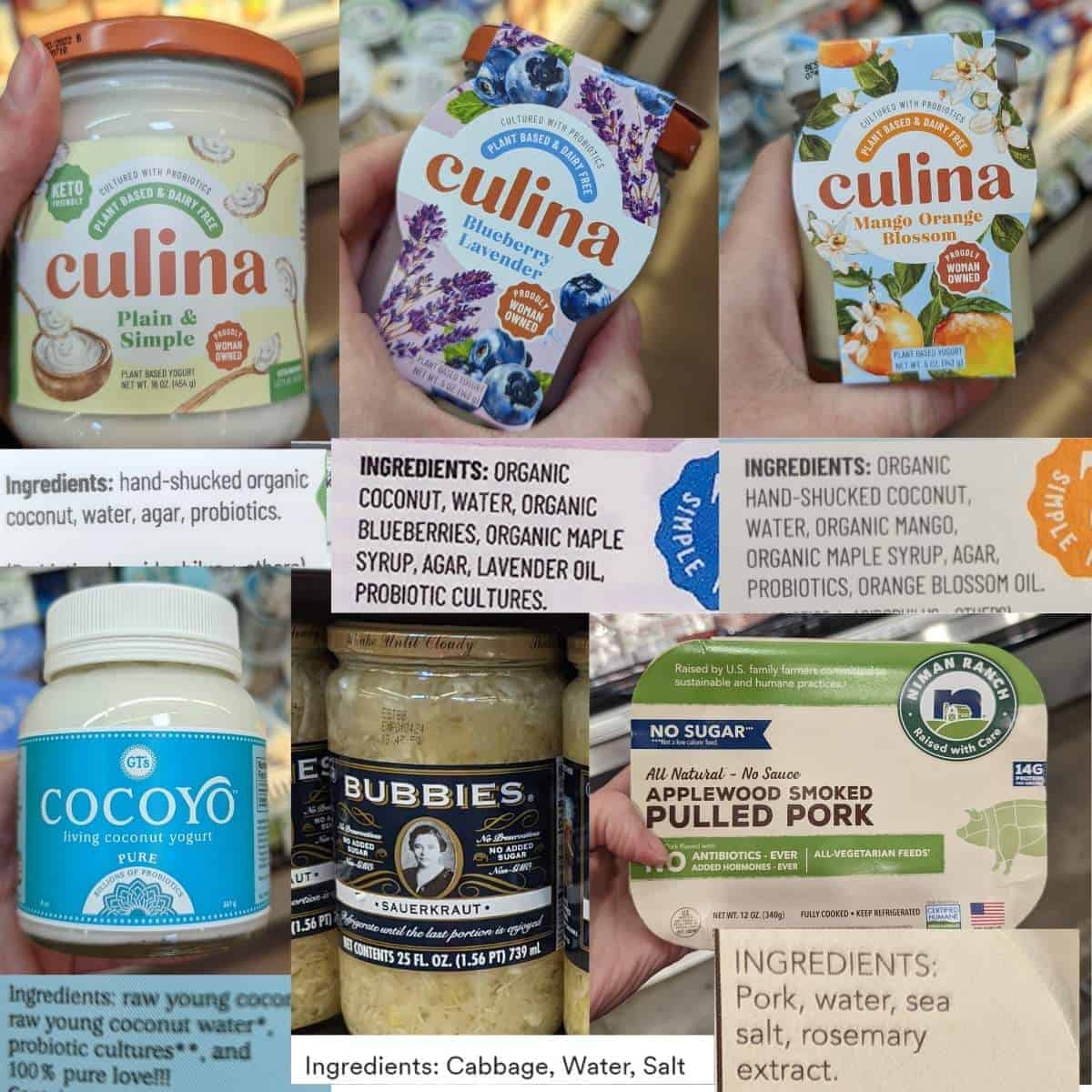 Cocoyo Coconut Yogurt- Pure flavor, Raspberry. Read labels- some of the other flavors contain stevia which is not compliant.
Anita's Coconut Milk Yogurt- Plain. only at certain stores
Culina Coconut Yogurt- Plain and Simple, Pink Grapefruit, Blueberry Lavender, Mango Orange Blossom, and Strawberry Rose flavors are compliant. Check labels as some have almond extract, which is not compliant. *The strawberry rose has rose oil- I haven't found anything that says it's not AIP compliant. Same goes for the orange blossom oil and lavender oil in the other flavors. I believe these are fine for AIP. However, if you know something otherwise, please let me know.
Harmless Harvest Whole Coconut Smoothie (green and white bottle)
Prosciutto- Creminelli,   Principe di San Daniele, Naturalissima, Applegate and others. Most are just pork and sea salt.
Diestel Fresh Roasted Turkey Breast Lunchmeat
Applegate Organics Roast Beef Lunchmeat- *Reintro: black pepper
Niman Ranch Applewood Pulled Pork
Roasted Garlic Cleveland Kraut- *reintro- black pepper
Wildbrine Raw Organic Kraut
Bubbies Sauerkraut- Ingredients: Cabbage, Water, Salt
Refrigerated Drinks
Note about juices- Whole fruits are generally recommended over juices but AIPers do use them here and there. Fruit juices are very high in sugar and should be kept to a minimum though. The recommended limit for fructose is 40 grams per day (although 20 grams is considered optimal) during the elimination phase. Read more on this here.
Pom Wonderful Pomegranate Juice
Arden's Garden Yoga Vegetable Juice
Arden's Garden PH Solution Vegetable Juice
Arden's Garden Beet it Better Vegetable Juice
Suja Organic Fuel Juice- Ingredients: Organic Carrot Juice, Organic Orange Juice, Organic Pineapple Juice, Organic Apple Juice, Organic Lemon Juice, Organic Ground Turmeric
Suja Organic Celery Juice
Suja Organic Sweet Beets Juice
Suja Organic Probiotic Watermelon Juice
Urban Green Juice- cold
100% Cold Pressed Orange Juice
Uncle Matt's Organic Grapefruit Juice
Harmless Harvest Coconut Water- Original and Watermelon
GT Synergy Kombucha- Gingerade, Original, Tantric Turmeric, Guava Goddess, Gingerberry, Strawberry Serenity, Golden Pineapple, Hibiscus Ginger, California Citrus, Lavender Love, Trilogy, Watermelon Wonder, etc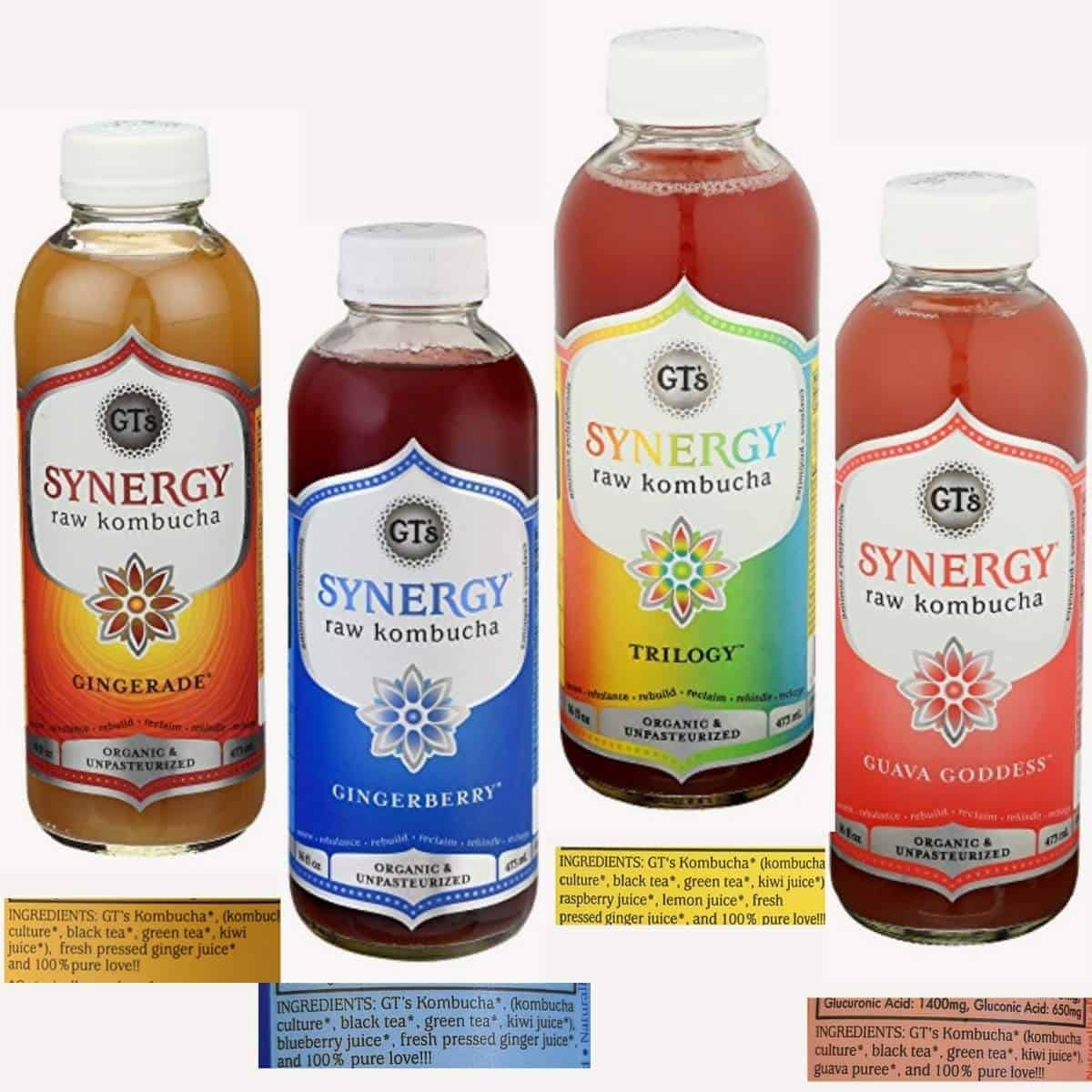 Snacks
Artisan Tropic Cassava Strips (Sea Salt)
Epic Pork Rinds- Pink Himalayan Sea Salt
Epic Coconut Maple Salmon Filet Bar/Stick
4505 Chicharrones Pork Rinds (Sea Salt)- light blue bag
Lesser Evil Paleo Puffs- Pink Himalayan Sea Salt
The New Primal Beef Thins
Plantain Chips- Terra Sea Salt, Barnana Pink Himalayan Sea Salt, Artisan Tropic Sea Salt, Inka Sea Salt
Chomps Snack Beef Sticks- Italian (green package)
Epic Pork Rinds- Pink Himalayan Sea Salt
Epic Maple Glazed Salmon Bites- Ingredients: Salmon, Maple Sugar, Coconut Oil, Sea Salt, Salt, Onion Powder, Garlic Powder, Dill Weed.
Rhythm Naked Beet Chips
Rhythm Organic Carrot Sticks
Dang Coconut Chips- Lightly Salted- Light blue bag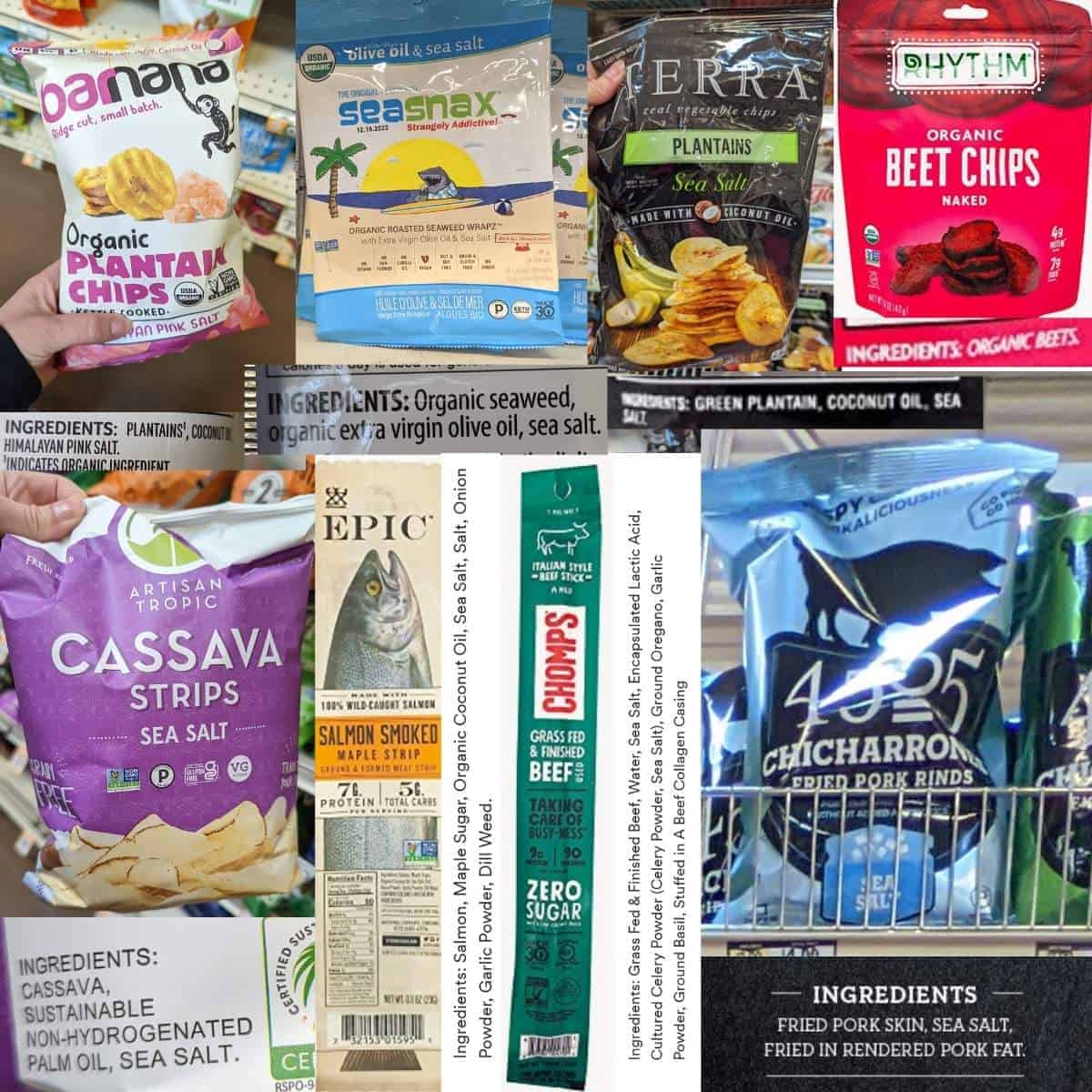 Mango Lime Pineapple Fruit Bites- 365 brand
Natierra Freeze-Dried Banana Chips
Bare Organic Apple Chips-  Cinnamon, Fuji and Reds, or Granny Smith
Organic Dried Mango- 365 brand, Solely Mango Halves, Natierra Mango Cheeks
Organic Medjool Dates- Natural Delights brand, Aurora Natural
Organic Raisins (big container and single serve)- 365 brand
Organic Prunes- Aurora Natural
Organic Turkish Figs- Aurora Natural
Organic Turkish Apricots- 365 brand
Freeze Dried Strawberries- 365 brand
Bear Snacks Real Fruit Strawberry Yo-Yos
Organic Applesauce Pouches: (365 brand), Strawberry, Cinnamon
Organic Dried Pineapple Rings- Solely brand, green and yellow bag OR 365 brand
That's It Bars
Stretch Island Fruit Leather- Grape or Raspberry
Rhythm Crunchy Mango Bites
Solely Fruit Jerky- Mango, Pineapple Coconut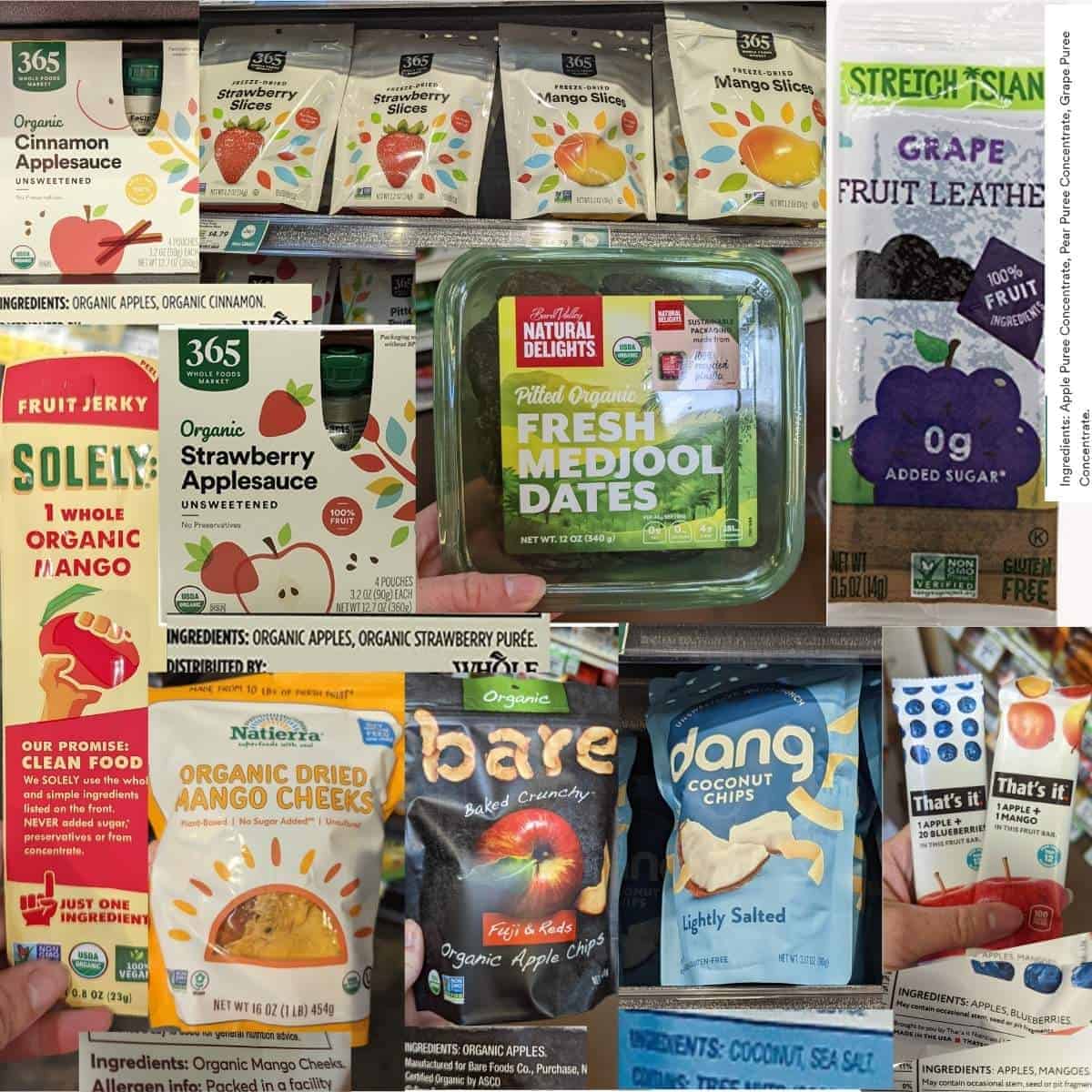 If you enjoyed this post, you may also like: 
55+ Easy AIP Meals for Beginners
57+ AIP Pantry Items and What to do With Them
Beginner's Guide to the Autoimmune Protocol
Conclusion:
I hope you love this list! If you have items to add, please comment below and let me know!
Don't forget to follow me on Instagram @foodcourage for the latest AIP/Paleo recipes, autoimmune nutrition info, and Food Courage happenings!