If you've been in search of a Walmart AIP shopping list, it's ready! It is geared specifically towards the elimination phase. You can get a printable PDF list at the bottom of this post.
If you're looking for other AIP shopping lists, you may want to check out the Trader Joe's AIP Shopping List, Whole Foods AIP Shopping List, Kroger AIP Shopping List, Aldi AIP Shopping List, Sam's Club Shopping List, Costco AIP Shopping List, Meijer AIP Shopping List, Safeway AIP Shopping List, and Sprouts AIP Shopping List.
For more info on the AIP diet and what food items to look for, check out the Beginner's Guide to the Autoimmune Protocol and AIP Pantry Items. If you need a visual of a product or want to see an ingredient label, you can find them on Walmart.com. Also, they actually have an AIP section on their site! Granted, most things need to be ordered online, but still cool!
I always try to include as many items as possible but it's nearly impossible to include absolutely every compliant item. Thus you will likely find some compliant items in the store that are not on this list. If you find some interesting items, please comment below so I can add them! Now, on to the list!
Produce
Organic Fruits
Bananas- Use these to make a Banana Bread Mug Cake.
Blueberries
Strawberries
Avocados
Gala Apples
Lemons
Blackberries
Honeycrisp Apples
Anjou Pears
Red Seedless Grapes
Long English Cucumber
Pink Lady Apples
Raspberries 
Cranberries
Green Grapes
Limes
Grapefruit
Organic Vegetables
Baby Carrots
Spinach
Green Cabbage
Romaine Lettuce
Spring Mix
Green Onions
Carrots
Broccoli
Zucchini
Marketside Organic Baby Arugula- I use this for my Roasted Cauliflower Arugula Salad.
Celery Hearts
Yellow Onions
Marketside Organic Spinach and Spring Mix
White Mushrooms
Shredded Carrots
Mini Cucumbers
Cauliflower
Iceberg Lettuce
Spice World Whole Garlic
Marketside Organic Baby Spinach 
Baby Kale Mix
Cauliflower Florets
Sweet Potatoes- I use sweet potatoes for everything. Sauteed Rainbow Chard with Sweet Potatoes and Mushrooms is one of my favorites!
Fresh Herbs/Spices
Organic Parsley
Organic Ginger Root
Rosemary
Thyme
Basil
Mint
Dill Weed
Bay Leaves
Oregano
Additional Produce
Kiwi
Zespri Sungold Kiwifruit
Oranges
Rhubarb
Red Cabbage
Napa Cabbage
Marketside Tri-Color Coleslaw Mix
Pre-Cut Fruits and Vegetables
Pineapple Chunks
Watermelon Chunks
Cantaloupe Chunks
Mango Spears
Pineapple Berry Blend
Grapes
Broccoli Florets
Diced Mirepoix Mix
Marketside Vegetables:
Halved Brussels Sprouts
Cauliflower Florets
Sweet Potato Cubes
Butternut Squash Cubes
Organic Vegetable Medley
Organic Broccoli Slaw
Superblend- Brussels sprouts, kohlrabi, Napa cabbage, broccoli, and kale
Broccoli Cauliflower Vegetable Medley
Chopped Cauliflower
Kale Leaves
Refrigerator- Misc
POM Wonderful Juice
Harmless Harvest Coconut Water
Synergy Kombucha- Trilogy, Gingerade, Gingerberry, Guava Goddess
Hydration WTR MLN WTR (Watermelon Water)
Suja Organic Uber Greens Juice
POM Wonderful Pomegranate Arils
Simply Orange 100% Orange Juice
Del Duca Prosciutto
Great Value Sliced Prosciutto
Fresh Meat/Poultry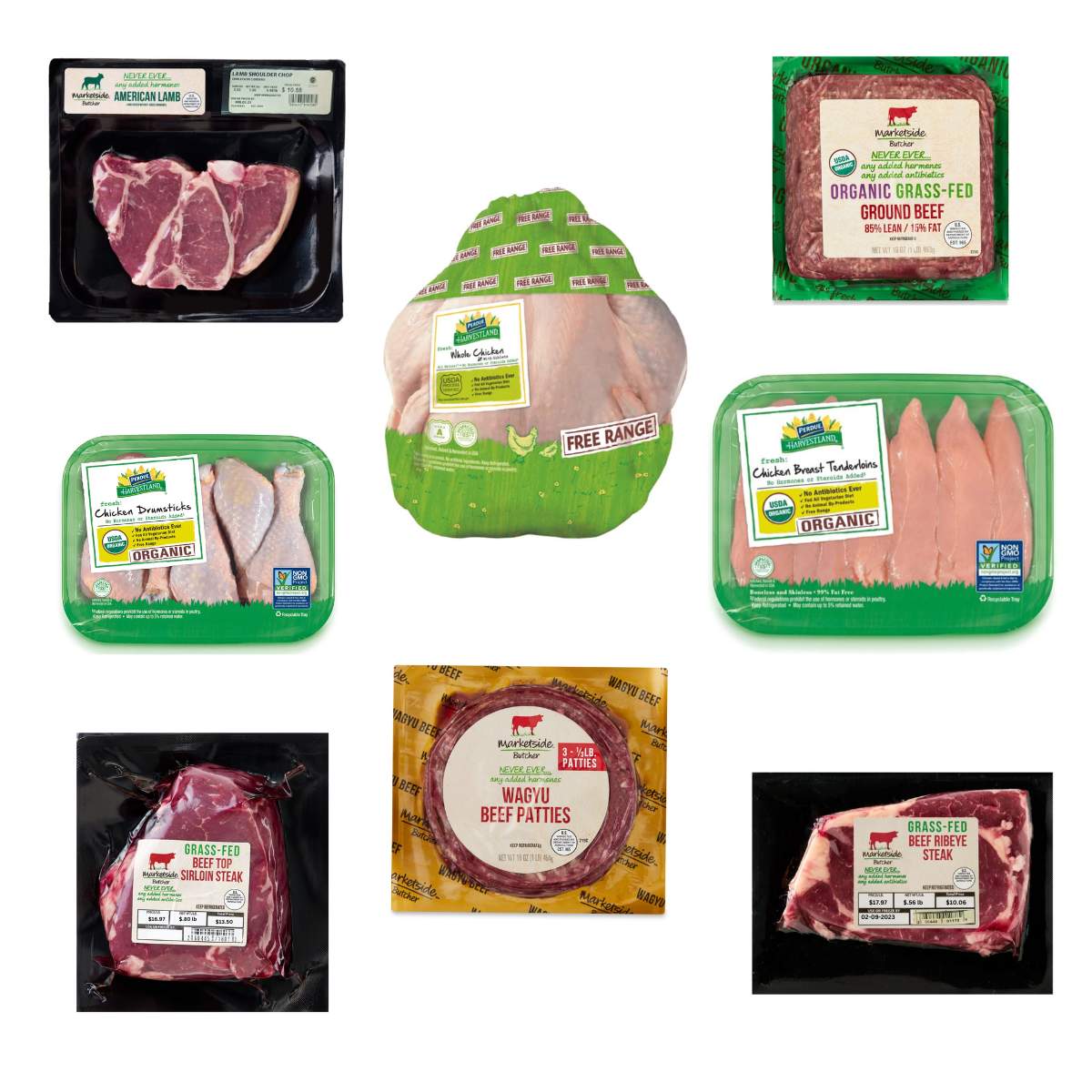 Marketside Butcher Beef Tenderloin Steak
Marketside Butcher Grass-Fed Beef Chuck Roast
Marketside Butcher Grass-Fed Beef Ribeye
Marketside Butcher Grass-Fed Top Sirloin
Marketside Butcher Organic Grass-Fed Ground Beef
Marketside Butcher Organic Grass-Fed Beef Patties
Marketside Butcher Lamb Shoulder Chop
Marketside Butcher Wagyu Beef Patties
Purdue Harvestland Organic Chicken Breasts
Purdue Harvestland Organic Chicken Tenderloins
Purdue Harvestland Organic Chicken Drumsticks
Purdue Harvestland Organic Chicken Thighs
Purdue Harvestland Free Range Whole Chicken
Fresh Seafood
Wild Caught Alaskan Sockeye Salmon
Wild Caught Yellowfin Tuna
Wild Caught Scallops
Wild Caught Lobster
Canned Seafood/Poultry
Valley Fresh Organic Canned Chicken Breast in Water
Wild Planet Albacore Wild Caught Canned Tuna
Wild Planet Wild Albacore Tuna
Safe Catch Pure Wild Caught Canned Skipjack Tuna 
Starkist EVOO Yellowfin Tuna in Extra Virgin Olive Oil- Single Serve Pack or can
Safe Catch Pure Wild Tuna- Single Serve Packet or can
Genova Yellowfin Tuna in Olive Oil
Wild Caught Canned Alaskan Pink Salmon
Great Value Alaskan Pink Salmon
Prelate Wild Pink Salmon
Safe Catch Wild Pink Salmon- Single Serve Packets
Chicken of the Sea Boneless Skinless Pink Salmon- traditional style and chunk style in can. **NOTE: The single serve packet is not compliant sadly.
Geisha Whole Oysters in Water
Chicken of the Sea Whole Oysters
Goya Jack Mackerel
Season Brand Mackerel in 100% Olive Oil
Pampa Mackerel in Brine
King Oscar Royal Fillet Mackerel in Olive Oil
King Oscar Wild Caught Sardines in Extra Virgin Olive Oil
Snows Clam Juice- I use this in my Creamy Fish Soup Recipe
Season Brand Wild Caught Sardines in Water or Olive Oil
Bar Harbor Skinless, Boneless, Smoked Sardines
Bar Harbor Chopped Sea Clams
Giovanni's Anchovy Paste- Yellow box- check the label as the one I saw in-store was compliant but the label on the Walmart website has a bunch of additives. It should just contain anchovies, olive oil, salt, and water.
Snacks
Bear Fruit Rolls- Apple Pear Raspberry, Apple Pear Mango, Apple Pear Strawberry
Great Value Unsweetened Dried Pineapple Rings
Great Value Freeze Dried Fruits:
Mango Fruit Crisps
Dried Strawberry Crisps
Freeze Dried Strawberry and Banana Fruit Crisps
Freeze Dried Fuji Apple Fruit Crisps
That's It Bars: Apple/Strawberry, Apple/Blueberry
That's It Mini's: Apple/Mango, Apple/Blueberry, Apple/Strawberry
Great Value Sun-Dried Raisins
Great Value Organic Dried Mango Strips
GoGo Squeeze Fruit Pouches Apple Apple, Apple Peach, and Gimme 5 Blend
Great Value Pitted Medjool Dates
Barnana Organic Plantain Chips
Goya Tostones Chips- Original only
Great Value Original Fried Pork Rinds
Shelf Stable Juices
Quick note on juices- Try to use juice sparingly and opt for whole fruits when possible. Fruit juices should be limited due to their high sugar content and preferably consumed with food to lessen the impact on blood sugar. The recommended limit for fructose is 40 grams per day (although 20 grams is considered optimal) during the elimination phase. Read more on this here.
RW Knudsen Juices:
Organic Beet Juice
Organic Just Concord Grape
Organic Just Grapefruit
Organic Carrot Juice
Organic Just Prune Juice
Lakewood Juices:
Organic Mango Blend
Pure Pineapple Juice
Papaya Blend
Organic Orange and Carrot
Santa Cruz Organic Lemon Juice
Santa Cruz Organic Lime Juice
Canned Fruits and Vegetables
Be careful with the canned fruits and veggies- always double-check labels. Many of them have additives like citric acid, ascorbic acid (a debatable ingredient depending on its source), sugar, high fructose corn syrup, calcium chloride, etc. 
Great Value Pineapple Chunks in Juice
Great Value Crushed Pineapple
Canned Pumpkin- Great Value and Libby's
Great Value Sauerkraut
Silver Floss Shredded Kraut
Great Value Pear Halves
Great Value Spinach
Teas
Traditional Medicinals Organic Teas:
Peppermint
Green Tea
Peppermint Probiotic Tea
Raspberry Leaf
Roasted Dandelion Root
Ginger Tea
Camomile Tea
Numi Organic Teas:
Rooibos
Aged Earl Grey
Jasmine Green Tea
Moroccan Mint
Yogi Pure Green Tea
Oils/Fats/Vinegars/Sauces
Nutiva Organic Coconut Oil
Spectrum Culinary Organic Coconut Oil
Lou Ana Coconut Oil
Great Value Organic Coconut Oil
FatWorks Pork Lard
FatWorks Organic Tallow
Chosen Foods 100% Organic Avocado Oil
Better Body Foods Avocado Oil
California Olive Ranch Extra Virgin Olive Oil
Origin 856 Organic Unfiltered Olive Oil
Pompeian Organic Cold Press Olive Oil Spray
Bertolli Organic Extra Virgin Olive Oil Spray
Great Value Extra Virgin Olive Oil Spray
Chosen Foods Organic Avocado Oil Spray
Pompeian White Wine Vinegar
Pompeian Red Wine Vinegar
Terra Verde Organic Balsamic Vinegar of Modena
Bragg Apple Cider Vinegar with Honey
Great Value Organic Apple Cider Vinegar
Better Body Coconut Aminos
Baking
Nature Nate's Organic Raw Unfiltered Honey
Maple Groves Pure Organic Maple Syrup
Great Value Organic Raw Honey
Better Body Foods Organic Coconut Palm Sugar
Great Value Organic Coconut Sugar
Great Value Organic Unsweetened Coconut Flakes
Great Value Organic Coconut Flour
Better Body Foods Organic Coconut Flour
Arm and Hammer Baking Soda
Morton Pink Himalayan Sea Salt
McCormick Organic Vanilla Extract- don't worry about the alcohol if using in baked goods- it will cook off.
Great Value Pure Vanilla Extract
Light House Freeze Dried Herbs: Parsley, Chives, Garlic, Oregano, Basil, Spring Onion, Dill, Cilantro
Great Value Organic Spices: Ginger, Garlic Powder, Cinnamon, Thyme Leaves, Crushed Rosemary, Turmeric, Italian Seasoning, Bay Leaves, Oregano, Onion Powder, Basil Leaves, Dill Weed, Cinnamon Sticks, Parsley Flakes, Oregano Leaves, Whole Cloves, Rubbed Sage, Marjoram, Mint, Chives, Rosemary, Cilantro, Orange Peel, Vanilla Bean
McCormick Organics Onion Powder
McCormick Organics Garlic Powder
Embe Organic Coconut Milk- green carton
Functional Foods
Bare Organics Mushroom Immune Blend Powder- Read more about AIP and medicinal mushrooms
Divided Sunset Grass-Fed Collagen Peptides
Carrington Farms Organic Matcha Tea Powder
Carrington Farms Organic Pomegranate Powder
Freezer
Be careful with frozen fruits and veggies as they often have additives like citric acid, ascorbic acid, natural flavor, "spices", etc.
Frozen Vegetables
Great Value Brand:
Broccoli Florets
Brussels Sprouts
Chopped Spinach
Cauliflower
Asparagus Spears
Sweet Potato Cubes
Riced Cauliflower
Organic Kale
Bird's Eye Brands:
Normandy Blend
Steamfresh Brussels Sprouts
Steamfresh Broccoli, Cauliflower, and Carrots
Steamfresh Asparagus
Steamfresh California Blend
Steamfresh Broccoli Florets
Pictsweet Farms Chopped Onions
Pictsweet Farms Cut Okra
Green Giant Cauliflower Risotto Medley
Frozen Fruits
Pitaya Foods Dragon Fruit Pieces
Pitaya Foods Coconut Smoothie Packs
Wyman's Triple Berry Blend
Wyman's Wild Blueberries
Great Value Brand:
Frozen Raspberries
Frozen Pitted Dark Cherries
Organic Frozen Blueberries
Organic Mango Chunks
Mixed Berry Medley
Blueberries
Whole Strawberries
Pineapple Chunks
Sliced Peaches
High Antioxidant Fruit Blend
Blackberries
Freezer- Other
Rising Tide Wild Caught Sockeye Salmon
Sam's Choice Mussels *note- farm raised
Sam's Choice Wild Caught Cold Water Lobsters
Sam's Choice Wild Caught Dungeness Crab Legs
*sadly, most of the wild caught seafood in the freezer section contains sodium tripolyphosphate or some other additive. Always double check the labels before buying.
Conclusion
I hope you like the list! If you have something to add, please add it in the comments below. While I try to be as precise as possible with these lists, sometimes errors happen. If you see a mistake, please let me know so I can correct it.