This kiwi banana avocado smoothie bowl is made with frozen cauliflower and spinach. It's refreshing, nutrient-dense, and you will not taste the veggies. Avocado gives it a good dose of healthy fat which can help you feel full and satisfied. You can easily make this into an avocado protein shake or bowl by adding a scoop of collagen or protein powder.
This avocado banana smoothie bowl is made without milk and without yogurt. In fact, no liquid is added to this smoothie bowl because it's not needed. The moisture from the kiwi, avocado, and fresh spinach are enough.
It's Paleo, AIP friendly, Whole30, dairy-free, gluten-free, and vegan.
Another smoothie you might like is my Apple Beet Berry Smoothie. If you're into smoothie bowls, check out my Purple Sweet Potato Breakfast Bowl as well.
**Just a quick heads up- this post contains affiliate links which means if you click on them and buy something,  I will earn a small commission (at no additional cost to you) to help continue maintaining this site. 
Kiwi Avocado Smoothie Bowl Ingredients
Kiwis- Make sure they're peeled.
Avocado- Avocado smoothie bowls are so amazing because they're so creamy and nutrient-dense. You may have wondered how to make a smoothie without yogurt. Avocados are a fantastic substitute for yogurt because of their rich creamy texture and neutral flavor.
Make sure your avocado is peeled and pitted.
You could use frozen avocado if you want. Just keep in mind this will make the smoothie thicker so you may need to add liquid. Alternatively, just use fresh bananas or cauliflower in place of frozen to compensate.
Frozen Cauliflower Florets- Adding cauliflower to a smoothie bowl or any smoothie is a great way to add veggies without changing the flavor. You will not taste the cauliflower in this smoothie
If you don't want to add cauliflower, just add more frozen bananas in an equal amount. If not bananas, you could use frozen berries, frozen spinach, or ice.
Frozen Bananas- The combination of banana and avocados in a smoothie makes for the perfect texture and sweetness. Use frozen banana slices (rather than fresh). See the recipe notes for how to do this.
If you prefer to use fresh bananas, you may need to use frozen avocados or kiwis to keep the smoothie thick. Alternatively, just add some ice to thicken it. However, this will water down the flavor a tad. 
Fresh Spinach- Making a smoothie bowl with spinach is another awesome way to add veggies without drastically altering the taste. Plus, it makes it enhances the beautiful green color.
You can use frozen spinach if preferred but this will make the smoothie a little thicker. You may need to add a little liquid or use fresh cauliflower rather than frozen to compensate.
If you don't want to use spinach, then just omit it. It shouldn't greatly change the flavor or texture. It'll just be a little less green.
How to Make this Avocado Smoothie Bowl
Step 1: Add the fresh ingredients (kiwi, spinach, and avocado) to the blender first. Blend.
Step 2: Add the frozen ingredients and blend again.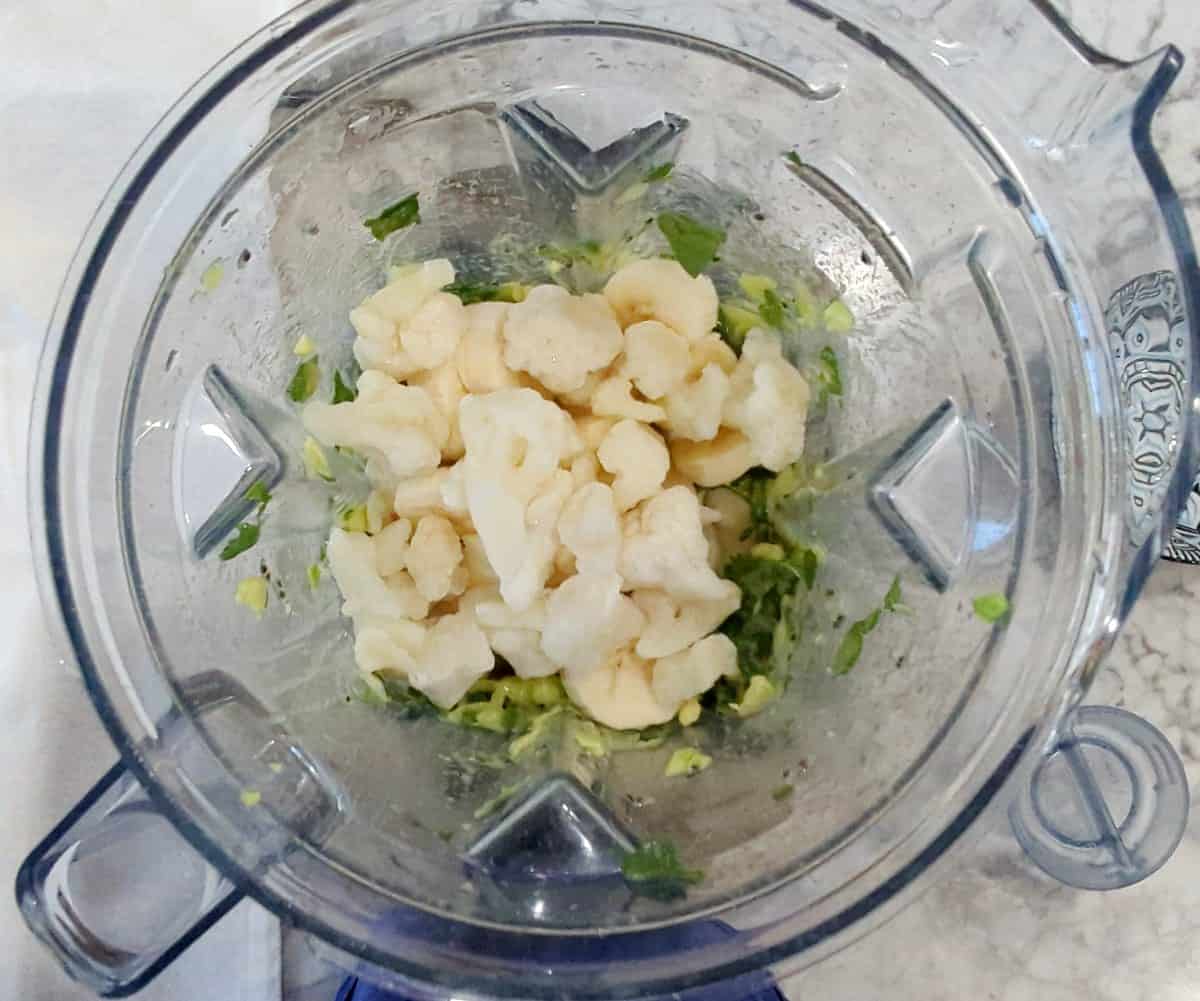 Stop the blender as needed to push the ingredients back down closer to the blades. Keep blending until smooth.
Step 3: Pour the smoothie into a large bowl (or 2 small bowls). Gently spread it out evenly in the bowl(s) using a spoon.
Step 4: Add the toppings.
Smoothie Bowl Tips
Use Frozen Bananas- It's best to use frozen bananas as the recipe calls for just so the smoothie bowl is nice and thick. 
Keep Blending Until Smooth- Because of its thickness, you may need to stop blending a couple of times to stir and push things back down towards the blades. Keep doing this until the smoothie is very smooth. 
If It's Too Thick- If it's too thick for some reason, you can add some liquid. To make this smoothie without dairy, just add a little water, coconut water, dairy-free milk, etc. 
To Make this a Regular Smoothie (not a smoothie bowl)- Just add a little liquid to get it to your desired consistency.
Topping Ideas
There are a million different things you can put on a spinach kiwi smoothie bowl. Here are a few ideas:
Various Fresh Fruits
Dried Fruits- Choose unsulfured fruits with no added sugars or oils
Nut Butters- Tigernut butter for AIP
Granola- use AIP compliant granola or muesli for AIP.
Nuts and Seeds (omit for strict AIP)
Variations
Mango Avocado Smoothie Bowl
Strawberry Banana Kiwi Smoothie Bowl
Apple Kiwi Smoothie Bowl
Blueberry Avocado Smoothie Bowl
Kiwi Mango Smoothie Bowl
Pineapple Avocado Smoothie Bowl
Strawberry Avocado Smoothie Bowl
FAQ's
How do you Thicken a Smoothie Bowl?
If your smoothie bowl isn't thick enough, blend in some additional frozen fruit or vegetables. For a sweeter flavor, add bananas. For a more neutral flavor, add frozen cauliflower.
Frozen cauliflower in smoothies is awesome because it adds thickness and nutrients without changing the flavor. You can also just add ice but keep in mind this will water down the flavor a bit. 
Can Any Blender Make a Smoothie Bowl?
Technically, yes. However, it will be easier if you have a powerful mixer like a Vitamix, Ninja, or something similar. For smaller smoothie bowls, I've found a single-serve smoothie cup to be much easier to use
What Does Adding Avocado do to a Smoothie?
Avocado makes a smoothie very creamy and adds a good dose of healthy fats which make it more satiating.
Does Fruit Have to be Frozen for a Smoothie Bowl?
Most of the fruit in a smoothie bowl should be frozen. This is what allows it to be nice and thick. In the case of this smoothie bowl, some of the fruit is fresh. However, this only works because no liquid is added to it.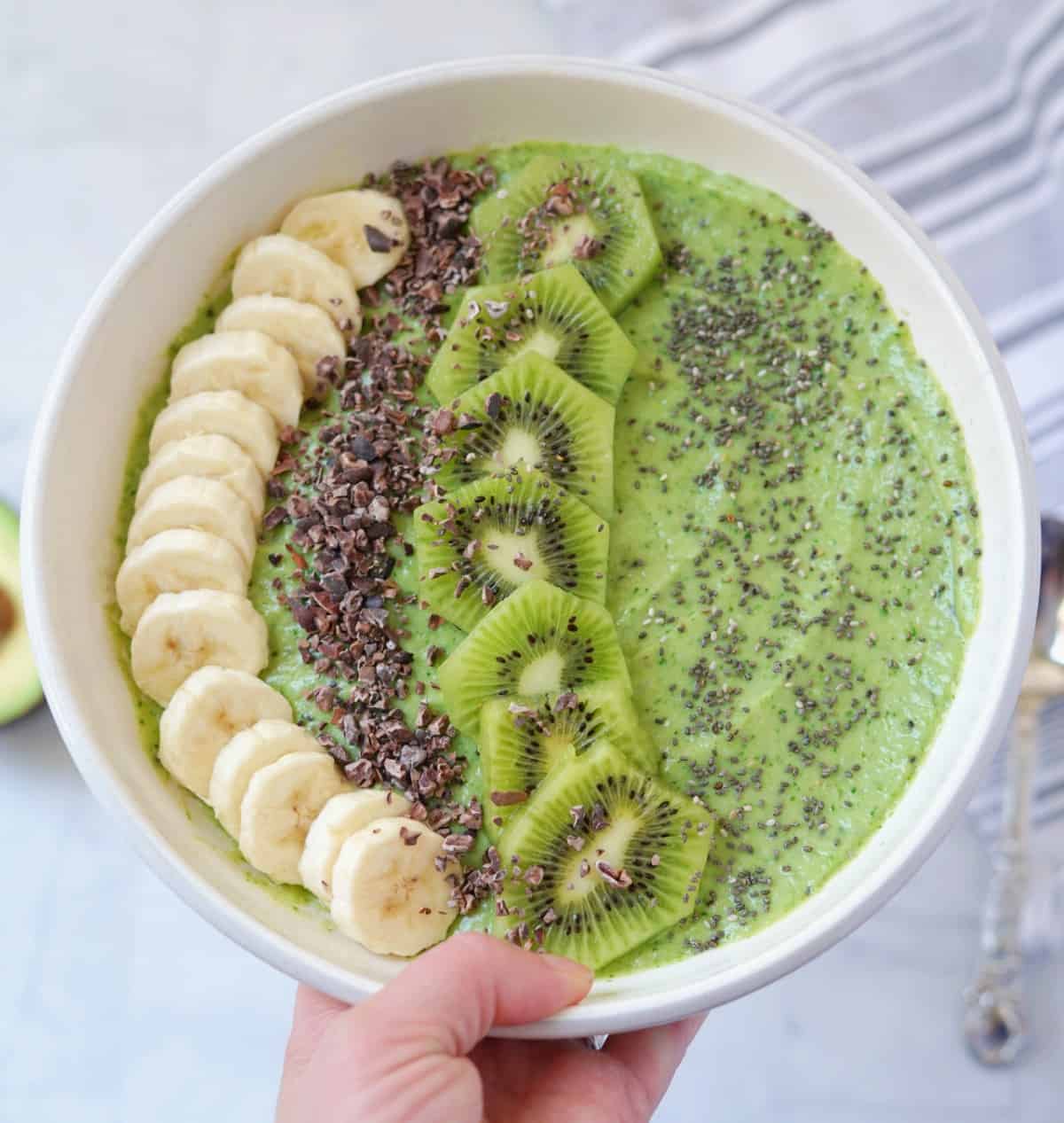 If you enjoyed this post, you may also like: 
Beginner's Guide to the Autoimmune Protocol
87+ AIP Snacks (Recipes and Packaged Foods)
Conclusion:
I hope you love this kiwi spinach smoothie bowl! If you tried it, please rate it and leave a comment below. I'd love to hear your thoughts!
Don't forget to follow me on Instagram @foodcourage for the latest AIP/Paleo recipes, autoimmune nutrition info, and Food Courage happenings!
Kiwi Banana Avocado Smoothie Bowl with Spinach
This kiwi avocado smoothie bowl is thick, creamy, and refreshing. It's also gluten-free, paleo, vegan, and AIP friendly.
Ingredients  
2

kiwis

peeled

1/2

avocado

peeled, pit removed

1

cup

fresh spinach

1/2

cup

frozen cauliflower florets

1 1/2

cups

frozen banana slices

see notes
Toppings
1

kiwi

peeled and sliced

1

banana

peeled and sliced

2

tbsp

cacao nibs

(omit for AIP)

2

tbsp

chia seeds

(omit for AIP)
Instructions 
Combine ingredients in a high-speed blender. For easier blending, blen he fresh ingredients together first. Then add the frozen ingredients and blend those in.

The mixture will be very thick since we're making a smoothie bowl. If/when the blender gets stuck, just stop it and use a spoon or spatula to stir the mixture and push everything back down towards the blades. Do this as many times as needed until you get a super thick, smooth, smoothie bowl. Add a little liquid if needed but not too much. Continue blending until smooth.

Pour the smoothie into 2 small bowls (or 1 large bowl). Gently spread it out evenly in the bowl(s) using a spoon. Add toppings.
Video
Notes
To freeze the bananas, slice 2-4 peeled bananas depending on size and place them on a parchment paper-lined baking sheet. Put the baking sheet in the freezer for at least an hour. Use the bananas from there or store them in a freezer-safe bag or airtight container in the freezer until ready to use. 
Nutrition
Nutrition Facts
Kiwi Banana Avocado Smoothie Bowl with Spinach
Amount per Serving
% Daily Value*
* Percent Daily Values are based on a 2000 calorie diet.