It seems like quite a few people following the autoimmune protocol are on the hunt for an AIP Paleo Trader Joe's shopping list. I've been seeing a lot of Facebook discussions and have had some reach out to me directly about it. So, I finally decided to put one together! All of the items are paleo, and gluten-free. Many of them are also Whole30 and keto-friendly.
If you like this list, you may also want to check out my Sprouts AIP Shopping list, Whole Foods AIP Shopping List, Kroger AIP Shopping List, Walmart AIP Shopping List, Sam's Club Shopping List, Costco AIP Shopping List, Meijer AIP Shopping List, Safeway AIP Shopping List, and Aldi AIP Shopping List.
I don't live close to a Trader Joe's but I do have two of them about 40 minutes away so I only go occasionally. I visited both this past week for the sake of a very thorough shopping list and man was it fun!
Many of the items on this list are suggestions from other AIPers on Facebook. I was able to find many but not all of them at my Trader Joe's locations, so I'm sure it varies a bit depending on where you are.
Most of these items are elimination phase compliant. A couple of them are stage 1 reintroductions, which I've noted. I tried to include pictures on items that may not be super obvious just to give a good idea of what the heck to look for.
Also, get the printable version of the shopping list at the bottom of the post!
---
**Just a quick heads up- this post contains affiliate links which means if you click on them and buy something,  I will earn a small commission (at no additional cost to you) to help continue maintaining this site. 
---
Produce
I love the produce section at Trader Joe's! They have so many great pre-cut veggies and veggie mixes. I'm currently obsessed with their kohlrabi vegetable pasta. I've been using it for everything!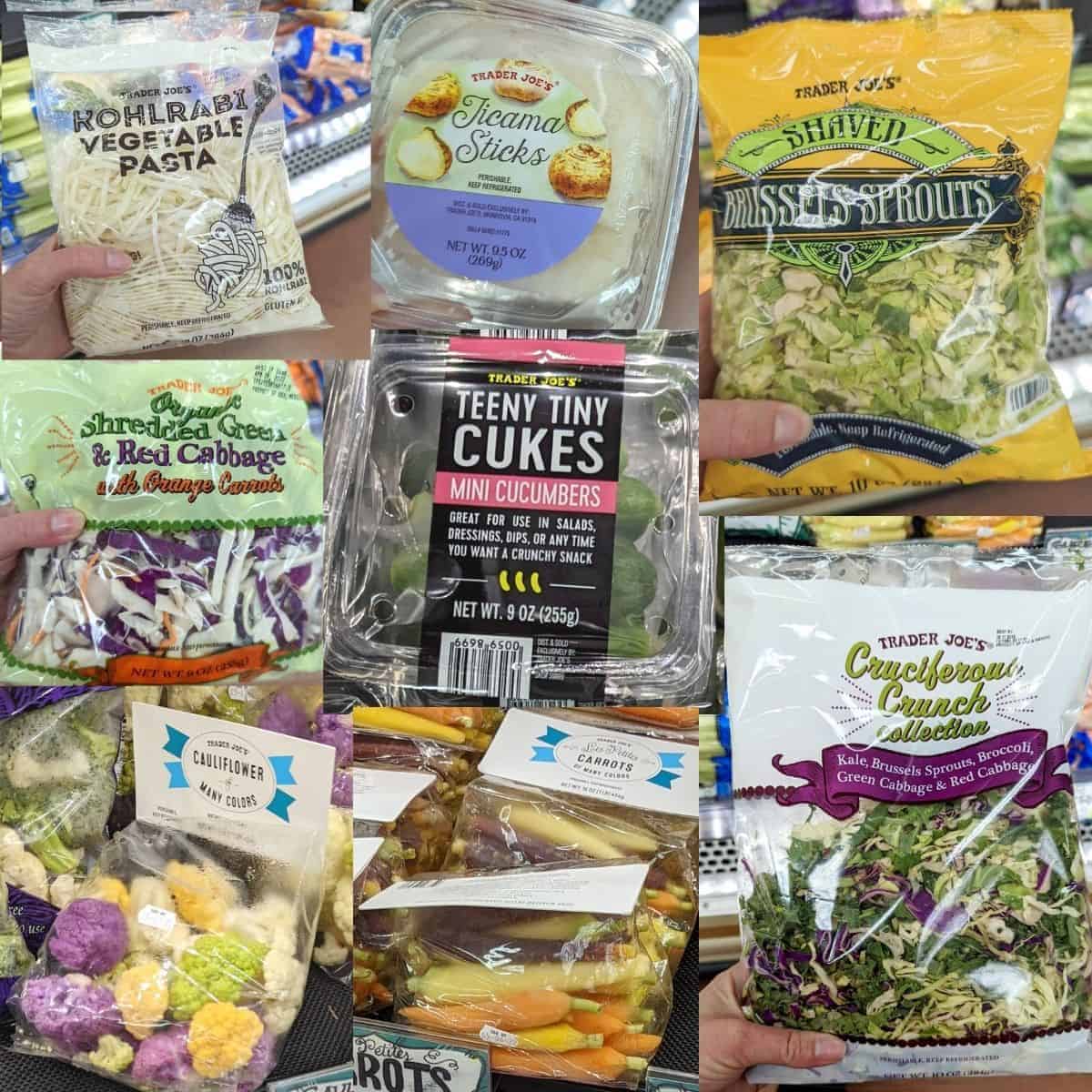 Pre-Cut Jicama Sticks
Asparagus Saute with red onion and mushrooms- precut veggies
Artichoke Globes
Butternut Squash Zig Zags- Clear container, green label- they look like crinkle-cut fries.
Butternut Squash Spirals
Cruciferous Crunch (bagged produce)- Has kale, brussels sprouts, broccoli, and green and red cabbage.
Diced Onions
Fennel
Fresh Organic Herbs
Holiday Vegetable Hash (seasonal)- Has sweet potatoes, butternut squash, red onion, celery, parsley, sage, and rosemary
Mandarin Oranges with the leaves still on
Mini Avocados
Mini English Cucumbers
Mirepoix Mix- Diced carrots, onions, and celery
Mushrooms
Organic Coleslaw Mix
Organic Broccoli Slaw
Organic Shredded Kale
Persian Cucumbers
Pre-Cooked Beets
Purple Sweet Potatoes
Rainbow Carrots
Rainbow Cauliflower
Riced Cauliflower
Riced Vegetable Medley- Cauliflower, Broccoli, Carrots, Green Onions, and Yellow Onions
Shallots
Shaved Brussels Sprouts
Shredded Cabbage
Shredded Carrots
Spaghetti Squash
Sweet Potato Ribbons
White Sweet Potatoes
Zucchini Noodles
Refrigerated
Pork Belly (see image below)
Organic Hickory Smoked Turkey Breast Lunch Meat
Prosciutto
Chicken Bone Broth (bag), (see image below)
Green Goddess Dressing in cooler/produce section. (Stg 1 reintro- has black pepper)
Sauerkraut with Persian cucumbers
Simply Roast Chicken Breast- Pre-Cooked Chicken (Reintro- has black pepper), see image below
Smoked Salmon
Jicama Wraps (see image below)
Meat/Poultry
Grass-Fed Lamb Chops
Grass-Fed Ribeye Steaks
Organic Chicken Wing Sections
Organic Free-Range Boneless Skinless Chicken Breasts
Organic Ground Beef
Organic Ground Beef Patties
Organic Ground Turkey
Pastured Whole Chicken
Uncured bacon
Uncured Bacon Ends and Pieces
Freezer Section
Asparagus Spears
Zucchini Spirals
Beet Chunks
Frozen Tostones- Fried plantain slices. Contains plantains and palm olein. As mentioned with the plantain chips, palm oil is allowed on AIP. Thus palm olein is technically allowed on AIP. However, some people choose to avoid it because it's quite processed. 
Just Coconut Chunks
Mashed Sweet Potatoes
Organic Cherries
Organic Chopped Spinach
Organic Frozen Raspberries
Organic Mango
Organic Sliced Roasted Delicata Squash
Organic Wild Maine Blueberries
Riced Cauliflower
Pineapple Tidbits
Wild Argentinian Red Shrimp
Wild Caugh Ahi Tuna
Wild Caught Alaskan Cod
Wild Caught Crab Meat (fully cooked)
Wild-Caught Jumbo Sea Scallops
Wild Caught Mahi Mahi
Wild Caught Swordfish Steaks
Organic Boneless Skinless Chicken Breasts
Grass-Fed Angus Burgers
Turkey Burgers
Uncooked Ground Buffalo Burgers
Dried/Freeze Dried Fruit Snacks and other Sweet Snacks
Trader Joe's has a ton of dried and freeze-dried fruit and fruit chips. Thus, I'm sure this list is not all-inclusive. Just be sure to check the labels as some dried fruits have added oils, sugars, and preservatives that are not compliant.
Applesauce
Apple Rings
Apple Chips
Coconut chips
Dried Baby Bananas- My new favorite!! These things look so weird but they're absolutely delicious.
Dried Figs
Dried Pear Slices
Dried White Peaches
Freeze Dried Honey Crisp Apple
Freeze-Dried Berries
Just Apple and Coconut Cereal Bars
Organic Medjool dates
Organic Raisins
That's It bars
Unsweetened Organic Dried Mango
Unsweetened Unsulfured Dried Blueberries
Watermelon Jerky
Wild Made Fruit Leather
Savory/Salty Snacks
Read labels carefully on packaged snacks. There are some awesome snacks that are completely compliant. However, many others have sneaky ingredients like processed oils, preservatives, "natural flavors," and "spices." Steer clear of these for strict AIP.
Broccoli Chips- TJ brand- Contains broccoli, palm oil, and salt.
CHOMPS Sticks- Italian Beef with green packaging is the only one that's compliant.
Epic Pork Rinds- Pink Himalayan Sea Salt
Just Beets- Dehydrated Beet Chips (white package, TJ's brand)
Organic Carrot Chips- TJ brand dehydrated rainbow carrots
Epic Meat Sticks- Check ingredient labels.
Sweet Plantain Chips (yellow and green bag)- technically considered AIP by most but contains palm olein which is a fairy processed oil. Palm oil is allowed but this type is pretty refined. So..it's a judgment call.
Plantain Crisps- (tan bag with green and yellow on it) Same situation as above- contains palm olein.
Pantry Items
Anchovies in Olive Oil
Apple Cider Vinegar
Avocado Oil
Avocado Oil Spray
Balsamic Vinegar
Olives- Read labels. Not all are compliant.
Canned Butternut Squash Puree
Canned Chicken
Canned Oysters
Canned Peaches in White Grape Juice
Canned Pumpkin Purée
Canned Sardines
Canned Sockeye
Canned Wild Alaskan Pink Salmon
Canned Tuna
Carob Powder
Coconut Aminos
Coconut Oil
Great Lakes Collagen Powder
Hearts of Palm Pasta- dehydrated
Organic Maple Butter (may be seasonal)
Matcha Green Tea Powder- Not to be confused with Matcha Green Tea Latte which is not compliant.
Olive Oil Cooking spray
Onion Salt
Organic Coconut Flour
Organic Coconut Sugar
Organic Date Syrup
Organic Raw Honey
Organic Red Wine Vinegar
Sicilian Selezione Extra Virgin Olive Oil
Small Boxes of Bone Broth- Beef (red box) and Chicken (yellow box)
Spices/Herbs
Unsweetened Coconut Flakes
Vanilla Bean
White Wine Vinegar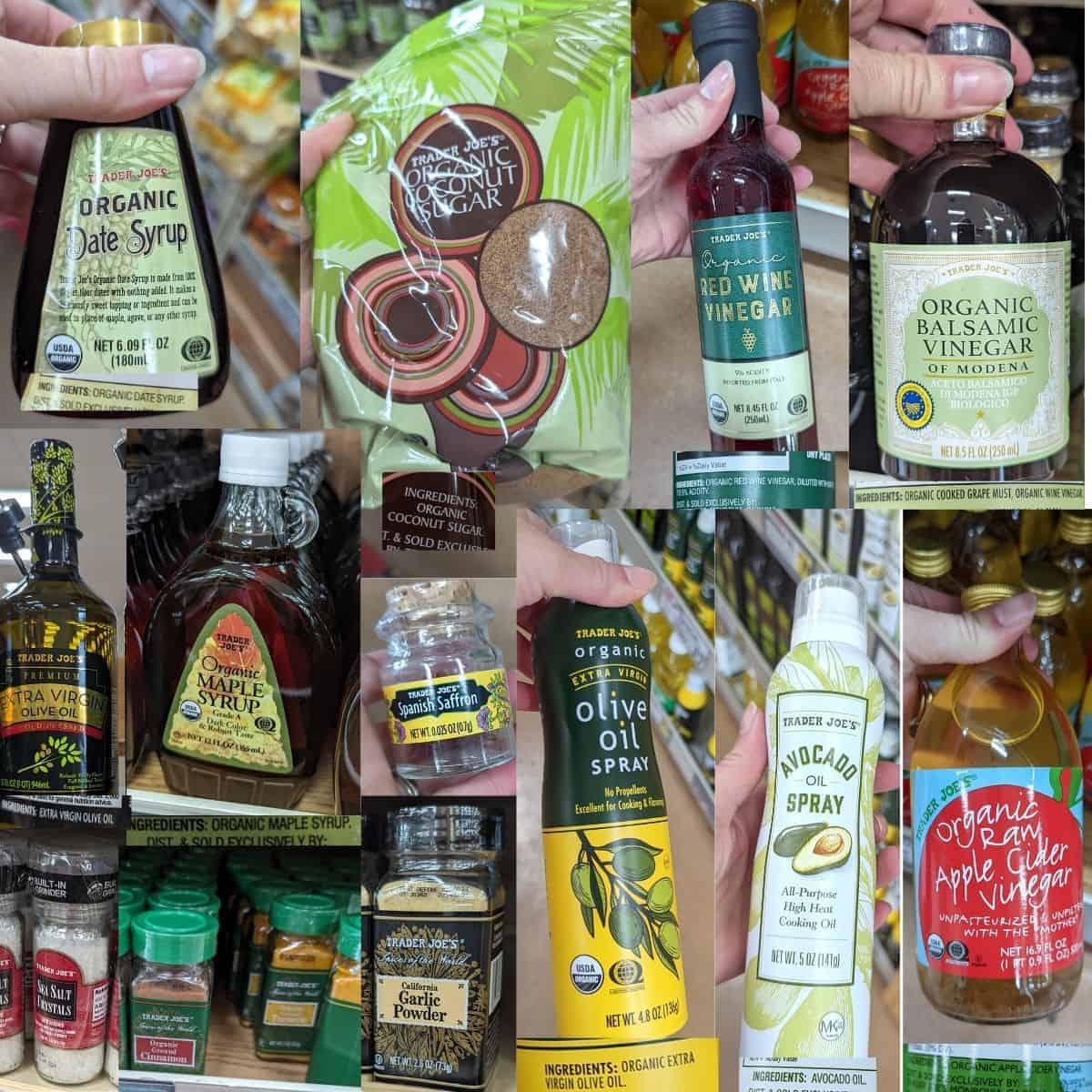 Refrigerated Drinks
Note about juices- Try to make whole fruits a priority over juices simply because fruit juices are high in sugar. The recommended limit for fructose is 40 grams per day (although 20 grams is considered optimal) during the elimination phase. Read more on this here.
Organic Carrot Juice
Beet Juice
Celery Juice (Suja brand)
Organic Coconut Smoothie (in a bottle)
Cold Pressed Cucumber Avocado Smoothie (in a bottle)
Cold Pressed Pineapple Juice
Kombucha- GT's Synergy is AIP compliant because it uses kiwi juice and fruit purees instead of sugar. A few compliant flavors include Trilogy, Gingerade, Guava Goddess, and Golden Pinapple.
Organic Celery Juice
Organic Coconut Water
Tangerine Juice
TJ's Cold Pressed Green Juice
TJ's To the Power of 7 Organic Green Juice- contains kale juice, spinach juice, green apple juice, cucumber juice, celery juice, lemon juice, and, ginger powder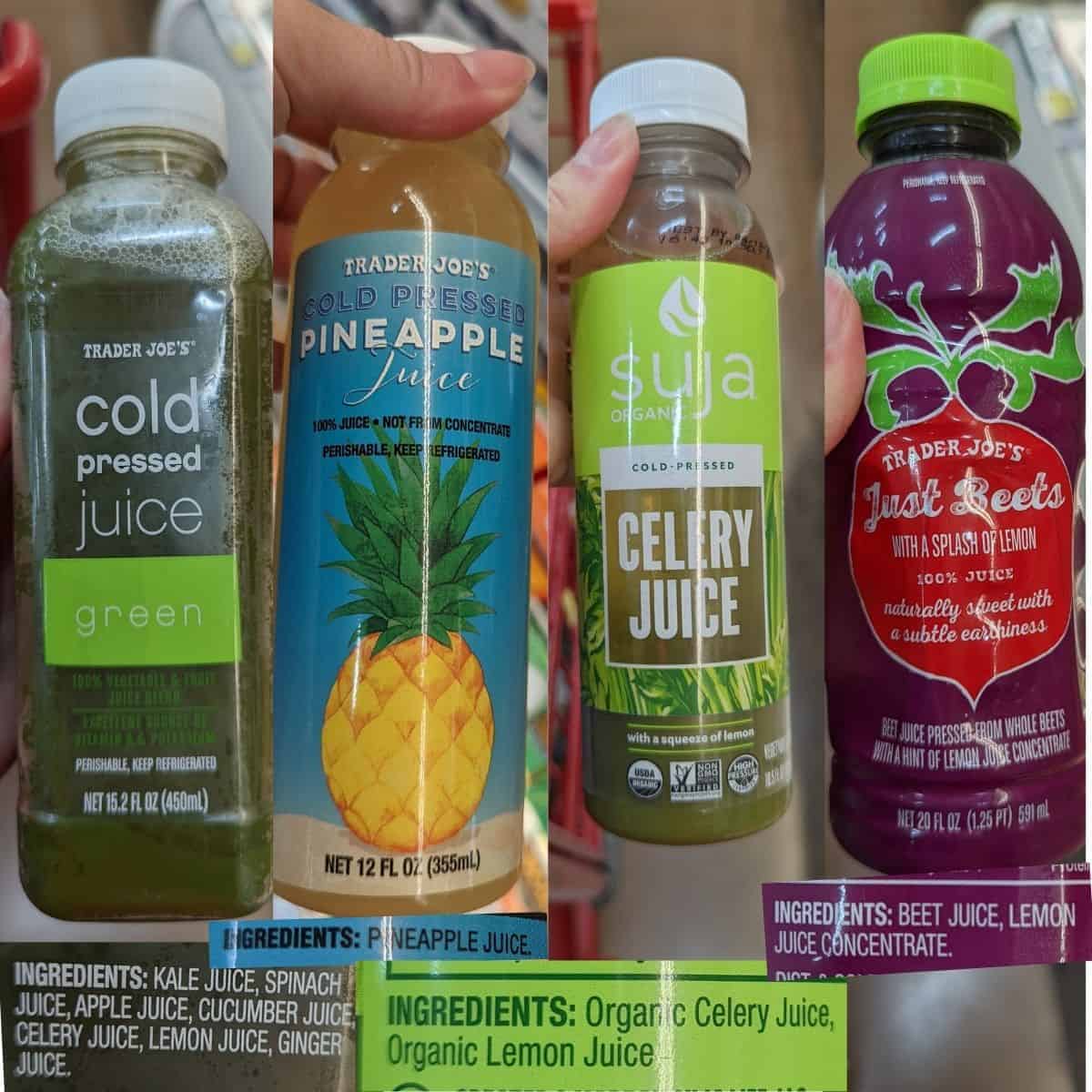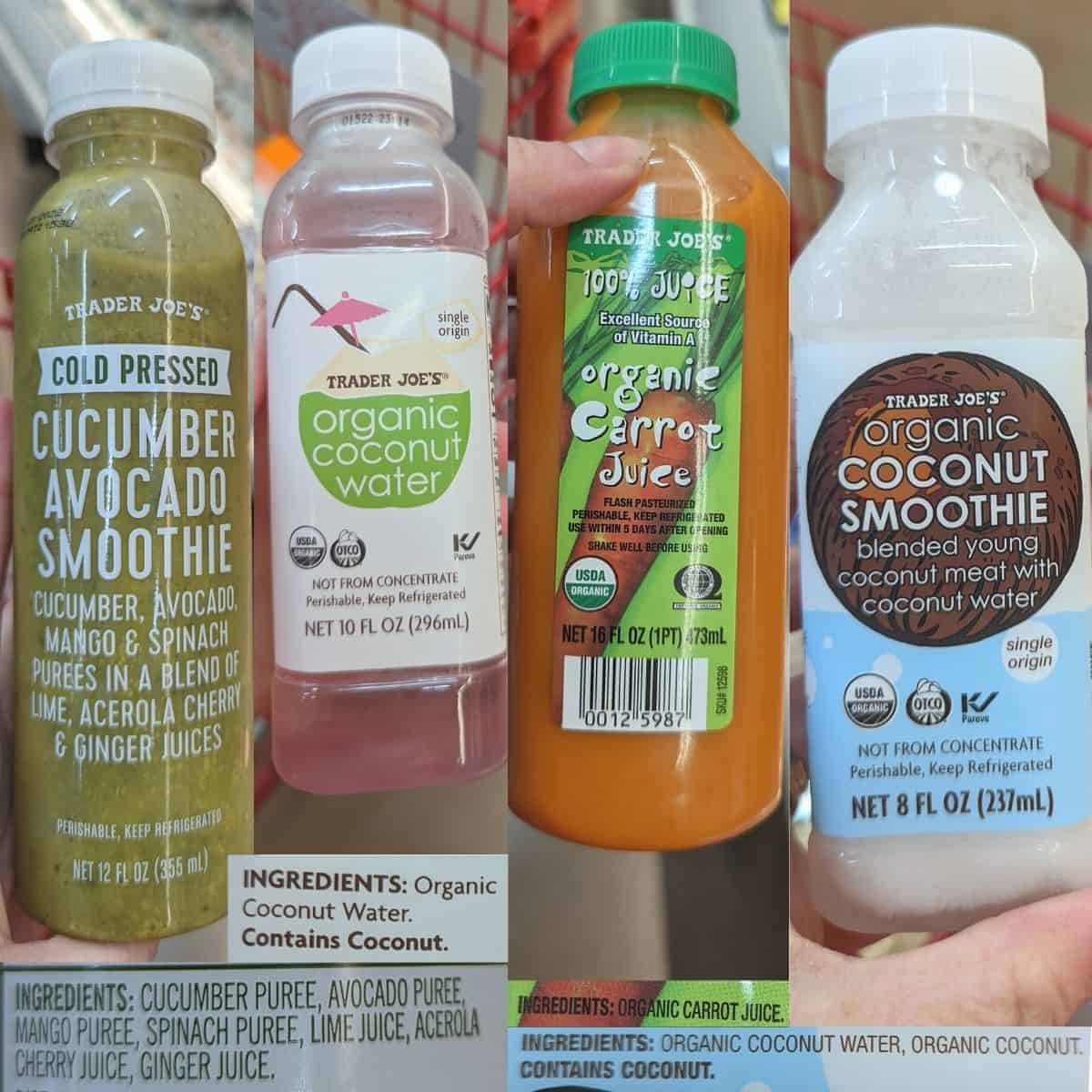 Shelf Stable Drinks
Coconut Water
Coconut Milk
Ginger Drink Mix Packets- Contains just ginger
Power of Seven Purple Juice Blend
TJ's Flavored Seltzer Waters- Cranberry Lime, Lemon Ginger
Teas:  Moroccan Mint Green Tea, Organic Earl Grey, Organic Peppermint, Organic Green Tea
Spindrift- Grapefruit, Raspberry Lime, and Lemon are compliant. Some of the other flavors contain citric acid (not compliant).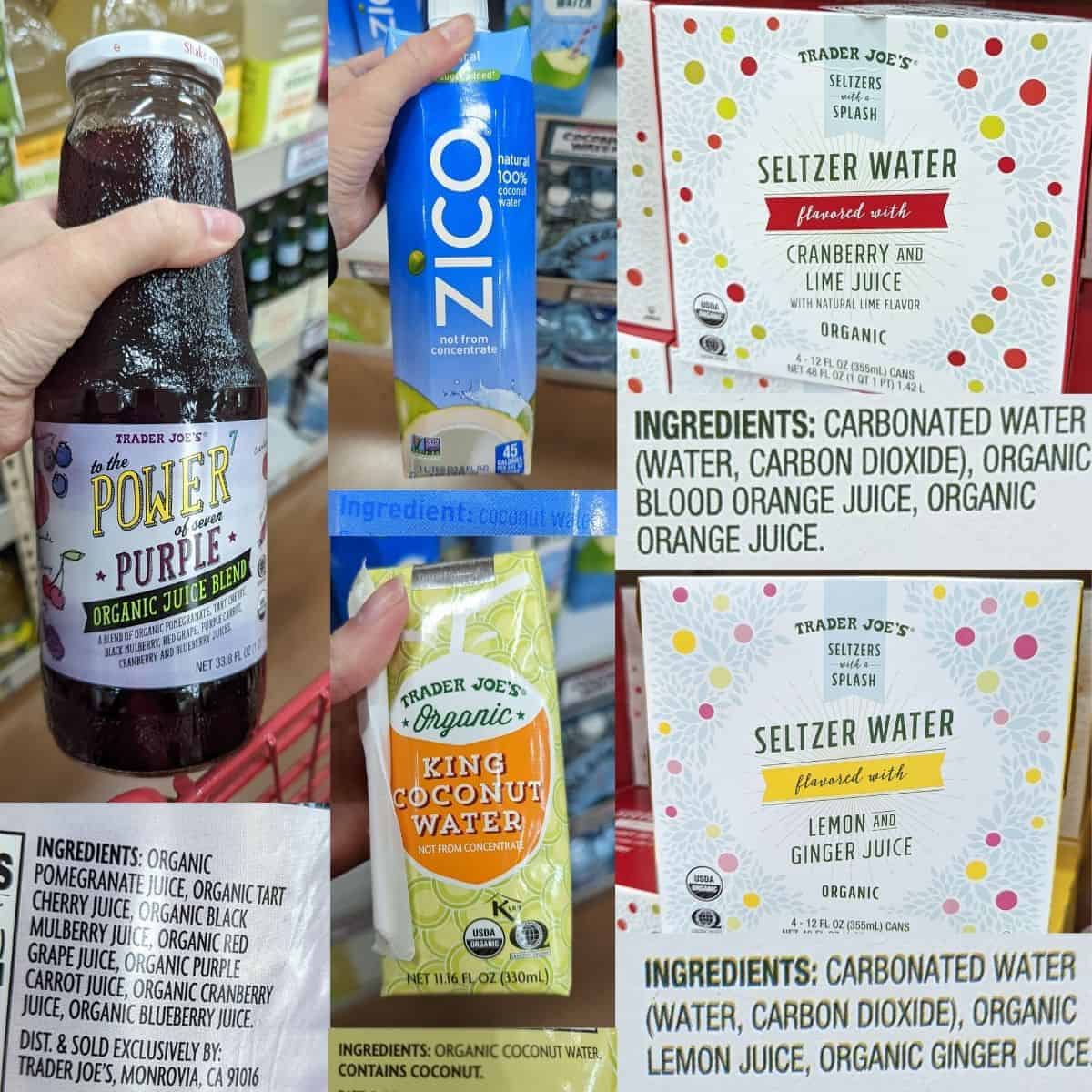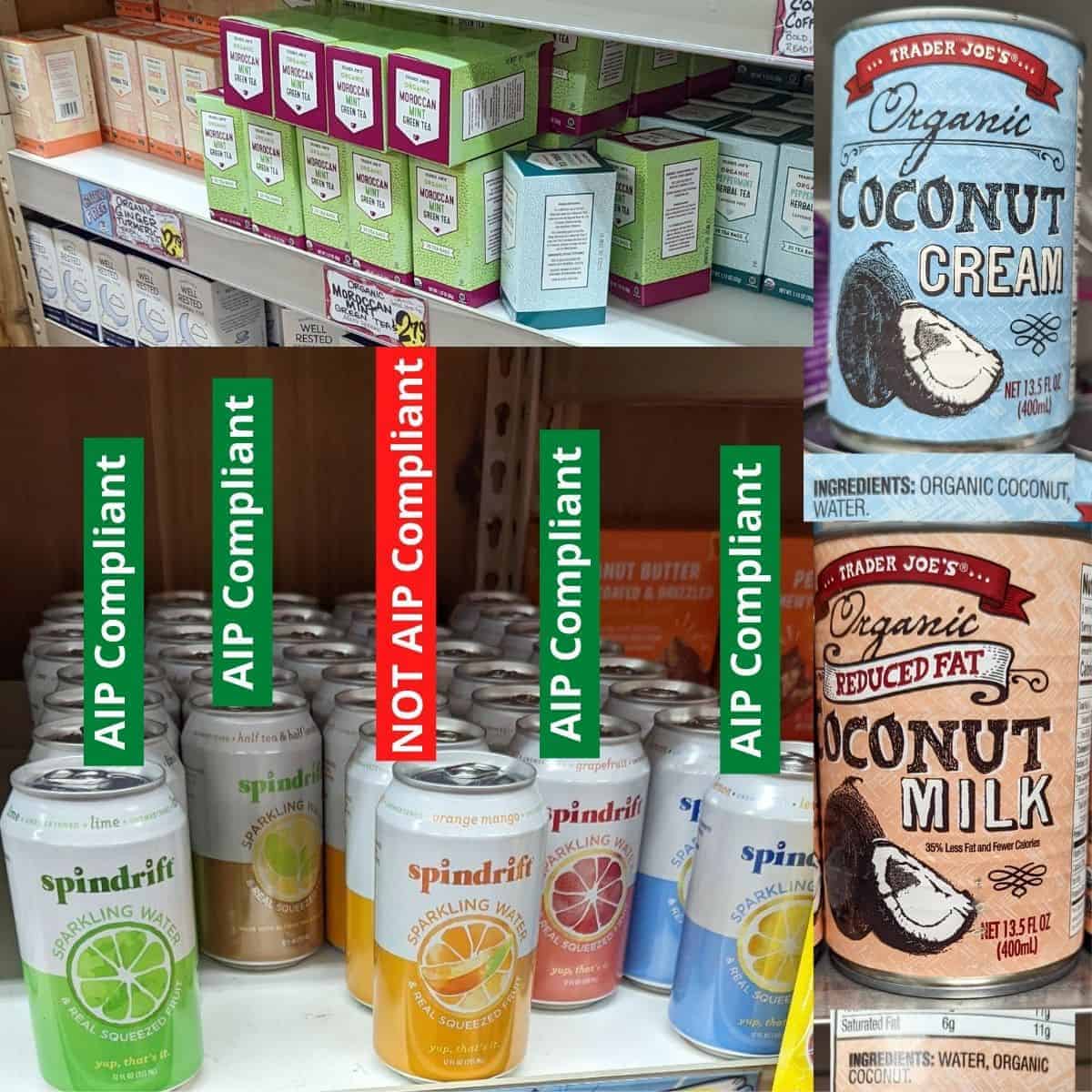 Conclusion:
I hope you found this post useful. This list is not all-inclusive. If you have AIP-compliant items to add, please leave a comment! Also, if you know of any items that have been discontinued, please let me know so I can take them off.
---
Don't forget to follow me on Instagram @foodcourage for the latest AIP/Paleo recipes, autoimmune nutrition info, and Food Courage happenings!
If you enjoyed this post, you may also like: 
The Beginner's Guide to the Autoimmune Protocol