If you're needing an AIP shopping list for Costco, this is it! These items are meant for the elimination phase of the autoimmune protocol. AIP is a stricter version of Paleo so the items are also Paleo. Please note that some of these products are found in Costco Business Centers vs Regular Costco. Of course items will also vary by location and season as well.
If you're looking for other AIP shopping lists, you may want to check out the Whole Foods AIP Shopping List, Walmart AIP Shopping List, Trader Joe's AIP Shopping List, Sam's Club Shopping List, Trader Joe's AIP Shopping List, Aldi AIP Shopping List, Meijer AIP Shopping List, Safeway AIP Shopping List, and Sprouts AIP Shopping List.
For more info about the AIP diet and what food items to look for, check out the Beginner's Guide to the Autoimmune Protocol and AIP Pantry Items. If you need to see what a product looks like or need to see an ingredient label, you can find them on the Costco and Costco Business Center websites. Let's go to the list!
Table of contents
Fresh Organic Produce
Cal-Organic Baby Carrots
Organic Asparagus
Earth Bound Organic Power Greens
Earthbound Farm Organic Spring Mix
Earthbound Farms Organic Spinach
Organic Iceberg Lettuce
Organic Living Lettuce
Organic Sweet Potatoes
Organic Whole Carrots
Eat Smart Organic Brussels Sprouts
Organic Spaghetti Squash
Organic Celery
Organic Cocktail Cucumbers
Organic Anjou Pears
Organic Bananas
Organic Blackberries
Organic Blueberries
Organic Raspberries
Organic Strawberries
Organic Gala Apples
Organic Gold Kiwi
Organic Green Grapes
Organic Mangoes
Organic Ataulfo Mangos
Organic Yellow Peaches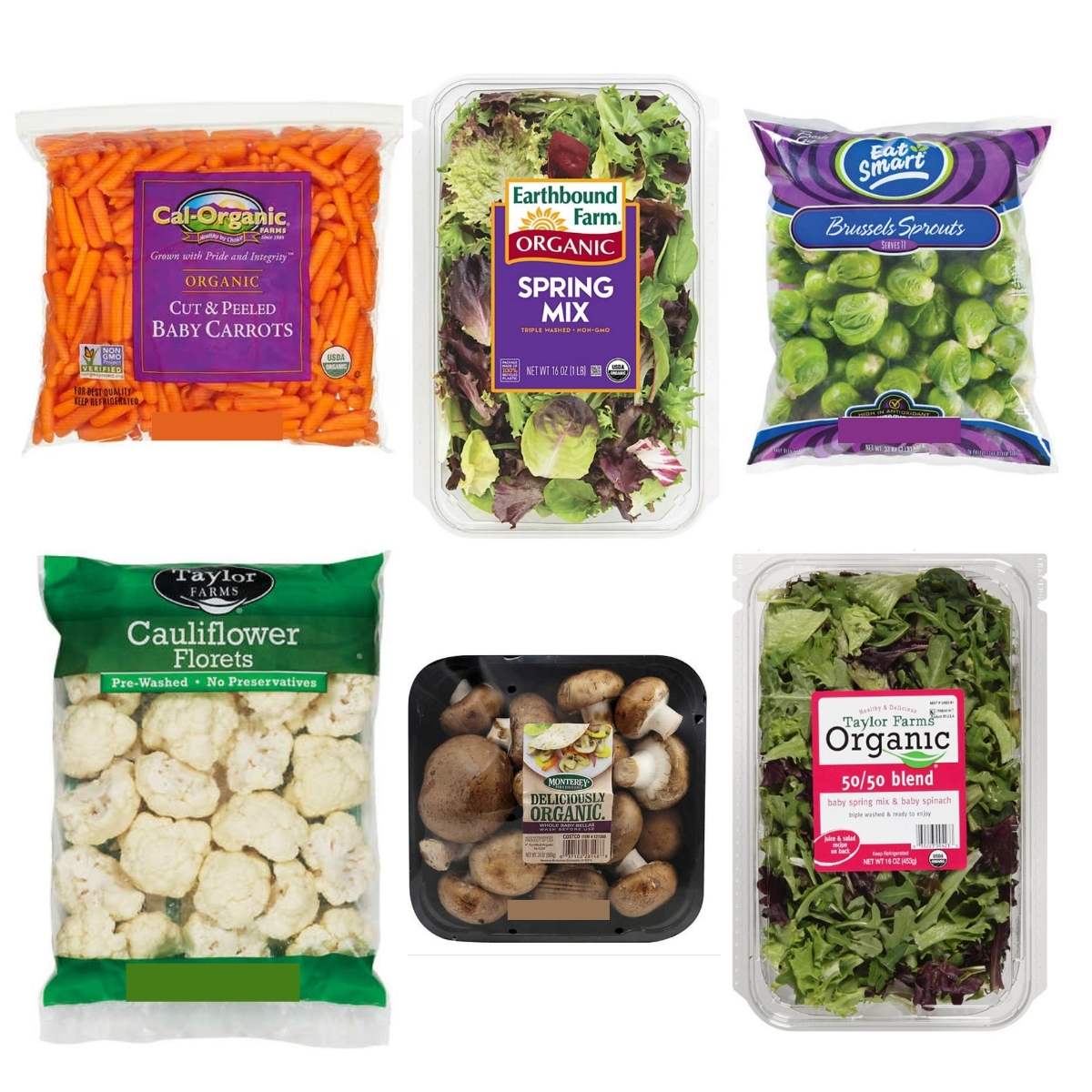 Additional Produce
Baby Bok Choy
Love Beets- Whole Red Cooked Beets
Cocktail Cucumbers
Jumbo Artichokes
Red Onions
Yellow Onions
Green Leaf Lettuce
Romaine Heads
Romaine Lettuce Hearts
Whole Shiitake Mushrooms
Zucchini
Avocados
Cantaloupe
Honey Dew Melon
Mini Seedless Watermelons
Cara Cara Oranges
Clementines
Cosmic Crisp Apples
Red Delicious Apples
Fuji Apples
Honeycrisp Apples
Kiwis
Lemons
Limes
Oranges
Pomegranates
Red Grapes
Red Papaya
Whole Pineapples
Pre-Cut Fruits/Veggies
Coleslaw Mix
Organic Broccoli Florets
Sliced Mushrooms
Diced Onions
Ready Pac Chopped Romaine Lettuce
Taylor Farms Cauliflower Florets
Organic Butternut Squash Cubes
Organic Broccoli Florets
Fresh Pineapple Slices
Plantains
Juices/Drinks
*Please note that juices should be kept to an minimum during the elimination phase as they are high in sugar.
POM Wonderful, 100% Pomegranate Juice
Kirkland Signature Apple Juice
Fresh Meat/Poultry
Kirkland Signature Organic Ground Beef
Kirkland Organic Chicken Thighs
Kirkland Organic Chicken Drumsticks
Kirkland Organic Boneless Skinless Chicken Breasts
Kirkland Organic Whole Chicken
Snacks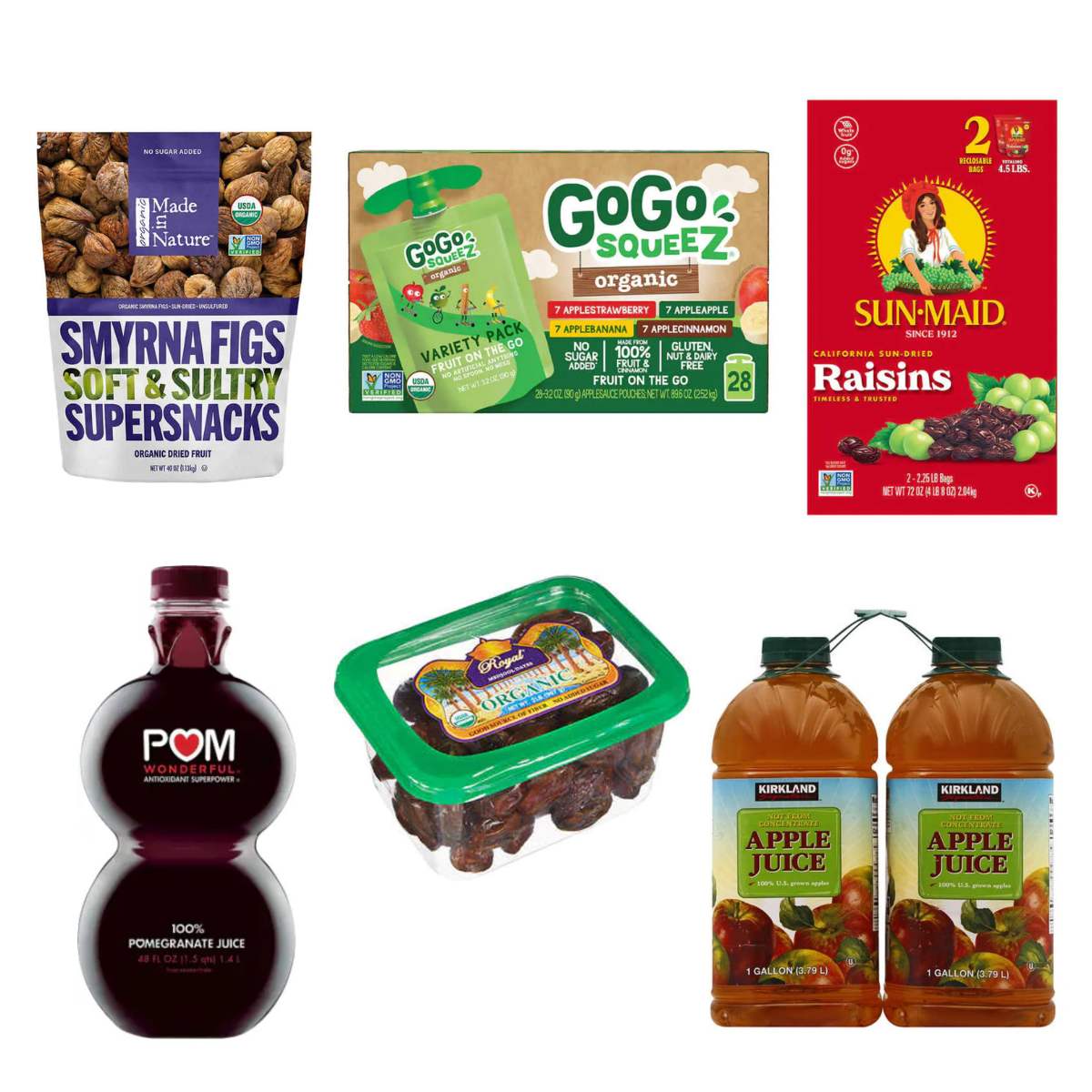 Made in Nature Organic Unsulfured Turkish Figs
GoGo Squeeze Organic- Apple Apple, Apple Strawberry, Apple Banana, Apple Cinnamon
Kirkland Signature Organic Dried Mangoes
Bare Apple Chips
Sunny Fruit Organic Dried Figs
Sun-Maid Raisins
Sun Date Organic Medjool Dates
Barnana Pink Sea Salt Plantain Chips
Jackson's Avocado Oil Sweet Potato Chips with Sea Salt
Canned Seafood/Poultry
Kirkland Signature Wild Alaskan Pink Salmon
Season Skinless & Boneless Sardines in Olive Oil
Portofino Solid Yellowfin Tuna in Extra Virgin Olive Oil with Sea Salt
Wild Planet Albacore Wild Tuna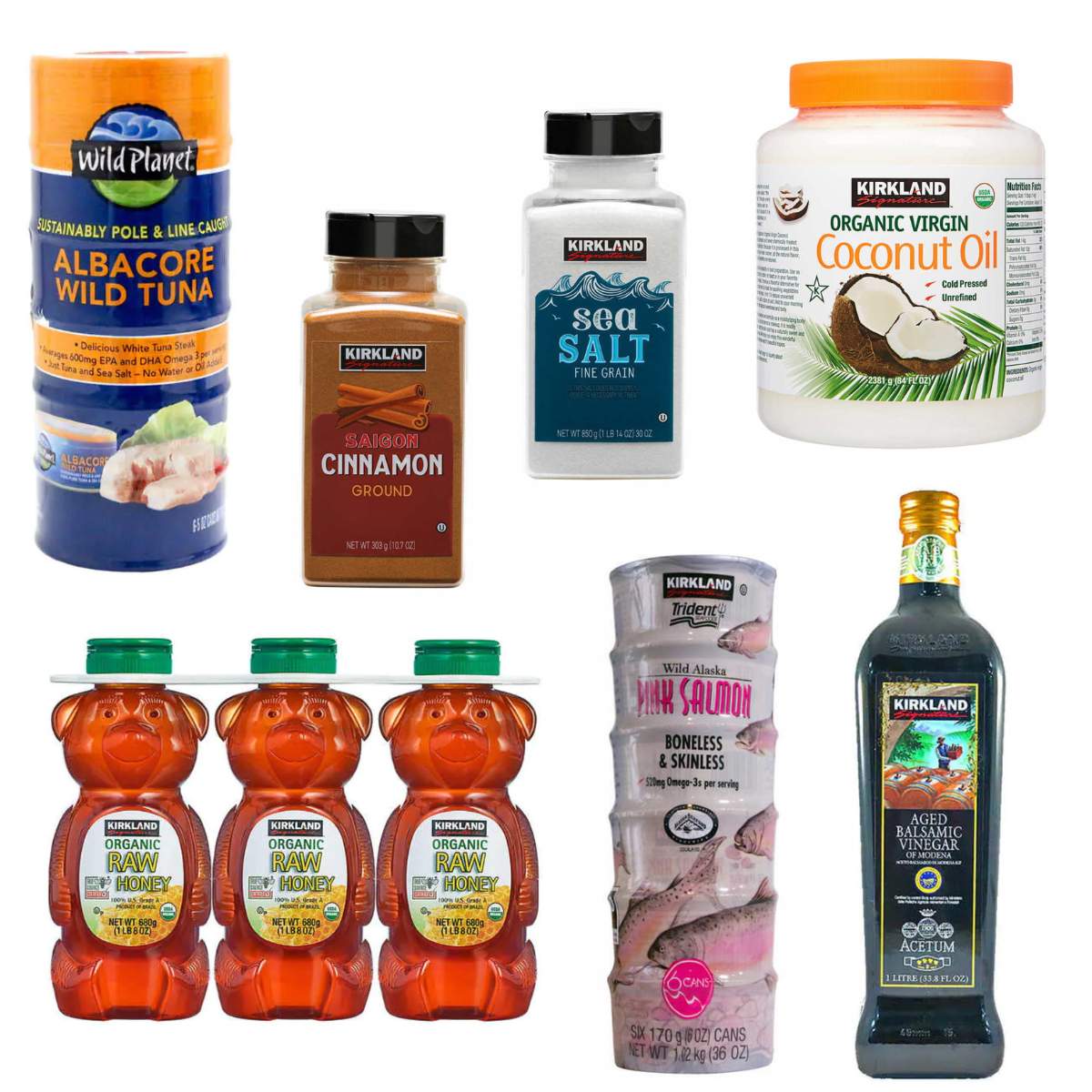 Baking
Kirkland Signature Organic Extra Virgin Olive Oil
Marianne's Avocado Oil
Kirkland Signature Organic Raw Honey
Kirkland Signature Organic Pure Maple Syrup
Kirkland Signature Wild Flower Honey
Acetum Organic Apple Cider Vinegar
Kirkland Signature Balsamic Vinegar
Kirkland Signature Granulated California Garlic
Kirkland Signature Chopped Onion
Kirkland Signature Ground Saigon Cinnamon
Kirkland Signature Pure Sea Salt
Kirkland Signature Pink Salt, Grinder
Arm & Hammer Pure Baking Soda
Teas
Kirkland Signature Green Tea Bags
Stash Tea, Variety Pack- Peppermint, Camomile, Premium Green, English Breakfast, Earl Grey, *also includes Chai Spice- this is the only one that's not compliant
Frozen Foods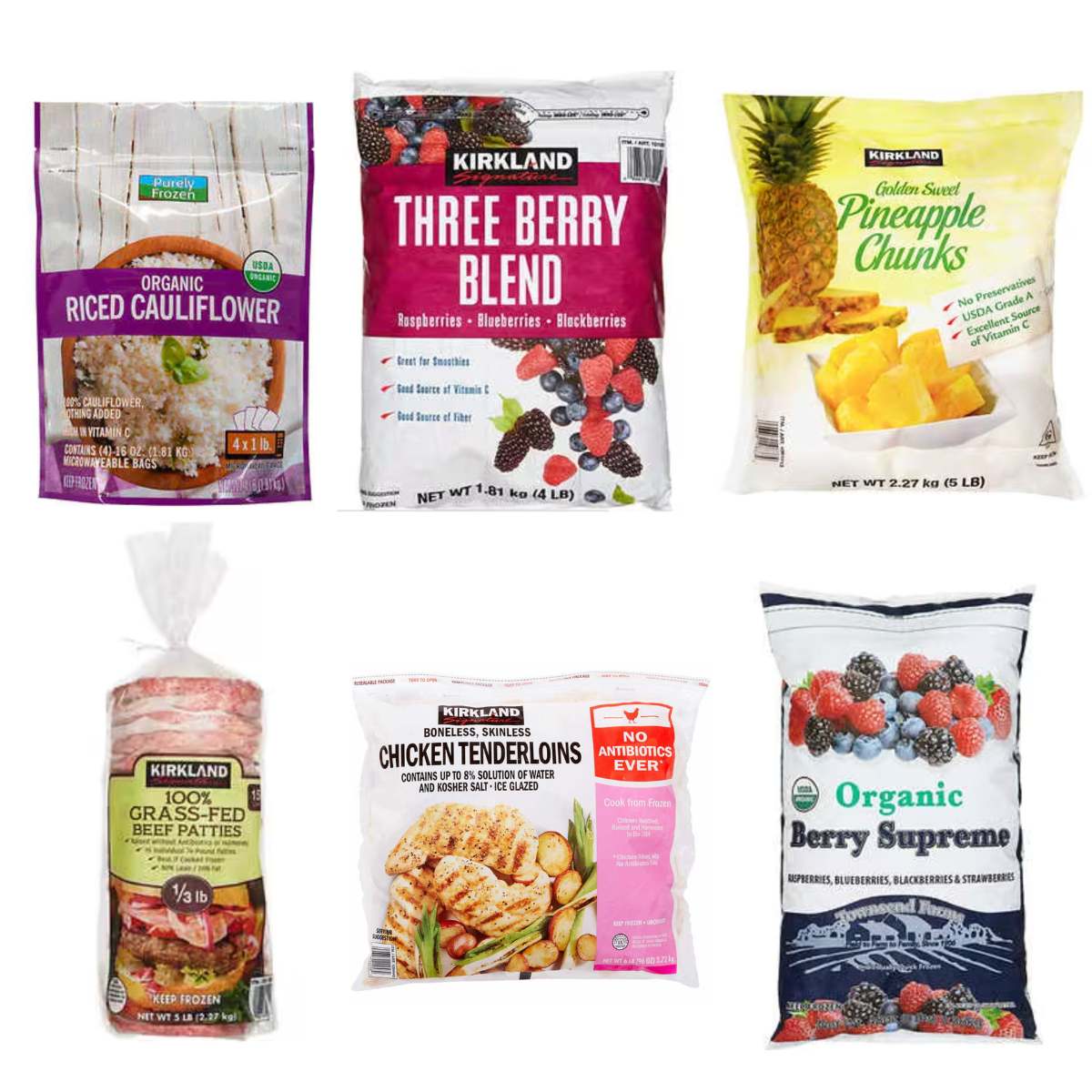 Kirkland Signature Chicken Breasts, Boneless Skinless
Kirkland Signature Chicken Wings, First and Second Sections
Kirkland Signature Lean Ground Beef
Kirkland Signature Ground Beef Patties, 1/3 lb Patty
Kirkland Signature Grass-Fed Beef Patties
Kirkland Signature Wild Chilean Sea Bass
Kirkland Signature Wild Alaskan Pacific Cod
Kirkland Signature Chicken Tenderloins, Boneless Skinless
Harvest of the Sea Seafood Medley
Kirkland Signature Organic Normandy Vegetable Blend
Organic Riced Cauliflower
Kirkland Signature Organic Broccoli Florets
Tio Jorge Yuca Cassava Chunks
Frozen Fruit
Kirkland Signature Frozen Strawberries
Kirkland Signature Organic Blueberries
Townsend Farms Organic Berry Supreme
Kirkland Signature Organic Strawberries
Kirkland Signature Three Berry Blend
Columbia Fruit Organic Mango Chunks
Golden Farms Pineapple Chunks
Wyman's of Maine Wild Blueberries
Smart Harvest Organic Sweet Dark Cherries
New World Farms Organic Pineapple Chunks
I hope you enjoy the list! If you see an AIP-friendly item in the store that's not listed here, please comment below. Also, while I make every effort to make sure this list is accurate and concise, I'm human and sometimes go cross-eyed when reading so many labels. Please let me know if you see an error so I can fix it.