Are you missing your morning oatmeal or grits while on AIP? I feel your pain. It can be hard to find an AIP hot cereal that really hits the spot. This warm, comforting AIP cauliflower "oatmeal" is such a great breakfast food. It will make you feel like you're eating your favorite hot cereal. 
This recipe uses cauliflower which I was a little skeptical about at first. I wondered if it would taste too cauliflower-y to work as a breakfast cereal.
However, once all the other ingredients were added in and simmered together, it tasted great. It reminded me of those apple cinnamon or brown sugar instant oatmeal packets. I asked my daughter to try it (as a second opinion) and her response was "Yum! Can I have the rest of it?"
What is Noatmeal?
If you've been grain-free for a little while, you've probably heard the term noatmeal tossed around quite a bit. Noatmeal also goes by the names fake oatmeal, mock oatmeal, no oat oatmeal, non oat porridge, and no oats among others.  
The point of noatmeal is to accomplish a grain-like hot cereal without grains. There are many ways to do this. Some recipes use green plantains, while others use squash or cauliflower. Other common ingredients include coconut, nuts/seeds (non-AIP), almond flour (non-AIP), coconut flour, coconut milk, ect. 
**Just a quick heads up- this post contains affiliate links which means if you click on them and buy something,  I will earn a small commission (at no additional cost to you) to help continue maintaining this site.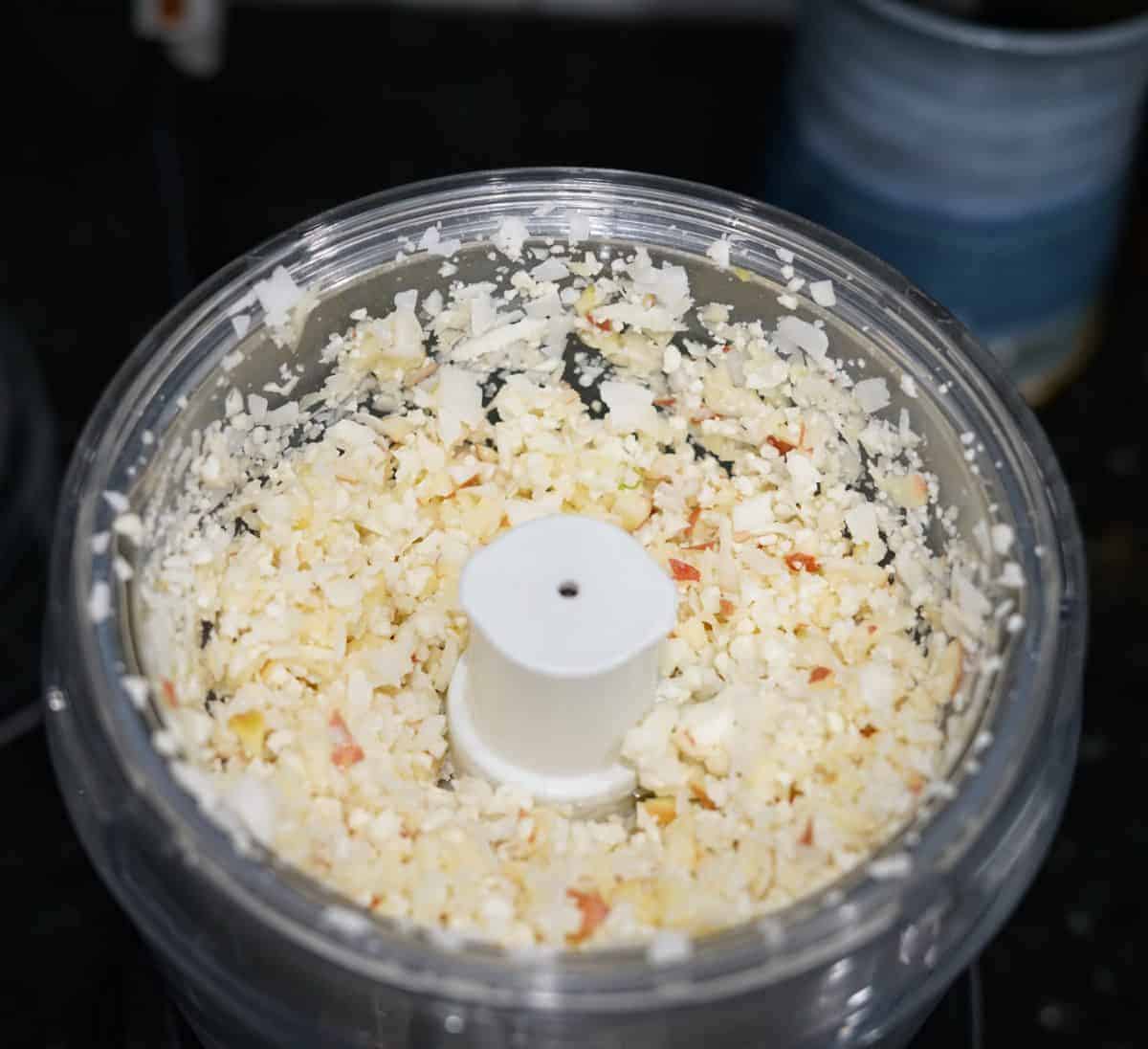 Ingredients
Use fresh cauliflower for best results. It might be tempting to use frozen cauliflower to save time but I don't think it would turn out nearly as good. 
I use the nice wide coconut chips/flakes. Although you'll be blending things in a food processor, so the little coconut shreds are probably fine too. Just make sure they're unsweetened. 
Basically, any type of apple is fine. Try to get organic. No need to peel it unless you want to. 
Thai Kitchen 2 Simple Ingredient Coconut milk
. It's just very consistent in texture, guar gum free, and comes in a very convenient carton. It's not as rich as full fat coconut milk in a can but I find it creamy enough. It works well for pretty much everything and I use it in all my recipes. 
Adding some water to the cereal allows the mixture to boil for awhile so the cauliflower  pieces can get nice and tender. 
Just a little bit of cinnamon adds warmth to the cereal. 
Vanilla extract usually contains some alcohol which isn't AIP compliant. However, it's ok in dishes that will be cooked because the alcohol cooks off. Vanilla powder is also an option (use about ½ tsp vanilla powder to every 1 tsp vanilla extract). It's pricey but a little goes a long way.
Honey is fine too. The amount you use is completely flexible of course- just adjust it to your preferred taste. 
I like pink sea salt but any sea salt is fine. It may seem counterintuitive to add salt to breakfast cereal. However, as with other sweet recipes, just a little bit of salt really enhances the overall flavor. 
If you're wanting to add a little protein to this meal, you can add a scoop of collagen powder OR AIP Protein Powder.
Get it on ShopAIP
Can You Make Cauliflower Oatmeal Ahead of Time?
Yes. This still tastes pretty good the next day reheated in the microwave- you may need to add a little extra liquid to it. You could probably make 2-3 days worth ahead of time. I wouldn't go much beyond that though. 
Can You Freeze This?
Given that the main ingredient in this recipe is cauliflower, I wouldn't expect it to freeze well. 
Awesome AIP Packaged Cereals
While homemade AIP cereals are great when you have time, it can be nice to have a backup for busy mornings. You also just may not want to prepare breakfast from scratch every single day.
All the products below come from ShopAIP and Wild Zora. These are both amazing companies for quick AIP-friendly snacks, meals, and supplies in general.
*These are affiliate links which means if you click and buy something, I'll earn a small commission (at no additional cost to you).
Get it From ShopAIP
Get it From ShopAIP
Get it From ShopAIP
Get it From Wild Zora
Get it From ShopAIP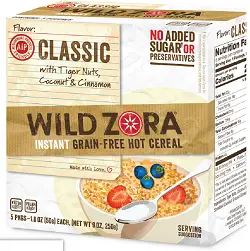 Get it From Wild Zora
If you enjoyed this post, you may also like: 
109 Awesome AIP Breakfast Recipes You'll Love
AIP Purple Sweet Potato Breakfast Bowl
57+ AIP Pantry Items and What to do With Them
Conclusion:
I hope you love this recipe. If you tried it, please leave me a comment below and let me know what you thought!
Don't forget to follow me on Instagram @foodcourage for the latest AIP/Paleo recipes, autoimmune nutrition info, and Food Courage happenings!
If you liked this post, please share it!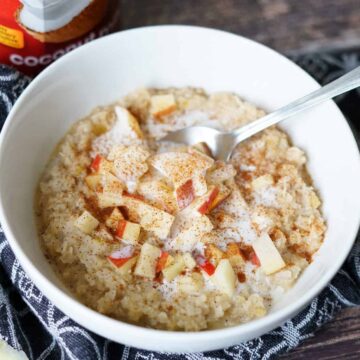 Apple Cinnamon Noatmeal (Paleo/AIP, Gluten-Free, Vegan)
This warm, comforting AIP noatmeal is a great substitute for your favorite hot breakfast cereal. It's pretty easy to make and comes together in about 20 minutes.
Instructions 
In a food processor, combine cauliflower, coconut flakes, and apple. Pulse the mixture a few times then continue mixing until it turns into very small crumbles.

Add the cauliflower mixture to a small pot on the stove. Add the remaining ingredients and heat the mixture over medium heat.

Continue cooking for 10-15 minutes until the liquid reduces down to desired consistency and the "cereal" granules are tender.

Garnish with a drizzle of coconut milk, dash of cinnamon, and additional maple syrup if desired.
Nutrition
Nutrition Facts
Apple Cinnamon Noatmeal (Paleo/AIP, Gluten-Free, Vegan)
Amount per Serving
% Daily Value*
* Percent Daily Values are based on a 2000 calorie diet.