There's something enchanting about sweet potato bowls in my mind. I think it is just the beautiful colors and high nutrient density involved! This AIP purple sweet potato breakfast bowl hopefully illustrates what I'm saying here.
This bowl makes a great AIP-friendly breakfast or nutrient-dense snack. It is Paleo/AIP, Whole30 compliant, gluten-free, dairy-free, and vegan (exclude the collagen). 
For other smoothie recipes, check out my Kiwi Avocado Banana Smoothie Bowl and Apple Beet Berry Smoothie as well.
I get so excited when I come across purple sweet potatoes because they're not a regular thing at my grocery store. They're so bright and beautiful, I can't resist them. 
This purple sweet potato bowl is blended in a blender so one might argue that it's a smoothie bowl. However, it's not freezing cold so I think of it more like a sweet potato bowl than a smoothie bowl. Either way, this thing is delicious!
**Just a quick heads up- this post contains affiliate links which means if you click on them and buy something,  I will earn a small commission (at no additional cost to you) to help continue maintaining this site. 
I like to have the sweet potatoes already boiled (or baked) ahead of time. That way, I can just pull one out of the fridge and blend it with the other ingredients. I use my Vitamix cup for blending since it's a smallish amount of food and it works great.
Ingredients for This AIP Purple Sweet Potato Bowl: 
 There are many types of purple sweet potatoes. The ones I've been using are Stokes variety. Use what you can find though. 
As with many smoothie-like mixtures, banana acts as a natural sweetener for this bowl. You could add a little bit of additional honey or maple syrup but I've found the banana to add enough sweetness. 
I like to blend a little coconut milk with the sweet potato and then add a little on top of the smoothie bowl as a topping as well. You can really use light or full fat for this. Just make sure it doesn't contain guar gum.
My go-to coconut milk is Thai Kitchen's 2 Simple Ingredient coconut milk which comes in a shelf-stable carton. I have it in Amazon as a subscribe and save item and a box of 6 cartons every month. This way I don't have to worry about running out and then scrambling to find a comparable product if it goes out of stock. 
Collagen powder is a pretty common staple in AIP kitchens because it is believed to help with gut healing. This is an optional ingredient- omit it to make this recipe vegan. I like it because it adds a little protein boost without altering the flavor or texture of the dish. 
This is completely optional but it adds a nice dimension of flavor. It's a little pricey but once you buy one packet, it lasts for a very long time. 
Toppings:
*You can really top this bowl with whatever you want but here's what I used this time:
As mentioned above, I like to use a little drizzle of coconut milk on top of the finished bowl. 
This and other superfood powders are a great way to add some extra disease-fighting antioxidants (and gorgeous color) to your purple sweet potato bowl.
Just make sure they are AIP compliant as some superfoods are also nightshades, which aren't compliant. Again, completely optional. You can make a beautiful sweet potato bowl with whatever you happen to have in the house.
You may be wondering if pomegranate arils are AIP compliant since they are technically seeds. I wondered the same thing. However, pomegranate arils as well as seeds from berries, kiwis, watermelon, cucumbers, zucchini, etc. are considered ok for AIP. This is because we don't usually chew these seeds much.
Make sure they are unsweetened.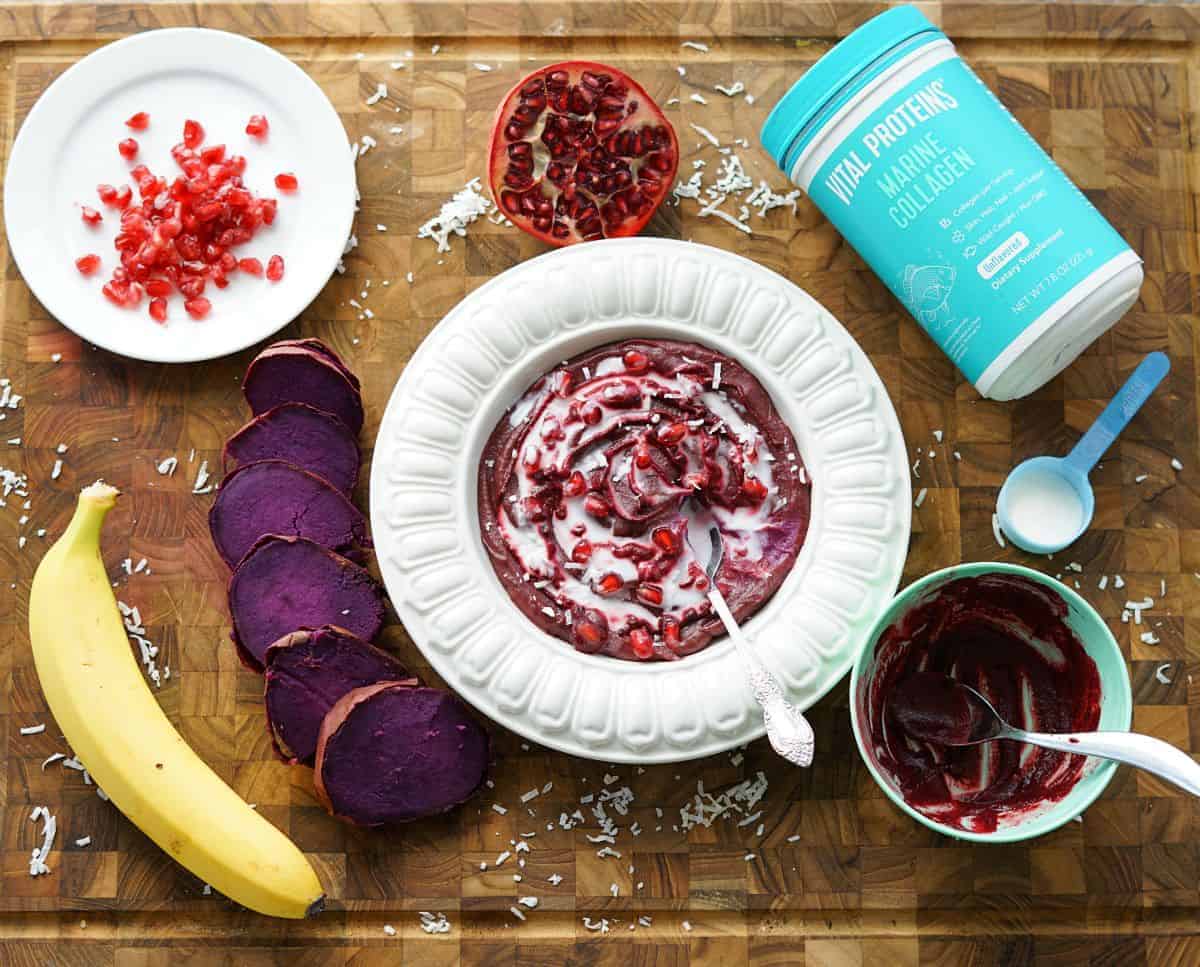 How to Make This AIP Purple Sweet Potato Breakfast Bowl
Bake the purple sweet potatoes (see cooking instructions below). Allow them to cool (This sweet potato bowl is best served cool).
Peel the skin from the potato.
Add the purple sweet potato, banana, coconut milk, collagen powder, and vanilla bean powder to a high-speed blender and blend till smooth. *Alternatively, you can mash the mixture by hand with a fork or potato masher.
Scrape the sweet potato mixture from the blender into a bowl and smooth out the surface.
In a small dish, mix the beetroot powder (or other superfood powder) with a little coconut milk and add to the top of the sweet potato bowl.
Add the rest of the toppings. Drizzle with a little more coconut milk if desired.
Types of Purple Sweet Potatoes
There are many different varieties of purple sweet potatoes but the most commonly seen in the US are: 
Stokes purple sweet potatoes are a rich dark purple color, a little moist, fairly starchy, and dense. These have a super creamy smooth texture when baked or boiled. They're mildly sweet and work well for both sweet and savory dishes.
Okinawan Purple Sweet Potato
Okinawan sweet potatoes have a bluish-purple tint to their flesh and beige skin. They're a little on the dry side and super starchy. Additionally, they're somewhat sweet with a slightly bitter aftertaste and work well for making fries and hash browns, among other things. 
Murasaki purple sweet potatoes are quite sweet, moist, and starchy. Their skin is purple but their flesh is white, and they are best suited for baked goods. 
Charleston purple sweet potatoes have a tiny bit of sweetness with a bitter aftertaste. They are purple on the inside, very dry, and best suited for savory dishes.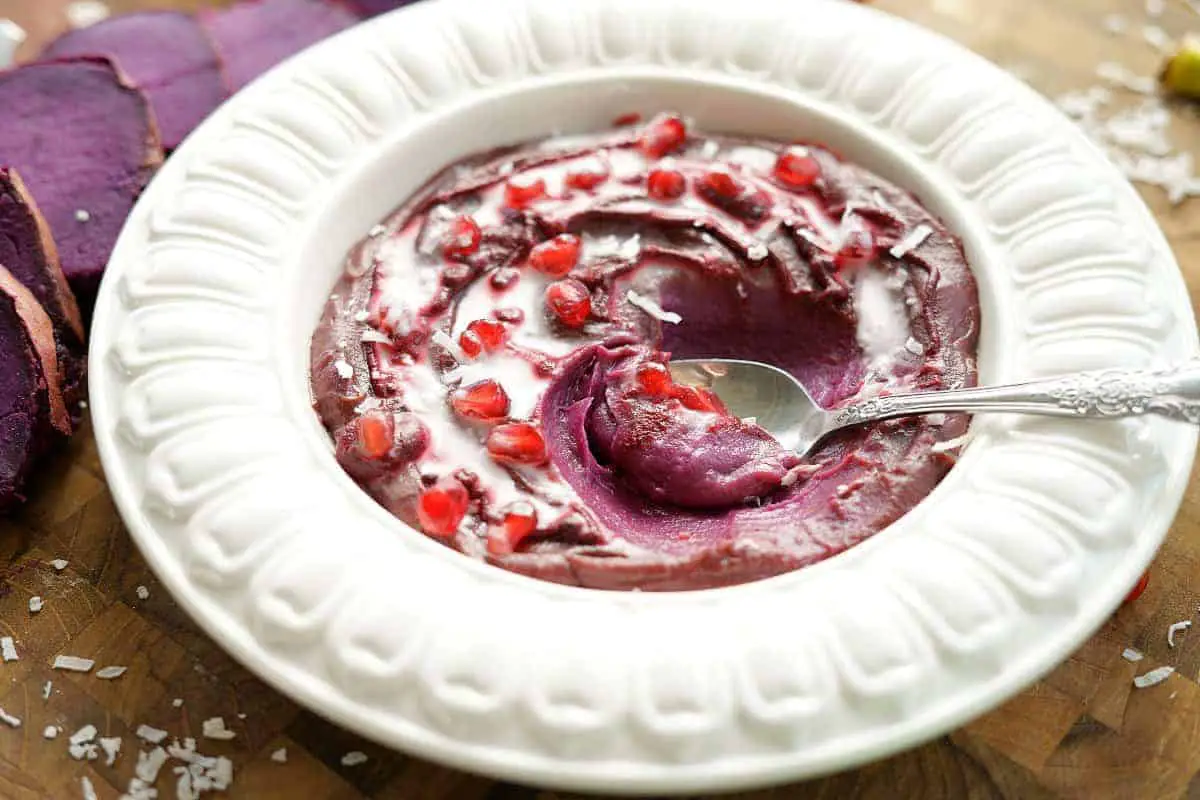 What is the Difference Between Sweet Potatoes and Purple Sweet Potatoes?
Regular sweet potatoes are loaded with beta carotene while purple sweet potatoes are high in anthocyanin.
Purple sweet potatoes are high in potassium, vitamin C and B6 while regular sweet potatoes are high in vitamins B, C, and D. 
Purple sweet potatoes are much denser and dryer than regular sweet potatoes which is why they do best with moist cooking methods and longer cooking times. 
How to Cook Purple Sweet Potatoes 
Cooking suggestions for purple sweet potatoes are variable. This may be because purple sweet potatoes vary a bit in texture and density depending on the variety used. You can boil, steam, or bake them but baking seems to be the preferred method for most. 
Baking in the Oven
The general recommendations I've seen for purple sweet potatoes are to wrap them in foil and cook them in the oven for 90 minutes- 2 hours at 350 degrees. The low temperature/longer cooking time is used to keep them nice and moist. Once done baking, leave them in the tin foil for 1-2 hours to cool. 
All this, being said, I cooked my Stoke's purple sweet potatoes whole in the oven on a parchment paper-lined baking sheet with a little oil. I didn't wrap them in foil and I cooked them at 400 degrees Fahrenheit for about an hour (maybe a little more) and that resulted in very moist tender potatoes. 
The bottom line is simply to keep an eye on them as they're cooking. If you want to be conservative and have time to wait, cook them at 350 degrees and watch them closely. If you're in a bit of a rush, go with 400 degrees and use some oil but still watch them and take them out of the oven as soon as they soften or are "fork-tender.'
How to Store Purple Sweet Potatoes
Raw purple sweet potatoes can be stored like regular potatoes in a cool, dry place. However, keep in mind that they don't keep as long as regular potatoes. You should plan to use them within a week or two of buying them.
Once cooked, store them in the fridge in an airtight container for about 5 days. 
Topping Ideas for Your AIP Purple Sweet Potato Bowl
Aside from the suggested ingredients, you can use plenty of other things as well:
Fresh Berries

Sliced Bananas

Fresh Mangoes
If you enjoyed this post, you may also like: 
100+ AIP Breakfast and Brunch Recipes
87+ AIP Snacks: Healthy Recipes and Packaged Foods
Banana Pancakes with Strawberry Cream
Conclusion:
I hope you found this post useful. If you tried this recipe, please leave a comment below and let me know what you thought!
Don't forget to follow me on Instagram @foodcourage for the latest AIP/Paleo recipes, autoimmune nutrition info, and Food Courage happenings!
This post is shared on the Paleo/AIP Recipe Roundtable.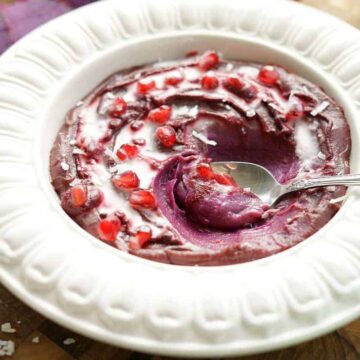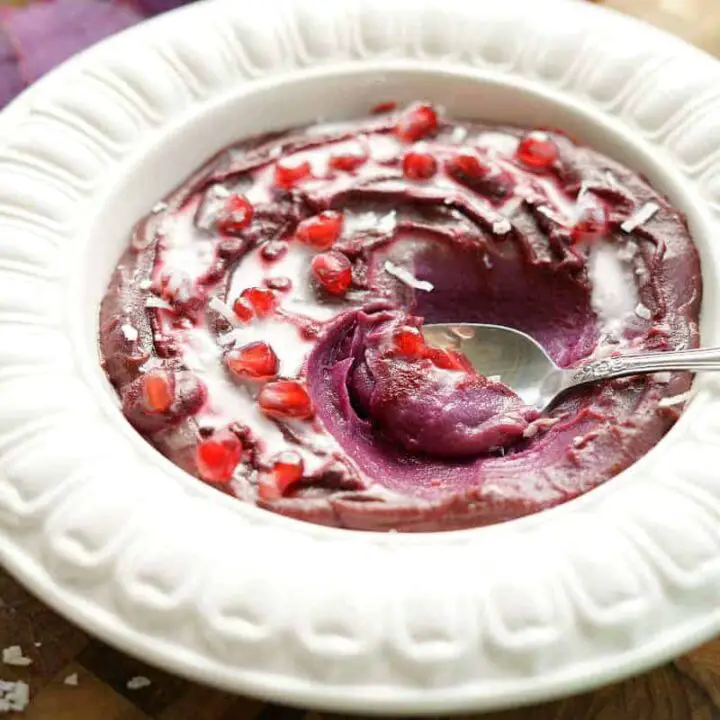 Purple Sweet Potato Breakfast Bowl (Paleo, AIP, Whole30)
This AIP purple sweet potato breakfast bowl makes a great AIP-friendly breakfast or nutrient-dense snack. It's made by simply blending purple sweet potatoes, bananas, and a couple of other ingredients in a blender and topping it with your favorite toppings.
Instructions 
Blend the first 5 ingredients in a blender until smooth. *Or mash by hand with a fork or potato masher.

Scrape the mixture into a bowl, distribute evenly and smooth the top.

In a small separate dish, mix the beetroot powder and coconut milk until smooth. Drizzle the mixture over the sweet potato bowl.

Sprinkle pomegranate arils and coconut shreds over the top and drizzle with coconut milk.
Notes
*This recipe works best if the sweet potatoes are made ahead of time and allowed to cool, as the dish tastes best cool/cold. 
Nutrition
Nutrition Facts
Purple Sweet Potato Breakfast Bowl (Paleo, AIP, Whole30)
Amount per Serving
% Daily Value*
* Percent Daily Values are based on a 2000 calorie diet.