Pumpkin pie is the hallmark of a good Thanksgiving dinner. Regardless of what diet you're following, it's nice to still be able to have traditional treats during the holidays. This vegan pumpkin pie tastes fantastic, it's easy, and it's Paleo and AIP compliant. It's literally done in 20 minutes and requires zero baking. 
I'm super excited about this pie because it is so simple and so delicious!! The texture of this pie is pretty light and fluffy, not like your typical dense pumpkin pie. The flavor is completely pumpkin pie but according to my husband, the texture is more like a coconut cream pie. 
If you're looking for other pumpkin recipes, you may also want to check out my Pumpkin Cranberry Cookie Dough Protein Balls, Pumpkin Cherry Cake with Salted Caramel Sauce, AIP Orange Pumpkin Cookies, and Spiced Pumpkin Bread.
*Just a quick heads up- this post may contain affiliate links which means if you click on them and buy something,  I will earn a little bit of money (at no additional cost to you) to help continue maintaining this site. 
How to Make a No-Bake Pumpkin Pie
The best thing about this pie is that you don't have to fuss with baking it. It just takes a few simple steps and you have a pie: 
Blend the crust ingredients in a food processor then press the mixture into a pie dish. 
Beat the filling mixture with a hand mixer and then pour it into the pie crust. 
Just pop it in the refrigerator for an hour or so to let it set up (this isn't entirely necessary if you're in a rush but it's preferred for the best possible texture). 
Add any toppings desired like whipped coconut cream or pie crust cut-outs. I'll talk more about this below. 
Equipment
You will need a food processor to blend the crust ingredients into tiny crumbles. You will also need a hand mixer to mix the filling and make it nice and fluffy. 
If you don't have a food processor, you might be able to use a blender for the rust but it's a fairly thick mixture so I think this would be difficult. 
If you don't have a hand mixer, you can mix the filling in a blender or by hand. 
Notes:
You'll want to make sure the coconut cream is kept in the fridge for at least a couple of hours before making the filling. That way it has a chance to get nice and thick and be able to get fluffy. 
Make sure your coconut cream does not contain guar gum as it is not AIP compliant. I like Let's Do Organic Brand and Nature's Greatest Foods Brand.
Make sure your dates are unsulfured. If they are nice and soft, just use them like that. If they've been sitting there for a while and they're hard, soak them in warm water for about 15 minutes so they don't make your pie crust mixture chunky (or break your food processor).  
Substitutions
Tigernut Flour: I use tigernut flour for everything because, in my opinion, it is one of the best AIP flours out there. While I absolutely love it and use it for so many things, I realize it's not as easy to get as some other flours and costs a little more. If you prefer not to use tigernut flour, you can sub in coconut flour for the tigernut flour with a 1:1 ratio.
Coconut Butter- I use coconut butter specifically because it gets very hard at room temperature so it provides some structure to the pie.
If you can't get your hands on coconut butter, it's not a problem.  Here's what you can do:
For the crust: Use leaf lard or coconut oil (substituting 1:1).
For the Filling: Just omit the coconut butter (it will be a little softer without it but still delicious).
**I tested the crust using coconut oil in place of coconut butter and coconut flour in place of tigernut flour and the texture turned out beautiful. So yes, these items will work in a pinch, but I still very much prefer the taste of the coconut butter/tigernut flour in the crust.
Maple Syrup: You can sub in honey if you'd like. 
Toppings for Pumpkin Pie
To top off your beautiful pie, here are a few options:
Whipped Coconut Cream- You can do dollops or cover the entire pie. Let's Do Organic brand is best for this because it's very thick. You just need to make sure it's refrigerated for a while (preferably overnight) and then whip it with a hand mixer to get it nice and fluffy.
Fresh Cranberries or Other Berries- Fresh cranberries as a garnish add some color and look beautiful. Other berries are great too.
Pie Crust Cutouts- If you want to get a little fancy, you can make extra pie crust (you'll only need to make an additional 1/4 to 1/2 of the pie crust recipe for this). You'll make it just like you made the crust using the food processor but then you'll pour it onto a sheet of parchment paper and roll it out nice and thin. Then just cut it out with adorable thanksgiving cookie cutters or freehand your own designs and then put them on the pie!
Cinnamon- Just a little dusting looks gorgeous.
Storage
This will stay fresh in the fridge in an airtight container for 3-4 days and in the freezer for up to a month or so.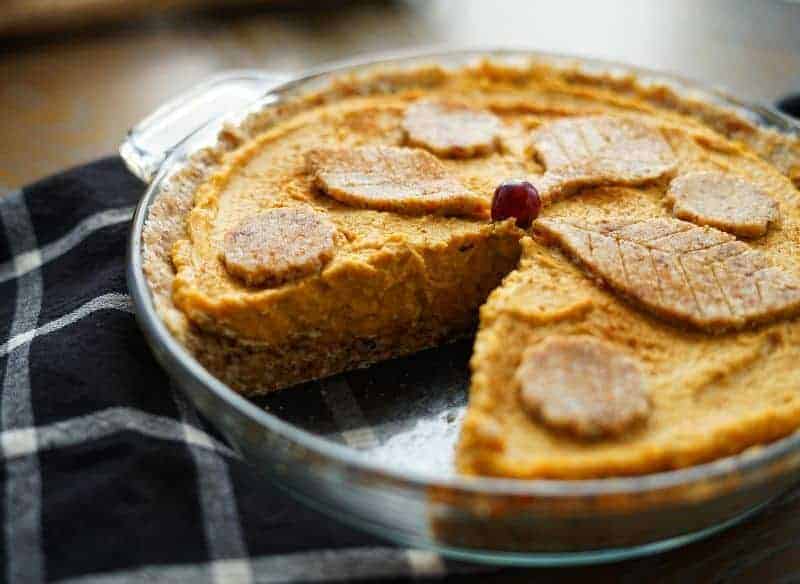 If you like this recipe, you may also like: 
AIP Frosting for German "Chocolate" Cake
Conclusion
I hope you enjoyed this recipe. If you made it, leave a comment below and let me know what you thought. I'd love to hear from you!
Don't forget to follow me on Instagram @foodcourage for the latest AIP/Paleo recipes and Food Courage happenings!
Easy Vegan Pumpkin Pie (AIP, Paleo, Gluten-Free)
This vegan pumpkin pie tastes fantastic and it's easy. Prep is done in 20 minutes, and it requires zero baking. 
Ingredients  
Whipped topping (optional)
Pie Crust Cutouts (optional)
Instructions 
Before starting, make sure the dates are nice and soft- if they are a little hard, soak them in hot water for 10-15 minutes first- this will help to form a more cohesive crust.

To make the crust, combine all the crust ingredients in a food processor and blend them into very small crumbles. *If you are going to do pie crust cutouts to decorate the top, you may want to add the extra ingredients now to save some time- essentially you're just making a larger batch of crust. I recommend an additional 1/4 of the crust recipe for the cutouts (see measurements on the ingredient list above).

Pour the crust mixture into a pie dish (if you made extra for cut-outs, set some aside for those). The crust mixture will be a pile of crumbs at first but don't worry- they will meld together nicely when you press them down. Press the mixture down into a round 9 inch pie dish and distribute it evenly to form a cohesive crust. Make sure to press it up the sides of the pie dish as well. Set aside.

In a medium-sized bowl, combine all filling ingredients and mix with a hand mixer until smooth and fluffy.

Pour the filling into the pie crust and distribute it evenly.

*If making the whipped topping, make sure it is super cold and kept in the fridge for at least a couple of hours before use. Use a hand mixer to beat the coconut cream until it's fluffy and add it to the top of the pie as desired (either spread it evenly over to top to make a dollop on each pie serving).

*If making the pie crust cutouts, process the ingredients in the food processor (if you haven't already), then pour the mixture onto a sheet of parchment paper. Place another sheet of parchment paper on top and roll it out pretty thin (about 1/8 inch). **If the crust is crumbly (this can happen if the dates aren't soft enough), put it back in the food processor with a little bit of unmelted coconut oil (about 1 tbsp) and blend it again before rolling it out. Make cutouts in any shape you want and add them to the pie!

Refrigerate the pie for at least an hour to allow it to set before serving.
Notes
Notes: 
There are some substitutions listed above- While they all will work, I strongly recommend going with the tigernut flour and coconut butter for the bottom crust if you can (rather than coconut flour and coconut oil) for the best possible flavor. 
That being said, if you're doing the cutouts for the top, I had the most success with a workable crust using coconut oil and coconut flour. 
*to soften the coconut butter, just microwave it for 20-30 seconds
*For best results, be sure to chill the coconut cream in the refrigerator for at least a couple of hours before making the filling. 
This will stay fresh in the fridge in an airtight container for 3-4 days and in the freezer for up to a month or so.
Nutrition
Nutrition Facts
Easy Vegan Pumpkin Pie (AIP, Paleo, Gluten-Free)
Amount per Serving
% Daily Value*
* Percent Daily Values are based on a 2000 calorie diet.