Meal planning can be a ton of work. Coming up with a workable AIP meal plan can be all the more challenging. However, it's possible to have a plan that works great for you and your family. 
In this autoimmune protocol meal plan, you'll find 7 days' worth of meals and snacks. This meal plan can be used "as is" or as a template. Below, I've provided extra meal and snack options to choose from. These can be subbed into the existing meal plan to fit your specific preferences. 
If you are unfamiliar with the autoimmune protocol diet, it's essentially a strict elimination diet. This way of eating cuts out inflammatory foods like food additives, vegetable oils, artificial sweeteners, dairy products, gluten, nightshade vegetables, etc.
It then focuses on including nutrient-dense foods like organic fruits and vegetables, grass-fed beef, pasture-raised poultry, wild-caught fish, and high-quality fats among other things. Get the "yes" and "no" AIP Food List.
The protocol is used to help identify food sensitivities and address symptoms of autoimmune conditions. Some of these might include joint pain, fatigue, intestinal permeability, and chronic inflammation. The protocol requires significant changes to your diet but can also result in significant improvements in how you feel.
The elimination phase of the AIP diet is followed until symptoms go away or reduce significantly. The time frame for this phase is different for everyone but it's usually 4-6 weeks minimum, up to a few months. Then you can begin the reintroduction phase. Check out The Beginner's Guide to the Autoimmune Protocol for more in-depth info on all phases of the protocol. 
Not sure where to begin at your grocery store? Check out the many store-specific AIP shopping lists on this site including the Trader Joe's AIP Shopping List, Sprout's AIP Shopping List, Whole Foods AIP Shopping List, and more. AIP Pantry Items and What to Do with Them is also a good guide for frequently used AIP foods.
Additionally, you'll find a free 22 page PDF below with the meal plan, meal prep checklist, grocery list, and all the recipes needed for AIP meals. 
Things to Keep in Mind for Meal Planning Success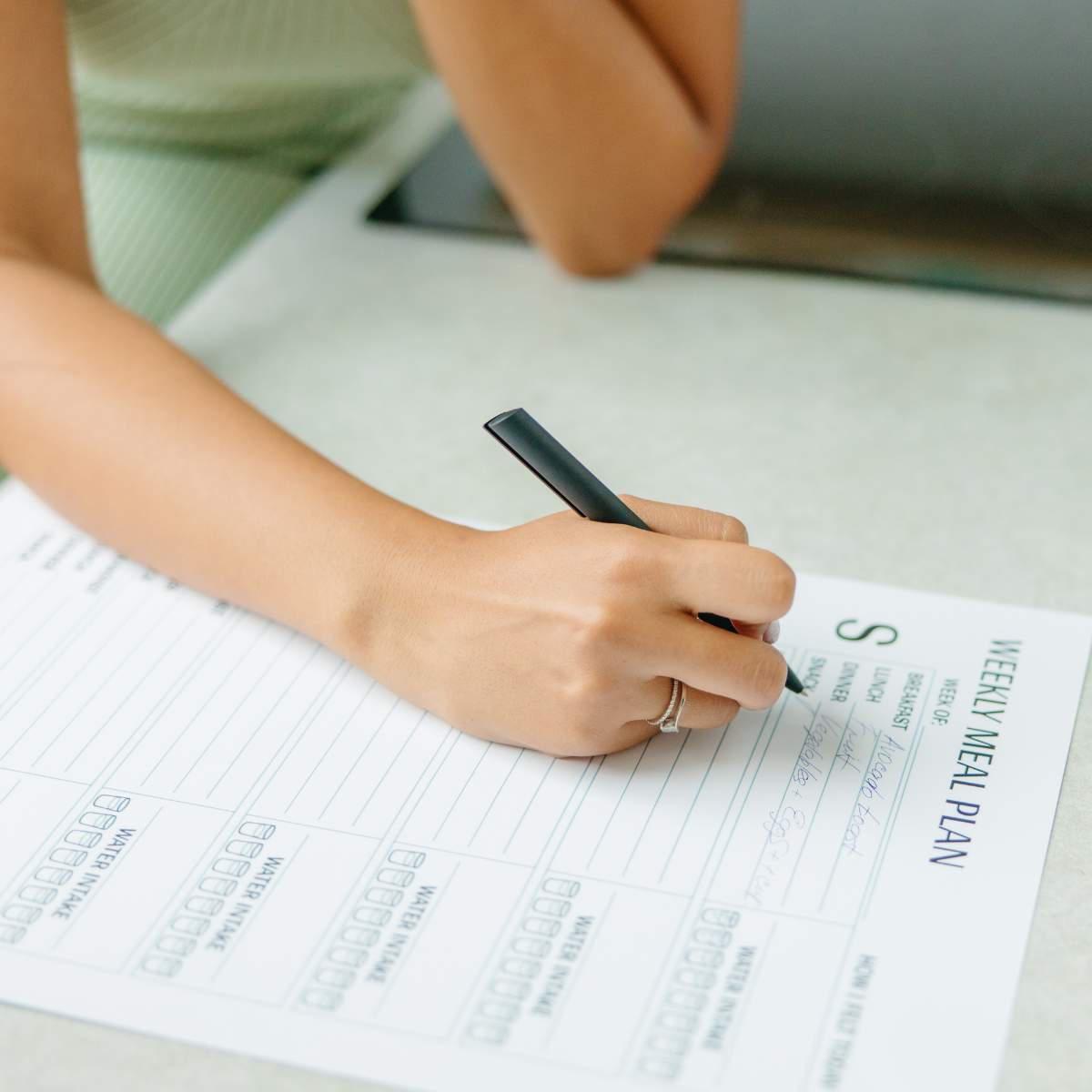 Keep it Simple
Trying to plan too many complex recipes at once can lead to a long shopping list of obscure and exotic ingredients. This can cause overwhelm and lead to abandoning the AIP lifestyle completely.
The goal for this AIP diet plan is to give you simple compliant meals so can just get started.
Individualize It
Make your meal plan work for you, your family, and your schedule. If you have time during the week to cook meals, then doing all your prep on the weekends may not be necessary. 
On the other hand, if you are working or going to school all week, you may need things to be prepped and ready to go. In this case, taking some time to prep on the weekend is very valuable. 
Be Realistic
While it's inspiring to see creative AIP diet recipes on Pinterest, it's not realistic to expect that you'll cook that way every day. Day-to-day life is busy and following a strict AIP diet isn't easy. So, figuring out a plan that's feasible for you is crucial.
What You'll Like About this AIP Meal Plan:
The dinner recipes are simple and relatively fast for busy weeknights.
The lunches are mostly based on leftovers from the previous night's dinner so there's little extra prep required.
Snack options are relatively simple and easy to prepare (or require no prep).
All meals and snacks are elimination phase compliant.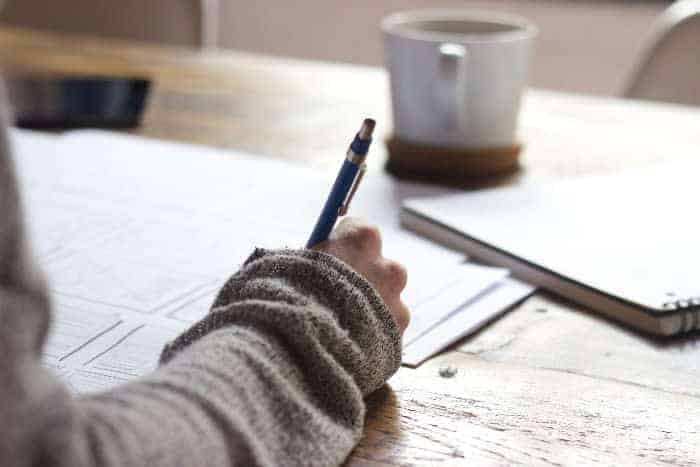 Photo by Green Chameleon on Unsplash
How to Use this Plan
Use this Meal Plan as it is or Make it Your Own
If you need to swap out some meals and snacks, you can find suggestions later in this post.
Pick 2-3 breakfasts to use throughout the week.
If you would like to do more than that, it's perfectly fine but starting out with 2-3 keeps things a little simpler. Some of them can be thrown together the morning you need them and a couple of others may require a small amount of prep on the weekend. 
Use Dinner Leftovers for Lunches
The only exception is lunch Monday because that's the start of the plan if you're doing it for the first time. This means adjusting the number of servings to accommodate leftovers. Cooking this way will allow you to cook less and minimize the amount of prep work needed on the weekends. If you don't like leftovers, see the Additional AIP Lunch Options section below for some lunch prep ideas. 
Double or Triple the Recipe to Fit Your Needs
Depending on the recipe and the size of your family, you may need to double or even triple the recipe. If you're just cooking for yourself, you may not need to double up on the recipe at all. You'll have to gauge this part. 
Cook Every Night or Just Pick a Few Dinners
While this meal plan includes 7 dinner recipes, odds are you may not end up cooking dinner all 7 nights. You might eat out or just not feel like cooking every single night. As we've done with the lunches, you can also make extras of certain meals and save them for dinner another night.
For example, you could choose 3 or 4 of the 7 dinner recipes and just make large batches of them planning to eat them for more than one dinner in a given week. You could also use this strategy to freeze the extras and save them for dinner another week. This will give you a little more variety in your meal plans as you stock up some freezer meals over time. 
7-Day AIP Diet Meal Plan
Monday
Tuesday
Wednesday
Thursday
 Friday
Saturday
Sunday
You can get the autoimmune paleo meal plan PDF (22 pages) by subscribing below. 
It includes the meal plan schedule with links to the autoimmune diet recipes and snacks. It also has a meal prep checklist and the dozen recipes that go with this plan. That way you don't have to click into each one individually to print.
*It also includes the links to the printable page for each recipe where you can adjust the number of servings if needed. This will automatically change all the ingredient measurements accordingly.
Weekend Meal Prep for this Plan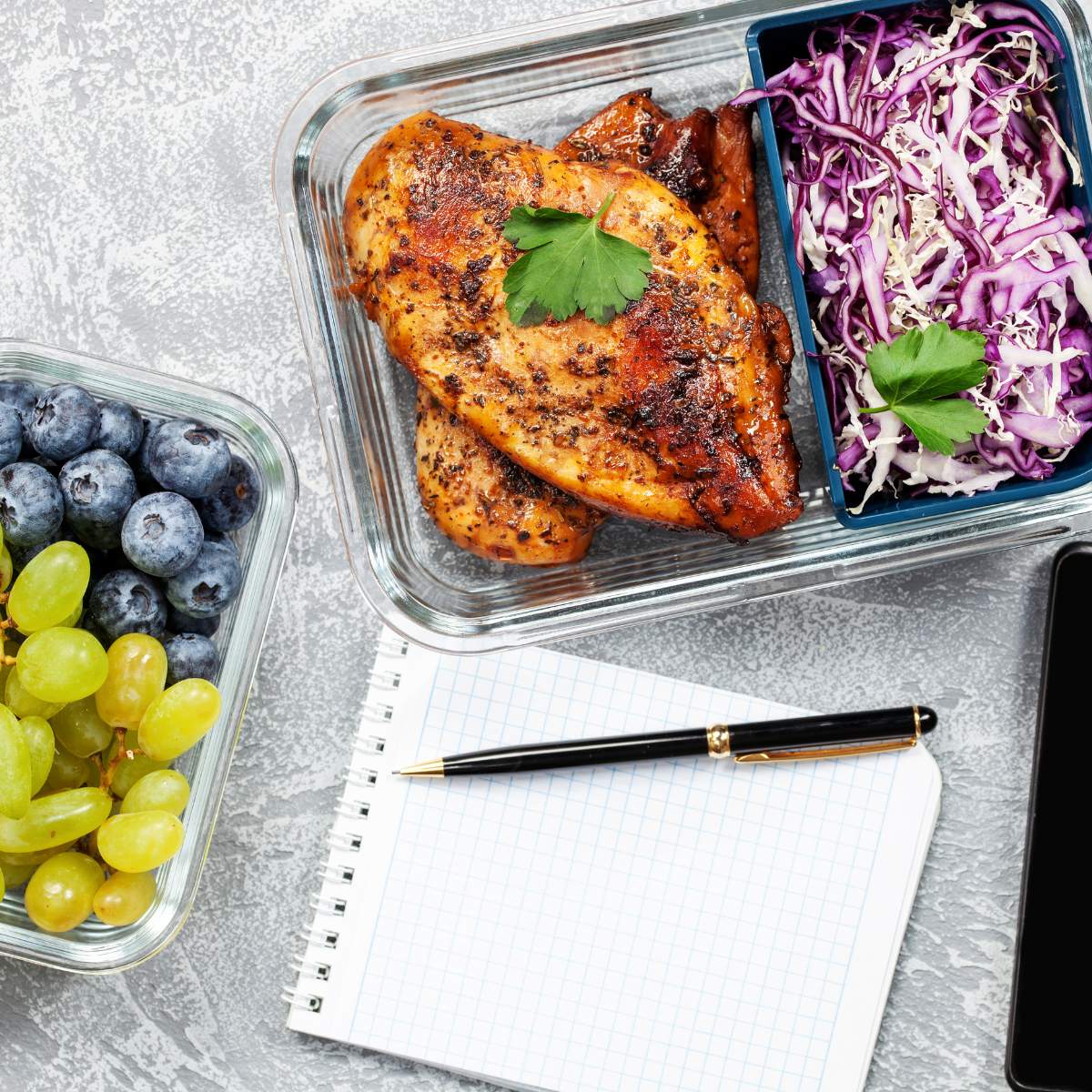 *You'll also need sweet potatoes for Saturday and Sunday's breakfasts (if having sweet potato bowls). However, you may want to wait until mid-week or later in the week to cook these.
Additional AIP Breakfast Ideas
If you want to swap out any of the meals or snacks in the above meal plan, check out some of the ideas below. 
**For more breakfast ideas, check 109 Awesome Breakfast Ideas You'll Love.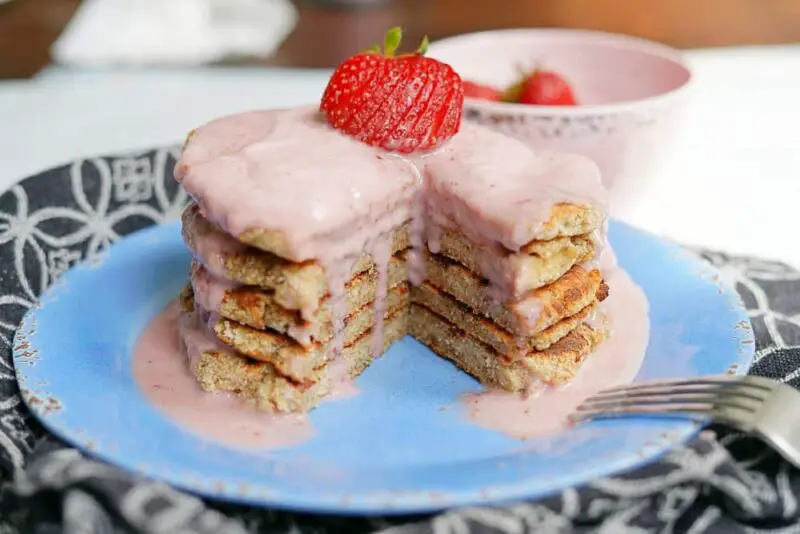 AIP Strawberry Banana Pancakes, Food Courage
Additional AIP Lunch Ideas
Most lunches in the plan are leftovers from dinners. However, if you want some different lunch ideas, check out the options below. Keep in mind, most of these will require some additional meal prep.
Additional AIP Dinner and Side Dish Ideas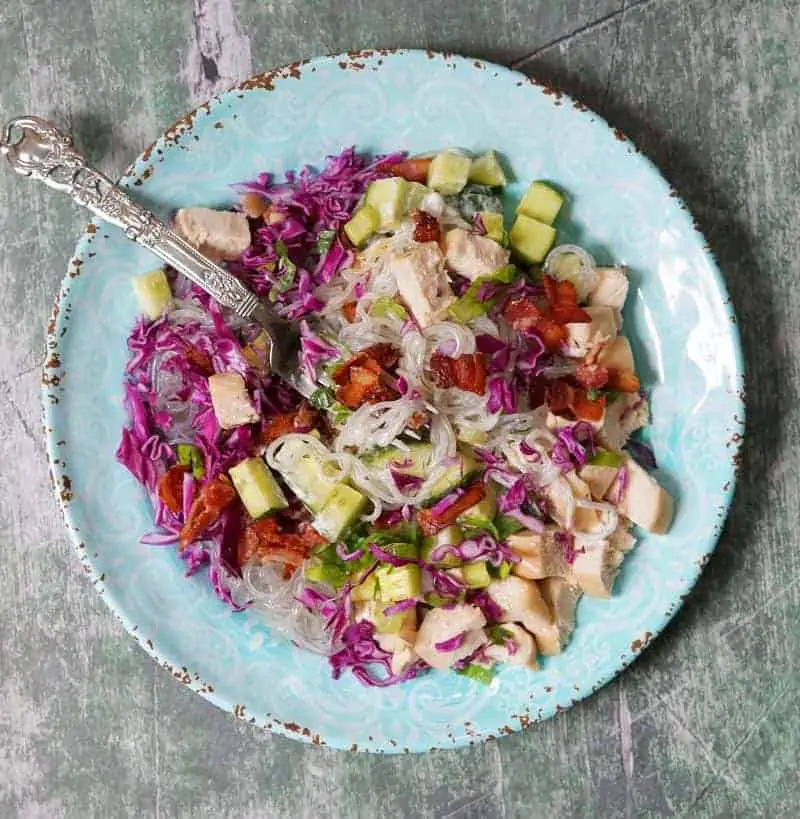 AIP Chicken Bacon Pasta Salad, Food Courage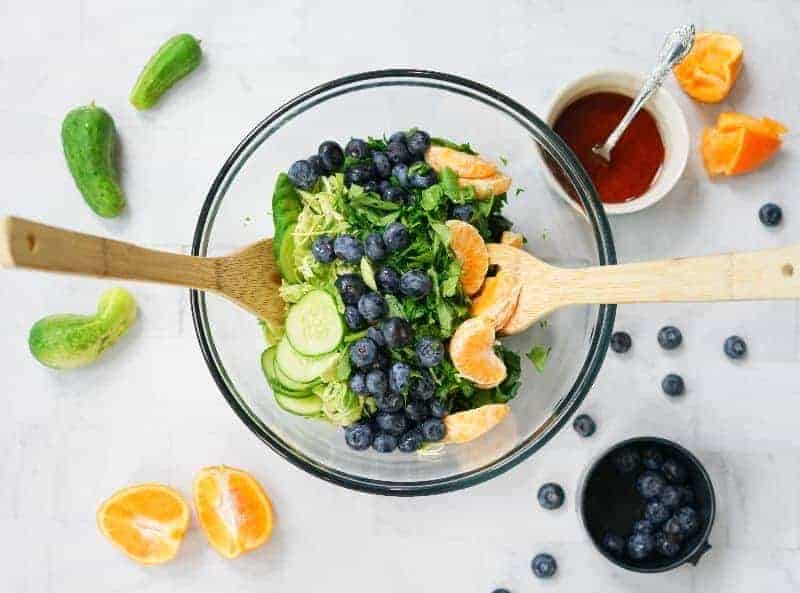 Kale Blueberry Salad with Cinnamon Honey Dressing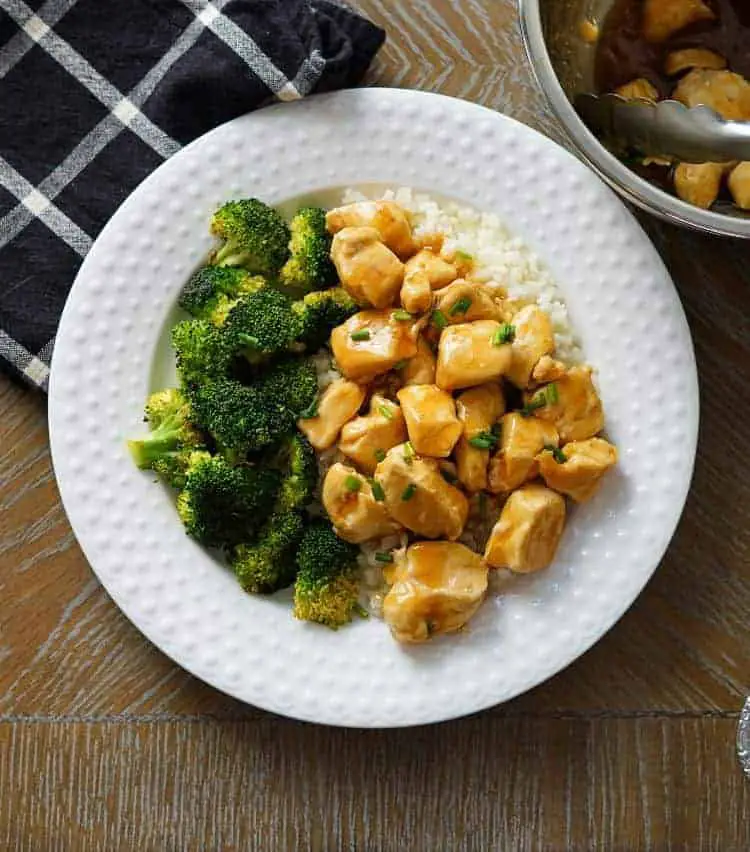 Air Fryer Teriyaki Chicken
Additional AIP Snack Options
Check out Fully Healthy for AIP snack ideas and lots of other AIP-friendly food.
Ready-to-eat Fruits and Veggies: baby carrots, apples, pears, bananas, berries, mandarin oranges
Avocados/Guacamole for dipping veggies- Whole avocados are easy to take with you and cut with a butter knife when you're ready. When it comes to guacamole, Wholly Guacamole now has guac cups that contain only avocado. They're called Wholly Avocado Minis. I believe we found ours at Walmart.
Apple Sauce Cups/Pouches- find ones without citric acid. Preferably without ascorbic acid as well as it is sometimes derived from corn.
Plantain Chips with Prosciutto (Many prosciutto products contain only pork and salt but double check labels). Barnana plantain chips are pretty good and compliant. Terra brand is delicious as well- I usually get these at Kroger.
Bone Broth- As mentioned above, make your own Slow Cooker Bone Broth or Buy it from White Oak Pastures, Pete's Real Foods, or Paleo on the Go.
Wild Caught Tuna with avocado slices- try Wild Planet brand which is sustainably caught, 3rd party mercury tested, and only contains tuna and sea salt.
Epic Bars- Beef Apple Bacon and Smoked Salmon are AIP compliant
Olives- black/green/kalamata are fine. Make sure to choose olives without pimentos. Gaea brand and Lindsay brand with the white label are AIP compliant. If you're into individually packed snacks, these are cool.
For a more extensive list of snack ideas check out my post on 87+ AIP Snacks: Easy Healthy Recipes and Packaged Foods.
Time-Saving Meal Prep Tips
1. Buy prewashed precut fruits and vegetables.
If you want to minimize meal prep, buy fruits and vegetables that are prewashed and precut. These are a little more expensive, but sometimes the time savings are worth it.
2. Use Frozen Fruits and Veggies
They are frozen at just the right time to retain maximum nutrient density and contain nearly the same level of vitamins and minerals as their fresh counterparts. Plus, they are prepped and ready to cook, which saves you time.
3. Order Your Groceries for Pickup
If you have a busy schedule and have trouble getting to the store, this may be a good option. Luckily, many major grocery stores offer grocery delivery or at very least a pick-up option.
4. Order Groceries Online From The Following:
Amazon- If you have a Whole Foods near you, you can order groceries through Amazon. Additionally, Amazon Prime members get special discount offers for certain Whole Foods items each week. If you don't have Amazon Prime and would like to try it, you can sign up for a 30-day free trial here. Even if you don't have a Whole Foods near you, there are a ton of grocery items you can get from Amazon. Set up commonly used grocery items to be delivered monthly (or however often you need them) with Amazon's subscribe and save option. I do this with a lot of our stuff.
Thrive Market- These guys sell pretty much every healthy food item you can think of. Explore pantry items, household goods, and meat/poultry/seafood.
Misfits Market- Buy organic produce, organic meats/poultry, pantry, and deli items. They're constantly adding new items and have a huge selection.
Fully Healthy- Wild Zora and ShopAIP combined to form Fully Healthy which offers tons of AIP pantry items sorted by elimination and reintroduction phases.
*For more online AIP shopping options, check out my Resources Page.
AIP Meal Planning Services
If you're interested in trying out other meal plans to continue along your way on the AIP diet:

If you're interested in trying out other meal plans to continue along your way on the AIP diet, consider checking these meal planning services:
Real Plans is a paid web and app-based meal planner that has tons of AIP meal plans. Meal plans can be customized based on family size, dietary restrictions, and schedule. They offer monthly, quarterly, and annual memberships, plus a 10-day money-back guarantee. If you'd to learn more, I did an extensive review Real Plans review on this tool.
Ultimate Meal Plans offers weekly meal plans for the AIP, Paleo, Keto, and Carnivore diets among others.
Root Cause Recipes: The Thyroid Pharmacist offers several meal planning books with hundreds of Paleo and AIP-friendly recipes.
AIP Meal Delivery Services
To lighten your load with meal planning and prep, it can help to have some meals that are already prepared. Luckily there are some services that offer AIP-compliant meals.
Paleo on the Go- Select from a variety of AIP meals that are ready to heat and eat. Try their sugar-free bacon, bone-broth, Mojo Chicken Empanadas, and more.
Pete's Real Food- This company was formerly called Pete's Paleo. They now offer a broader variety of meals catered to AIP, Paleo, Keto, and Vegan diets. They even have kids meals. Check out their AIP Bundle and AIP friendly chicken or beef bone broth.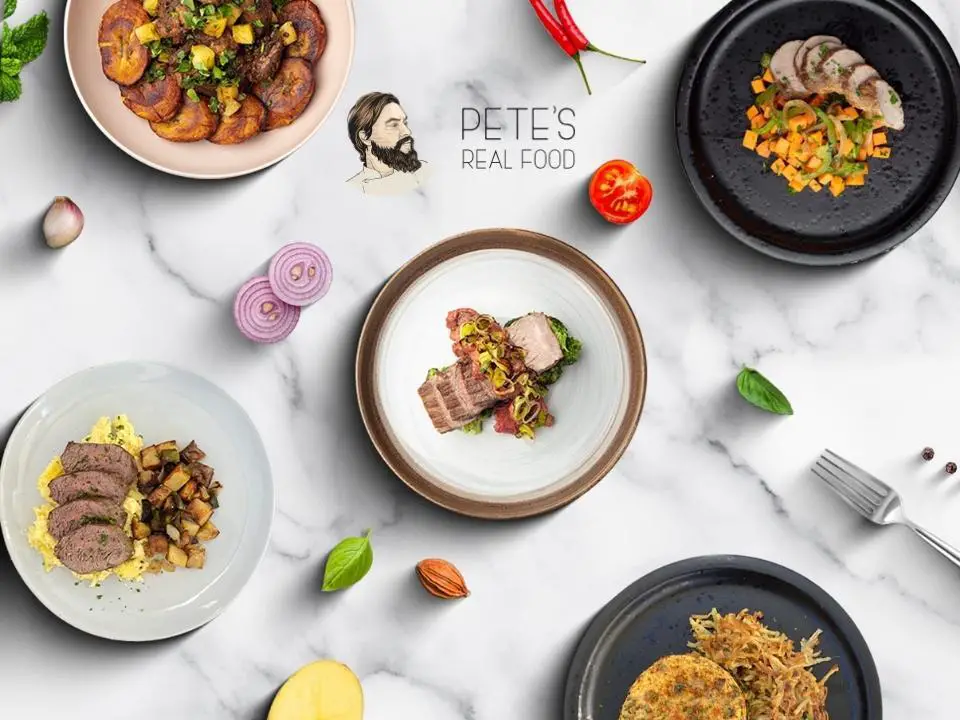 Conclusion:
Creating an autoimmune diet plan is a very individualized process but hopefully, you were able to use this plan to create something that works for you. If you used this meal plan, leave me a comment below and let me know how it went. If you have ideas on ways to improve for future meal plans, I would love to hear your thoughts!
Don't forget to follow me on Instagram @foodcourage for the latest AIP/Paleo recipes, autoimmune nutrition info, and Food Courage happenings!
If you liked this post, please share it!