7 Day Autoimmune Protocol Meal Plan For Busy People
Meal planning in any form can be daunting. Coming up with a workable autoimmune protocol meal plan can be all the more intimidating. From trying to select which meals to do on which days, decide when to prepare them and how much, make a shopping list, figure out what to take to work/school, figure out what your family will eat, etc.; there's a lot to consider.
I've found that keeping it as simple as possible is the best way to ensure success, especially with something as restrictive as the AIP diet.
If you are unfamiliar with how the AIP diet works, you can check out The Beginner's Guide to the Autoimmune Protocol for details. 
**Just a quick heads up- this post contains affiliate links which means if you click on them and buy something,  I will earn a small commission (at no additional cost to you) to help continue maintaining this site. 
Selecting too many complex extravagant recipes to prepare can lead to a long shopping list of obscure and exotic ingredients and cause you to be so overwhelmed that you don't start the process at all or you may do it for a short time but then give up after a couple of weeks because things are just too darn busy. 
With all this being said, my goal for this meal plan post is to give you a simple, maintainable, meal plan that you can print off and easily follow to get started. I've provided alternative options as well so you can shape it to fit your needs as you go. 
Individualize It
When it comes down to planning out how you want to meet your AIP diet needs, you have to consider what will work for you and your family.  If you are someone that has some time during the week to cook meals, doing all your prep on the weekends may not be necessary. 
On the other hand, if you are working or going to school all week, you may need things to be prepped and ready to go. In this case, taking some time to get things prepped on the weekend is very valuable. 
Be Realistic With Your Plan
While it's inspiring to see creative, unusual recipes on Pinterest and aspire to try them, it's not realistic to expect that you'll cook that way every day. When it comes down to the nitty-gritty day in and day out of actually maintaining a strict AIP diet while also feeding your family, it's important to be realistic and figure out what works best for you.
Here's What You'll Like About this Meal Plan: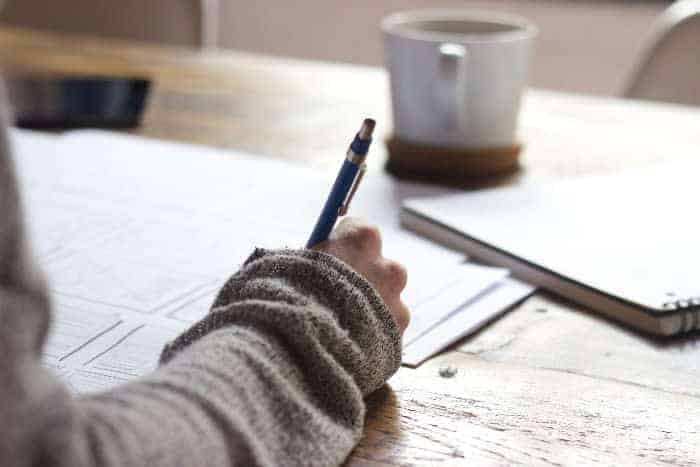 Photo by Green Chameleon on Unsplash
How to Use this Plan: 
You can use the 7-day meal plan below as it is or select some different meals from the list of options provided.
Pick 2-3 breakfasts that you like and use those throughout the week. If you would like to do more than that, it's perfectly fine but starting out with 2-3 keeps things a little simpler. Some of them can be thrown together the morning you need them and a couple of others may require a small amount of prep on the weekend. 
Lunches are generally leftovers from dinner the night before with the exception of Monday because that's the start of the plan if you're doing it for the first time. If you don't like leftovers, see the section below titled "What if I Don't Like Leftovers?" for some lunch prep ideas. 
As mentioned, dinners should be cooked with the intention of using the extras for lunch the next day (or even the next couple of days).  This will minimize the amount of prep you have to do on the weekends and make the most out of your time spent cooking. Depending on the recipe and size of your family, you may need to double or even triple the recipe. If you're just cooking for yourself, you may not need to double up on the recipe at all. You'll have to gauge this part. 
While this meal plan includes 7 dinner recipes, odds are you may not end up cooking dinner all 7 nights. You might eat out or just not feel like cooking every single night. As we've done with the lunches, you can also make extras of certain meals and save them for dinner another night. For example, you could choose 3 or 4 of the 7 dinner recipes and just make large batches of them planning to eat them for more than one dinner in a given week. You could also use this strategy but freeze the extras and save them for dinner another week- this will give you a little more variety in your meal plans as you stock up some freezer meals over time. 
Listed below are various options for AIP meals and snacks. Some of the options are included in the 7-day meal plan below while others are there as additional ideas so you can fit the meal plan to your needs and preferences. 
AIP Breakfasts
(Pick no more than 2 or 3 to use for the week). Keep in mind that some can be prepped as needed, while others should be prepped ahead of time.
Monday/Tuesday/Wednesday: Turkey Apple Onion Hash, By Eat Beautiful, (Prep ahead)
Thursday/Friday: Simple Blueberry Banana Smoothie- 1 cup frozen blueberries, 1 banana, 1 cup spinach, 1 cup coconut water (or plain water), 1 scoop collagen powder (optional). (No advance prep needed)
Saturday/Sunday: Simple 5 Ingredient Banana Bread Mug Cake, By Food Courage, (No advance prep needed)
Additional AIP Breakfast Ideas:
5 Ingredient Banana Bread Mug Cake (picture above)
AIP Lunches
Use leftovers from dinners.
I Don't Like Leftovers. What Other Options Do I Have for Lunches?
While using leftovers from dinners is a great time-saver, some people just do not like leftovers. If that's the case for you, check out some of the lunch prep ideas below:
Sheet Pan Maple Citrus Chicken (pictured above)
AIP Dinners
Additional Dinner Ideas:
Warm Kale Salad with Apples and Lemon Maple Dressing, By Food Courage
Cheesy Cauliflower Chicken Soup, By Food Courage
Roasted Sweet Potato Kale Salad with Beets, By Food Courage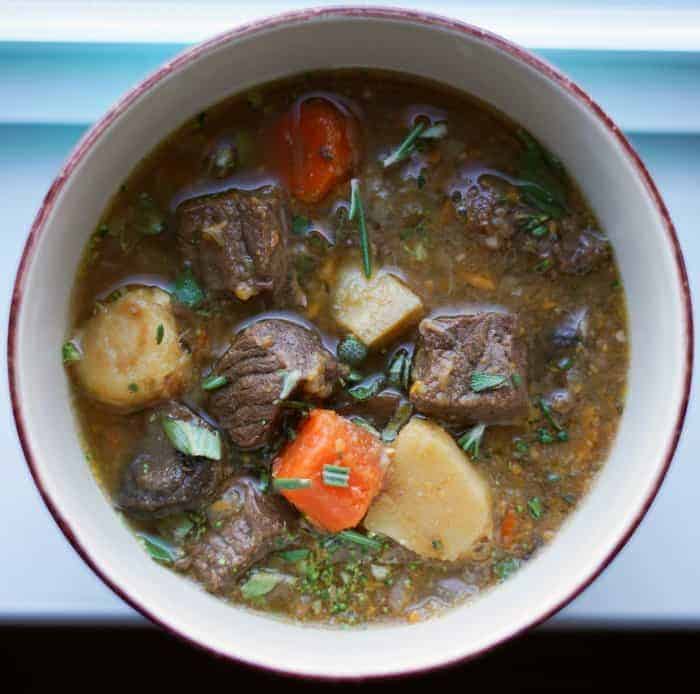 Easy Instant Pot Beef Stew (Pictured Above)
AIP Snacks
Weekend Meal Prep for this Plan
Prepare Turkey Apple Onion Hash for breakfasts and pre-portion out into containers (enough for at least 3 days).
If doing the Berry Parfait for breakfasts and not using store-bought coconut yogurt, prepare coconut yogurt.
If not using dinner leftovers for lunches, select 1 or 2 lunch items to prep for the week.
Make an AIP Trail Mix with freeze-dried fruits, tiger nuts, plantain chips, coconut chips, dried fruits, etc. for snacks.
Wash and cut some vegetables/fruits ahead of time if needed, especially for snacks
Prepare Bone Broth if using as a snack- this post tells how to do it. If you'd prefer to buy your bone broth, this Australian Beef Bone Broth Concentrate is elimination phase compliant as it only contains bone broth and sea salt. The only down-side is it's not organic, but if you really need a compliant broth and don't have time to make it, this is a good option. There are very few other bone broth products out there that are elimination phase compliant as most contain tomato products and spices. Osso Good Beef Broth is almost elimination phase compliant except it contains peppercorns (these are reintroduced in phase 1).
Time-Saving Meal Prep Tips:
Buy prewashed precut fruits and vegetables. If you want to minimize meal prep, buy fruits and vegetables that are prewashed and precut. These are a little more expensive, but sometimes the time-savings are worth it. When I was in Kroger yesterday, I found sweet potatoes washed, peeled and diced in a microwave steamable bag- I think these might be new as I do not recall seeing them before. I love finding things like this- I don't always prep with everything precut but when I'm in a rush, it can be really useful. Even if you don't steam the veggies in the bag as intended, and you end up roasting them, you still save the time effort of prepping them for cooking.
Use Frozen Fruits and Veggies- They are frozen at just the right time to retain maximum nutrient density and contain nearly the same level of vitamins and minerals as their fresh counterparts. Plus, they are prepped and ready to cook, which saves you time.
Consider Using a Grocery Delivery Service if you have a busy schedule and have trouble getting to the store. Many major grocery stores offer grocery delivery or at very least a pick-up option.
If you have a Whole Foods near you, you can order groceries through Amazon. Amazon Prime members get special discount offers for certain Whole Foods items each week. If you don't have Amazon Prime and would like to try it, you can sign up for a 30-day free trial here. (affiliate link)
If you're interested in trying out other meal plans to continue along your way on the AIP diet:

Real Plans is a paid web and app-based meal planner that has AIP meal plans. Meal plans can be customized based on family size, dietary restrictions, and schedule. It comes out to only $6 a month when you sign up for an annual plan and it has a 10-day money-back guarantee if you want to check it out before fully committing. I did an extensive review on this tool- you can check it out here to learn more about it.
Click the button below to subscribe to Food Courage newsletters and get your free AIP Food Lists PDF sent directly to your inbox!
Conclusion
Creating a meal plan is a very individualized process but hopefully, you were able to use this plan to create something that works for you. If you used this meal plan, leave me a comment below and let me know how it went. If you have ideas on ways to improve for future meal plans, I would love to hear your thoughts!
---