Banana bread has always been a favorite in our house with its warm gooey comforting sweetness. This AIP banana bread mug cake, made with tiger nut flour, is a fantastic gluten-free alternative to traditional banana bread. It's a delicious, easy, AIP-friendly dessert.
**Just a quick heads up- this post contains affiliate links which means if you click on them and buy something,  I will earn a small commission (at no additional cost to you) to help continue maintaining this site. 
Banana Bread Mug Cake Ingredients
Banana
It should be medium-sized. Make sure it is at least somewhat ripe, enough so that you can easily mash it with a fork. Make sure you mash it really really well so that it mixes well with the other ingredients.
This is quickly becoming one of my favorite AIP-friendly flours because it's so good! It tastes good, and the texture is perfect. It seems to work well in pretty much everything, not to mention it's relatively low in carbs compared to say, cassava flour. 
Arrowroot Starch (or Tapioca Starch)
You only need half a tablespoon but it really adds body to the bread. 
Baking Soda
This ingredient also adds a little bit of rise to the bread and contributes to the flavor. 
Salt
This one is optional. It does really round out the flavor though. If you do use salt, pink Himalayan sea salt is preferable. 
Using a Bowl vs. a Mug
You can use either one. I did find that I prefer at least mixing it in a bowl because it's much easier to mash the banana. Once you've mixed everything together, you can leave it in the bowl or transfer it to a mug.  
Click the image or button below for a PDF of the AIP Ingredient Substitution Cheat Sheet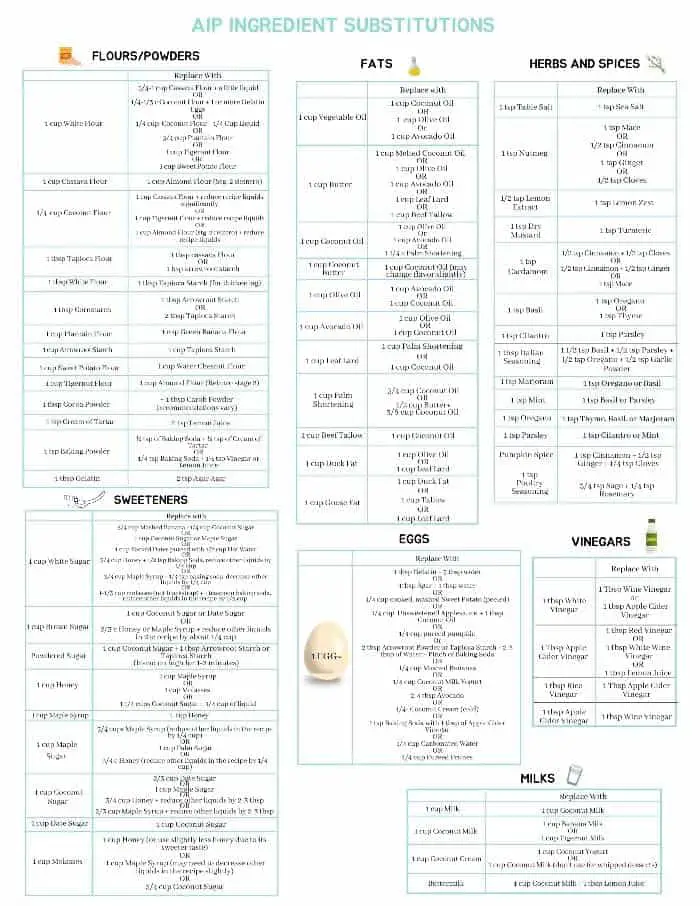 Get the Ingredient Substitutions PDF!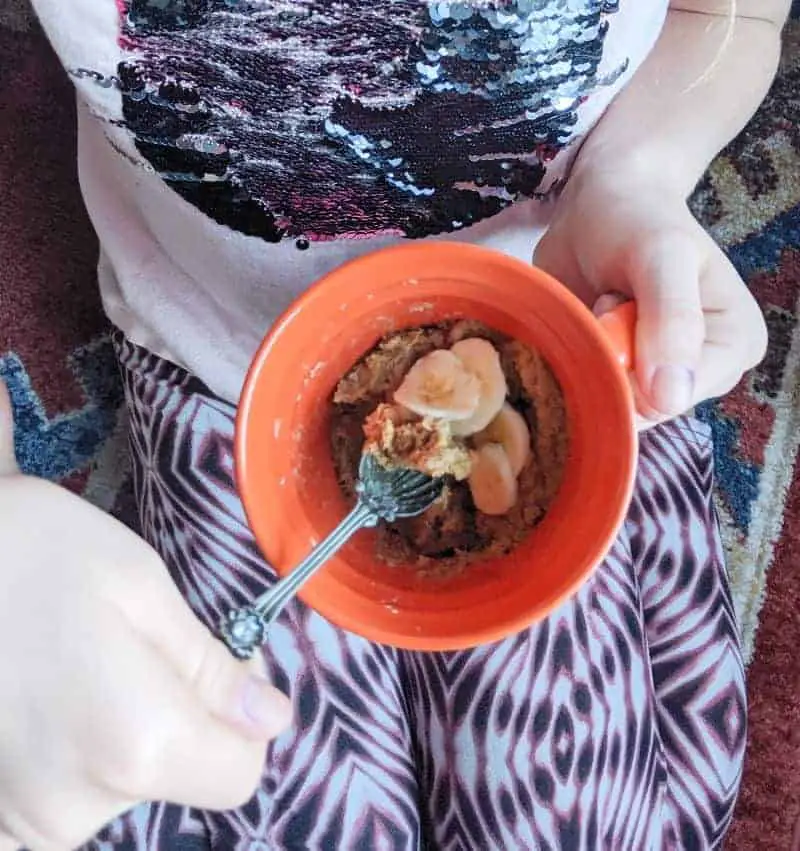 Cooking Your Mug Cake
You'll microwave it on high for 90 seconds and then it's ready to go! Just make sure you use a regular-sized mug (not a tiny one) because the dough rises quite a bit when it's cooking. If your dough fills about half the mug before cooking, you're in good shape.
Not Just for Adults
My kids went nuts for this banana bread. They were eating it faster than I could take pictures of it.
I hope you enjoy the recipe. If you made it, please leave a comment below and let me know what you thought! 
If you enjoyed this post, you may also like: 
Banana Pancakes with Strawberry Cream
AIP Strawberry Rhubarb Muffins
Beginners Guide to the Autoimmune Protocol
57+ AIP Pantry Items and What to do With Them
Conclusion:
I hope you love the recipe. If you tried this recipe, leave a comment below and let me know what you thought!
Don't forget to follow me on Instagram @foodcourage for the latest AIP/Paleo recipes, autoimmune nutrition info, and Food Courage happenings!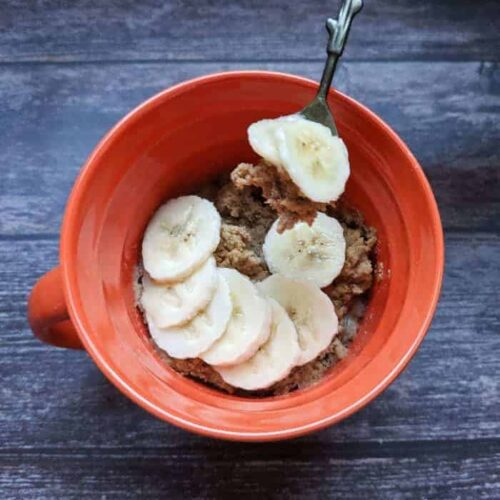 Simple 5 Ingredient Banana Bread Mug Cake (Paleo, AIP, Vegan, Gluten-Free
This banana bread mug cake, made with tigernut flour, is so easy and tasty you won't believe it.
Instructions 
Mash banana thoroughly in a bowl or mug, then mix in remaining ingredients. Make sure mug (or bowl) is large enough to accommodate the dough as it rises in the microwave.

Microwave on high for 90 seconds. Enjoy!