Kale salad has been one of my go-to nourishing meals, so I'm always looking for different ways to shake it up. This lovely salad is popular in our house. Roasted sweet potatoes, beets, and pears give just the right amount of sweetness while toasted coconut gives just the right amount of crunch. While my husband and kids aren't huge beets fans, they still love this salad. 
For other kale salads, check out my Blueberry Kale Salad with Cinnamon Honey Dressing, Kale Salad with Rainbow Carrots, and Warm Kale Salad with Apples and Lemon Maple Dressing.
**Just a quick heads up- this post contains affiliate links which means if you click on them and buy something,  I will earn a small commission (at no additional cost to you) to help continue maintaining this site. 
Which kale is best for Kale Salad?
I use lacinato kale aka dinosaur or Tuscan kale whenever possible because of it's smooth texture. It tastes amazing and it's easier to work with than curly kale. However, I can't usually find it at my normal grocery store so I use curly kale. This works fine too.
How do you soften Kale?
Of course, kale is fairly tough, so you have to remove the stems and shred it into teeny tiny pieces. You can do this by hand or with a knife but I usually use kitchen sheers for this as it makes the job much easier. Once shredded, you can add the dressing and then massage the kale with your hands for 2-3 minutes until the kale softens. Then, let it sit for about 10-15 minutes before serving to allow it to soften even more. 
Pears
Cut these and add them at the very end as they brown quickly otherwise. 
Sweet Potatoes and Beets
You'll want to peel the beets (and potatoes if desired) before cutting them into little cubes.  Then, you'll roast them in the oven at 400 degrees F for 30-40 minutes. Just make sure to check on them and stir them occasionally so they don't burn. 
A Note About the Sweet Potatoes and Beets
Beets, of course, are very red and they turn everything they touch red as well. If you want your sweet potatoes to not turn pink/red, either use 2 different sheet pans or just separate the sweet potatoes and beets from each other on the one sheet pan. I mixed mine together this time but may separate them next time.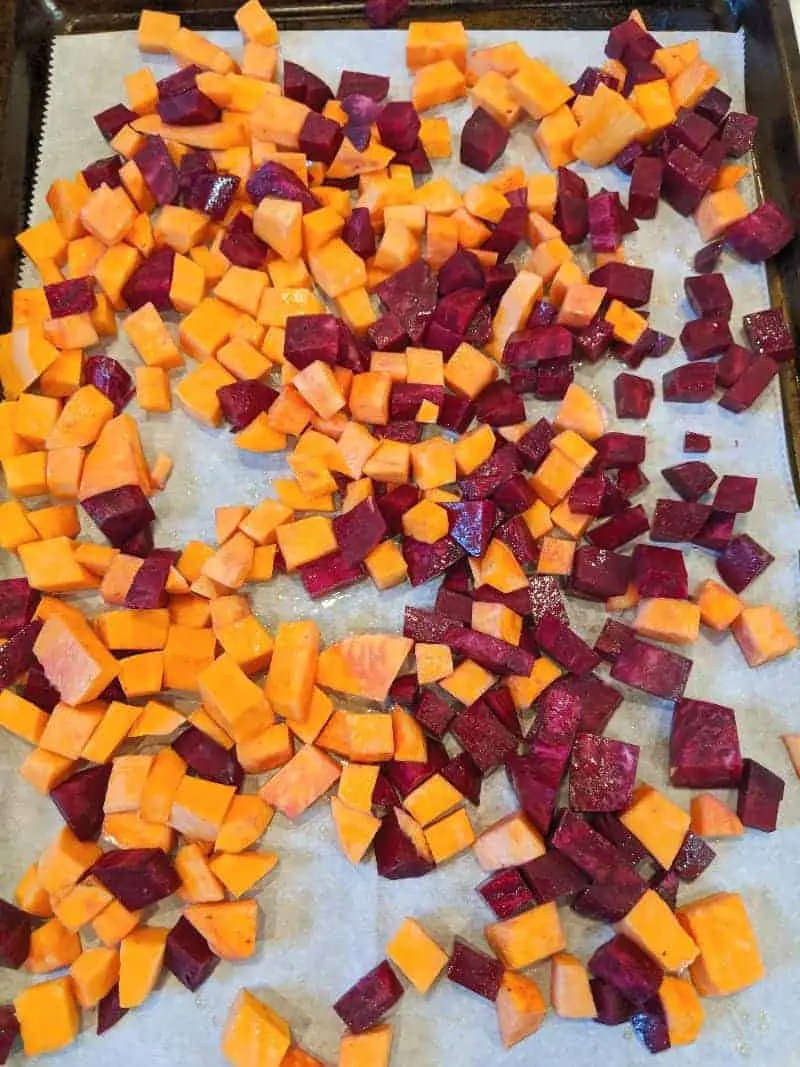 The Dressing
It's a very simple combination of olive oil and apple cider vinegar. No sweeteners are needed as the sweet potatoes, beets, and pears provide plenty of sweetness to the salad.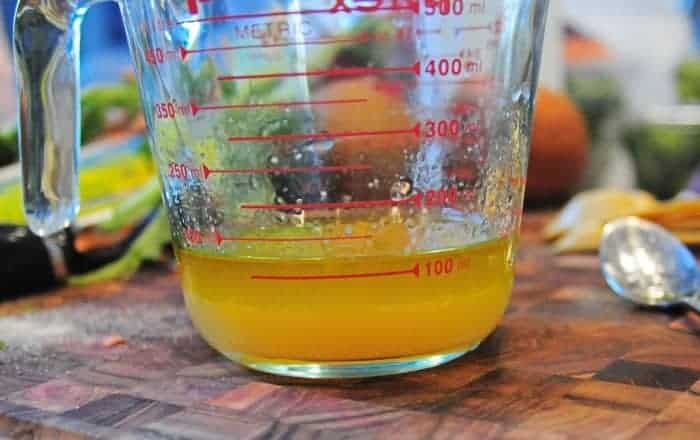 Toasted Coconut
You'll be toasting the coconut chips at the same time the beets and potatoes are cooking except the coconut will not cook for as long. The coconut will take 3-5 minutes depending on whether you're using flakes of chips. Just watch it very closely as it toasts quickly and can burn easily.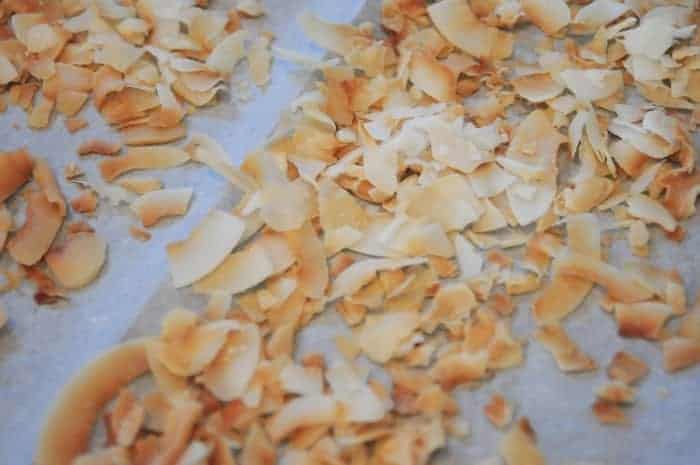 Leftovers
Given that kale holds up pretty well, this salad is still pretty tasty for 1-2 days after preparing it, so I like to take the extras to work for lunch.
I hope you enjoy this recipe. If you made it, please leave a comment below and let me know what you thought!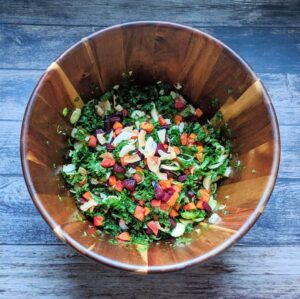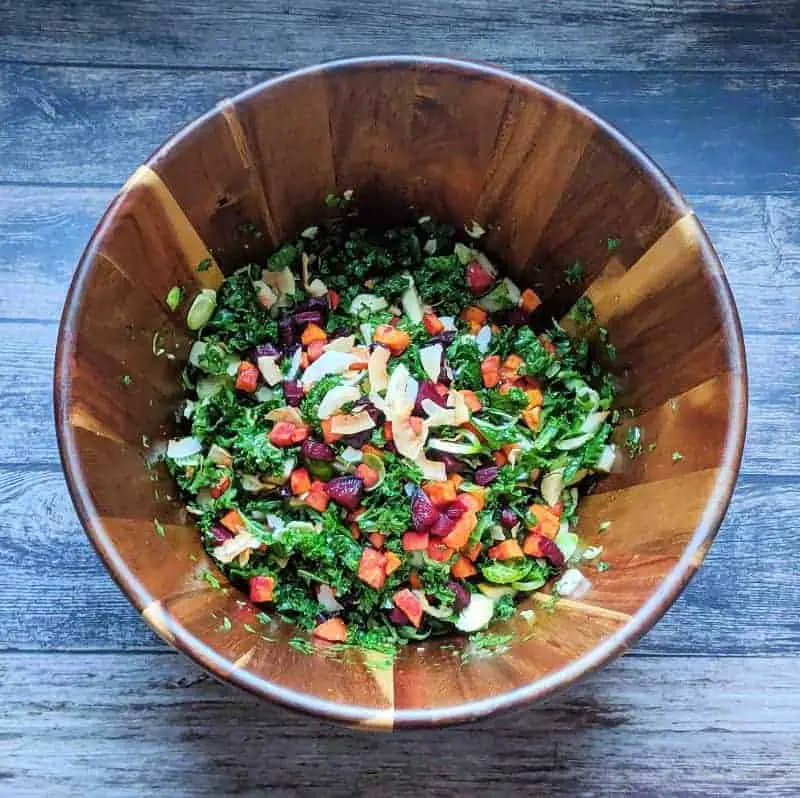 Sweet Potato Kale Salad with Beets (Paleo, AIP, Vegan, Gluten-Free)
This gorgeous healing salad is bursting with flavor and filled with nutrient-dense foods. Pears give it a subtle sweetness you'll love.
Ingredients  
3

small beets

1

medium sweet potato

1-2

tbsp

olive oil

sea salt to taste

1

bunch kale

(preferable Lacinato)

2

cups

Brussels sprouts

1

pear
Instructions 
Preheat oven to 400 degrees Fahrenheit.

Peel and chop beets and sweet potato into 1/4 inch cubes. Place on greased baking sheet (or use parchment paper on baking sheet), drizzle with 1-2 tbsp olive oil, and sprinkle with salt. The beets will turn the sweet potatoes pink; if you want to prevent this, keep them separate. Toss to distribute the oil evenly. Place in the oven on the top rack to bake for 30-40 minutes.

On a second greased (or parchment paper-covered) baking sheet, add coconut and spread it out. Place in the oven on the middle rack and bake for about 5 minutes. Watch closely as it toasts very quickly and can burn easily.

While beets, sweet potatoes, and coconut are baking, wash kale and remove stems. Place kale in a large bowl and shred into tiny pieces by hand or with kitchen shears.

Remove toasted coconut from the oven and set aside.

Thinly slice brussels sprouts and add the bowl with the kale.

In a small bowl, mix dressing ingredients then add to kale mixture and mix well.

When beets and sweet potatoes are slightly toasted, remove from oven and allow to cool for about 10-15 minutes.

Cut the pear into small cubes and add to the salad (Do this last to prevent browning).

Once beets and sweet potatoes have cooled, add to salad. Toss everything together and serve topped with toasted coconut.