This AIP Moroccan Chicken Stew is bursting with flavor and makes for a quick, easy but slightly different meal. It is Paleo, gluten-free, and whole30. 
If you're looking for more chicken recipe ideas, I've got a huge AIP Chicken Recipes post with tons of recipes.
I fell in love with Morrocan food when my husband and I ventured to Marakech about 13 years ago. We were engaged and living in Switzerland at the time and Morroco was such a unique and exciting place. Marrakech is home to an enormous open-air market (or souk) called Jemaa el-Fnaa. It was surreal being there and experiencing so many colors, smells, flavors, and sounds. 
They had everything in this market from snake charmers to rugs, lamps, olives, spices, teapots, scarves, etc. It was such a change from our normal day-to-day.  
One of my favorite meals while there was at this market. It was a Moroccan chicken tagine- made with chicken, figs, sweet potatoes, and a variety of aromatic spices. It was so hearty, soothing, and almost enchanting. When I got home from the trip I started looking up Moroccan recipes to try to recreate that meal, and have been cooking Moroccan-ish foods ever since. 
**Just a quick heads up- this post contains affiliate links which means if you click on them and buy something,  I will earn a small commission (at no additional cost to you) to help continue maintaining this site. 

Main Ingredients
Mushrooms- Use fresh; any type is fine.
Sweet Potatoes-Dice them pretty small so they don't take forever to cook. You can peel them if you prefer but I just leave the skin on.
Chicken Broth- Read labels. Keep an eye out for added sugars, nightshades, and additives. 
Coconut Cream- Coconut cream makes the dish a little creamy and rounds out the flavor.  Make sure to check your labels. Many coconut creams contain guar gum which is not AIP compliant. My favorite brands are Let's Do Organic and Nature's Greatest Foods. 
Coconut Aminos- I just love coconut aminos. I add this condiment to many dishes because it imparts so much flavor!! If you don't have it, I definitely recommend getting it. I use it for everything. I usually get mine at Kroger in the Asian Food section (it's Simple Truth Brand with a purple label). Sometimes I also find it near the honey for some reason. If you can't find it in-store, you can get this one from Amazon or this one
Nutritional Yeast- Nutritional yeast is often used as a vegan parmesan cheese substitute. It's super tasty and packed with vitamins, minerals, and protein. This is another AIP condiment that I often use to add a little extra "something" to dishes. Bragg is the most common brand I've seen used but I've also been able to find a Simple Truth brand version at Kroger. 
Various Spices- The following spices are enough to really give this stew a huge flavor boost: turmeric, garlic powder, cinnamon, ginger, cloves, sea salt
Fresh Cilantro- This is used as a garnish and it pairs beautifully with the flavors of the dish. 
How to Serve This Dish
Garnish with Cilantro (optional)
Serve over the top of cauliflower rice or spiralized cooked veggies (optional). 
Add Fruit- You can add fruit like dried figs, dates, or raisins to this and it would be fabulous. Just add them in for the last 10 minutes of cooking so they have time to get a little hydrated and plump. 
Substitutions
The vegetables in this dish can be swapped out for other veggies if you don't have exactly what the recipe calls for. 
Sweet Potatoes: You could use carrots or squash in place of the sweet potatoes.
Cauliflower: In a pinch, the cauliflower could be replaced with broccoli, cabbage, or zucchini. 
Mushrooms: Substitute zucchini or onions for mushrooms if needed. 
What Spices Are Used in Moroccan Food?
Common spices used in Moroccan food include cinnamon, cumin, turmeric, ginger, paprika, coriander, saffron, mace, cloves, fennel, anise, nutmeg, cayenne pepper, fenugreek, caraway, black pepper, and sesame seeds.
Of course, quite a few of these are not AIP compliant but even just a handful of them can achieve a very flavorful dish with some Moroccan flare. 
Storage
This will stay fresh in an air-tight container in the fridge for 4-5 days and in the freezer in an air-tight container for up to 3 months. 
If you like this recipe, you may also like: 
AIP Creamy Mushroom and Brussels Sprout Soup
Strawberry Basil Chicken with Spinach
Easy Ground Beef Vegetable Skillet
Easy AIP Stir Fry with Chicken and Vegetables
Conclusion
I hope you enjoyed this recipe. If you made it, leave a comment below and let me know what you thought. I'd love to hear from you!
Don't forget to follow me on Instagram @foodcourage for the latest AIP/Paleo recipes and Food Courage happenings!
This recipe is shared on the Paleo AIP Recipe Roundtable.
Below are some of the kitchen tools and food items that are mentioned or pictured in this post and/or that I use frequently in general and recommend. They are affiliate links which means that when you click and purchase a product, I may receive a small commission at no additional cost to you. These earnings help to buffer the costs associated with maintaining the site.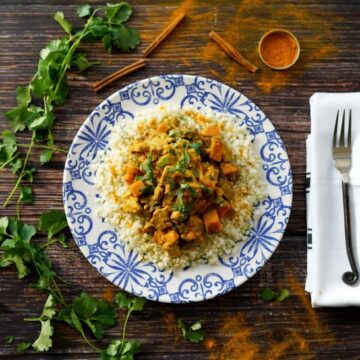 Moroccan Chicken Stew (Paleo, AIP, Whole30, Gluten-Free)
This Moroccan Chicken Stew is nice twist on your typical chicken meal. It makes for an easy weeknight meal and is ready in about 45 minutes.
Instructions 
Heat 1-2 tbsp of oil in a large skillet over medium-high heat. Add the sweet potatoes. Cook for 8-10 minutes.

Push the sweet potatoes to one side of the pan and add the chicken cubes to the other side of the pan. Cook for about 8 minutes keeping the chicken and sweet potatoes separate but stirring/flipping them occasionally to keep from sticking/burning.

Once the chicken starts to brown a little bit, start to mix the chicken and potatoes together, then add the cauliflower and mushrooms. Cook for another 3-4 minutes.

Add in the broth, coconut cream, coconut aminos, and spices. Turn the heat down to medium and simmer for another 12-15 minutes or until sweet potatoes are tender.

Allow it to cool slightly then serve. Garnish with fresh cilantro.
Nutrition
Nutrition Facts
Moroccan Chicken Stew (Paleo, AIP, Whole30, Gluten-Free)
Amount per Serving
% Daily Value*
* Percent Daily Values are based on a 2000 calorie diet.