If you're looking for a simple healthy sauteed rainbow chard recipe with a lot of flavor, this is it. The combination of sweet potatoes, chard, and mushrooms makes for an easy meal and packed with nutrients. 
I've been eating as many possible veggies as I can manage lately and trying to find easier tastier ways to do it day to day. Swiss chard is one of the veggies I haven't paid much attention to for most of my life but I'm suddenly loving it.
It's one of the veggies that in the past seemed kind of intimidating. I wasn't really sure what to do with it and didn't really have much interest in trying to figure it out.
*Just a quick heads up- this post may contain affiliate links which means if you click on them and buy something,  I will earn a little bit of money (at no additional cost to you) to help continue maintaining this site. 
Recently though, I decided to branch out and incorporate a wider variety of greens into my diet, so I tried it. I found that it was actually very easy to make and tasted really good. I've been eating it a couple of times a week since then.
I've been reading The Wahl's Protocol lately which is the reason for my current obsession with trying to get down a ton of veggies.
If you're not familiar with Dr. Terry Wahls, she is a doctor who through her own research was able to reverse her multiple sclerosis and regain her ability to walk. She did this by eating at least 9 cups of brightly colored vegetables a day (in addition to some other lifestyle approaches).
Her TED Talk, titled Minding Your Mitochondria, has had more than 3 million views. Her research into the topic is fascinating and doesn't necessarily just apply to MS. It's valuable information for anyone with an autoimmune disease or looking to improve their health in general.
The Wahl's Protocol is largely based in Paleo principles but goes in-depth into specifically which fruits/vegetables/micronutrients are needed to heal our mitochondria and our brains. Her research shows how nutrient density can help the body to heal itself.
What is Swiss Chard?
Swiss chard also known as a leaf beet, seakale beet or silverbeet, is a cruciferous vegetable and a member of the same family as beets and spinach. They are extremely nutrient-dense with their large green leaves and brightly colored stems.
Vitamins and Minerals in Rainbow Chard
Chard is high in:
Vitamin K
Vitamin A
Magnesium
Iron
Manganese
Copper
Potassium
Calcium
Phosphorus
Zinc
Vitamins and Minerals in Sweet Potatoes
Sweet potatoes are rich in:
B vitamins
Vitamin C
Vitamin D
Calcium
Iron
Magnesium
Phosphorus
Potassium
Thiamine
Zinc
Vitamins and Minerals in Mushrooms
Mushrooms are rich in:
Selenium
Vitamin C
Choline
Potassium
Folate
B vitamins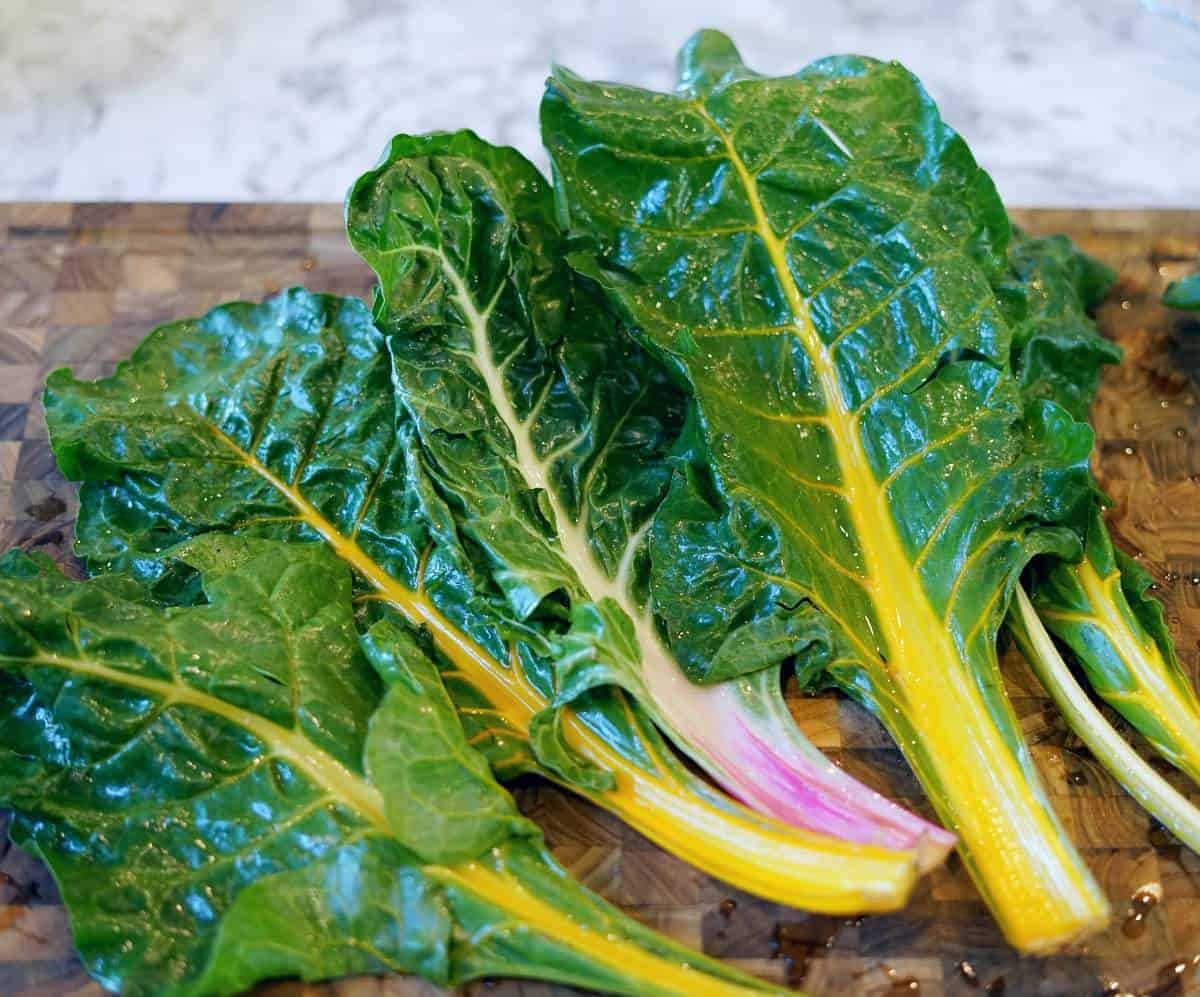 Swiss Chard vs Rainbow Chard- What's the difference?
Chard for some reason is a bit of a confusing topic for me. It took me a minute to answer this question. There are actually 12 varieties of Swiss chard that come in a variety of colors- mainly yellows, reds, and pinks, oranges white, and purples. Bright Lights is one variety of Swiss chard that produces stems in yellow, orange, gold, pink, red, white, and striped. It is often referred to as rainbow chard. 
How to Eat Swiss Chard
Chard can be eaten cooked or raw. There are tons of Swiss chard recipes out there that can give ideas on preparation. If you're eating it raw, you can eat it in a salad or make a wrap with it. You can also saute it like we're doing in this recipe, steam it, boil it, or add it to soups. 
How to Cut Swiss Chard 
I'm sure there are many ways to do this but I'll explain how I do it. Start by slicing the stems into small pieces- you'll keep these separate from the greens. For the greens, I like the spread the leaves out so they're flat and stack them evenly on top of each other. Next, I make cuts vertically forming long strips that are about an inch thick. Then I do the same going horizontally across the leaves so I end up with roughly 1" squares. You can dice the greens a little smaller than this if you prefer, but it's a good starting point.
What Does Rainbow Chard Taste Like?
It's got a surprisingly mild flavor.  It's not much different than spinach or kale as far as flavor goes.
Can You Eat Chard Stems?
Yes, you can definitely eat the stems of chard and they are pretty good! They take just a couple of minutes to soften up when cooked in a pan with oil. I like to slice them fairly small and give them a little bit of a head start in the pan before adding the greens.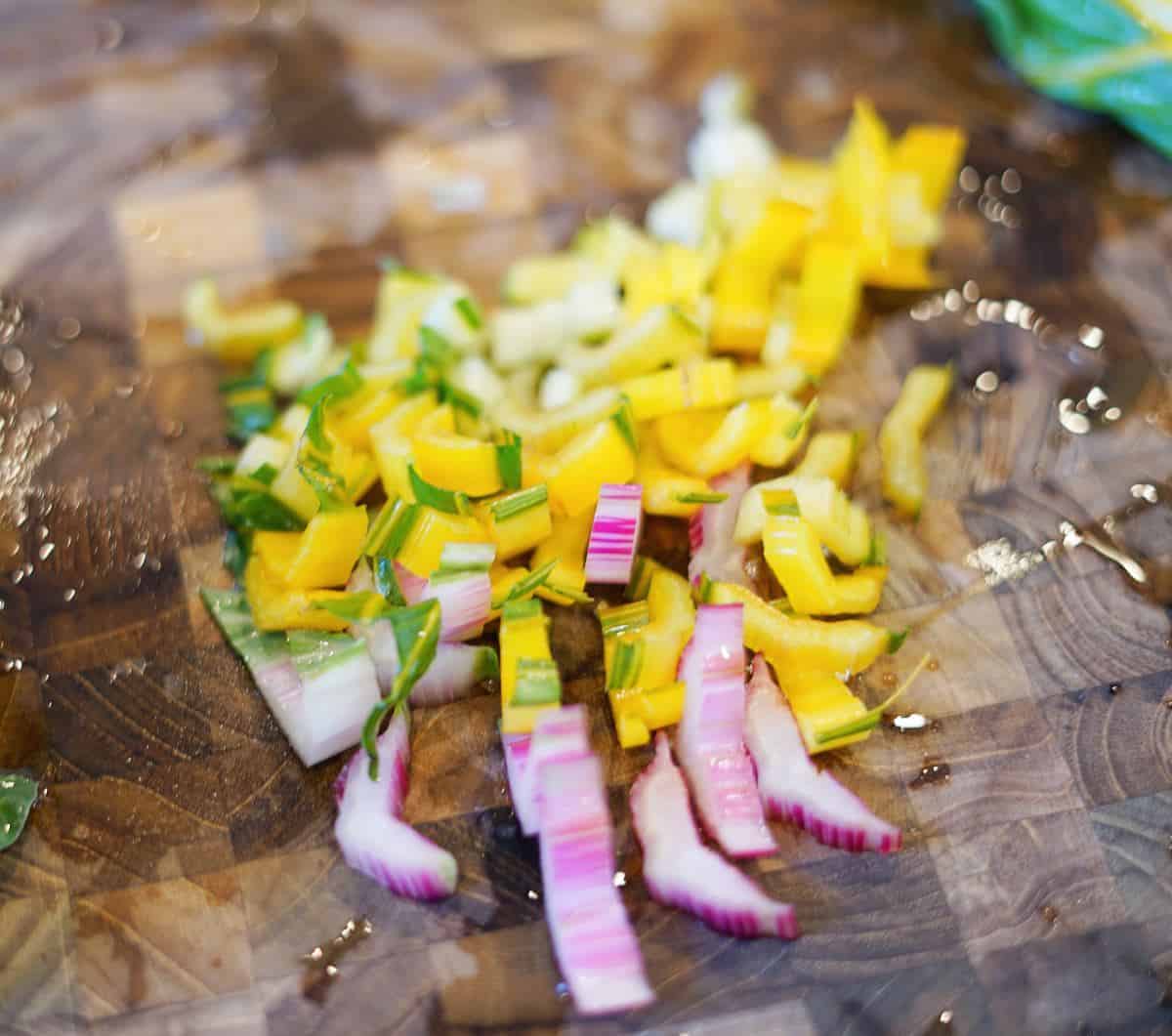 About This Recipe
Basically what you'll do in this recipe is chop the sweet potatoes into little cubes and roast them for 20-30 minutes.
In the meantime, you'll saute the Swiss chard stems in a little oil for a couple of minutes, then add the greens and the mushrooms and saute for a few minutes more.
Add a little bit a seasoning and mix in the sweet potatoes and you're done!
I top this with avocado because avocado makes everything good but this is completely optional. 
You could add meat to this if you want or just eat it as is. Sometimes I like to just have a meat-free meal for lunch and then have a little meat with dinner.
Roast the sweet potato first.
Sautee the mushrooms and chard together before adding the sweet potatoes.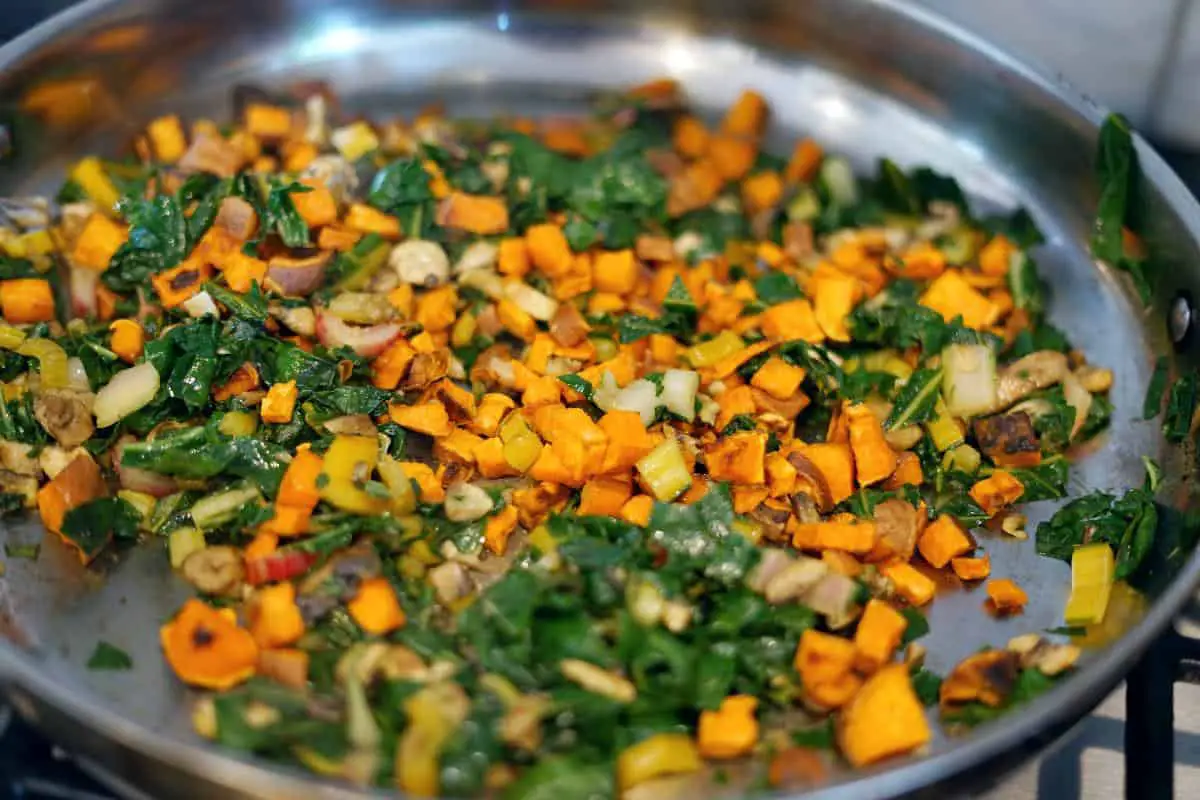 Add the sweet potatoes at the end.
If you like this recipe, you may also like: 
Warm Kale Salad with Apples and Lemon Maple Dressing (Paleo, AIP, GF, Vegan)
Roasted Sweet Potato Kale Salad with Beets (Paleo, AIP, Vegan, Gluten-Free)
Sheet Pan Maple Citrus Chicken with Sweet Potatoes and Brussels Sprouts (Paleo, AIP, GF)
Conclusion
I hope you enjoy the recipe. If you tried it, let me know what you thought! Also, I'd love to hear some of your favorite veggie combinations- I'm always looking for ideas!
Click the button or image below to get your free AIP Food Lists PDF!
Get PDF!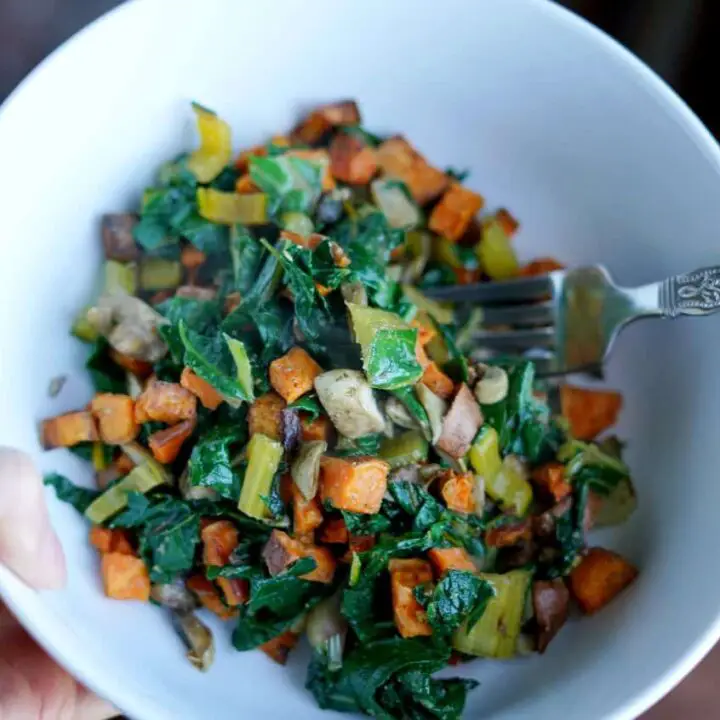 Vegan Sauteed Rainbow Chard with Sweet Potatoes and Mushrooms
This easy recipe is a great combination of flavors and tasty to get in a lot of veggies in one meal. It's also Paleo, AIP, and Whole30 friendly.
Ingredients  
2-3

tbsp

olive oil

or avocado oil, divided

2

sweet potatoes

diced into 1/4 inch cubes

1

bunch

rainbow chard

chopped, stems and greens separated (about 6-8 large leaves)

1

cup

raw mushrooms

diced

1

tsp

garlic powder

1/2

tsp

sea salt

1

tsp

italian seasoning

1-2

avocados

diced
Instructions 
Preheat oven to 400 degrees Fahrenheit.

Place diced sweet potatoes on a parchment-lined baking sheet. Drizzle with 1-2 tbsp olive or avocado oil and stir until potatoes are evenly coated. Roast for 20-30 minutes checking every 5-10 minutes to stir. Remove from the oven when they are tender and slightly toasted.

While sweet potatoes are cooking, dice swiss chard and mushrooms. Be sure the separate the stems of the swiss chard from the greens.

Saute the swiss chard stems with 1-2 tbsp olive oil in a medium frying pan over medium-high heat for 3-4 minutes. Add swiss chard greens, mushrooms, and seasonings. Continue to cook for 3-4 more minutes until greens are slightly wilted and mushrooms are tender. Remove from heat.

Remove sweet potatoes from the oven and add to the frying pan with the swiss chard and mushrooms. Mix together and serve with diced avocado on top.
Nutrition
Nutrition Facts
Vegan Sauteed Rainbow Chard with Sweet Potatoes and Mushrooms
Amount per Serving
% Daily Value*
* Percent Daily Values are based on a 2000 calorie diet.