This homemade AIP chicken bone broth is made in a slow cooker/crockpost. It's Paleo, AIP, Whole30, and Keto friendly. Plus it's easy, delicious, and healing. 
I've been drinking bone broth every day for about a week now as part of a 14-day bone broth "experiment" to see if I feel any different as a result. (You can read about how that turned out here.)
Until now, I've been trying out some different store-bought brands. I had put off making homemade bone broth because 1) It seemed so daunting and time-consuming and 2) It can be difficult to find good quality bones.
I did finally decide to try making some though and I'm glad I did because it's the best AIP bone broth I've had thus far. This healing chicken bone broth recipe was inspired by this Easy CrockPot Bone Broth recipe by The Clean Eating Couple. I love it because it's super simple and they blend the veggies right in afterward. Genius!
**Just a quick heads up- this post contains affiliate links which means if you click on them and buy something,  I will earn a small commission (at no additional cost to you) to help continue maintaining this site. 
AIP Chicken Bone Broth Ingredients
Raw Chicken Bones from a Whole Chicken
Carrots
Celery Stalks
Garlic Cloves
Fresh Ginger- This is optional but adds a nice flavor.
Onions
Water
Lemon
Fresh Thyme
Black Pepper - Add this to taste (omit it for AIP).
Sea Salt to taste
How to Make Paleo Bone Broth in a Slow Cooker
Step 1: Place everything in the crockpot. Set it to low temp and set the timer for 12 hours. 
I did this on Saturday around 2 pm. This isn't a big deal for most recipes. However, when it takes 12 hours to complete, that means it's getting done at 2 am.
I knew this but decided to go ahead anyway because I was eager to try it. The point to note here is to time it to finish during waking hours!
I was a little nervous going to bed around midnight knowing that the broth would finish around 2 am and hoped I wouldn't sleep through it and ruin the broth.
My fear was that if it sat too long and cooled, it would be a food safety nightmare OR something would catch fire.
The shorten a long story, I ended up letting it cook until about 6 am the next morning. It was still very hot even though the crockpot had shut off by then.
In total, the broth actually got to cook for a good 16 hours.
Step 2: Take out the big bones and veggies.
I started by carefully pulling out the veggies and putting them in one bowl and then scooping out most of the bones and putting them on a plate.
Step 3: Strain the Broth
If your broth has a lot of fat on the surface, you can skim it off or cool it first, then skim. Mine didn't have a whole lot, so I didn't do much skimming.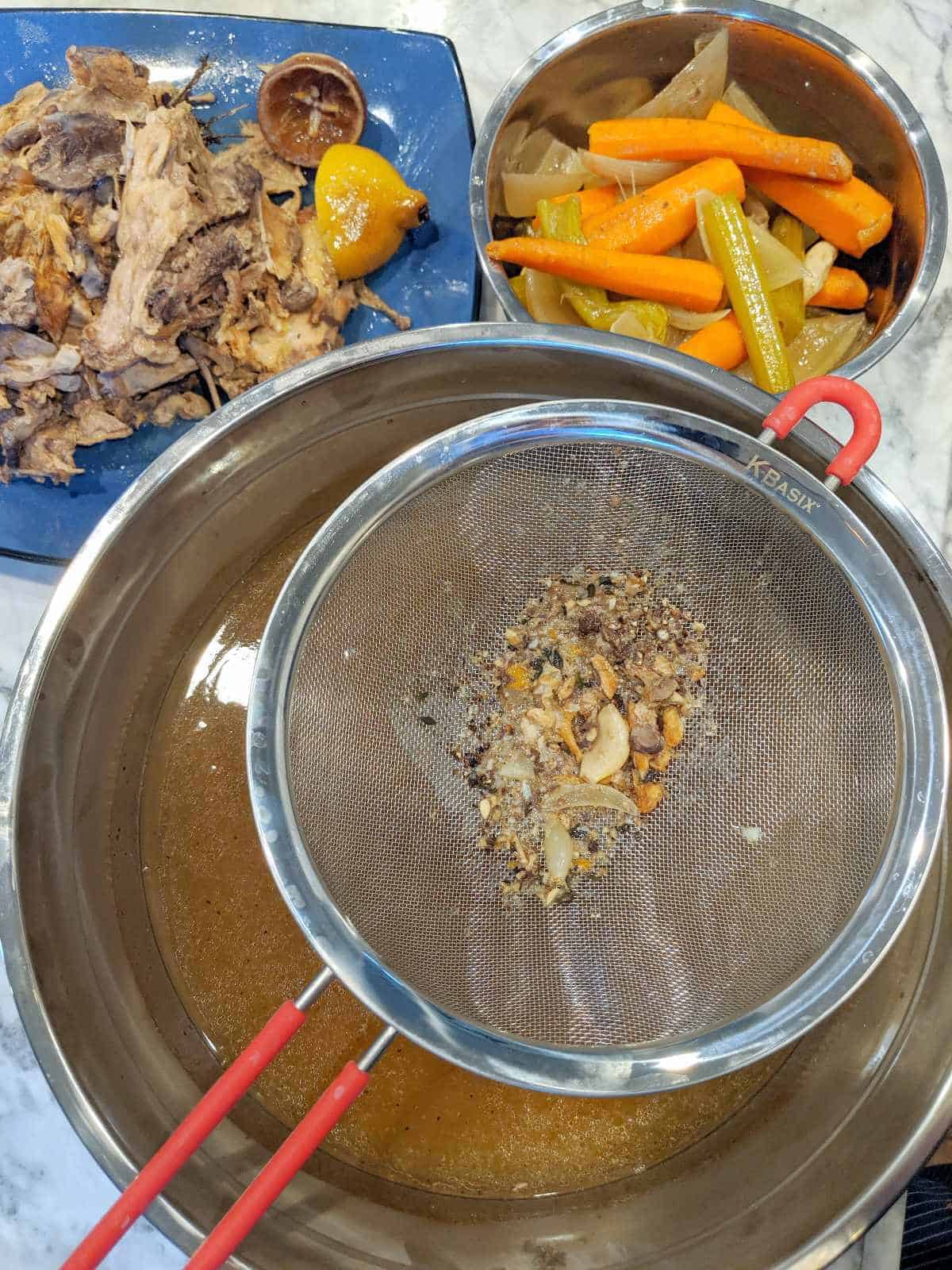 Step 4: Blend some of the veggies and add them back to the broth. *This is an optional step.
I decided to blend the veggies with some of the broth but reserve some plain broth too. 
I actually ended up saving some plain broth in one jar. Then, some broth with just a little bit of veggies in a second jar. The third jar had a little broth blended with a lot of veggies.
You can do this however you want of course. It's all pretty good but I think I really prefer it with the veggies mixed in; delicious.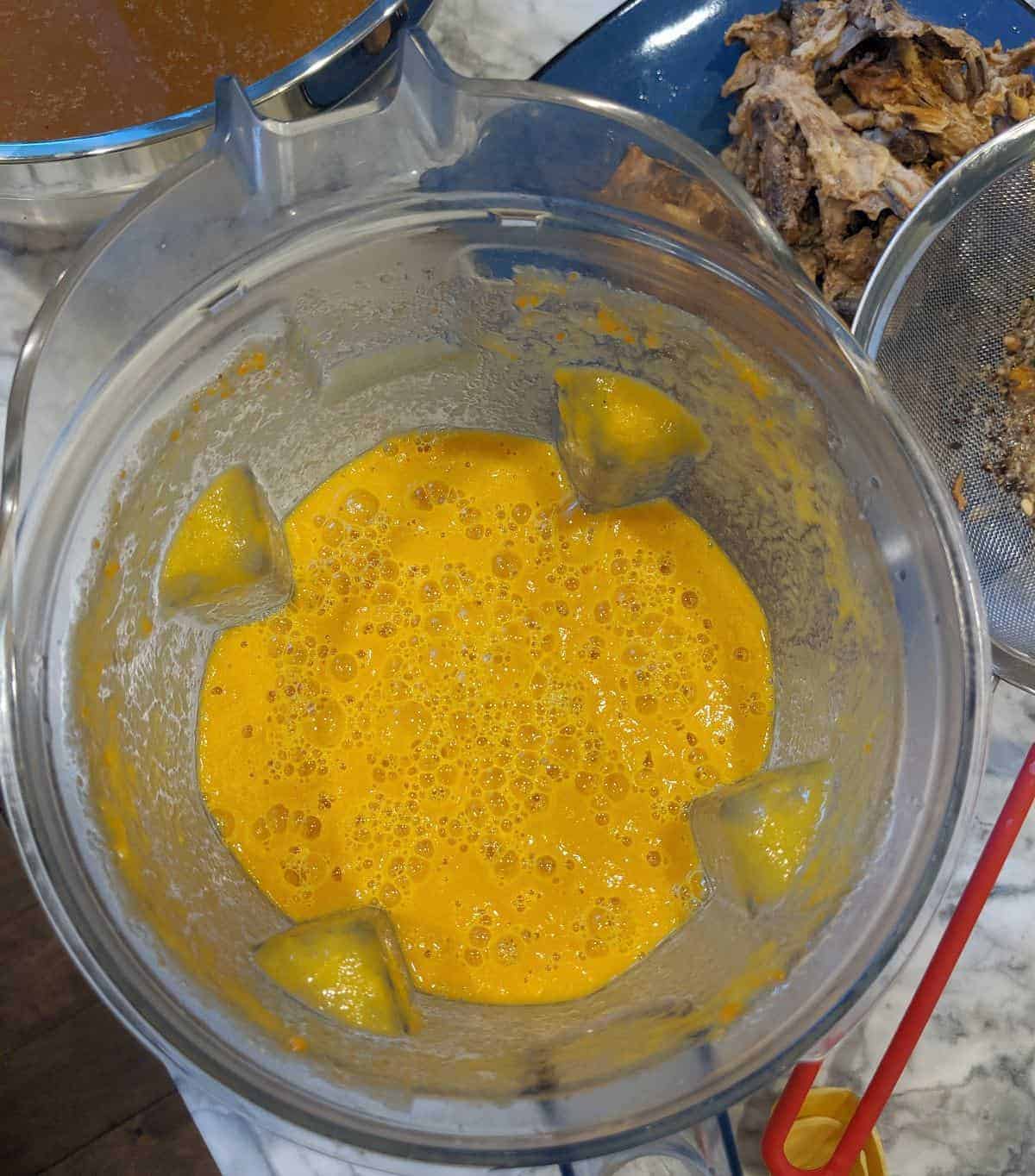 FAQs
What is Broth?
Broth is produced when vegetables and meat are simmered for about 2 hours or less; less time than it takes to make bone broth or stock. Unlike stock or bone broth, regular broth is thinner overall and doesn't congeal when chilled. 
What is Stock?
Stock is made by simmering bones with vegetables, herbs, and spices for several hours (3-4) and the ingredients are strained out keeping only the liquid. Stock is gelatinous when chilled because of the collagen and gelatin extracted from the bones during the cooking process. 
What is Bone Broth?
Bone broth is essentially stock except it's simmered for a much longer time (usually anywhere from 8 to 24 hrs). The longer simmer time helps to release additional nutrients like glucosamine, amino acids, and electrolytes from the bones.
Are Bone Broth and Stock the Same?
Before doing this exploration of bone broth, I'd been wondering about bone broth vs stock as they seem very similar. As you can see from above, they're not exactly the same however, bone broth and stock can be used interchangeably in recipes. 
Best Bones for Chicken Bone Broth
Making a good bone broth requires joints, knuckles, neck bones, feet, marrow bones, etc. from high-quality sources. Ideally, they should be from organically grown/grass-fed/free-range animals. If you can get to know your local butcher, this can be a good source.
Otherwise, White Oak Pastures is an amazing place to get them online. I've been shopping there for about a year and love it. Use the code "foodcourage" to save 15% off your first order.
If you don't want to just buy bones, you could, of course, buy a whole organic chicken for a meal or other type of responsibly sourced meat and use those bones or save them in the freezer for later. 
How can I use bone broth?
Often it's just a smooth savory soup made with bone broth and other nourishing ingredients like avocados and coconut milk, then topped with things like fruit, nuts, coconut, etc. 
Freeze it for later use- Considering bone broth recipes often produce more bone broth than one can use all at once, it's great that it freezes well.
Using an ice cube tray to make broth cubes is one of my favorite hacks because you can use just one cube at a time if needed.
Plenty of recipes call for a small amount of broth. So it's nice to be able to just pop a few cubes out of the tray and add them to your recipe. rather than open an entire carton or can of store-bought broth which may go to waste or have a large amount of homemade broth hanging around in your fridge. 
Why Do You Add Vinegar to Bone Broth?
The acidity of the vinegar helps to break down the bones extracting the collagen and maybe some minerals, making a more nutrient-rich broth. 
When Should I Drink Bone Broth?
You can drink bone broth any time of day but depending on what your goals are, drinking it at certain times of day may help.
For example, if your goal is better sleep, drinking it before bed may be best. If your goal is to combat gut issues, drinking it in the morning can help with this throughout the day.
If you have cravings in the afternoon, a cup of bone broth may give you a little boost and help to keep your appetite in check. Drinking it any time of day is believed to help support detoxification and strengthen immunity.
Conclusion:
If you tried this AIP chicken bone broth recipe, I'd love to hear from you. Rate it and/or leave a review below.
Don't forget to follow me on Instagram @foodcourage for the latest AIP/Paleo recipes, autoimmune nutrition info, and Food Courage happenings!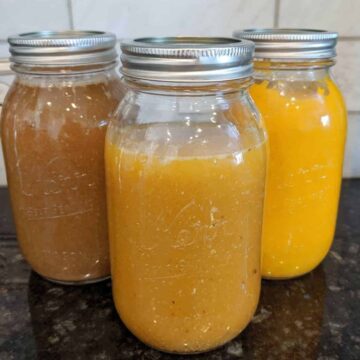 Slow Cooker AIP Bone Broth
This crockpot bone broth is super simple and full of flavor. Plus it's Paleo, AIP, Keto, and Whole30 compliant. You'll love it.
Ingredients  
1

raw chicken bones from whole chicken

4

carrots

peeled and halved

6

celery stalks

halved

1/4

cup

apple cider vinegar

4

peeled garlic cloves

1/2

thumb-sized piece of fresh ginger

optional

2

small onions

quartered

8

cups

filtered water

1

lemon

halved

2

tbsp

coconut aminos

10

sprigs of fresh thyme

black pepper

to taste (omit pepper for AIP)

sea salt

to taste
Instructions 
Combine all ingredients in slow cooker and set on low temp and set timer for 12+ hours.

Once cooking is completed, allow to cool and if desired, carefully pick out vegetables and set aside for making a puree to add back to the broth later.

Position a large strainer over a large bowl and pour liquid through the strainer. You may want to spoon out the larger chicken bones first and set aside before straining but it's up to you (and depends on how large your strainer is).

If adding the veggies back to the broth, add the veggies and some of the broth (whatever will fit) to the blender and blend on high speed. Add veggie/broth mixture back to whatever broth didn't make it into the blender and stir together.

Pour broth/soup into large mason jars and store in the refrigerator for 3-4 days or in the freezer for up to 3 months.
Nutrition
Nutrition Facts
Slow Cooker AIP Bone Broth
Amount per Serving
% Daily Value*
* Percent Daily Values are based on a 2000 calorie diet.