This awesome Korean glass noodle recipe is fast, easy, AIP friendly and it tastes so good! It features sweet potato glass noodles, ground beef, carrots, cucumbers, and a creamy tangy sauce. I had set out to make some type of Korean recipe- something in the realm of a Bulgogi or Bibimbap, but I couldn't exactly decide what I was going for. 
I just started putting things together and decided to let it turn out how it turned out. I'm not sure this qualifies as either of the above-mentioned things...probably not quite, so I'm just calling it a Korean glass noodle recipe. I'm really happy with how it turned out and I think you'll love it.
This is my first time cooking (and eating) sweet potato glass noodles and I was pleasantly surprised at how good they are. They are mildly flavored and not nearly as chewy as I had imagined.
If you're looking for other sweet potato glass noodle recipes, check out my roundup post with 19 AIP Glass Noodle Recipes.
**Just a quick heads up- this post contains affiliate links which means if you click on them and buy something,  I will earn a small commission (at no additional cost to you) to help continue maintaining this site. 
Types of Glass Noodles
Let's clarify glass noodles a little bit. There are several types of glass noodles. Glass noodles (also called bean thread noodles, cellophane noodles, Fensi, and Chinese vermicielli) can be made from various starches (like tapioca, mung bean starch, potato starch, or sweet potato starch)and they are used in a variety of cuisines. 
The noodles in this recipe are specifically sweet potato starch noodles (or sweet potato glass noodles) and are used in Korean cuisine. 
What Are Sweet Potato Glass Noodles?
Sweet potato glass noodles (aka sweet potato starch noodles) are clear noodles made from sweet potato starch and water making them a great AIP noodle/pasta alternative because they are grain-free and gluten-free. 
How Do You Cook Sweet Potato Glass Noodles?
Always follow the package instructions but generally, you cook the noodles in boiling water. The ones I purchased say to boil them for about 6 minutes. 
Are Sweet Potato Glass Noodles Healthy?
Sweet potato glass noodles are sugar-free, gluten-free, fat-free, and made only from sweet potatoes making it a decent choice as far as noodles go. 
Where to Buy Glass Noodles
Supposedly you can find glass noodles in some regular supermarkets, though I haven't tested this yet. Asian markets are also a good place to find them but  I don't have one near me,  so I ordered them on Amazon. These are the ones I went with and they're awesome. Something to note- the packages are smaller than normal packages of pasta- only 3.5 oz but one package was just enough for our family of 4 (one serving each) because the meat and veggies filled it out a little bit. 
Key Ingredients:
Ground Beef- Go with grass-fed if possible. Aim for about 10-15% fat content.
Mushrooms- I used shiitake mushrooms for this but you can use any type of mushrooms you have.
Cucumbers- These will just be peeled with a vegetable peeler to make ribbons- you can use the skin or toss it.
Carrots- The carrots will also be peeled with a vegetable peeler to make ribbons. If you don't have a peeler, just cut the carrots (and cucumber) thinly or julienne style.
Sweet Potato Glass Noodles- The noodles will just be heated according to the package instructions. At first, I thought they would be rubbery but once they finished cooking, the texture wasn't that different from regular pasta. The taste is very neutral too.
The Sauce- The sauce is a combination of white wine vinegar, honey, coconut aminos, fresh ginger, coconut cream, garlic powder, salt and lime juice. I struggle with sauces sometimes BUT this one turned out delicious! I literally drenched my noodles in it.
Tips
If the noodles are left to set once you drain them, you may notice that they start to stick together a little bit. Don't panic- just add a little bit of water back to the noodles and they should loosen up again. 
Storage
Leftovers will stay fresh in the fridge for a few days in an airtight container. If possible, store the meat and noodles separately from the fresh veggies. Store the sauce separately as well. If everything is mixed together, it will get mushy and weird pretty quickly.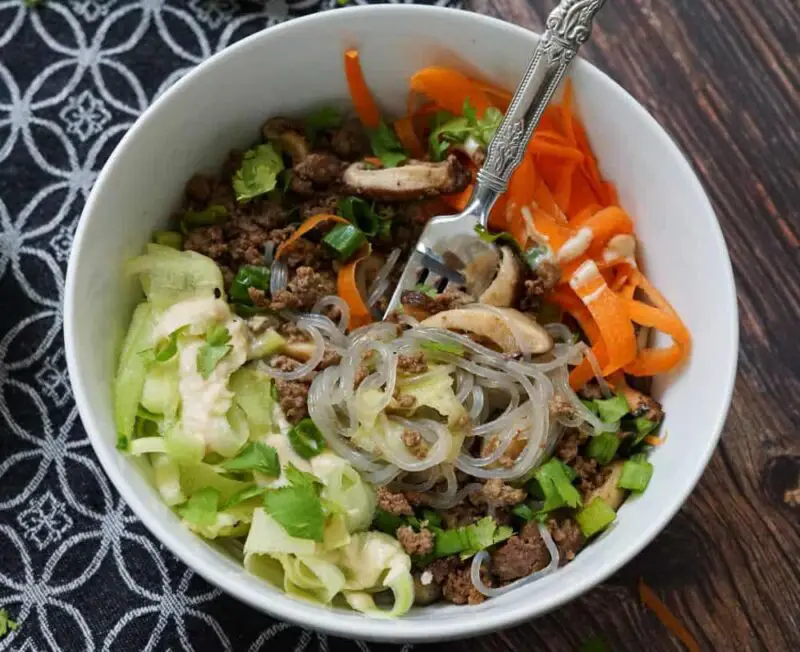 If you enjoyed this post, you may also like: 
Paleo Autoimmune Protocol (AIP Diet): Guide + Food Lists
7-Day Meal Plan for Busy People
109 AIP Breakfasts You'll Love
A Real Plans Review: Why You Need This Meal Planning Tool
87+ AIP Snacks: Easy Recipes and Packaged Foods
57+ AIP Pantry Items: What They Are and What to Do With Them!
Conclusion
I hope you enjoyed this recipe. If you made it, leave a comment below and let me know what you thought. I'd love to hear from you!
Don't forget to follow me on Instagram @foodcourage for the latest AIP/Paleo recipes and Food Courage happenings!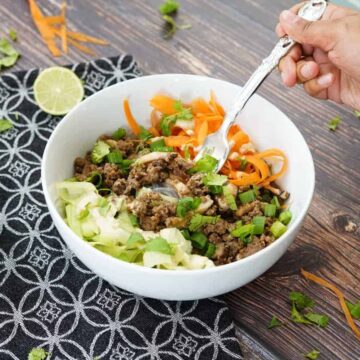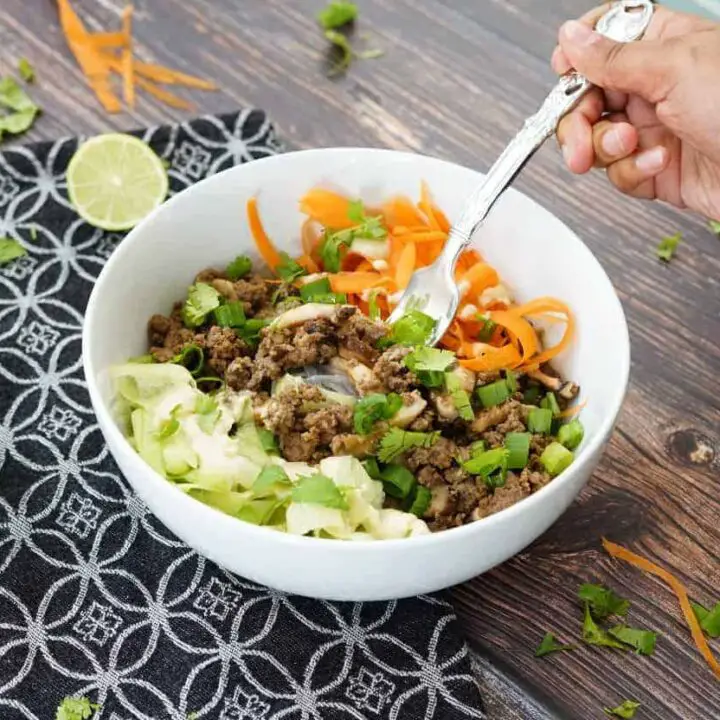 Korean Glass Noodle Recipe with Ground Beef (Paleo, AIP)
Ingredients  
Garnish
green onions, thinly sliced

cilantro, chopped
Instructions 
Mix sauce ingredients until smooth. Set aside.

Cook glass noodles according to package instructions. Set aside.

In a medium-sized pan over medium to medium-hight heat, add oil. Heat for 30 seconds, then add the ground beef. Break up the beef and cook untill almosted browned (about 5-7 minutes).

Add the mushrooms, garlic powder, onion powder, salt, white wine vinegar, and coconut aminos to the pan. Continue cooking an additional 3-5 minutes until musrooms are softened. Remove from heat.

Assemble beef noodle bowls. Start with the noodles, then top with meat/mushrooms, carrots, cucumbers. Drizzle with the sauce and sprinkle with green onions and cilantro.
Notes
Use a vegetable peeler for carrots and cucumber ribbons
If noodles cool off after cooking and stick together, add a little bit of water to loosen them up again. 
Leftovers will stay fresh in the fridge for about 3 days- keep the fresh veggies, meat, and sauce separate from each other if possible.