This easy ground beef recipe is one of my go-to AIP dinner meals on busy nights because it's quick, healthy, and very tasty. It is of course also gluten-free, dairy-free, and AIP compliant.  
It's slightly different each time I make it but it's usually has ground beef, a few different veggies, and some combination of the various spices and sauces in this recipe.  I wanted to finally make an actual recipe for it so I could share it with you. This particular recipe contains ground beef, brussels sprouts, carrots, baby bella mushrooms and purple cabbage. 
Cooking with ground beef is nice because it breaks up and cooks quickly (compared to say a steak or chicken breast or even chopped steak/chicken breast). I try to select veggies that cook relatively quickly and cook at about the same rate so I can put things in the pan around the same time and have them finish cooking around the same time. 
For this recipe, I chose veggies that can go in the pan all at the same time for simplicity. For example, if I were to add a denser veggie like sweet potatoes to this recipe, I would probably either boil or steam them first to give them a head start on cooking or just add them to the pan before adding the other ingredients.
When I've added sweet potatoes in the past, I usually just add them to the pan first and it turns out pretty good. Carrots are a little bit dense but I cut them relatively thin and small so they don't take too long to cook. 
**Just a quick heads up- this post contains affiliate links which means if you click on them and buy something,  I will earn a small commission (at no additional cost to you) to help continue maintaining this site. 
Reasons to love this Ground Beef Skillet Recipe:
It's crammed with veggies
It only requires one pan
Veggies can be swapped in and out to fit your preferences
It's very colorful 
It can be prepped ahead of time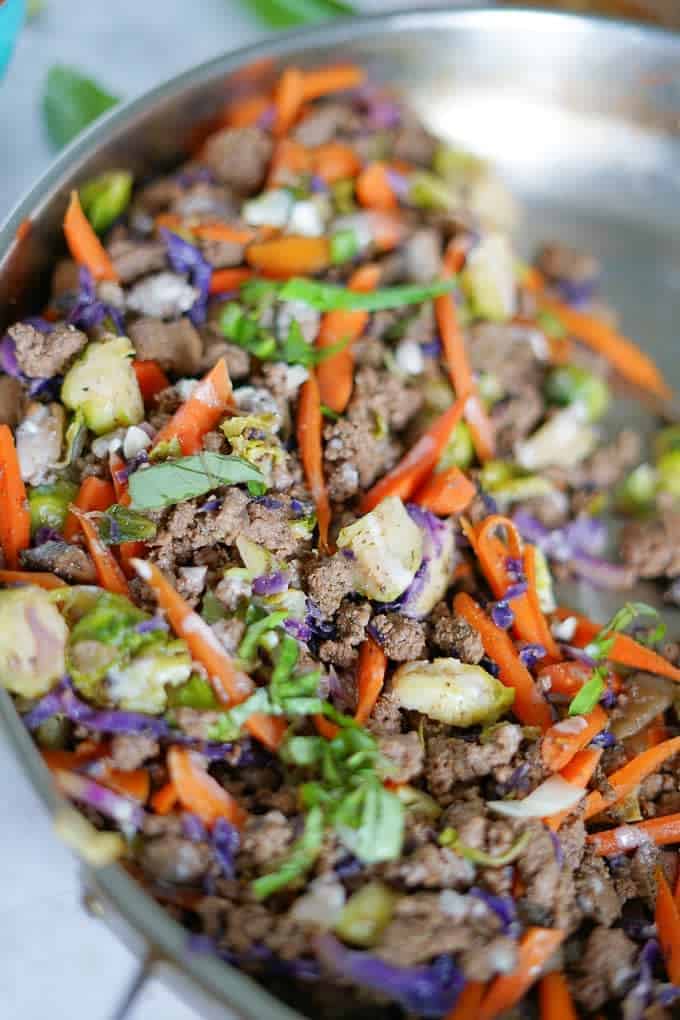 Notes/Tips
Draining the Fat From the Ground Beef vs Not: 
In this recipe, you'll add the veggies to the pan while the beef is still pink vs cooking the meat first, then cooking the veggies. This is especially helpful if you're not using a nonstick pan because the fat from the beef prevents sticking. 
Normally, I like to be able to drain off the fat before adding the veggies but when I'm using a stainless steel pan I usually don't end up draining the fat mainly because there's not that much fat to begin with, it seems to mostly cook off/dry up, and most importantly, it greases the pan. If I did drain the fat, everything would stick to the pan and burn. 
It also matters what fat percentage of beef you use- I usually try to get grass-fed beef which is around 10-15% fat. If you use a higher percentage of fat than that or use a nonstick pan, you may want to drain off the fat, which is perfectly acceptable. It's really a matter of personal preference. 
If you're looking for a good comparison of the best places to find high quality grass-fed beef, check out this post on the best grass fed beef online home delivery services.
A couple of other ways to do it: If you prefer to drain the fat off first, you can always cook the meat first, set it aside, then add it back to the pan once the veggies are cooked. Alternatively, you could just cook the meat and veggies in two separate pans.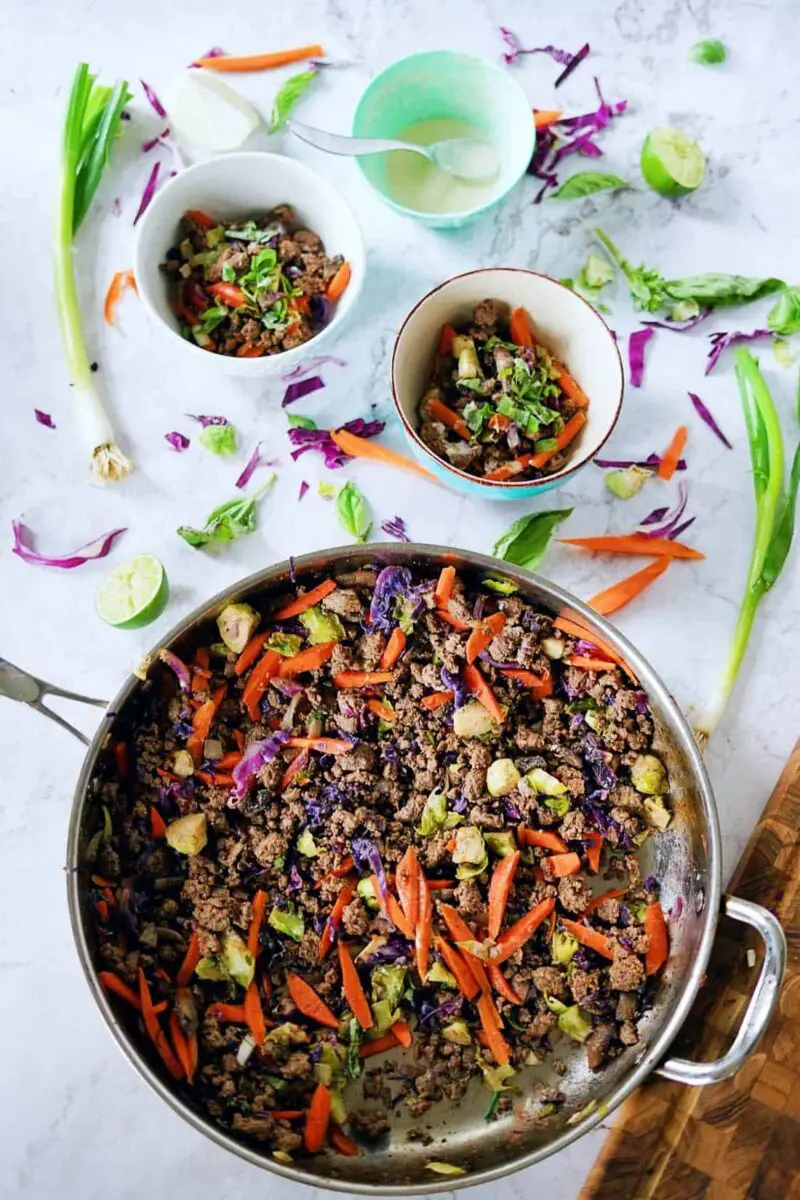 The Veggies 
Try to cut all the veggies about the same size and keep them fairly small so they don't take forever to cook. If you don't have one or two of the veggies called for, you can easily swap in other vegetables. 
The Sauce
The sauce uses coconut cream vs coconut milk because it is thick and creamy. Here is a nice thick guar gum-free coconut cream that I actually just have on a subscription with Amazon- sometimes it's hard to find coconut cream at the store at all, let alone one that is free of guar gum. Just make sure it's mixed up really well before adding it to the sauce.
It may work with full-fat coconut milk as well but it won't be very thick. It's important to chill the coconut cream (or coconut milk) for at least an hour (or make the sauce and chill the sauce for at least an hour so it has time to thicken up). 
The sauce and garnishes are optional.
They make the dish very yummy and pretty but if you aren't into dealing with a bunch of frills, the main dish by itself is fabulous.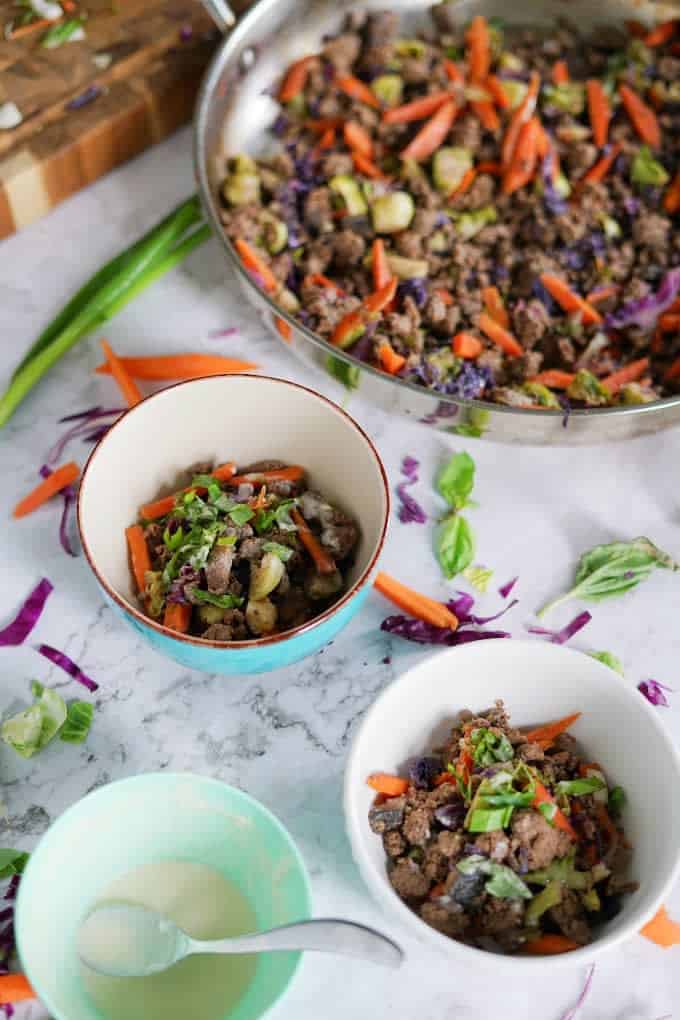 Save a Little Time- Prep Ahead
Just chop your veggies ahead of time so you can pull them out of the fridge and toss them in the pan. 
Can You Freeze This?
I haven't tried freezing this particular recipe yet but in my experience, dishes like this freeze pretty well and can be stored for about 3 months. Just store in an airtight container.
Benefits of Grass-Fed Beef
For the sake of the recipe, you can use any kind of ground beef you'd like. For the sake of overall health, grass-fed beef is a preferred choice because it comes from cows that have been able to graze on grass and live in a more natural way. The nutrients in beef can be vastly different depending on how the cow was raised and what it ate. 
Conventionally raised cattle are fed a mainly unnatural soy and corn-based diet for most of their lives which thickens them up very quickly. This, of course, produces a higher calorie, higher fat meat. Grass-fed beef is often preferred due to its: 
High concentration of healthy fats- omega 3's in particular
Higher level of antioxidants like beta carotene 
Lower overall fat content and calories
High CLA content:  This article which was published in the Annual Review for Food Science and Technology states: "Along with its original discovery as an anticancer component, CLA has been shown to prevent the development of atherosclerosis, reduce body fat while improving lean body mass, and modulate immune and/or inflammatory responses." The "modulate immune and/or inflammatory responses" piques my attention the most. If you're living with autoimmune disease, these are the kind of food benefits are exciting to hear about. 
Where to Get Grass-Fed Beef
I currently get most of my meat from a local CSA here in Tennessee but it can also be found at most grocery stores and online. US Wellness Meats is a good option for buying meat online. You can find their grass-fed beef here. Their cattle are sustainably and humanely raised, grass-fed, and finished and they are not given antibiotics, hormones, or GMO feed.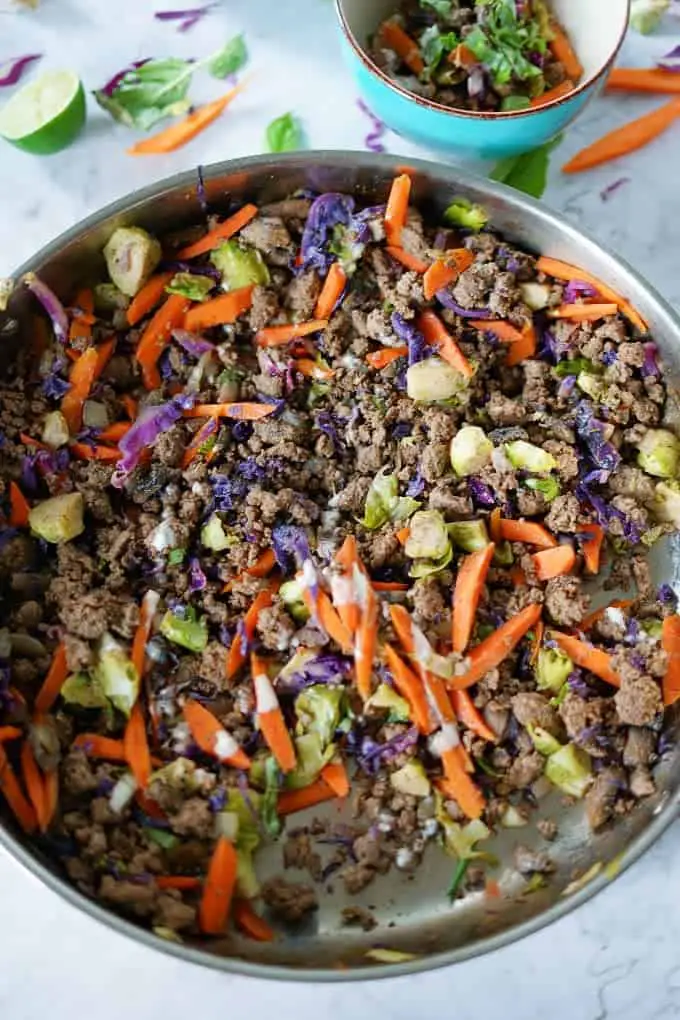 If you liked this recipe, you may also like: 
Easy AIP Stir-Fry with Chicken and Vegetables 
Sheet Pan Maple Citrus Chicken with Sweet Potatoes and Brussels Sprouts
Conclusion
I hope you enjoyed this recipe. If you made it, leave a comment below and let me know what you thought. I'd love to hear from you!
Don't forget to follow me on Instagram @foodcourage for the latest AIP/Paleo recipes and Food Courage happenings!
This recipe is shared on the Paleo Recipe AIP Roundtable.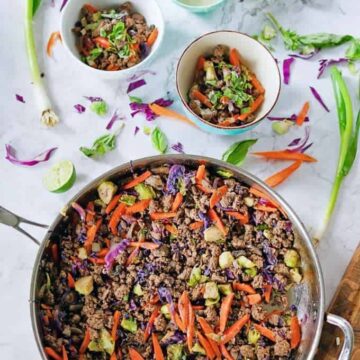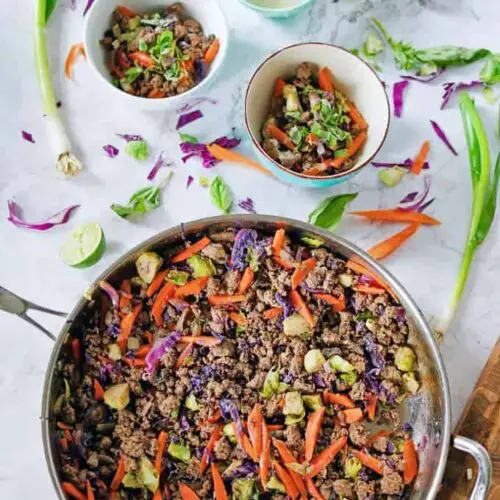 Easy Ground Beef Vegetable Skillet (Paleo, AIP, GF, DF)
This quick colorful meal is perfect for busy nights and tastes amazing.
Ingredients  
Garnish
2-3

green onions, thinly sliced (optional)

1/4

cup

fresh basil, chopped (optional)
Instructions 
Heat oil in a large pan over medium-high heat. Add onions and saute for 2-3 minutes until transluscent.

Add ground beef. Break up the meat and incorporate it with the onions. Continue cooking 2-4 minutes. Beef will be starting to brown but still pretty pink. Push the beef to one side of the pan to make room for the vegetables.

Add all the vegetables to the pan. Continue turning the beef over and stirring. Start to mix the beef and vegetables toegether.

Add all the spices and mix them in with the meat and veggies.

Continue cooking until the beef is browned and vegetables are tender (about 15 minutes). Adjust the heat down to medium if things are cooking too quickly or looking like they're starting to burn.

While the mixture is cooking, make the sauce. Put it in the fridge until ready to use.

Once everthing is cooked, remove from heat. Cool slightly and serve. Garnish with the sauce drizzled over it and green onions and/or basil to garnish.
Notes
Chill coconut cream for at least an hour or chill the sauce for at least an hour before serving to keep it from getting thin. 
To save time, you can prep all the veggies a day or two in advance and store them in a zip lock bag or air tight container until you're ready to cook. 
Store this meal in the fridge for up to 4 days in an airtight container