*Just a quick heads up- this post may contain affiliate links which means if you click on them and buy something,  I will earn a little bit of money (at no additional cost to you) to help continue maintaining this site. 
This gorgeous warm comforting kale salad with apples is fresh, healing, and easy to prepare. While salads are always a wonderful way to combine a bunch of fresh healthy ingredients into one meal, sometimes a cold salad isn't the most appealing thing, especially in the cold winter months.  This is where warm salads come in. 
I'm a huge fan of kale salads in particular and never grow tired of them. I struggle not to add sweet potatoes to them like I did in this gorgeous salad because I love sweet potatoes with everything and it's a great food combo.  I resisted doing that this time though and it turned out great. If my husband and kids like a recipe, it's a winner and they ate it up.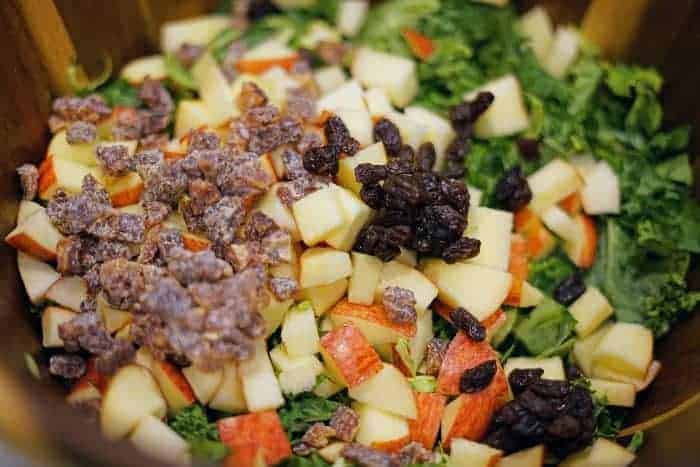 What Type of Kale is Best for Salad?
I really love Lacinato AKA dinosaur kale for making salads because is it a little softer and prettier than curly kale but I can't always find it at my grocery stores so I end up using curly kale. Don't worry if you don't have the Lacinato kind; any variety will work. 
How Do You Prepare Kale for a Kale Salad?
With kale being a tough leafy green, some steps need to be taken to make it actually taste good and have a good texture.
Sometimes I buy kale in whole leaf form, other times I can find it in a big bag pre-washed and pre-cut (at Wal-Mart of all places). Either form is fine. Of course, the kind in the bag saves some time but it does usually include some stem pieces. If this bothers you, you can pick out the bigger stem pieces or just buy the whole leaf form of the kale and remove the stems first. 
The first step in preparing kale for a salad, assuming you've bought the whole leaf form, is to wash and dry it, then remove the stems. You can remove them by gently tearing the leaves off by hand or cutting them off with kitchen shears. I usually use kitchen shears. 
Next, you'll want to tear or cut the leaves into teeny tiny pieces. This allows each piece to become tender a little faster and easier when you massage it or expose it to heat. 
Once you've got your kale cut into little pieces, you normally would need to massage it with oil/vinegar for it to be tender enough to eat. For this particular salad you won't massage it because you will be adding it to heat, which will sufficiently soften it. I guess you could call this a "cooked kale salad" though it's cooked ever so briefly.
What do you do with the stems from the kale?
Many people just discard the kale stems but if you prefer not to waste them, you can keep them for pesto, smoothies (though this is a little hard-core for my taste), sautéing, or even juicing. 
Preparing the Dressing
I love this dressing because it's a perfect balance of tangy and sweet with its combination of lemon juice, apple cider vinegar, and maple syrup. Sautéed onions and garlic give it just the right savory component. It's also great because it's relatively low in fat as far as salad dressings go.
Preparing the dressing is relatively simple.  You'll just add some oil, onions, and garlic to a pan and saute for a couple of minutes then add your liquid mixture. You'll mix it with the onions and garlic, simmer it for 4-5 minutes and allow it to reduce and get a little bit thick before mixing your salad with it. 
What to do if Your Kale Salad Gets a Little More Wilted Than You Would Like
If you leave your salad over heat a little too long or everyone isn't ready to eat right away, the salad may get more wilted and soft than you would like. If this happens, you can add a little bit of raw thinly sliced Brussels sprouts back to the salad (if you have any left over). You can also add more freshly diced raw apples. These will freshen it up and add back a little crunch if you feel it needs it. 
Toppings for Your Kale Salad
Apples, raisins, and dates add a lot of flavor and sweetness to this salad but if you want to go a step further, you can add things like coconut chips, plantain chips, or nuts (if not doing AIP). If you like your kale salad with cranberries, you can easily swap out the raisins for the cranberries. I used the chopped dates below- I get them at Kroger but you can of course, just chop whole dates into small pieces.
I hope you enjoy the recipe. If you made it, please leave a comment below and let me know what you thought! 
If you enjoyed this post, you may also like: 
Rainbow Chard with Sweet Potatoes and Mushrooms
Roasted Sweet Potato Kale Salad with Beets
Beginner's Guide to the Autoimmune Protocol
57+ AIP Pantry Items and What to do With Them
Warm Kale Salad with Apples and Lemon Maple Dressing (Paleo, AIP, Vegan, GF)
This warm sweet salad is easy to prepare and comforting on cold days.
Ingredients  
4

cups

kale, torn into small pieces

2

cup

brussels sprouts, finely sliced

2

apples, diced

1/4

cup

raisins

1/4

cup

chopped dates
Instructions 
Combine Kale, Brussels sprouts, apples, raisins, and dates in a large bowl.

In a small bowl, combine lemon juice, maple syrup, and vinegar. Set aside.

Heat olive oil in a large pan over medium high heat. Add onions and garlic and heat until starting to brown (about 2 minutes).

Add the mixture of lemon juice, maple syrup, and vinegar to the pan and mix in with onions and garlic.

Turn heat to low and simmer mixture 4-5 minutes until reduced and slightly thickened.

Add salad mixture to the pan and toss together until salad is well covered. Allow kale to wilt slightly (it'll happen quickly- about 1 minute).

Remove from heat. Top with coconut chips, plantain chips, or nuts (if not doing AIP) if desired. Serve immediately.