If you shop at Safeway and you're following the autoimmune protocol, this Safeway AIP shopping list is for you! AIP is a stricter form of Paleo, so if you're following a broader Paleo diet, this list will work for you too. It just doesn't include things like nuts, nightshades, certain spices, and eggs.
Safeway is owned by Albertson's. If you don't have a Safeway nearby, you may shop at one of the the other stores owned by Albertson's. These include:
Albertson's
Von's
Jewel Osco
Acme
Shaw's
Tom Thumb
Randall's
Market Street
Kings
Haggen
Andronico's
Balducci's
Amigo's
Lucky
I can't guarantee that they'll carry exactly the same products listed here but you'll likely find quite a few similar items. Even if you are shopping at Safeway, please keep in mind that available products will vary by location.
This list is meant for the elimination phase of the autoimmune protocol. There are a few reintros but I've noted them next to those items.
For other store-specific AIP shopping lists, check out the Whole Foods AIP Shopping List, Walmart AIP Shopping List, Trader Joe's AIP Shopping List, Sam's Club Shopping List, Trader Joe's AIP Shopping List, Aldi AIP Shopping List, Sprouts AIP Shopping List, Meijer AIP Shopping List, and more.
For more info about the AIP diet and what food items to look for, check out the Beginner's Guide to the Autoimmune Protocol and AIP Pantry Items.
If you need to see what a product looks like or need to see an ingredient label, you can find them on the Safeway website.
I've made enough lists now that I'm making lists for stores that are not necessarily in my area. This means I'm relying more on the store websites for ingredient and availability info. While this info is pretty good, it's always best to double check labels when you buy. Let's get to the list!
Produce
Organic Vegetables
Red Onions
Yellow Onion
Mini Peeled Carrots
Signature Farms Vegetable Medley Steam In Bag
Signature Farms Broccoli Florets
Signature Farms Broccoli Florets Steam In Bag
Signature Farms Cauliflower Florets
Earthbound Farms Organic Riced Cauliflower Medley
Fresh Cut Asparagus Spears
Green Leaf Lettuce 
Earthbound Farms Organic Celery Hearts
Cal Organic Leeks
Cal-Organic Farms Rainbow Carrots
Butternut Squash
Red Cabbage
Curly Kale
Fox Organic Romaine Hearts
Red Leaf Lettuce
Cal-Organic Farms Collard Greens
Rainbow Chard
Red Chard
Orange Garnet Yams
Orange Yams 
Purple Sweet Potatoes 
White Sweet Potatoes
Baby Bella Mushrooms
Cal-Organic Farms Organic Red Radishes
Cal-Organic Farms Easter Egg Radishes 
Green Romaine Lettuce
Yellow Crookneck Squash
Cal-Organic Farms Organic Parsley
Cal-Organic Farms Organic Cilantro
Living Dill
North Shore Organic Sage 
Jumbo Artichokes
Beets
Taylor Farms Chopped Kale
O Organics Vegetables:
Rainbow Baby Carrots
Whole Carrots
Shredded Carrots
Sweet Onions
Green Onions
Green Beans  ***Stage 1 reintro
Romaine Hearts
Living Lettuce
Half & Half Salad Blend 
Organic Spring Mix
Organic Baby Spinach
Super Greens- Baby Spinach, Baby Chard, Baby Kale 
Organic Salad Fresh Herb Blend
Living Watercress
Thyme
Rosemary
Dill 
Fresh Chives 
Fresh Mint
Sage
Oregano
Bay Leaves
Cilantro
Tarragon 
Sliced Crimini Mushrooms
Sliced White Mushrooms 
Whole White Organic Mushrooms 
Portobello Mushroom Caps
Garlic Bulbs
Marjoram
Basil
Brussels Sprouts
Baby Beets- peeled and steamed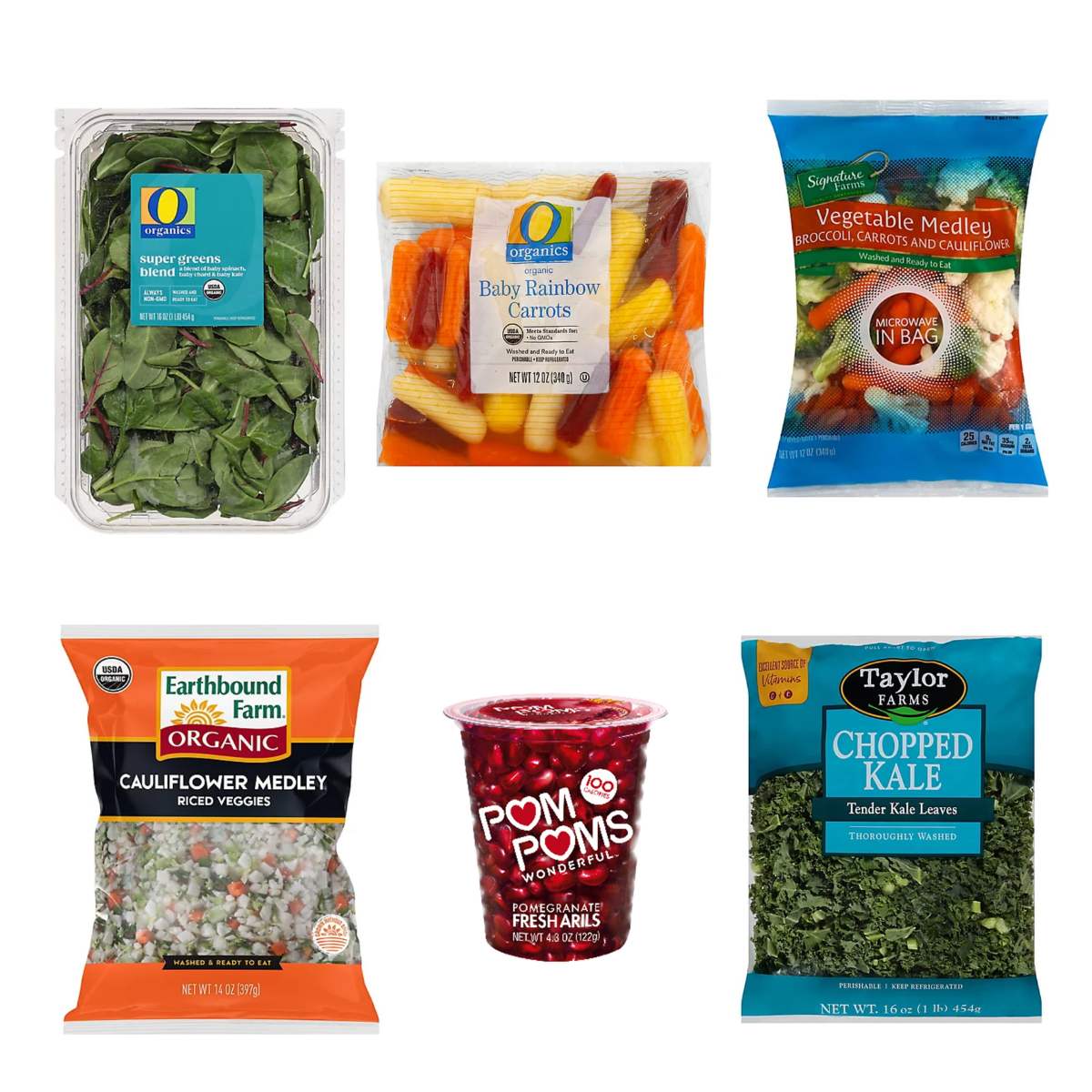 Organic Fruits
Raspberries
Mangoes
Navel Oranges
Red Grapefruit
Papaya Formosa
O Organics: 
Fuji Apples
Gala Apples
Granny Smith Apples 
Fuji Apple
D'Anjou Pears
Red Pear
Blueberries
Green Seedless Grapes 
Red Seedless Grapes
California Mandarins
Limes
Avocados 
Produce- Other
POM Wonderful Pomegranate Arils
Fresh Meat/Poultry
Be careful with meats and ground meats/poultry. Usually they don't have anything added but occasionally you'll see broths, white vinegar,  and "natural flavorings" added in here and there.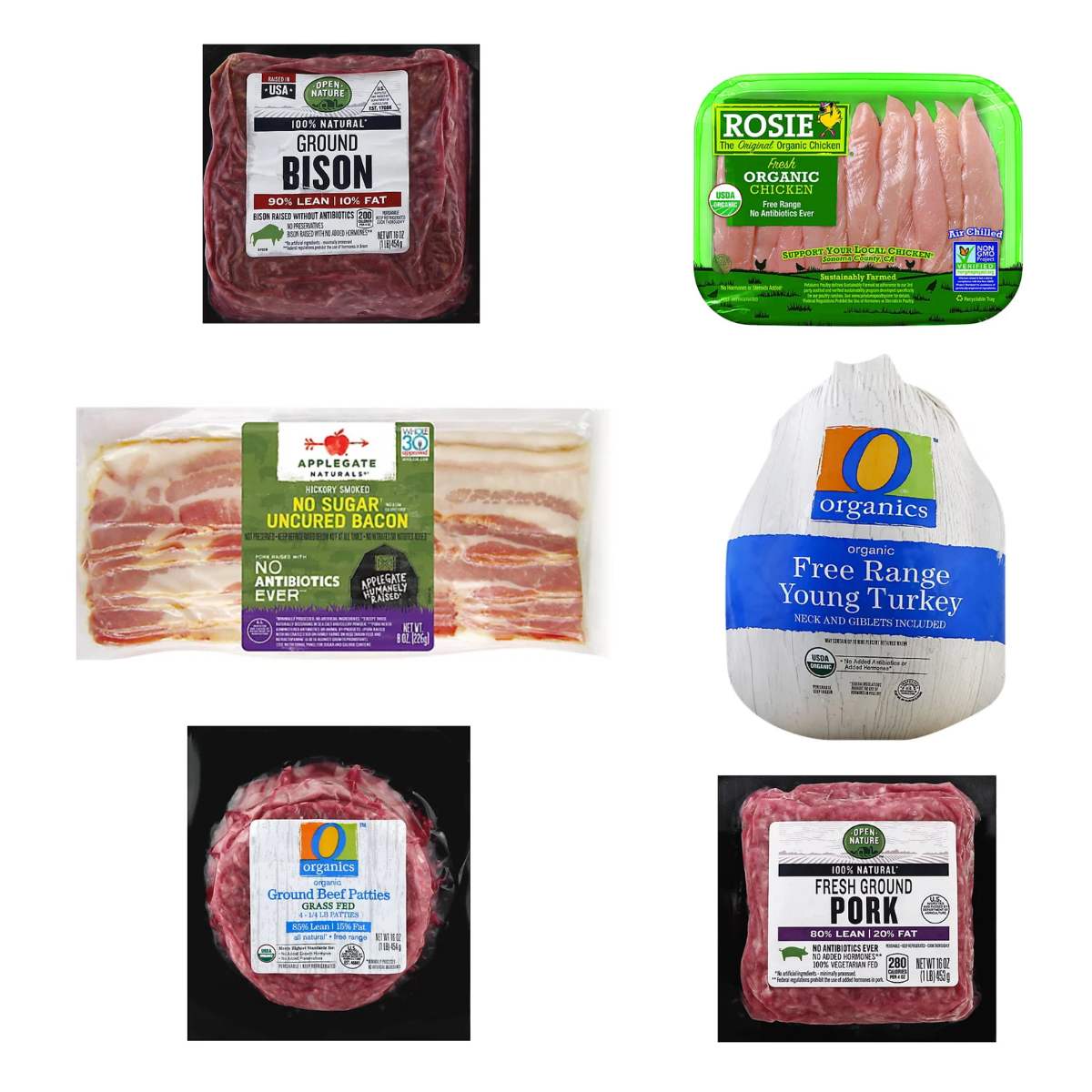 Poultry
ROSIE Organic Boneless Skinless Chicken Breast
Rosie Organic Free-Rance Chicken Breast Tenders
O Organics:
Free Range Boneless Skinless Chicken Breasts
Thin Sliced Free- Range Boneless Skinless Chicken Breast
Free Range Whole Turkey
Free-Range Boneless Skinless Chicken Thighs
Free-Range Chicken Drumsticks
Free-Range Bone-In Chicken Thighs
Free-Range Chicken Tenders
Beef and Bison:
O Organics Organic Ground Beef 85% Lean 15% Fat 
SunFed Ranch Grass Fed Beef Ground Beef 80% Lean 20%
O Organics Organic Beef Grass Fed Top Sirloin Steak
O Organics Grass-Fed Ground Beef Hamburger Patties
Open Nature:
Grass Fed Angus Boneless Beef Chuck Roast- Service Case 
Grass Fed Whole Angus Beef Skirt Steak Whole
Grass Fed Whole Angus Flank Steak
Grass Fed Angus Stir-Fry Strips
Grass-Fed Angus London Broil
Grass-Fed Boneless Angus Beef Tri Tip Steak
Grass-Fed Angus Tri Tip Roast
Grass-Fed Angus Tenderloin Roast- Service Case
Grass Fed Whole Angus Ribeye Roast
Grass Fed Angus Ground Beef
Beef Hamburger Patties 85% Lean 15%
Ground Bison
Grass Fed Angus Top Sirloin Steak
Pork:
Open Nature Ground Pork 80% Lean 20% Fat 
Applegate Natural No Sugar Uncured Bacon **Note- Applegate Sunday Bacon is not compliant.
Drinks (Refrigerated)
**Keep in mind that juices should be used very sparingly if at all during the elimination phase due to their high sugar content. Choose organic when possible and look for products that are just juice (vs juice concentrate).
Biotic Organic Turmeric Tangerine Kvass **Stage 1 reintro- black pepper
Biotic Organic Red Beet Kvass
Simply Orange Juice Pulp Free **Check labels- a few varieties of Simply Orange contain "natural flavors"- usually when the orange is mixed with other fruits- mango for example.
Simply Orange High Pulp Juice
Signature Select Homestyle Orange Juice Some Pulp
O Organics No Pulp Orange Juice 
Naked Pasteurized Orange Juice
Bolthouse Farms 100% Orange Juice
Simply Grapefruit Juice
Florida's Natural 100% Ruby Red Grapefruit Juice 
Simply Apple Juice Pure Pressed
Pressed Juicery Sweet Greens With Ginger Juice
Pressed Juicery Sweet Citrus
Pressed Juicery Spicy Roots Juice 
Evolution Organic Cold-Pressed Juices:
Celery and Lemon Juice Blend
Green Devotion Vegetable & Fruit Juice Blend
Essential Greens Vegetable & Fruit Juice Blend
Pure Orange Juice
Carrot Citrus Radiance Fruit & Vegetable Juice
Grapefruit Juice
Watermelon and Lemon Juice Blend
Defense Up Fruit Juice Smoothie 
Apple Juice
GT's Synergy Strawberry Serenity 
GT's Synergy Passionberry Bliss
Note about the GT's Kombuchas- when I first looked on their site, Safeway had tons of different GT's Kombuchas. However, when I looked a few days later, they only had a couple varieties. I don't know if they actually carry a bunch of different ones in-store on not. If you buy these at Safeway, I'd love to hear what kind of GT's selection your store has- please leave me a note in the comments!
**Just a heads up if you do have a bunch of GT's at your store- There are lots of compliant ones however, I also saw some non-compliant ones as well. Basically, all of GT's "Classic" kombuchas are not compliant due having cane sugar. The Synergy MultiGreen is a "no" due to spirulina (and a couple other things) and the Tangerine Dream is a no due to vanilla extract (company confirmed the extract contains alcohol).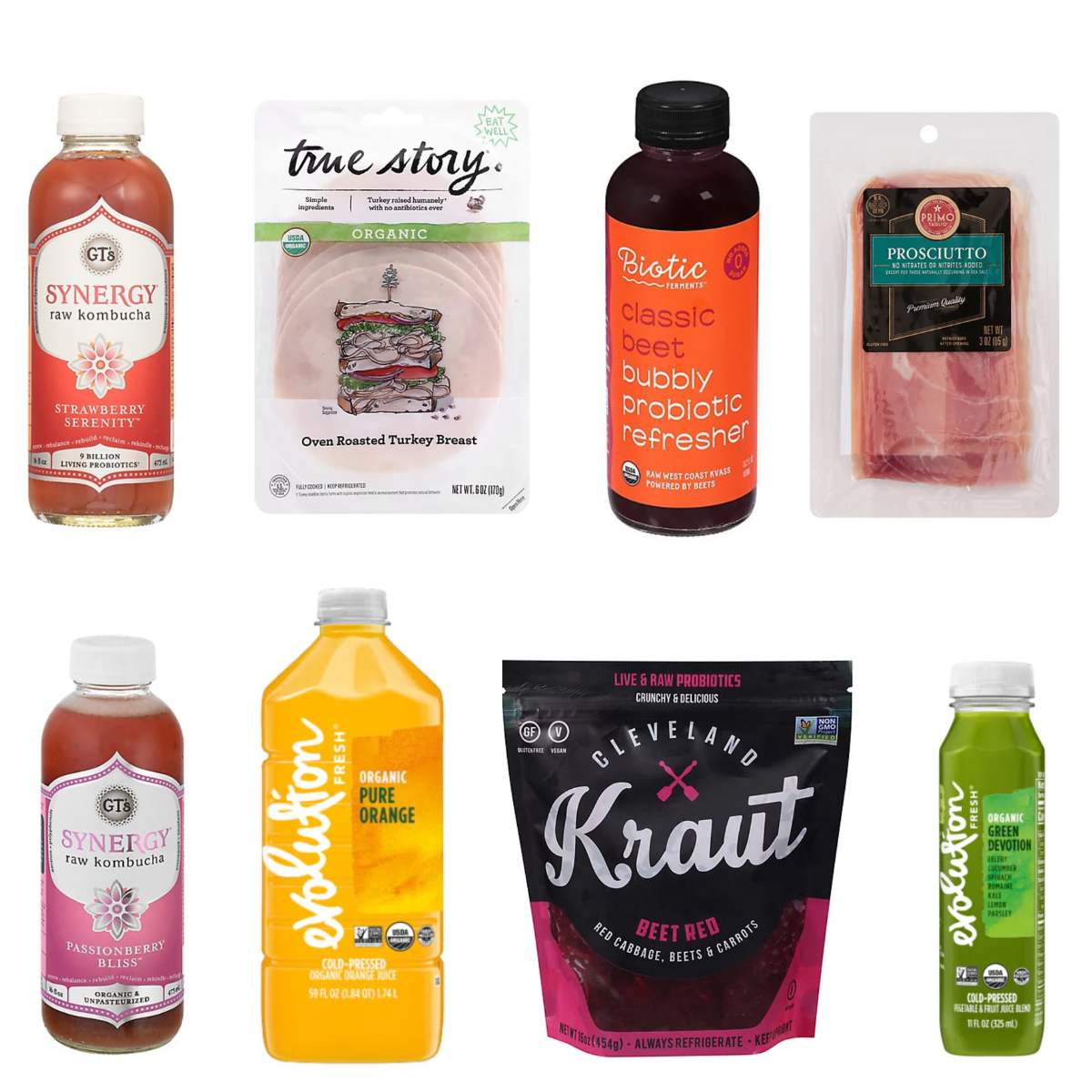 Refrigerated- Other
Primo Taglio Prosciutto Dry Cured
Open Nature Prosciutto 100% Natural
True Story Smoked Turkey Breast- *Note- the Safeway website lists incorrect ingredients in one spot for this item making it seem not compliant. It is compliant however.
True Story Roasted Turkey Breast- *Note- the Safeway website lists incorrect ingredients for this item making it seem not compliant. It is compliant however.
Cleveland Kraut- Beet Red
Cleveland Kraut- Roasted Garlic *Stage 1 Reintro- black pepper
Snacks 
Sea Castle Organic Roasted Seaweed With Sea Salt
TERRA Sea Salt Plantain Chips
Signature SELECT Fried Pork Rinds Original
Mission Chicharrones Pork Rinds
Guerrero Tender Cracklins (pork rinds)
4505 Chicharrones Pork Rinds Sea Salt
North Coast Organic Honey Crisp Apple Sauce (Jar)
North Coast Organic Gravenstein  Apple Sauce (Jar)
North Coast Organic Apple Sauce Apple Pouches
North Coast Organic Apple Sauce With Cinnamon Pouches
GoGo Squeeze Applesauce: Apple Apple, Apple Strawberry, Apple Banana
O Organics Mango Cheeks Dried
Caramel Natural Date Coconut Rolls *processed on equipment with tree nuts
Sunsweet Dates Pitted
Joolies Medjool Dates
Natural Delights Medjool Dates
Signature Farms Medjool Dates 
Made In Nature Organic Dried Deglet Noor Dates
Made In Nature Organic Dried Mangoes  *technically compliant but processed on equipment that handles some allergens
Nature's All Foods Mango Organic
Signature Farms Raisins Seedless
O Organics Organic Raisins Seedless Can 
Made In Nature Organic Dried Smyrna Figs *technically compliant but processed on equipment that handles some allergens
O Organics Organic Dried Mission Figs
Made In Nature Organic Dried Apricots*technically compliant but processed on equipment that handles some allergens
Bare Foods Cinnamon Apple Chips 
Bare Foods Fuji & Red Apple Chips
Bare Foods Granny Smith Apple Chips
Bare Foods Banana Chips Crunchy Simply 
Island Saba Banana Chips Unsweetened
Made In Nature Organic Dried Bananas 
Simply Dried Pineapple Rings
Canned Fruits and Vegetables
Signature SELECT Beets Sliced Can
Green Giant Asparagus Spears Extra Long
O Organics Organic Kalamata Olives
Signature SELECT Sauerkraut 
Signature SELECT Pineapple Slices in 100% Pineapple Juice 
Signature SELECT Crushed Pineapple in 100% Pineapple Juice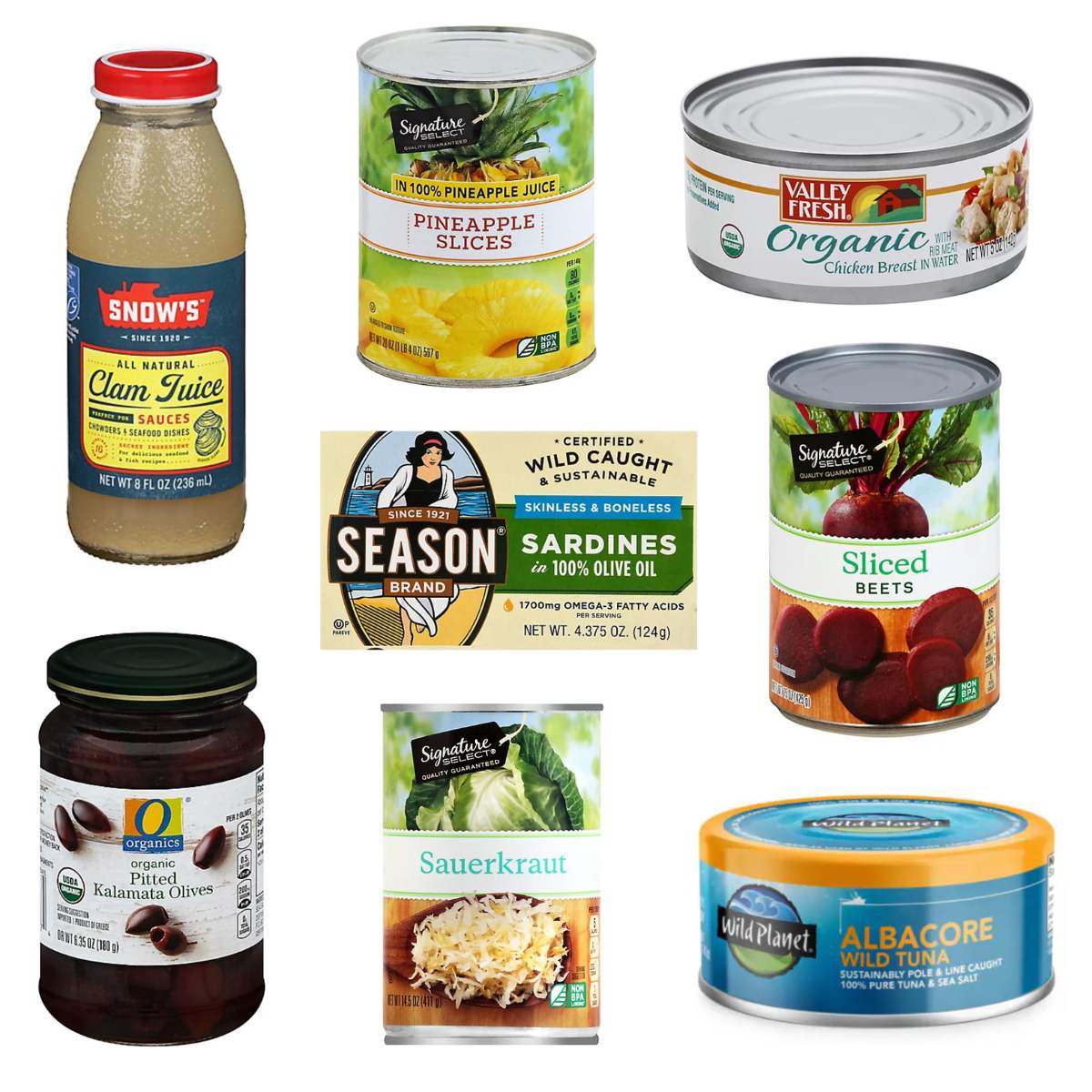 Canned Poultry/Seafood
Chicken of the Sea Water Chunk Style Pink Salmon in Can **Note- single serve packet is not compliant- contains soy
Signature SELECT Alaskan Pink Salmon 
Bellino Filet of Anchovies Olive Oil and Salt 
Bumble Bee Wild Pink Salmon 
Genova Tuna Yellowfin Solid Light in Olive Oil
Wild Planet Tuna Albacore Wild
Bumble Bee Prime Fillet Tuna Albacore Solid White in Water **Note- the  Bumble Bee Albacore Solid White tuna is not compliant- contains soy
Snow's Clam juice
Chicken of the Sea Sardines in Water
Genova Tuna Albacore Solid White in Olive Oil 
Open Nature Tuna Chunk Light in Water
Bumble Bee Light Tuna In Water With Cracked Pepper *Stage 1 Reintro- Black Pepper
Wild Planet Tuna Albacore Wild No Salt Added
Wild Planet Wild Skipjack
Genova Yellowfin Tuna In Extra Virgin Olive Oil With Sea Salt  (Single Serve)
Valley Fresh Organic Chicken Breast with Rib Meat in Water- this is the only canned chicken product I found at this store that's compliant. ***Note- Valley Fresh Natural is NOT compliant- it needs to be Valley Fresh Organic.
Wild Planet Salmon Wild Pink Tuna
Safecatch Elite Wild Tuna
Tonnino Tuna Fillets in Olive Oil
Season Sardines Skinless & Boneless In Pure Olive Oil Can
King Oscar Anchovies Flat Fillets in Olive Oil
Wild Planet Wild Sardines In Water With Sea Salt
StarKist Tuna Yellowfin Solid Light in Extra Virgin Olive Oil
StarKist Tuna Albacore Chunk White in Water Very Low Sodium
Open Nature No Salt Added Sardines In Water
Open Nature Chunk Light Tuna in Water
Open Nature Albacore Chunk White Tuna in Water
Brunswick Sardines Fillets in Spring Water (or olive oil)
Bumble Bee Prime Fillet Tuna Tonno Solid Light in Olive Oil 
Beach Cliff Sardines in Water
Safecatch Wild Albacore Tuna
Safecatch Wild Ahi Tuna
Tonnino Tuna Fillets in Spring Water
Chicken of the Sea Chub Mackerel  
Pantry- Misc.
Thai Kitchen 2 Simple Ingredient Coconut Milk (Regular or Lite)
O Organics Coconut Aminos
Coconut Secret Coconut Aminos Raw
O Organics Seaweed Sushi Nori
Kettle & Fire Bone Broth Mushroom Chicken **Stage Reintros- Black Pepper and White Pepper
Kettle & Fire Bone Broth Turmeric Ginger
Drinks (Shelf Stable)
Juices
Open Nature 100% Juice Cranberry
Sunsweet Prune Juice
Tree Top 3 Apple Juice Blend
Signature Farms Apple Cider With Honey Crisp
Tree Top 100% Honey Crisp Apple Juice
O Organics 100% Unfiltered Organic Juice
Santa Cruz Organic 100% Pure Lemon Juice
Santa Cruz Organic 100% Pure Lime Juice 
O Organics Organic 100% Lemon Juice 
Lakewood Organic Fresh Pressed Pure Carrot with Lemon Juice
Lakewood Juice Pressed  Pure Cranberry
Lakewood Organic Fresh Pressed Juice Pure Pineapple
Lakewood Organic 100% Juice Pure Prune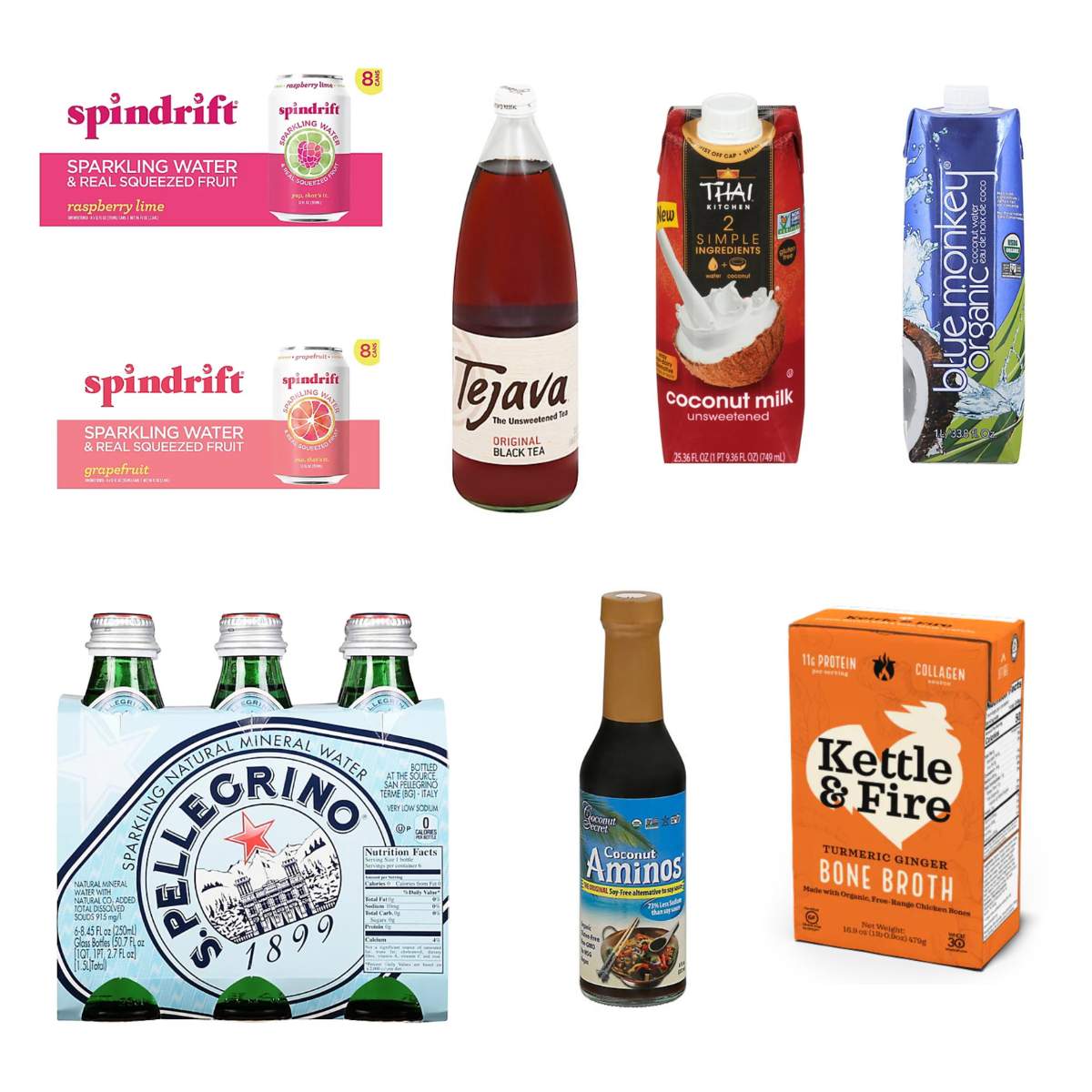 Waters/Sparkling Waters
Signature Select Water Seltzer
Signature Select Sparkling Italian Mineral Water 
Liquid Death Sparkling Mountain Water- double check ingredients- should just be carbonated water
Liquid Death 100% Mountain Still Water Pack
S. Pellegrino Sparkling Natural Mineral Water- Confirm it's just carbonated water, no natural flavors.
Spindrift Sparkling Water Raspberry Lime, Grapefruit, Lemon, Lime, Pink Lemonade
***Not compliant: Spindrift Blood Orange Tangerine, Pineapple, and Orange Mango- these contain citric acid.
Topo Chico Mineral Water
Perrier Sparkling Water- Original only- make sure the only ingredient is carbonated water (or mineral water and carbon dioxide).
Coconut Waters
Zola Original Coconut Water *check labels- one product label showed just coconut water, another showed added sugar
ZICO Natural Coconut Water
Harmless Harvest Organic Coconut Water
FOCO Coconut Water
Blue Monkey Organic Coconut Water
C2O 100% Pure Coconut Water 
Teas
*Choose organic tea when possible. Watch out for "natural flavors."
Tejava Tea Black Unsweetened Original (bottle)
O Organics Organic Tea Jasmine Green
Twinings of London Green Tea
Tiesta Tea Matcha Superior
O Organics Green Tea
O Organics Green Tea w/Matcha
Pukka Organic Supreme Matcha Green Tea 
Signature Reserve Loose Leaf Jasmine Green Tea
Maeda-En Matcha Shiki Green Tea Powder
Twinings of London Black English Breakfast Tea
Twinings of London Black Irish Breakfast Tea 
Bigelow  Earl Grey Black Tea
Mighty Leaf Organic Black Breakfast Tea
TAZO Organic Awake English Breakfast Tea Tea
O Organics Black Tea
Numi Organic Aged Earl Grey Black Tea 
O Organics Organic Chamomile Herbal Tea 
Twinings of London Pure Chamomile Tea 
Traditional Medicinals Organic Chamomile Tea with Lavender
Twinings of London Pure Peppermint Tea
O Organics Mint Tea 
Signature Reserve Loose Leaf Spearmint Lavender Tea
Traditional Medicinals Organic Peppermint Tea
Stash Moroccan Mint Green Tea 
Stash Peppermint Tea 
TAZO Refresh Mint Tea 
Numi Organic Rooibos Tea
Traditional Medicinals Organic Roasted Dandelion Root  Tea
Baking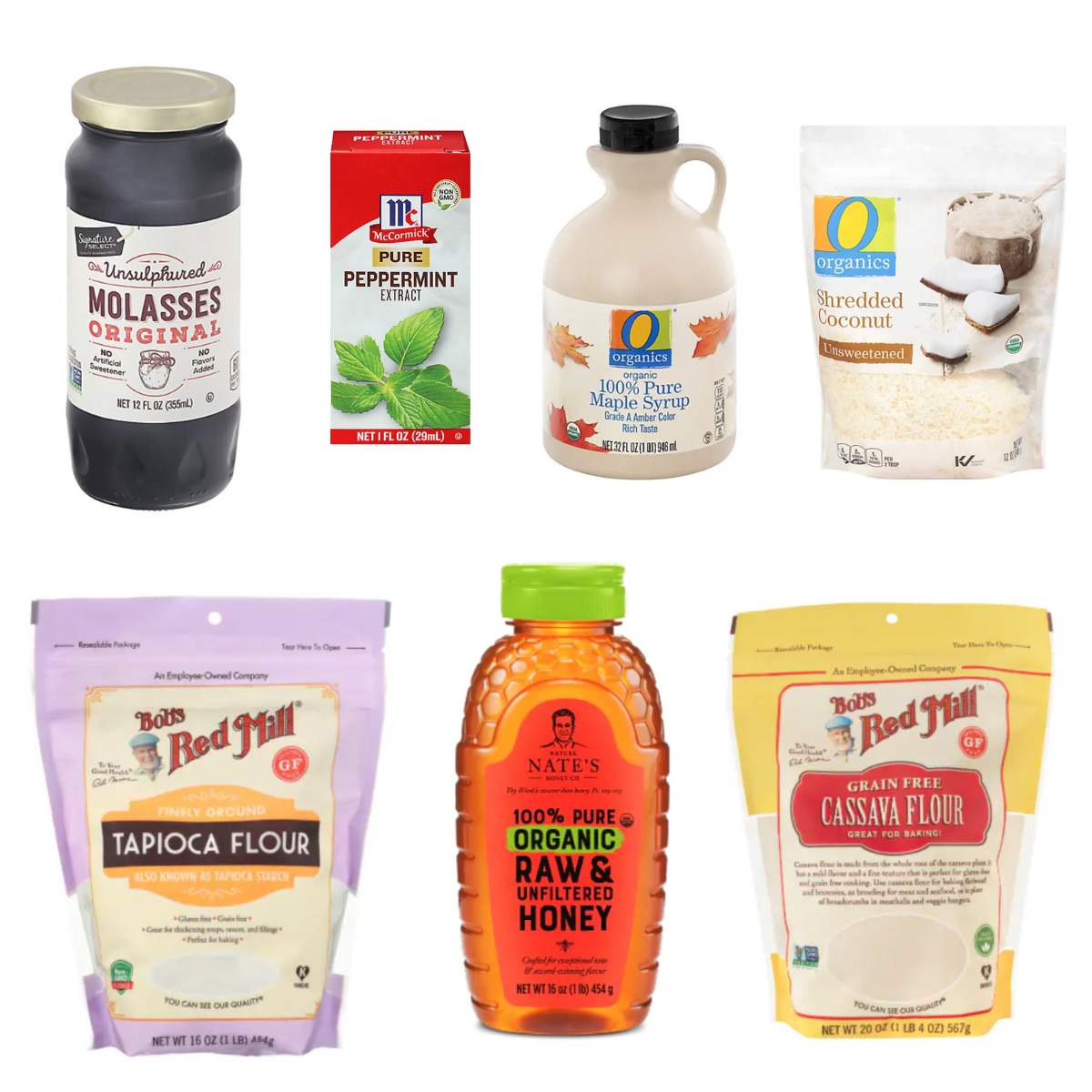 Bob's Red Mill Cassava Flour
Bob's Red Mill Coconut Flour
Bob's Red Mill Arrowroot Starch
O Organics Unsweetened Shredded Coconut
Bob's Red Mill Unsweetened Unsulfured Coconut Flakes
O Organics Organic Coconut Flour
Bob's Red Mill Tapioca Flour
Arm and Hammer Baking Soda
Signature SELECT Pure Vanilla Extract
McCormick All Natural Pure Vanilla Extract
O Organics Organic Vanilla Extract
Morton & Basset Pure Vanilla Extract
McCormick Pure Peppermint Extract- similar to most vanilla extracts, this contains alcohol so it's only elimination phase appropriate if you're baking with it. This way the alcohol cooks off. If you're making something that won't be cooked, opt for a food grade peppermint oil.
Signature Select Molasses Original
Nature Nate's Honey Bottle
O Organics Organic Honey
Open Nature Manuka Honey
Bradshaw's Spun Honey
Wedderspoon Raw Manuka Honey
Local Hive Raw & Unfiltered Clover Honey
Signature Select 100% Pure Maple Syrup
O Organics 100% Pure Maple Syrup
Coombs Organic Maple Syrup
Spring Tree Pure Maple Syrup
Morton & Bassett Turmeric
Morton & Bassett Turkish Bay Leaves
McCormick Onion Powder
O Organics Garlic Powder
McCormick Oregano Leaves
McCormick Ground Cinnamon
McCormick Garlic Powder
Morton & Bassett Turmeric
Oils/Fats/Vinegars
Double check vinegars as some contain preservatives like potassium metabisulfite. Oil sprays often contain additives like soy lecithin. Some balsamic vinegars contain caramel color.
Olive Oils:
Bertolli Extra Virgin Olive Oil
Colavita Extra Virgin Olive Oil
Pompeian Smooth Extra Virgin Olive Oil
O Organics Organic Extra Virgin Olive Oil 
California Olive Ranch Extra Virgin Olive Oil
Signature SELECT Extra Virgin Olive Oil
Signature Reserve Extra Virgin Olive Oil Of Italy
O Organics Organic Extra Virgin Olive Oil
Star Extra Virgin Olive Oil
Cobram Estate Extra Virgin California Olive Oil
Lucini Extra Virgin Premium Select Olive Oil
Avocado Oil:
Signature SELECT 100% Oil Avocado
Chosen Foods Avocado Oil
Athenos Extra Virgin Olive Oil
La Tourangelle Avocado Oil
Coconut Oil:
O Organics Organic Unrefined Coconut Oil
Dr. Bronner's Virgin Coconut Oil 
Vita Coco Organic Coconut Oil
Nutiva Organic Refined Coconut Oil (Squeezable)
Nutiva Nurture Vitality Virgin Coconut Oil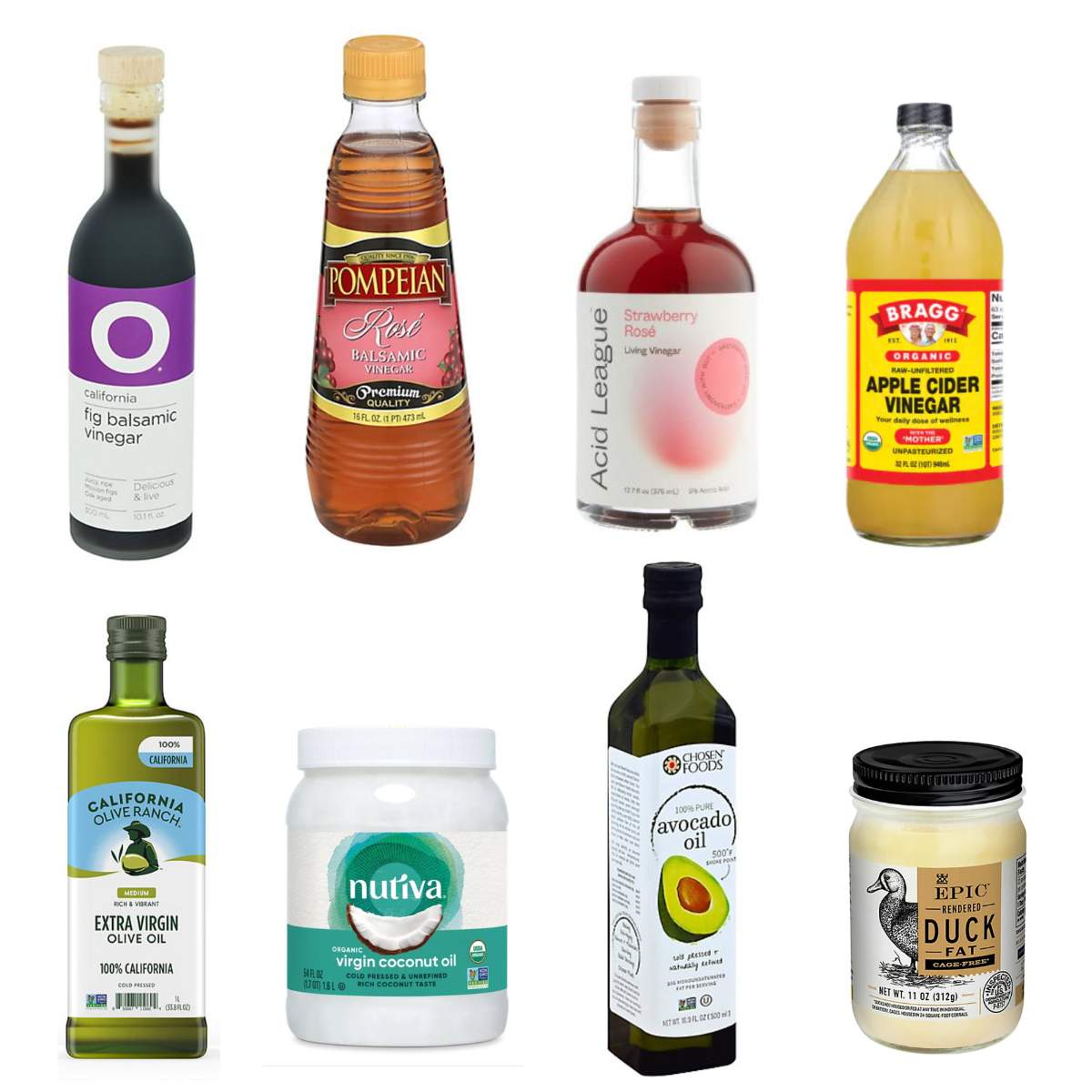 Vinegars
Colavita White Balsamic Vinegar
Signature Select Apple Cider Vinegar
Signature Reserve Balsamic Vinegar
Signature Select Balsamic Vinegar Of Modena
O Organics Balsamic Vinegar of Modena
Fini Balsamic Vinegar Of Modena
Pompeian Vinegar Organic Red Wine
California Champagne Vinegar
O California Balsamic Fig Vinegar - Safeway lists incorrect ingredients but this is compliant.
Acid League Strawberry Rose Vinegar 
Mazzetti Vinegar 4leaf Gold Balsamic
O Olive Oil & Vinegar Aged Sherry Vinegar 
O Organics Apple Cider Vinegar
Pompeian Organic White Wine Vinegar
Pompeian Rose Balsamic Vinegar
Frozen Foods
Frozen Fruits
Earthbound Farms Organic Frozen Blueberries
Earthbound Farms Triple Cherry Blend
Wyman's Triple Berry Blend 
Wyman's Mango Berry With Wild Blueberries
Signature Select Papaya Chunks
Signature Select Pomegranate Arils
O Organics Fruits:
Mixed Berries 
Strawberries
Blueberries 
Blueberries Strawberries & Mango
Dark Sweet Dark Cherries 
Wild Blueberries
Mango Chunks
Raspberries
Mixed Berries
Pineapple Chunks 
Tropical Blend Strawberries Pineapple Mango
Organic Blackberries
Frozen Vegetables
Woodstock Organic Mushrooms Shiitake
Woodstock Organic Mushrooms Mixed
Cascadian Farm Organic Spinach *contains baking soda- weird but it's compliant.
Cascadian Farm Organic Multi-Colored Carrots
O Organics Frozen Vegetables
Broccoli Florets 
California Style Vegetables
Chopped Spinach
Butternut Squash 
Chopped Kale
Brussels Sprouts
Cauliflower Florets
Normandy Style Vegetables
Earthbound Farm Organic Frozen Vegetables:
Cut Spinach
Broccoli Florets
Butternut Squash
Kobocha Diced Squash
Riced Cauliflower
Signature SELECT Frozen Vegetables:
California-Style Vegetables
Broccoli Cuts or Florets
Petite Broccoli Florets Steam In Bag
Petite Brussels Sprouts Steam In Bag
Winter Blend Broccoli & Cauliflower
Crinkle Cut Carrots
Cauliflower Florets
Plain Riced Cauliflower
Chopped Spinach 
Quartered Artichoke Hearts
Chopped Onions
Riced Veggie Blend- Broccoli, Cauliflower, Carrots
Green Giant Vegetables:
Zucchini Spirals
Riced Cauliflower & Broccoli 
Riced Cauliflower
Riced Cauliflower Risotto Medley
Riced Cauliflower & Sweet Potato
Riced Cauliflower With Lemon & Garlic 
Freezer- Other
Many frozen meat, poultry, and seafood products have natural flavorings and additives like sodium tripolyphosphate- always double check labels.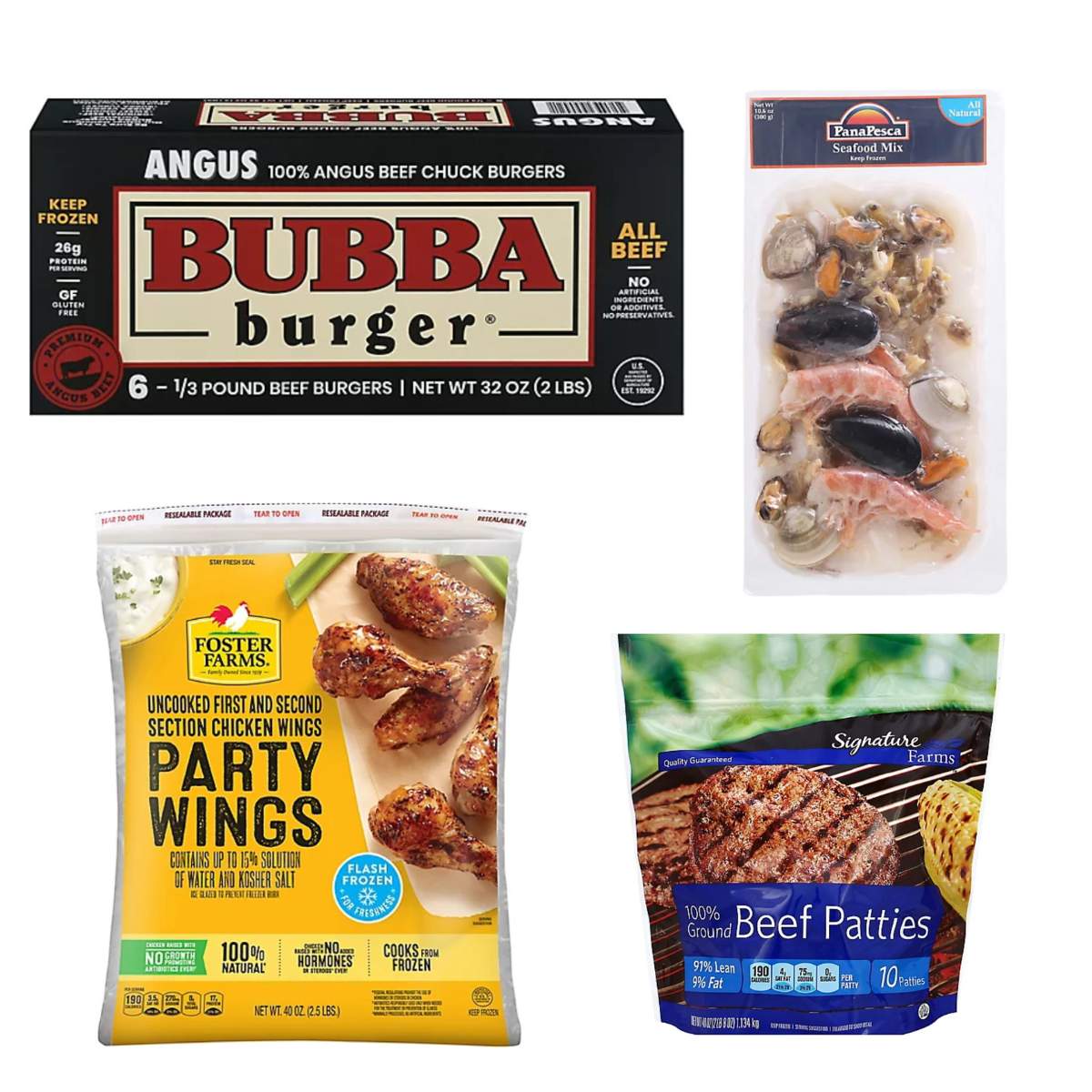 Bonafide Provisions Chicken Bone Broth 
Bonafide Provisions Broth Beef Bone
O Organics Organic Bone-In Turkey Breast
Bubba Burgers Original
Angus Bubba Burger
Signature Farms 100% Ground Beef Patties (73% lean or 91% lean)
Signature Select Angus Beef Burgers
Foster Farms Party Chicken Wings
Panapesca Seafood Mix
Conclusion:
I hope you love the list! This was a long one but hopefully it's not too overwhelming. I didn't want to leave anything out! Please let me know if you see any errors or have anything to add.