Chicken Marsala is a classic recipe and comforting meal effortlessly made Paleo/AIP/Whole30 compliant. This easy chicken marsala recipe is relatively quick and great for simple weeknight meals.
For the sake of simplicity, I used balsamic vinegar and broth rather than Marsala wine for the sauce.
I made this recipe several different times testing the sauce in different ways. One of the versions had a lot more balsamic vinegar in it and my husband absolutely loved that one. I felt it was a little too vinegary and prone to burning so I brought the vinegar level waaay down in this recipe for a milder flavor. 
However, I'm mentioning this because you may find that you want to add a little more balsamic vinegar to this recipe for extra tang. That's totally fine- adjust it to your taste. 
If you're wanting more chicken recipe ideas, check out my AIP Chicken Recipes post which has over 130 recipes.
**Just a quick heads up- this post contains affiliate links which means if you click on them and buy something,  I will earn a small commission (at no additional cost to you) to help continue maintaining this site. 
Chicken Marsala Ingredients:
Boneless Skinless Chicken Breasts- Try to go with organic if possible. Make sure the cut the chicken breasts horizontally to form thin cutlets (or just buy cutlets).
Tapioca Starch or Arrowroot Starch- Either of these is fine. These will coat the chicken before you cook it, which will give you a thin crunchy breading. The arrowroot starch can also be used for an optional thickener at the end of the cooking process. 
Garlic Powder- This gives the chicken a well-rounded flavor. It will be added the arrowroot starch with the garlic powder and sea salt. 
Sea Salt- Any sea salt is fine- I like pink Himalayan sea salt. Try to use a fine-grain salt.
Olive Oil- Avocado oil also works well.  
Baby Bella Mushrooms- If you can't find baby bellas just use regular mushrooms, preferably fresh.
Balsamic Vinegar- Sherry Vinegar would also work. 
Chicken Broth or Vegetable broth
Tips
Be sure to dry off the chicken before dredging it in the flour mixture
Allow the sauce to simmer long enough to reduce by about half
A Note About Cooking Wine and the AIP Diet
Technically it's fine to use wine in cooking on the AIP diet as long as it gets cooked off. I chose not to use Marsala wine in this recipe mainly because:
1) People seem to shy away from using any alcohol on AIP (even though it's allowed in cooking)
2) Marsala wine isn't something everyone has sitting in their pantry.
Balsamic is fairly mainstream and easy to find, which makes for an easier recipe. 
Storage
Leftovers will stay fresh in an airtight container in the fridge for about 3 days. This will keep in the freezer for up to 3 months. Just store it in a tightly sealed container. 
If you enjoyed this post, you may also like: 
Conclusion:
I hope you found this post useful. If you tried this recipe, leave a comment below and let me know what you thought!
Don't forget to follow me on Instagram @foodcourage for the latest AIP/Paleo recipes, autoimmune nutrition info, and Food Courage happenings!
This post is shared on the Paleo AIP Recipe Roundtable.
If you liked this post, please share it!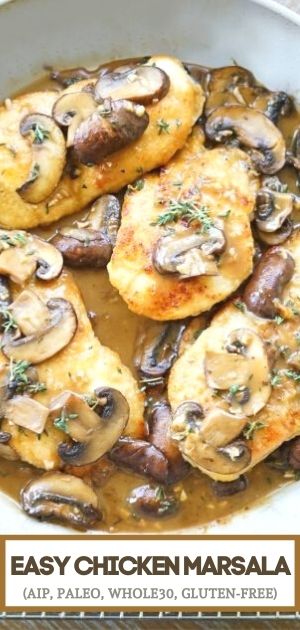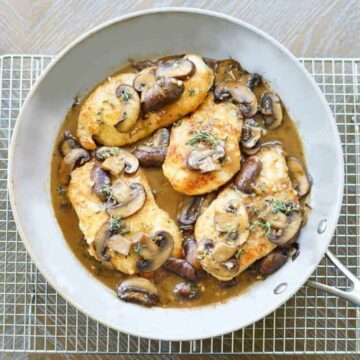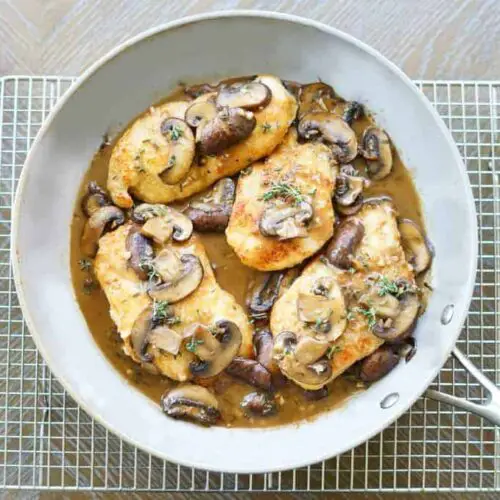 Chicken Marsala
This flavorful chicken marsala consists of lightly breaded chicken breasts, a tangy marsala sauce, and sauteed baby bella mushrooms. It's quick and simple, plus AIP, Paleo, and Whole30 compliant.
Instructions 
Pat the chicken cutlets dry with paper towels. Mix the arrowroot starch, 1/2 tsp of the sea salt, and garlic powder on a plate. Dredge the chicken in the mixture and cover front and back. Shake off the excess and place the chicken on a clean plate.

Heat about 2 tbsp of oil in a medium-sized pan over medium-high heat and. Add the chicken and cook for 5-6 minutes per side (or until internal temp reaches 165 degrees Fahrenheit).

Once the chicken is cooked through, remove it from the pan and place it on a clean plate.

In the same pan using the drippings from the chicken, heat another 1-2 tbsp of oil, then add the mushrooms. Cook for about 3-4 minutes, then add the minced garlic. Cook for another 1-2 minutes.

Turn the heat down to medium. Add the broth, vinegar, coconut milk, remaining 1/2 tsp of salt, and fresh thyme. Simmer for 10-12 minutes until the mixture reduces by about half.

*Optional: For a thicker sauce, mix 1 tbsp of cold water with 1/2 tsp of arrowroot starch (or tapioca starch) and add the mixture to the pan. Stir it in and allow it to simmer for a couple minutes longer to thicken.

Return the chicken back to the pan with the sauce to heat it. Spoon the sauce over the chicken. Simmer for 2-3 minutes more. Then remove from heat.

Serve the chicken with sauce and mushrooms spooned over the top. Garnish with a little more fresh thyme if desired.
Notes
Storage:
Leftovers will stay fresh in an airtight container in the fridge for about 3 days. This will keep in the freezer for up to 3 months. Just store it in a tightly sealed container. 
Nutrition
Nutrition Facts
Chicken Marsala
Serving Size
1 chicken breast
Amount per Serving
% Daily Value*
* Percent Daily Values are based on a 2000 calorie diet.