This Meijer AIP Paleo shopping list is jam-packed with some awesome AIP foods. These items are meant for the elimination phase of the autoimmune protocol. There are a few reintros but I've noted them next to those items.
For other store-specific AIP shopping lists, check out the Whole Foods AIP Shopping List, Walmart AIP Shopping List, Trader Joe's AIP Shopping List, Sam's Club Shopping List, Trader Joe's AIP Shopping List, Aldi AIP Shopping List, Sprouts AIP Shopping List, and more.
For more info about the AIP diet and what food items to look for, check out the Beginner's Guide to the Autoimmune Protocol and AIP Pantry Items.
If you need to see what a product looks like or need to see an ingredient label, you can find them on the Meijer website. I've made enough lists now that I'm making lists for stores that are not necessarily in my area.
This means I'm relying more on the store websites for product ingredient and availability info. While these are probably pretty accurate, it's always best to double check labels when you buy. Please keep in mind that available products will vary by location. Let's get to the list!
Produce
Organic Fruits
Bananas
Blueberries
Strawberries
Raspberries
Avocados
Lemons
Limes
Navel Oranges
Blackberries
Strawberries
Gala Apples
Pink Lady Apples
Honeycrisp Apple
Fuji Apple
Pink Lady Apples
Gala Apple
Granny Smith Apples
Green Seedless Grapes
Anjou Pears
Green Kiwi Fruit
Organic Vegetables
Cucumbers
Mini Cucumbers
Broccoli
Sweet Baby Broccoli
Earthbound Farms Organic Broccoli and Carrots
Earthbound Farms Organic Broccoli and Cauliflower
Earthbound Farm Organic Spinach
Earthbound Farm Organic Power Greens
Earthbound Farm Organic Romaine Leaves
Organic Iceberg Lettuce
Earthbound Organic Spring Mix
Rainbow Chard
Earthbound Farms Organic Butter Lettuce and Baby Spinach
Earthbound Farms Organic Baby Arugula
Tanimura & Antle Artisan Romaine Lettuce
Earthbound Organic 50/50 Blend
Romaine Lettuce
Earthbound Farm Organic Spinach and Arugula Mix
Earthbound Farms Organic Baby Kale
Green Kale
Red Kale
Lacinato Kale
Tanimura & Antle Artisan Romaine Lettuce
True Goodness Organic Mini Baby Bella's
True Goodness Organic Sliced Baby Bella Mushrooms
Whole White mushrooms
True Goodness Organic Shiitake Mushrooms
True Goodness Organic Sliced White Mushrooms
True Goodness Organic Oyster Mushrooms
True Goodness Portobello Mushroom Caps
Green Cabbage
Sweet Potatoes
Whole Garlic
Spice World Organic Peeled Garlic
Red Onions
Yellow Onions
Green Onions
Pearson Organic Coleslaw
Meijer Pre-Cut Sweet Potato Chunks
Meijer Sliced Zucchini and Squash
Dandelion Greens
Thai Gava
Turmeric Root
Turnip Greens
Zucchini Squash
Summer Squash
Acorn Squash
Butternut Squash
Spaghetti Squash
Red Beets
Gold Beets
Love Beets Organic Cooked Red Beets
Earthbound Organic Brussels Sprouts
Cauliflower
Pero Cauliflower Florets
Radishes
Leeks
Rainbow Carrots
Organic Herbs
Italian Parsley
Potted Chives
Curly Parsley
Cilantro
Potted Parsley
Potted Mint
True Goodness Mint Leaves
Organic Thyme
Potted Thyme
True Goodness Dill
True Goodness Organic Poultry Blend
Potted Rosemary
True Goodness Rosemary
True Goodness Sage
True Goodness Bay Leaves
Additional Produce
Plantains
E-Z Break Coconut
Whole Pineapple
POM Wonderful Pomegranate Arils
Whole Pomegranates
Personal Seedless Watermelon
Mini Bananas
Honeydew Melon
Whole Dragon Fruit
Blood Oranges
Raspberry Oranges
Baby Bok Choy
Coleslaw Mix- Dole or Pearson
Pre-Cut Celery and Carrot Sticks
Jicama
Qukes Tiny Cucumbers
Spiceworld Whole Shallots
Turnips
Rutabega
Napa Cabbage
Kohlrabi
Refrigerator Items
So Good So You Organic Probiotic Juice Shot Immunity Elderberry Blood Orange
Synergy Kombucha- Guava Goddess, Trilogy, Gingerade, Golden Pineapple, Strawberry Serenity, Watermelon Wonder, Lemon Berry, Gingerberry,  Peach Paradise, Lemon Berry **Note California Citrus contains vanilla extract which I've confirmed contains alcohol, so it's not compliant.
Suja Organic Uber Greens
Harmless Harvest Organic Coconut Water
Suja Organic Cold-Pressed Celery Juice
Bolthouse Farms 100% Carrot Juice
Genuine Coconut Organic Coconut Chunks
Cleveland Kraut Roasted Garlic Sauerkraut *Reintro- black pepper
Frederik's by Meijer Prosciutto
Columbus Prosciutto
Daniele Del Duca Sliced Prosciutto
Dietz & Watson Natural Prosciutto
Fresh Meat/ Poultry
Double check meats and poultry for added broths, spices, and natural flavors. Opt for grass-fed, pasture-raised, and/or organic when possible.
Poultry
True Goodness Organic Boneless Skinless Chicken Thighs
Katie's Best Organic Boneless Skinless Chicken Thighs
Cooks Venture Pasture Raised Heirloom Boneless Skinless Chicken Thighs
Crescent Foods Boneless Skinless Chicken Thighs
True Goodness Organic Boneless Skinless Breasts
Cooks Venture Pasture Raised Heirloom Boneless Skinless Chicken Breast Filet
Katie's Best Organic Boneless, Skinless Chicken Breasts
Katie's Best Thin Sliced Chicken Breast
Katie's Best Chicken Breasts- antibiotic-free, all-natural, steroid-free, Certified Humanely Raised
Crescent Foods Boneless Skinless Chicken Breast No Antibiotics Ever Humanely Raised, Cage Free
Bilinskis Organic Wild Mushroom Chicken Sausage **Reintro- black pepper
Katie's Best Organic Whole Fryer Chicken
True Goodness Organic Chicken Tenderloins
True Goodness Antibiotic Free Ground Turkey
Beef
Pre, Grass-Fed Lean Ground Beef
Laura's Lean Ground Beef
True Goodness Organic Grass-Fed Ground Beef
Grass Run Farms Grass-Fed Ground Beef Patties
Pre Brands Grass-Fed Top Sirloin Steak
Pre, Grass-Fed New York Strip Steak
High Plains Bison New York Strip Steak
Pre, Grass-Fed Filet Mignon Steak
Grass Run Farms Grass-Fed Chuck Roast
Grass Run Farms Grass-Fed Ground Beef
Pre, Grass-Fed Ribeye Steak
Grass Run Farms Grass-Fed Ribeye Steak
Pork
Farm Promise Pork Chops
Farm Promise Pork Tenderloin
Meijer All Natural Ground Pork
Farm Promise Pork Loin Filet
Farm Promise Baby Back Ribs
Applegate Natural No Sugar Uncured Bacon
Lamb
Free Range Lamb Loin Chops
Free Range Ground Lamb
Free Range Lamb Shoulder Chops
Game Meats
Force Of Nature Grass-Fed Ground Elk
Force Of Nature Grass-fed Ground Wild Boar
Force Of Nature Grass-fed Ground Venison
Great Range Ground Bison
High Plains Ground Bison
Force Of Nature Grass-fed Ground Bison
Oils/Fats/Vinegars
Pompian Organic Extra Virgin Olive Oil
True Goodness Organic Extra Virgin Olive Oil
Terra Delyssa Organic Extra Virgin Olive Oil
Bertolli Organic Extra Virgin Olive Oil Spray
Pompeian Organic Robust Extra Virgin Olive Oil Cooking Spray
Frederik's by Meijer Single Origin Italian Extra Virgin Olive Oil
Frederik's by Meijer Single Origin Spanish Extra Virgin Olive Oil
Graza Sizzle EVOO For Cooking
Ancient Foods Greek Mountain Extra Virgin Organic Olive Oil
Coastal Extra Virgin Olive Oil
Graza Drizzle EVOO For Finishing
Pompeian Avocado Oil Spray 
True Goodness Organic Refined Coconut Oil
Spectrum Organic Palm Shortening 
Better Body Foods Organic Naturally Refined Coconut Oil
Pompeian Coconut Oil Cooking Spray
Spectrum Organic Unrefined Virgin Coconut Oil
Dignity Raw Coconut Oil
Pompeian Coconut Oil Cooking Spray
Chosen Foods 100% Avocado Oil
BetterBody Foods 100% Pure Avocado Oil
Cornhusker Kitchen Grass-Fed Beef Tallow
Cornhusker Kitchen Berkshire Premium Pork Fat
Cornhusker Kitchen Premium Rendered Duck Fat
Bragg Apple Cider Vinegar Unrefined Organic
Alessi Premium Balsamic Vinegar
Pompeian Organic Red Wine Vinegar
Baking
Flours
Seasonings
True Goodness Organic Rosemary
True Goodness Organic Garlic Powder
True Goodness Organic Seasoning Italian
True Goodness Organic Ground Ginger
True Goodness Organic Onion Powder
Spice Islands Snipped Chives
Frontier Saffron
Frontier Oregano Leaf
McCormick Ground Cinnamon
McCormick Gourmet Rubbed Organic Sage
McCormick Gourmet Organic Marjoram Leaves
McCormick Gourmet Collection Cilantro Leaves
Spice Islands Cinnamon Sticks
Baking: Other
Wholesome Coconut Palm Sugar
Madhava Coconut Sugar
Wholesome Organic Coconut Sugar Palm
Nature Nate's 100% Pure Organic, Raw & Unfiltered Honey
True Goodness Organic Wildflower Honey Bear
True Goodness Organic Pure Maple Syrup
Grandma's Original Gold Molasses
Simply Organic Vanilla Extract- Most vanilla extracts contain alcohol. This is fine for cooking and baking because the alcohol will cook off. For food you're not cooking, opt for vanilla bean powder.
Meijer Pure Vanilla Extract
True Goodness Organic Pure Vanilla
McCormick's Pure Vanilla Extract
True Goodness Organic Pure Vanilla Extract
Thai Kitchen  2 Simple Ingredient Light Coconut Milk
True Goodness Organic Unsweetened Coconut Flakes
Libby's 100% Pure Organic Pumpkin
Meijer 100% Pure Pumpkin
Meijer Active Dry Yeast ***Note- The Fast Rising yeast is not compliant. The only ingredient should be yeast.
Baking Soda- Arm & Hammer, Meijer, Bob's Red Mill
Juices
R.W. Knudsen Organic Just Tart Cherry Juice 
Lakewood Organic Pure Tart Cherry Juice
Lakewood Juice Organic Pure Pineapple
True Goodness Organic Pulp Free
Knudsen Organic Beet Juice
Canned Fruits/Vegetables/Pantry
Read canned fruits, vegetables, poultry, and applesauce labels for additives like ascorbic acid (a debatable ingredient depending on source), citric acid, high fructose corn syrup, calcium disodium EDTA, sodium metabosulfide, calcium chloride, sugar, natural flavors,. They're super common.
True Goodness Organic Unsweetened Applesauce- big container- the single serve is not compliant.
Meijer Pitted Red Tart Cherries
Dole Pineapple Crushed in Juice
Meijer Sliced Pineapple in 100% Juice
Meijer Pineapple Chunks in 100% Juice
Meijer Crushed Pineapple in Juice
Meijer Sliced Canned Beets
Allens Popeye Spinach
Meijer No Salt Added Cut Leaf Spinach
Del Monte Fresh Cut Chopped Spinach
Frank's Shredded Sauerkraut (in a can with a green label) **Note there's a jar version that is not compliant. Ingredients should just be cabbage, water, and salt.
Meijer Canned Sauerkraut
Native Forest Organic Mushrooms Pieces & Stems
Del Monte Fresh Cut Harvest Selects Extra Long Asparagus Spears
Meijer Canned Asparagus Cuts & Tips
Meijer Whole Canned Asparagus Spears
Solely Organic Spaghetti Squash Pasta
Canned Seafood
Tuna
Blue Harbor Solid White In Water w/Salt
GENOVA YELLOW FIN TUNA IN OLIVE OIL
SafeCatch Elite Wild Tuna
Meijer Pole and Line Caught Albacore Tuna in Extra Virgin Olive Oil
Safe Catch Ahi Solid Wild Yellowfin Tuna
Wild Planet Wild Albacore Tuna
SafeCatch Elite Wild Tuna- single serve pack or can
Meijer No Salt Added Wild Caught Chunk Light Skipjack Tuna
StarKist Selects Wild Caught Yellowfin Tuna 2.6oz Pouch in E.V.O.O.
Meijer Solid White Albacore Tuna
Starkist Solid White Albacore Tuna in Extra Virgin Olive Oil
Salmon
Deming's Red Sockeye Salmon
Chicken of the Sea Chunk Style Pink Salmon in Water-**Can only. Single serve packets are not compliant.
StarKist Selects E.V.O.O. Wild Caught Pink Salmon 2.6oz Pouch
Deming's Red Sockeye Salmon
Meijer Wild Caught Alaskan Pink Salmon
Safe Catch Alaskan Wild Pink Salmon
Wild Planet Wild Alaskan Pink Salmon
Meijer Wild Alaskan Red Sockeye Salmon
Sardines
King Oscar Sardines Skinless Boneless in Olive Oil
Brunswick Sardines in Olive Oil
Brunswick Sardines in Spring Water 
Beach Cliff Sardines In Water
Mackerel
Bumble Bee Chub Mackerel
Wild Planet, Wild Mackerel in Extra Virgin Olive Oil
Season Skinless and Boneless Mackerel Fillets in Olive Oil
Anchovies
King Oscar Flat Anchovies
Reese Anchovy Paste
Trout
Cole's Trout Smoked Rainbow Trout in Olive Oil
Snacks
Epic Pink Himalayan and Sea Salt Baked Pork Rinds
Epic Sea Salt Pepper Pork Rinds *Reintro- black pepper
Good Sense Plantain Chips with Sea Salt *Note- technically compliant but processed in a facility with some allergens
Natural Delights Coconut Medjool Date Rolls
Epic Smoked Salmon Maple Filet Strips
Epic Maple Glazed and Smoked Salmon Bites
Epic Wagyu Beef Steak Strips *Reintro- black pepper
Epic Jerky Venison Bites *Reintro- black pepper
Dried Fruits
Made In Nature Organic Unsulfured Apricots
Natural Delights Organic Pitted Deglet Noor
Natural Delights Organic Medjool Dates
Made In Nature Organic Dried Mangoes
Sun-Maid California Sun-Dried Organic Raisins
Rind Straw-Peary Dried Fruit
Rind Orchard Dried Fruit- peaches, persimmons,apples
Rind Coco-Melon Dried Fruit- coconut, watermelon
Brothers Strawberries Freeze Dried Fruit Crisps
Solely Organic Mango Dried Fruit Strips
Solely Organic Dried Fruit Pineapple Rings
Mavuno Harvest Organic Dried Pineapple
Mavuno Harvest Organic Dried Mango 
Mavuno Harvest Organic Dried Coconut
True Goodness Freeze Dried Fruits: Strawberry Slices, Mix Fruit, Mango Slices, Banana Slices, **Be careful- a few of the True Goodness freeze dried fruits contain citric acid and ascorbic acid- double check labels.
Frozen Fruits
Pitaya Foods Passion Fruit Bite Sized Pieces
Pitaya Dragon Fruit Smoothie Packs
Cape Cod Select Cranberries
Dole Mixed Berries
Dole Whole Strawberries
Meijer Frozen Fruits:
Fruit Medley
Mango Chunks
Wild Blueberries
Dark Sweet Cherries
Strawberries
Blackberries
Blueberries
Triple Berry Blend
Cherry Berry Blend
Berry Medley
Pineapple Chunks
True Goodness Organic Fruits:
Triple Berry Blend
Blueberries
Tropical Fruit Blend
Pineapple Chunks
Raspberries
Mango Chunks
Strawberries
Sliced Peaches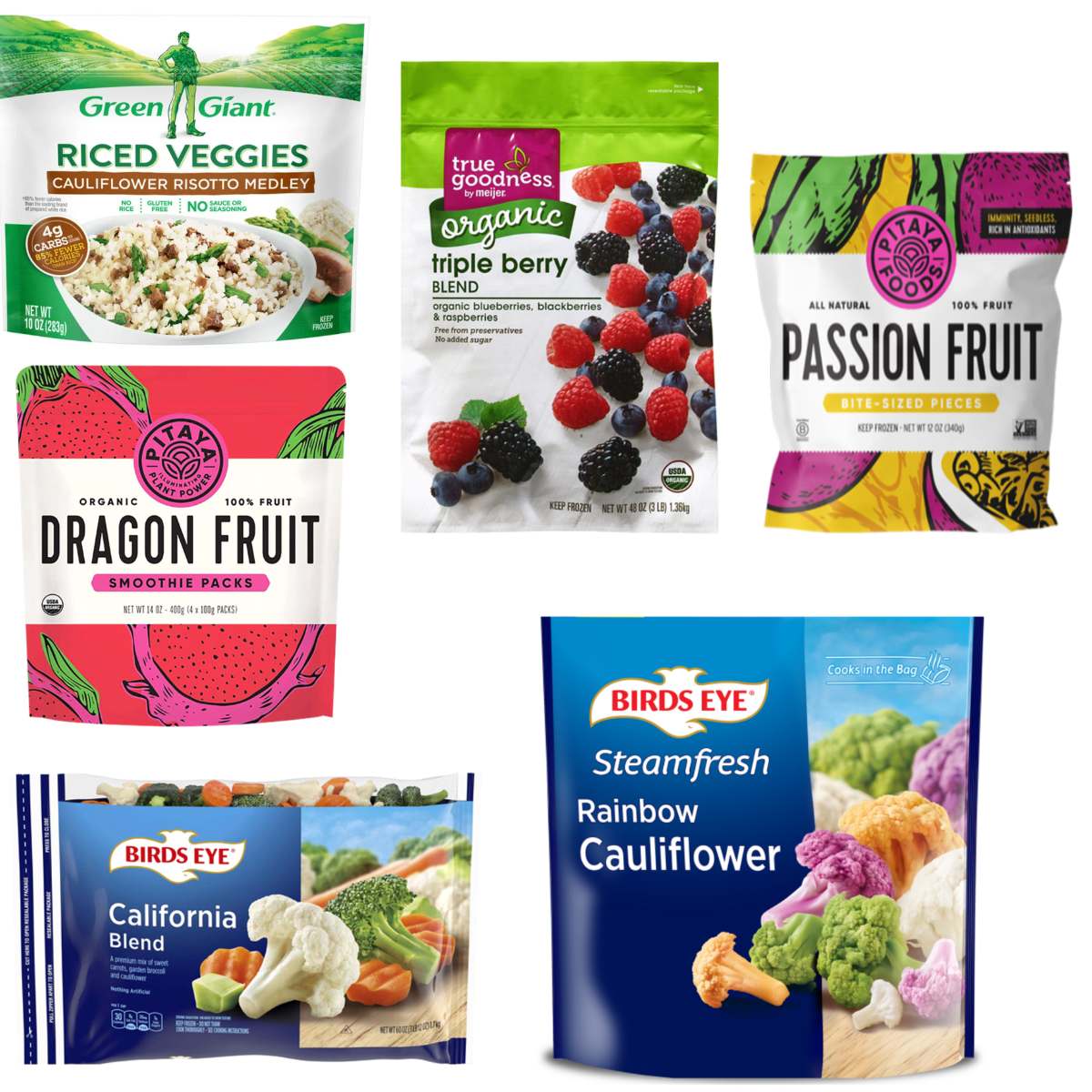 Frozen Vegetables
Green Giant Riced Veggies Cauliflower Risotto Medley
Green Giant Steamers Chopped Spinach *contains baking soda- weird but it's compliant
Bird's Eye Steamfresh Broccoli Florets
Birds Eye Steamfresh Rainbow Cauliflower Frozen Vegetables
Birds Eye White Pearl Onions
Meijer Vegetables:
Microwavable Riced Cauliflower
Cauliflower Florets
California Blend Vegetables
Steamable Broccoli Cuts
Steamable Broccoli Florets
Steamable Winter Blend
Diced Onions
Brussels Sprouts
Crinkle-Cut Carrots
Frozen Seafood/Poultry
Lobster Tail Twin Pack
Treasures From The Sea Snow Crab
PanaPesca Mussel Meat
Bubba Burger Original Chuck Gluten Free Burgers
All Natural Turkey Bubba Burger
Meijer 80/20 Ground Beef Burger Patties
Tyson Cornish Hens, Frozen, 2 pk
Frederiks by Meijer Seafood:
Cooked Shrimp- various sizes/types
Wild Caught Key West Pink Raw Shrimp
Wild Caught Cod Fillets
Wild Caught Sea Scallops
Wild Caught Skinless Grouper Portions
Wild Caught Keta Salmon Portions
Conclusion:
I hope you love the list! Please comment below if you have anything to add.