This flavorful AIP strawberry basil chicken recipe is a perfect blend of sweet and savory flavors with strawberry, basil, carrots, coconut milk, and other ingredients coming together to make the perfect creamy, hearty sauce. When poured over grilled chicken thighs, it makes for a very satisfying rich, but not too rich meal. This recipe is gluten-free, dairy-free, AIP compliant and the sauce can be made in advance making a pretty quick meal. 
It turned so much better than I expected- it's completely delicious. I would say it's more savory than sweet. My husband and kids loved it. They were pretty much silent at dinner (which is rare) because they were eating so contently. We had some leftovers so I took them to work the next day. It was even better the second day if that's possible. 
If you're looking for more dinner ideas, definitely take a look at my AIP Chicken Recipes roundup post.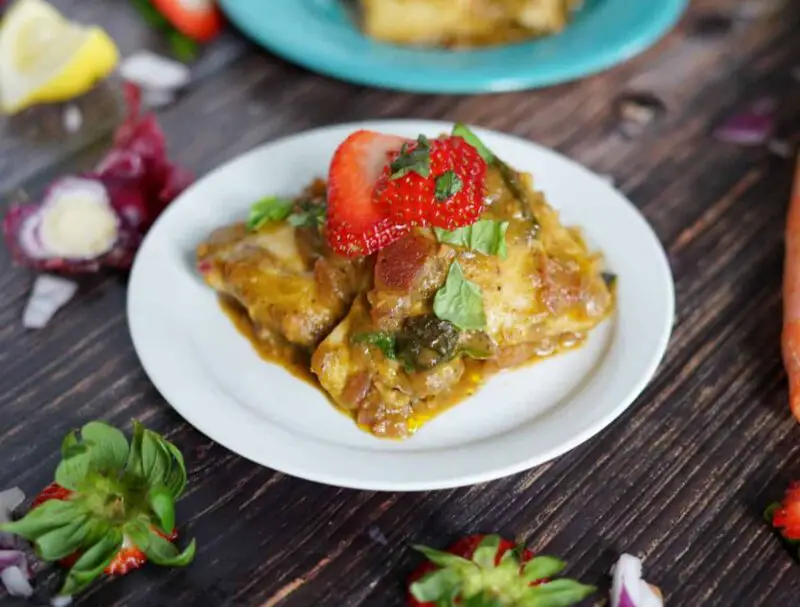 About this recipe
The Sauce
The sauce comes together with most of the ingredients being blended together in a high-speed blender. If you want to save time and prepare the sauce ahead of time- maybe the day before, this will save you 15-20 minutes of prep time. The majority of the prep time is in the sauce so if you have this part done, the meal is a breeze.
The main step to prepping the sauce is blending several ingredients in the blender. Later, after you've cooked the chicken, the chicken will come out of the pan while you heat the sauce along with some onions and garlic. You'll then add the chicken back to the pan with the sauce at the end.
You would think a strawberry basil sauce would be red but it's definitely not. It looks more like a curry than anything strawberry but don't let that throw you off. It's amazing.
The sauce pairs perfectly with chicken but would probably also be delicious with other meats as well.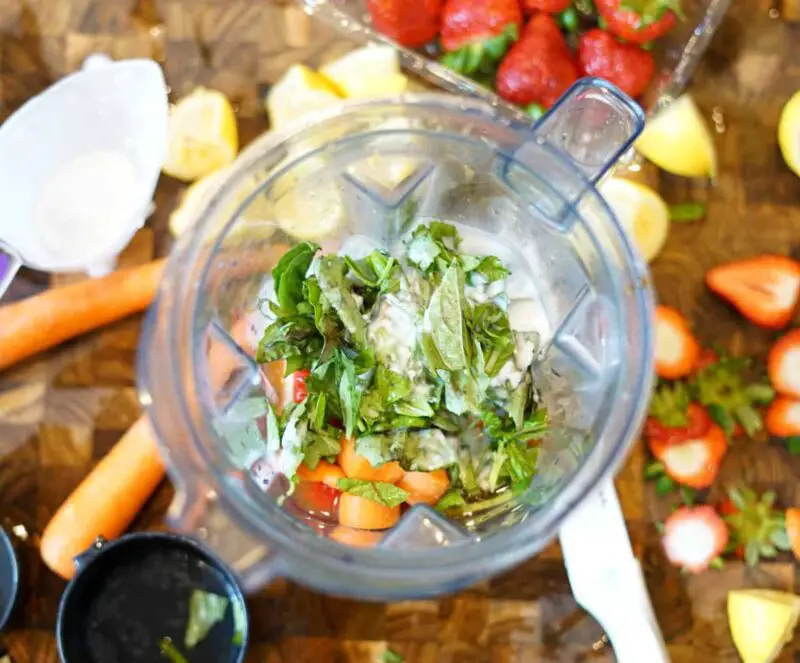 The Chicken
This recipe calls for boneless skinless chicken thighs but chicken breasts are fine too. If you're not using a non-stick pan, be sure to use enough oil that the chicken doesn't stick. You'll want to move it around frequently to keep it from sticking. It takes about 6-7 minutes on each side over medium heat to cook through. Every stovetop is a little different though, so make sure your chicken is fully cooked through and has a temperature of at least 165 degrees Fahrenheit.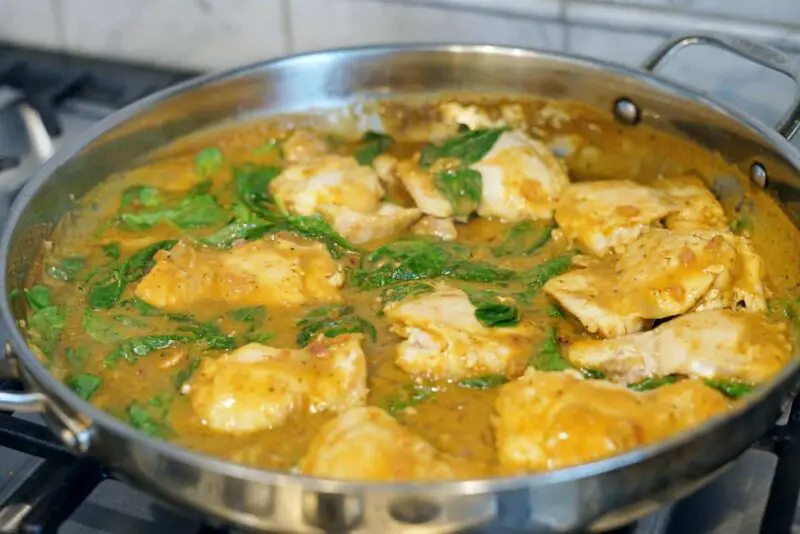 The Spinach
You'll add fresh spinach to the pan at the very end. It wilts quickly so you want to make sure you wait until the sauce has reduced by half and is pretty thick. That way all you have to do is add the spinach and chicken, heat for a few minutes, and serve.
To Serve
Serve the chicken with the sauce spooned over the top and garnished with basil and strawberry slices.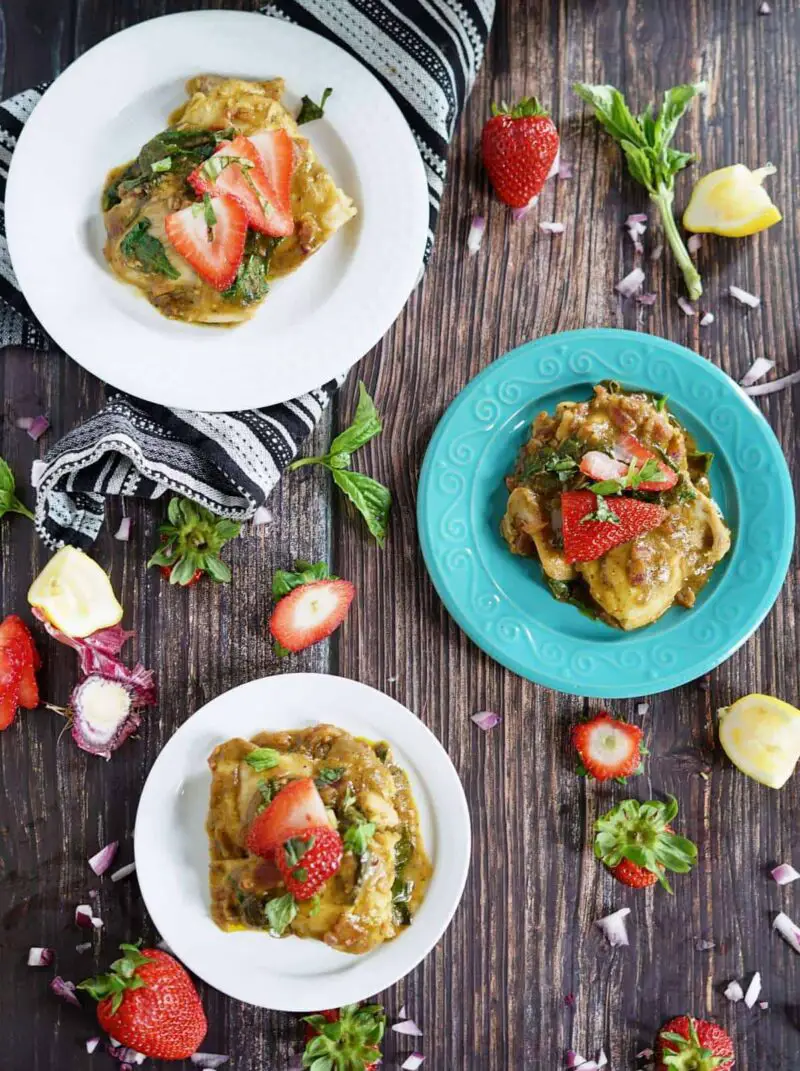 Storage
Leftovers from this meal will keep fresh in the fridge in an airtight container for about 4 days. It can be frozen as well and will stay good for at least a month. 
Conclusion
I hope you enjoy this recipe as much as we do. If you tried it, leave me a comment below and let me know what you thought!
This recipe is shared on the AIP Paleo Recipe Roundtable.
If you enjoyed this post, you may also like: 
Beginner's Guide to the Autoimmune Protocol
Strawberry Basil Chicken with Spinach
The fresh and flavorful dish combines several nutrient-dense fruits and veggies into a delicious sauce. This sauce is then served over tender pan-fried chicken thighs. This recipe is Paleo, AIP, gluten-free, and dairy-free.
Ingredients  
Strawberry Basil Sauce, Part 1 (to be blended in food processor)
Strawberry Basil Sauce, Part 2
1-2

tbsp

olive oil

1/4

cup

diced red onions

1-2

cloves

garlic

minced

1

tbsp

water

Strawberry Basil Sauce made in Part 1

1

cup

raw spinach leaves
Garnish
fresh basil

chopped

fresh strawberries

sliced
Instructions 
Combine Part 1 sauce ingredients in a blender and blend until smooth. Set aside.

Pat chicken thighs dry with a paper towel and season each side with a sprinkle of salt.

Heat oil in a large skillet over medium heat for about 30 seconds then place the chicken top-side down in the skillet. Cook for about 6-7 minutes then flip over and do the other side for about the same amount of time. They should be lightly browned, no longer pink in the middle, and internal temp should be at least 165 degrees Fahrenheit.

Remove chicken from the skillet and place it on a plate. Note- some pieces will be smaller than others and will cook faster. You can remove them from the pan as they reach the correct temperature to prevent overcooking.

In the same pan, using grease from the chicken drippings, continue with medium heat. Add the onions and garlic. If there is not enough grease still in the pan, add 1-2 tbsp olive oil. Cook for 1-2 minutes until transluscent. Add about 1 tbsp water to scrape the pan and deglaze it.

Add the sauce from the blender to the pan with the garlic and onions. Bring to a simmer and stir. Continue cooking over medium heat for 5-6 minutes. Reduce heat to a low simmer and cook another 5 minutes until sauce is thickened and reduced by half. Add fresh spinach and allow to wilt slightly (about 30 seconds).

Add the chicken back to the pan. Increase heat back to medium in order to reheat the chicken and incorporate it with the sauce. Cook for another 4-5 minutes, then remove from heat.

Serve with sauce spooned over the chicken. Gainish with chopped fresh basil and sliced strawberries.
Nutrition
Nutrition Facts
Strawberry Basil Chicken with Spinach
Amount per Serving
% Daily Value*
* Percent Daily Values are based on a 2000 calorie diet.