*Just a quick heads up- this post contains affiliate links which means if you click on them and buy something,  I will earn a small commission (at no additional cost to you) to help continue maintaining this site. 
This is a super easy, fast, homemade Paleo trail mix recipe that's perfect to eat on the go. It works great as a quick breakfast or snack.
I kind of stumbled on it by accident just needing a quick snack and wanting something to go with the freeze-dried fruit I had bought. It's so good with a perfect balance of ingredients and there are so many variations you can do with it.
I like using the freeze-dried fruit (as opposed to regular dried fruit) because the flavors of the fruit and nuts don't seep into each other as easily. I get bummed out when all the fruit in a trail mix tastes like a peanut and all the nuts taste like raisins!                                           
Here's what's in this trail mix:
Freeze Dried Strawberries and Bananas (or use any freeze dried fruit)- I got these at Kroger in the bulk/healthy foods aisle. The packaging looks like this:
If you don't have a Kroger, you can likely find something similar at your grocery store. You can also get them from Amazon here. They actually has a ton of different varieties to choose from on the site.
Coconut Chips or unsweetened coconut flakes. I used Dang Coconut Chips because they just have a little bit of sea salt and are really tasty even by themselves but regular large coconut flakes work well too.
Almonds (whole, raw)- A super versatile Paleo staple. 
Cashews (whole, raw)- One of my favorite nuts- they just add a creamy comforting taste to anything.
Pistachios (shelled)- I like using these because they're a little bit unique as far as trail mix goes. I used Wonderful Pistachios that I picked up at Sam's Club and they're lightly salted. You can do salted or unsalted. 
If you liked this recipe, check out my post here for more on-the-go snack ideas.
Enjoy- If you made this or some variation of it, let me know in the comments below!
If you enjoyed this post, you may also like: 
24 Fast Easy On-the-Go Paleo Snack Ideas
87+ AIP Paleo Snacks: Recipes and Packaged Items
Trio Blend Tiger Crackers (Paleo, Gluten-Free)
Cassava Almond Pepper Crackers
57+ AIP Pantry Items and What to do With Them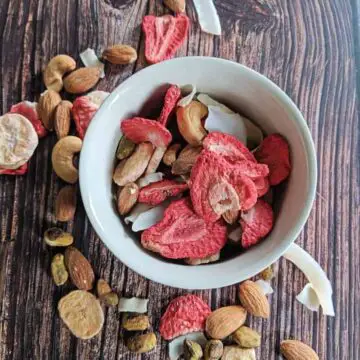 Strawberry Banana Trail Mix (Paleo, Whole 30, Vegan, Gluten-Free)
This great on the go snack is very flexible and super easy to make.
Ingredients  
3

cups

Freeze dried strawberries and bananas

(or fruit of choice)

1

cup

Coconut Chips

(or unsweetened coconut flakes)

1/2

cup

Almonds

1/2

cup

Cashews

1/2

cup

Shelled pistachios
Instructions 
Combine all ingredients in a large zip lock bag or resealable container. Enjoy!
Notes
Makes 11 (1/2 cup) servings
Calories per serving: 180
Fat: 12 g
Protein: 4 g
Carbohydrates: 14 g
Fiber: 4 g
Nutrition
Nutrition Facts
Strawberry Banana Trail Mix (Paleo, Whole 30, Vegan, Gluten-Free)
Amount per Serving
% Daily Value*
* Percent Daily Values are based on a 2000 calorie diet.