If you've been missing tacos and looking for a good AIP taco seasoning, this recipe is for you! I've noticed some other homemade nightshade-free taco seasonings out there that have a lot of ingredients and some of them are hard to find. Plus, many of them just aren't taco-y enough. To be fair, coming up with a taco seasoning recipe without nightshade or seed-based spices is really hard!
I wanted to come up with something that uses common ingredients and not too many ingredients in general. Most importantly, I wanted something that tastes at least close to taco seasoning.
This stuff is bursting with flavor. As with most of my recipes, I had my kids try it and got their seal of approval. I mixed the seasoning up with some ground beef and they scarfed it down, then asked for more. 
**Just a quick heads up- this post contains affiliate links which means if you click on them and buy something,  I will earn a small commission (at no additional cost to you) to help continue maintaining this site. 
What Spices Are Not Allowed on AIP?
Taco seasoning is a tricky item when it comes to AIP because many of the key spices typically used are not compliant. Nightshade and seed-based spices are not allowed on AIP.
Some non-compliant seasonings and spices include:
Allspice
Anise Seed
Annatto Seed
Caraway
Cardamom
Cayenne
Celery Seed
Chili Pepper Flakes
Chili Powder
Chipotle Powder
Coriander Seed
Cumin Seed
Curry Powder
Dill Seed
FennelSeed
Fenugreek
Garam Masala
Mustard
Nutmeg
Paprika
Pepper
Poppy Seed
Sumac
For a printable PDF of "yes" and "no" AIP foods, including spices, go here.
AIP Taco Seasoning Ingredients
I don't use marjoram for a lot of things but it was one herb I hadn't tried in a taco seasoning yet. It turned out to be perfect for this blend. 
Cilantro isn't the first thing I think of when it comes to taco seasoning, but it just works in this blend.
Garlic powder is in most taco seasonings so I used it here making sure not to overdo it though. 
As with the garlic powder, this needs to be included in the blend but in just the right amount. I didn't want it to overpower the seasoning mix. 
Turmeric brings warmth to this blend in the absence of nightshades and gives it an orangish tint like real taco seasoning. 
I use pink Himalayan sea salt but any kind is fine. Just make sure it's fine grain.
Tip: For a more even-textured spice blend, you can put this mixture in a spice grinder and pulse it a few times.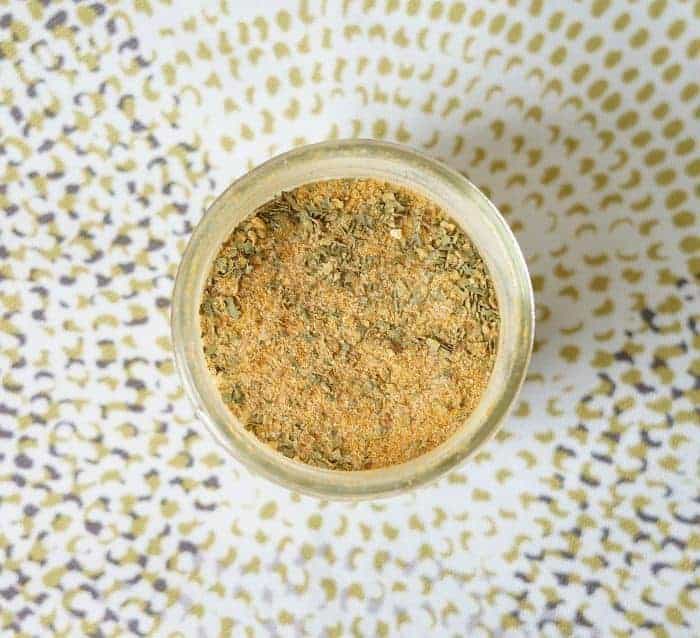 Storage
Store this in seasoning in an airtight container at room temp. I like to use small mason jars. 
Get it on Amazon
If you enjoyed this post, you may also like: 
Nightshade Free Seasoning Salt
57+ AIP Pantry Items and What to do With Them
Coconut Aminos Teriyaki Sauce Recipe
AIP Pineapple Bacon Dipping Sauce
Tangy Honey Garlic Dipping Sauce
Conclusion:
I hope you love this recipe. If you tried it, please leave a comment and let me know what you thought!
Don't forget to follow me on Instagram @foodcourage for the latest AIP/Paleo recipes, autoimmune nutrition info, and Food Courage happenings!
This post is shared on the AIP/Paleo Recipe Roundtable.
If you liked this post, please share it!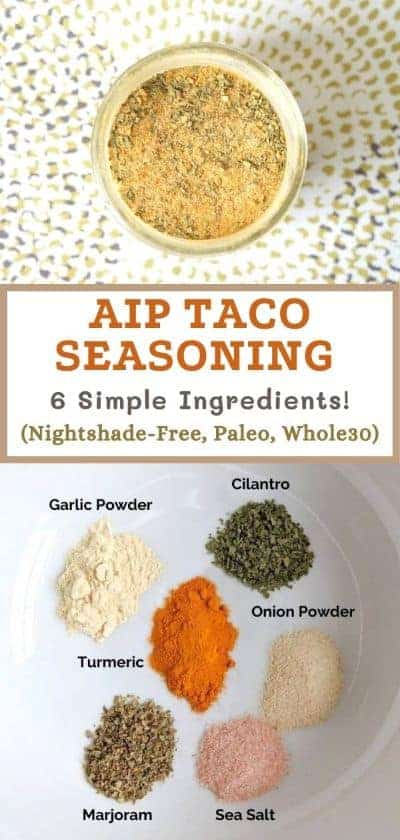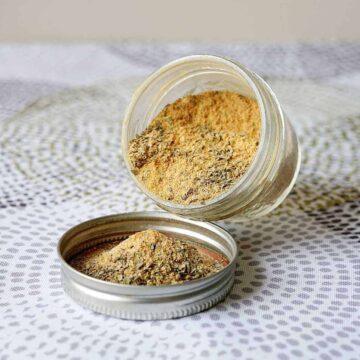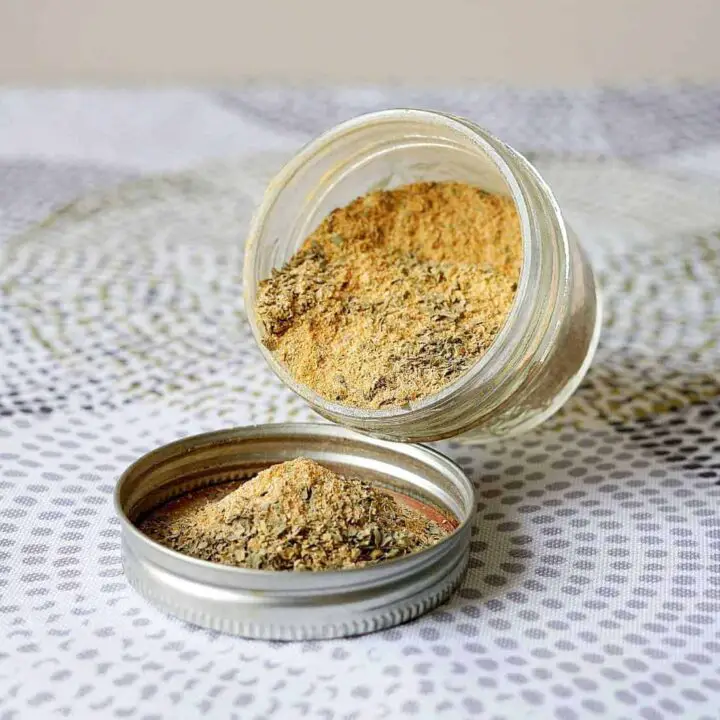 AIP Taco Seasoning (Nightshade-Free, Paleo, Whole30)
This AIP taco seasoning uses just 6 simple ingredients and tastes pretty taco-y for not using any nightshades or seed spices. The amount of taco seasoning produced by this recipe is enough for about 2 pounds of ground beef.
Instructions 
Combine spices in a small bowl and use in recipes as needed.
Notes
*The amount of seasoning in this recipe is enough for roughly 2 pounds of ground beef or turkey. 
-Optional- Put the seasoning mix into a spice grinder and pulse a few times for a more uniform texture. 
Store in an airtight container like a mason jar at room temperature. 
Nutrition
Nutrition Facts
AIP Taco Seasoning (Nightshade-Free, Paleo, Whole30)
Amount per Serving
% Daily Value*
* Percent Daily Values are based on a 2000 calorie diet.