Simple 5 Ingredient Super Soft Tortillas (Paleo, AIP, Gluten Free, Vegan)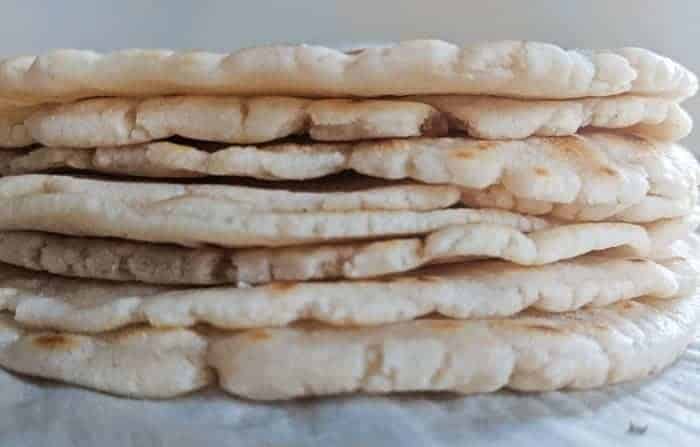 *Just a quick heads up- this post contains affiliate links which means if you click on them and buy something,  I will earn a small commission (at no additional cost to you) to help continue maintaining this site. 
These gorgeous tortillas check quite a few "dietary restriction" boxes while still being really tasty, soft, and flexible. I played around with a whole mess of ingredient combinations before arriving at this recipe. I'm talking around 20 different tortilla experiments. I'm still learning the baking side of things and the chemistry of it all when it comes to developing my own recipes, so it takes me some time to get it right.
Most of my experimental tortillas tasted fine but they weren't the texture I was going for. I wanted something that was as close as possible to a soft white delectable tortilla. This is not easy to do grain-free. Many grain-free tortilla recipes come out sort of stiff, or they crack easily. Alternatively, they need so much oil or other liquid to be useable that they end up tasting more like crepes or doughnuts. If not that, they require some sort of guar gum or other additives to make them soft, which isn't allowed on Paleo. 
The Story Of My First Homemade Tortillas
Long ago, my husband and I lived in Switzerland. We were young and loved exploring the world, so we decided to quit our jobs in New Mexico and go live in Switzerland for a while. With Switzerland being such an expensive country, we were relatively "poor" while living there.
I, being a New Mexico native, love Mexican food and tortillas but couldn't really buy good tortillas there. They exist but are not really a big thing. I could occasionally find a small pack of pre-made tortillas at the store but a pack of 6  8 inch tortillas cost about 6 or 7 Swiss francs (equivalent to 6-7 US dollars). I decided I needed to learn to make my own tortillas or we'd go broke always buying tortillas there.
I wasn't making Paleo recipes at the time but it was one of my first experiences making things from scratch vs just grabbing something off the shelf at the store. I went on to make a bunch of other cool things from scratch mostly out of necessity and it was a great experience. I was pleased to find that it's relatively easy and inexpensive to make tortillas from scratch, not to mention they taste so much better. 
So let's get down to the specifics of these tortillas. Here are some important things to note:
When it comes to the coconut oil: Don't melt it. This just makes the dough sticky and a pain to work with. Just mix it in really well. If you do end up melting it for some reason, just chill the dough before rolling it out. Also- don't try to substitute olive oil or avocado oil. I tried this and the dough just doesn't cooperate. 
A very important note about water: Start out with 3/4 of a cup of water and work it into the dough. Then if the dough is still dry, add 1 tbsp at a time until the dough is the right consistency. I usually end up using close to 1 cup total water but it's slightly different each time. You'll want the dough to be a little wet and slightly sticky but not so sticky that it's hard to work with. If it's not wet enough, you'll notice the dough cracks excessively on the edges when rolled out and/or falls apart easily. If this happens, just add a little more water. I can't stress this enough: using enough water is key to this recipe. 
Transferring the Tortillas: Once you've rolled out your tortillas, I recommend using a large spatula to get them from the parchment paper to the pan (vs. picking up by hand). It just makes it a little easier and cuts down on the chances of breaking them. I scooped them up one at a time and flipped them over into the pan.
Oil: There's really no need to add oil if using a non-stick pan. If you're using a stainless steel pan or cast iron pan, you'll want to use about 1 tbsp of oil or avocado oil. 
Heat: Just cook on medium to medium-high heat for 1-2 minutes per side. You'll notice it gets a little bubbly when you do the first side. You may need to adjust the heat a little as you go. Medium-high will work for the first couple tortillas and then you may need to go down to medium as the pan gets hotter. Use the tortillas as a guide. If they start burning quickly, turn the heat down. 
Serve fresh and warm if possible: If you need to reheat them, just place the tortillas in the microwave with damp paper towels between them and heat for about 20 seconds.
Storage: Keep in a large zip lock bag or air-tight container with parchment paper between tortillas. Will keep fresh in the refrigerator for 4-5 days or in the freezer for about 3 months. 
I hope you enjoy the recipe. If you made it, please leave a comment below and let me know what you thought!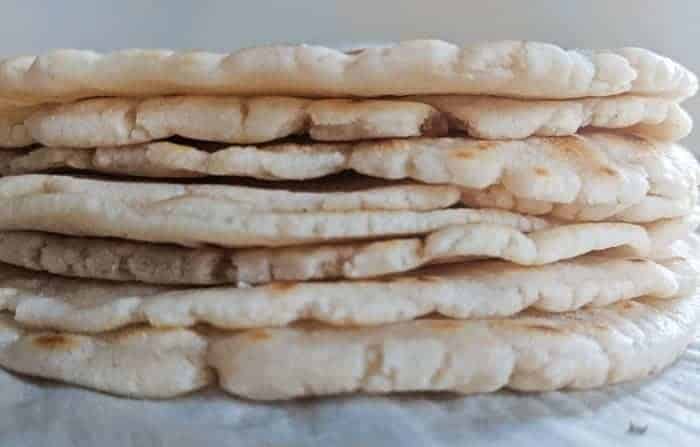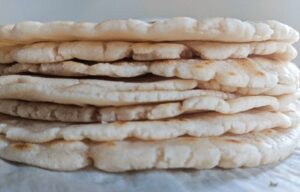 Simple 5 Ingredient Super Soft Tortillas (Paleo, AIP, Gluten Free, Vegan)
These tortillas are quick, easy, very soft, and ideal for wraps or tacos.
Equipment
parchment paper

rolling pin

Frying pan
Ingredients  
For Cooking Tortillas
1/2

cup

olive or avocado oil

(only needed if not using a non-stick pan)
Instructions 
In a small bowl, mix dry ingredients.

Add 3/4 water and coconut oil to bowl with dry ingredients. No need to melt coconut oil but be sure to mix it in well. Dough should be a tad wet and tiny bit sticky but not difficult to work with. If dough is not wet enough, add more water 1 tbsp at a time until dough is the right consistency (I usually need almost 1 cup total water but like to use 3/4 c as a starting point). The dough should be smooth and malleable and not crack on the edges when rolled out. If it cracks, it needs more water.

Knead dough with your hands to form a large ball.

Divide into 8 equally sized balls. Begin rolling out one by one between two sheets of parchment paper. Press the ball down slightly and repair any minor edge cracks (if any) before rolling out. (*If cracks are big, return to bowl and add a little more water). Form a 6" tortilla (about 1/8th inch thick). Set rolled out tortillas aside on another sheet of parchment paper or large platter until ready to cook.

Once all tortillas are rolled out, heat a medium sized pan on the stove over medium-high heat (may need to turn down to medium heat if it gets too hot). If using a non-stick pan, there's no need to use oil. If using a metal or cast iron pan, heat about 1 tbsp oil for each tortilla. *I found it useful to use a large spatula to transfer the tortillas from the parchment paper to the pan to avoid them falling apart.

Cook each tortilla for 1-2 minutes per side. Flip when it starts to get a little bubbly. They should be just slightly browned when done.

Remove from pan and set aside on parchment to cool.
Notes
Don't melt the coconut oil- this makes the dough a lot harder to work with. If you do happen to melt it first, just cool the dough in the refrigerator or freezer before rolling out. 
Don't attempt to replace the coconut oil with olive or avocado oil; they just don't turn out the same. 
Store in a gallon sized zip lock bag or sealed container (with parchment between slices). Will stay fresh in the refrigerator for 4-5 days or in the freezer for up to 3 months. 
If using at a later time, heat in the microwave between damp paper towels for 15-20 seconds. 
This recipe makes roughly 8 6 inch tortillas.
Approx. Nutrition Info per Tortilla
Calories: 220
Fat: 14 g
Carbohydrates: 26 g
Protein: 1 g
Nutrition
Nutrition Facts
Simple 5 Ingredient Super Soft Tortillas (Paleo, AIP, Gluten Free, Vegan)
Amount per Serving
% Daily Value*
* Percent Daily Values are based on a 2000 calorie diet.
---
---