This gooey AIP caramel apple bread is simple, warm, comforting, and delicious not to mention egg-free, dairy-free, and grain-free. It's a great recipe to keep you on your AIP "diet" while not missing out on fabulous baked goodies during the holiday season. 
The topping for this bread is based on my 4 Ingredient Caramel Apple Sauce. 
**Just a quick heads up- this post contains affiliate links which means if you click on them and buy something,  I will earn a small commission (at no additional cost to you) to help continue maintaining this site. 
How do you replace eggs in baked goods?
I never really realized there were so many ways to create baked goods without actually using an egg. Luckily there are quite a few options from apple sauce, to mashed bananas, gelatin to vinegar, and baking soda. This recipe uses several of these options in combination:
AIP Caramel Apple Bread Ingredients
Gelatin egg (1 tbsp of gelatin mixed with 2 tbsp of water) which acts similar to how an egg would. 
Vinegar and baking soda- When baking soda and vinegar combine, a chemical reaction occurs creating bubbles (carbon dioxide). These act as a leavener helping to lighten the texture of baked goods. 
Apple sauce- This not only works as an egg replacement but it adds natural sweetness and moisture to baked goods. Always go with unsweetened and organic if possible. 
Other Ingredients
This is one of my favorite AIP-friendly flours. It's a little pricey but tastes great and the texture provides plenty of body to baked goods.  It seems to work well in pretty much everything.
This flour, derived from starchy tubers is higher in carbohydrates than tiger nut flour and is very versatile. It's probably as close as you can get to white flour while staying gluten/grain-free. I've only used Otto's brand since I starting doing Paleo and haven't tried any other brands since I've been happy with it.
Maple Syrup- If you're going to use a sweetener, maple syrup is a good choice as it provides many important minerals and antioxidants. Darker syrups have been found to be higher in antioxidants than lighter ones. 1
Coconut Oil- This provides moisture and mouthfeel to baked goods while also contributing to some health benefits. 
Cinnamon- While apples and cinnamon just naturally go together and make sense, cinnamon also contains powerful antioxidants and has anti-inflammatory properties.
Salt- Salt helps to activate the baking soda contributing to rise. Pink Himalayan sea salt is preferable.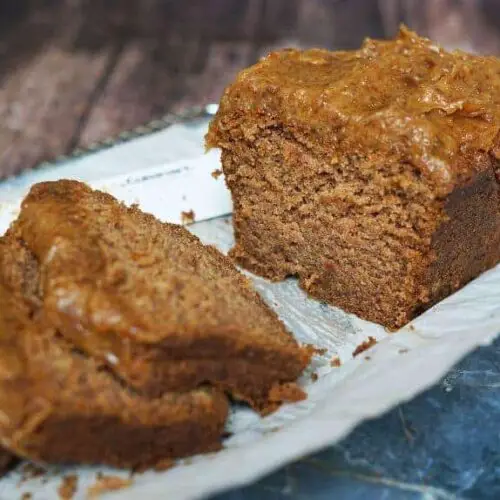 Caramel Apple Bread (Paleo, AIP, Gluten-Free)
This delectable caramel apple bread is the perfect fall dessert and meets pretty much any dietary restriction without tasting like it.
Equipment
Food Processor or high-speed blender
Ingredients  
Instructions 
Preheat oven to 350 degrees Fahrenheit.

Add dates to very hot water. Set aside and allow to soak while prepping other items (at least 15 minutes).

Line a loaf pan (medium to large in size) with parchment paper.

In a medium bowl, mix wet ingredients together.

In a small bowl, mix water and gelatin to make a gelatin egg and immediately add to the wet ingredients. Stir/whisk thoroughly until smooth

In another medium bowl, mix dry ingredients, then add to wet ingredients. Stir until well combined and pour into parchment-lined loaf pan. Bake at 350 degrees F for 50-60 minutes or until a toothpick comes out clean.

While the bread is baking, make the caramel sauce. Drain water from the bowl of dates. Remove pits and add the dates to a food processor. Pulse the dates a few times before adding the other ingredients.

Add all other sauce ingredients to the food processor and blend until smooth.

Remove bread from the oven and allow to cool for 10-15 minutes.

Pour the caramel over the top of the loaf. Add apple slices to garnish.
Notes
Note- the loaf pan I used for this recipe is relatively large in size (about 9 inches long by 6 inches wide). If you don't have one this size you could split it into 2 smaller loaf pans- the cooking time may be a little shorter if you do it this way so you may just have to keep a closer eye on them. 
If the dates are moist and fresh to begin with, you may not need to soak them. 
While this is good hot or cold, I recommend eating it warm as the texture is lighter and flavor is better. 
The carmel sauce recipe makes almost 1 cup of sauce. 
This will keep fresh in the fridge for at least 4-5 days in a tightly sealed container. 
The bread itself freezes very well for a long time. I haven't tried freezing it with the caramel sauce though this would probably work fine.