In this post, I've gathered my favorite AIP Korean glass noodle recipes from around the web.  If you're on an AIP/Paleo diet and you are a pasta lover, chances are you've looked into your noodle options. If not, you'll find there are options- yay!
In your AIP food explorations, you may or may not have come across sweet potato starch noodles, which are made from just sweet potato starch and water and are therefore completely gluten-free and AIP compliant.
**Just a quick heads up- this post contains affiliate links which means if you click on them and buy something,  I will earn a small commission (at no additional cost to you) to help continue maintaining this site. 
Sweet potato glass noodles are often found in Korean dishes like Japchae and Jajangmyeon but they are used very creatively in many other types of dishes too. They are very versatile due to their mild flavor so they are a wonderful option for AIP cooking. 
You'll notice some recipes in this list call for types of noodles other than glass noodles but they were too good not to include as meal ideas and they are recipes where you can easily sub in glass noodles. 
If you're looking for ideas on how to use glass noodles or just looking for any AIP pasta recipes you can get your hands on, you will likely find something you love in this list. Enjoy!
1. Proscuitto and Basil Linguini Alfredo, It's All About AIP
This flavorful, creamy dish is one of my favorite glass noodle recipes because it is pure AIP comfort food. It looks gorgeous and completely delicious.
2. Japchae - Korean Stir-Fried Glass Noodles (Paleo, AIP), Gutsy By Nature
This recipe is a delicious take on Japchae, a Korean dish that combines sweet and savory flavors with stir-fried noodles and vegetables.  I love that so many different veggie combinations can be used in this dish.
Korean Stir-Fried Glass Noodles (Paleo, AIP), Credit: Gutsy by Nature
3. Vietnamese Spring Roll Salad with Noodles, Shrimp & Mango, Meatified
This very creative and beautiful recipe uses glass noodles in a cold, fresh, colorful salad filled with fruits, veggies, and herbs.
4. Nightshade Free Saucy Summer Yellow Curry Noodle Bowls, Meatified
This gorgeous curry recipe combines some unique herbs, spices, and veggies with glass noodles to make a super satisfying AIP-friendly meal.
5.  Japchae-Inspired AIP Sweet Potato Noodle Stir-Fry, Heal Me Delicious
6. Chicken Noodle Soup, Go Healthy with Bea
7. Korean Glass Noodle Bowl with Ground Beef, Food Courage
This awesome Korean glass noodle recipe is fast, easy, AIP friendly and it tastes so good! It features sweet potato glass noodles, ground beef, carrots, cucumbers, and a creamy tangy sauce. 
Korean Glass Noodle Bowl with Ground Beef, Food Courage
8. Keto Teriyaki Bowl (Nut Free, Dairy Free, AIP, Paleo), The Castaway Kitchen
This saucy teriyaki bowl incorporates gingery citrus meatballs with noodles and a gorgeous teriyaki sauce. It does call for eggs as an optional topping- just leave these out and the rest is AIP compliant! For the noodles, the recipe says shirataki noodles but you can also use glass noodles.
9.  Asian-Inspired Chicken Noodle Soup, Unbound Wellness
10. Asian Pork Noodle Soup, Bon AIPetit 
This Asian soup recipe incorporates glass noodles into a uniquely flavored broth and it comes together in just 30 minutes with a handful of ingredients.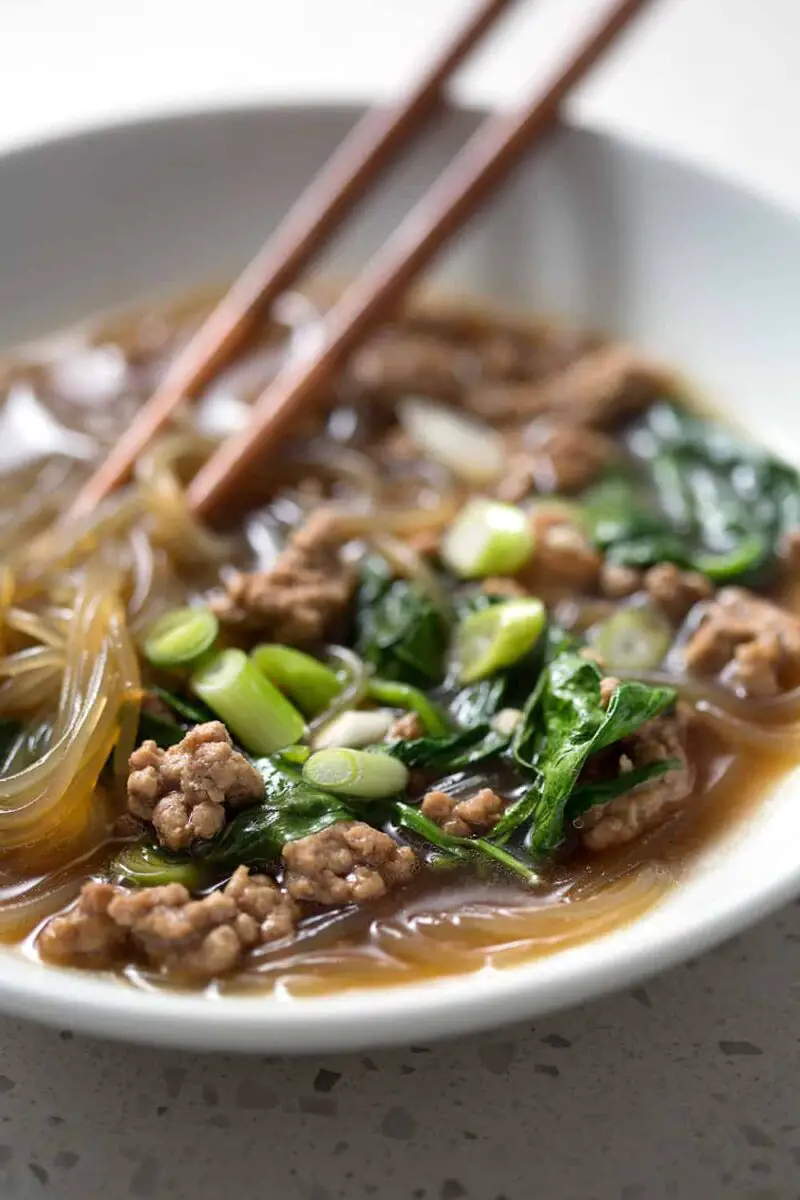 Asian Pork Noodles Soup, Credit: AIPPetit
11. AIP Thai Chicken Soup - Cook Now Or Freeze For Later!, Thriving on Paleo
This Thai-inspired soup can be cooked on the stove, in a slow cooker, or in the instant pot and as the title implies, it is great for freezer-friendly meals. This soup can be eaten with or without noodles but the glass noodles would make a fabulous addition. 
AIP Thai Chicken Soup,  Credit: Thriving on Paleo
12. Vietnamese Style Shrimp Noodle Salad, Cook 2 Nourish
13. Gluten-Free Jajangmyeon (Paleo/ AIP), Provincial Paleo
The recipe for this dish uses a very unique and creative combination of ingredients to make the sauce, which is typically made from a black bean paste. The list of ingredients is a bit lengthy but the post includes plenty of pictures showing each step of the process and it looks delicious! Note- the recipe calls for zucchini noodles but you can use glass noodles instead. 
14. Korean Style Sweet Potato Noodles with chicken and vegetables || Korean JapChae (Paleo, AIP), Cook to Nourish
This tasty recipe incorporates glass noodles into another wonderful Japchae dish with a great combination of veggies. *Omit green beans and chili flakes for AIP as needed.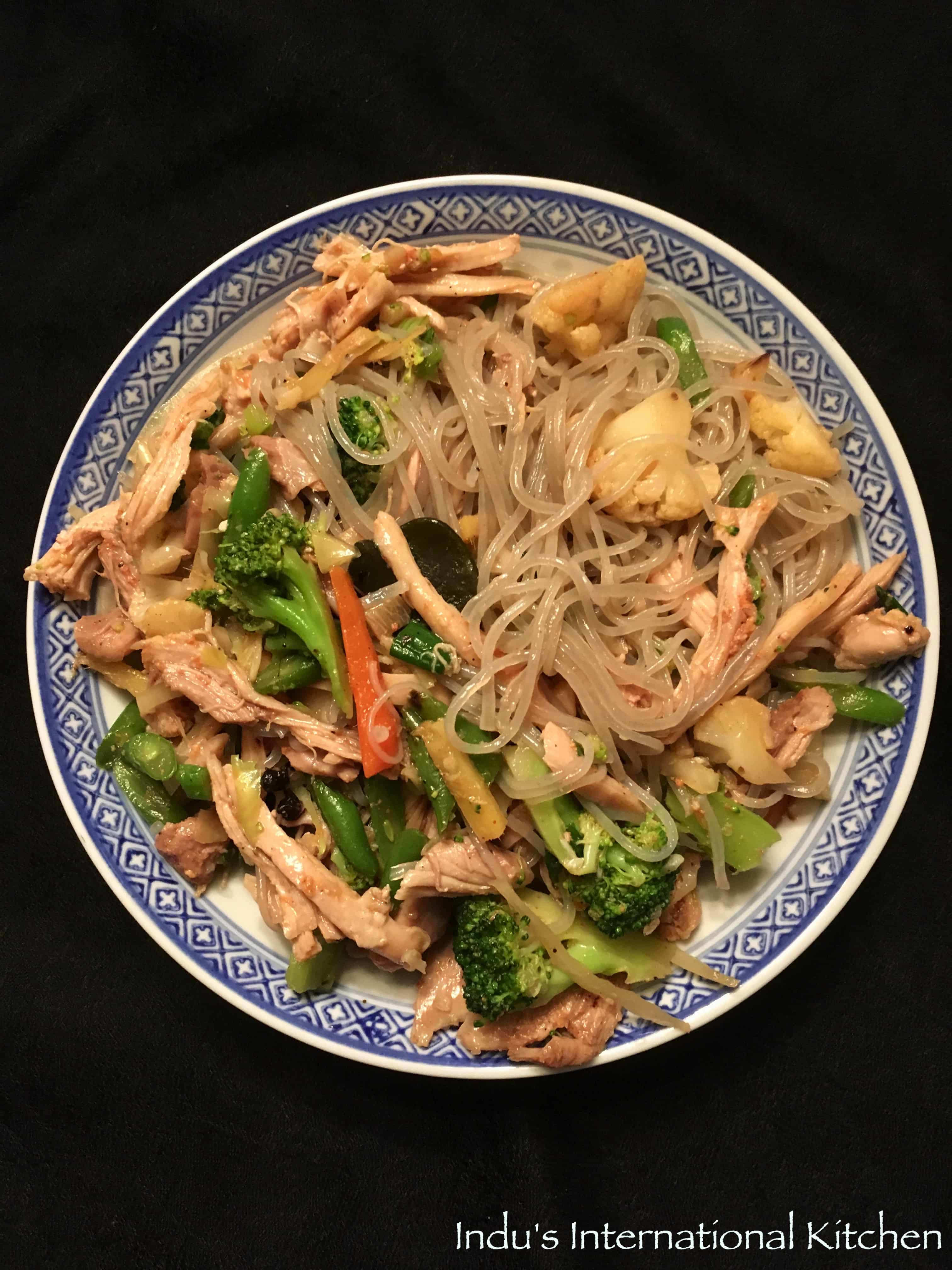 Korean Style Sweet Potato Noodles with Chicken and Vegetables | JapChae, Credit: Cook 2 Nourish
15. Asian Garlic Beef Noodle Recipe, Paleo Flourish
This flavorful garlic beef recipe is relatively simple and just requires a short list of ingredients making it an easy meal to serve over any type of noodles. 
16. AIP Paleo Chicken Pad Thai, Celebration Generation
This recipe uses a creative combination of ingredients to produce a pad Thai flavor. It calls for shirataki noodles but sweet potato starch noodles can easily be subbed in. 
17. Tumeric Chicken Noodles, The Unskilled Cavewoman (Guest Post by Ben Isham-Smith)
This colorful dish is quick, easy, and healthy. It includes a couple of AIP reintroduction items that can be easily omitted or subbed out for something else. 
18. AIP Spaghetti Sauce, Wendi's AIP Kitchen
This yummy spaghetti sauce is a beautiful, nightshade-free meat sauce and it goes great with various noodles including glass noodles. 
19. AIP Ground Beef Stroganoff with Spinach, Bon AIPpetit
This hearty ground beef stroganoff recipe pairs perfectly with glass noodles and only takes 5 minutes to prep, 35 minutes total to prepare.
AIP Ground Beef Stroganoff with Spinach Credit: Bon AIPPetit
If you enjoyed this post, you may also like: 
Paleo Autoimmune Protocol (AIP Diet): Guide + Food Lists
7-Day Meal Plan for Busy People
109 AIP Breakfasts You'll Love
A Real Plans Review: Why You Need This Meal Planning Tool
87+ AIP Snacks: Easy Recipes and Packaged Foods
57+ AIP Pantry Items: What They Are and What to Do With Them!
AIP Reintroduction Guide PLUS Printable Worksheets
Conclusion
This was a really fun roundup to put together. I hope you found something you love! What are some of your favorites? Leave me a comment below. 
Don't forget to follow me on Instagram @foodcourage for the latest AIP/Paleo recipes, autoimmune nutrition info, and Food Courage happenings!