This lovely AIP coffee cake recipe came about because I was trying to recreate something similar to Jamie Eason's Cinnamon Swirl Protein Swirl Bars which used to be one of my favorite on the go healthy snacks before doing AIP. I wanted something sweet and satisfying with a great texture and similar taste to those swirl bars. I am happy to report that this cinnamon crumble coffee cake does not disappoint! It's decadent, it's moist, and it's, of course, Paleo/AIP friendly, vegan, gluten-free, dairy-free, egg-free, soy-free, etc.
How is your week going? It's been fairly interesting here in Tennessee. My kids are back in school doing a hybrid-schedule which is a little nerve-wracking but seems to be going ok. We have several home improvement projects in progress which are keeping my husband fairly busy (and entertained). My son has been helping him and seems to love the things they're working on so I guess it's bonding time for them. 
We are all taking ballroom dancing classes now (something I've always wanted to do!). My husband got us started with a Christmas gift package thing so we started dancing early this year and now we've just gotten our two kids started with lessons too. My son is not so sure about it but we keep telling him he will thank us later!
**Just a quick heads up- this post contains affiliate links which means if you click on them and buy something,  I will earn a small commission (at no additional cost to you) to help continue maintaining this site. 
Ingredient Notes
Tigernut Flour- I usually notice my tigernut flour has some clumps in it- these are not a big deal and I usually just break them up by hand but I've found that sifting the flour works beautifully.
If you notice this with yours, you can use a sifter (obviously) or just use a strainer like these. I don't have a sifter so I use the strainer and it works great.  I mention this not only because it produces a better end product, but also because it changes the measurements slightly. If you don't sift the flour, you'll need 1 ½ cups. If you do sift it, you'll need 1 ¾ cups. 
Green Banana Flour- I  am new to working with green banana flour, yet another fantastic tool to have in your AIP toolbox. I've been impressed with it so far; The taste is very mild and it helps baked goods set up really nicely in the absence of eggs or gelatin. I went with Let's Do Organic Brand this time but it's unavailable at the time of this posting for some reason. 
Applesauce- Use unsweetened and organic if possible. I absolutely love using applesauce in baked goods because it makes them healthier without compromising taste and texture. It adds moisture and natural sweetness which allows less oil and added sugar to be used. It also helps the bread/cake to set up properly without the use of eggs or gelatin. 
Coconut Cream- Use coconut cream without guar gum and make sure it is thoroughly mixed. I use this one from Let's Do Organic. 
Apple Cider Vinegar, Sea Salt, Baking Soda, and Cream of Tartar- These combine and act as a leavener giving the cake a lighter texture. You'll notice when you mix these into the batter, that it gets a little bubbly and fluffy right away.
Maple Syrup- This adds sweetness,  moisture, and some antioxidants; the darker the syrup the better. Though it's healthier than some other sources of sugar, it's still sugar, so I tried to incorporate this as sparingly as I could- this is where the applesauce helps a lot!
Coconut Sugar- There is a little bit of this in the actual cake but it mostly stars in the crumble which goes on top of the cake. When it combines with cinnamon, coconut oil, and coconut flour, it makes a sweet, slightly crunchy, indulgent coffee cake topping. 
Vanilla Extract- Vanilla extract is ok on the AIP diet as long as you'll be cooking/baking it because this allows the alcohol to cook off.
You may also notice that a lot of vanilla extract products contain glycerin which is often derived from corn or soy. This is a good vanilla extract to go with for Paleo/AIP. Vanilla powder is another great AIP option and it can be used in any AIP products whether you're baking them or not.  
Optional Protein Boost: If you want to add a little protein boost to this, just add a scoop of collagen. Vital Proteins is a great brand.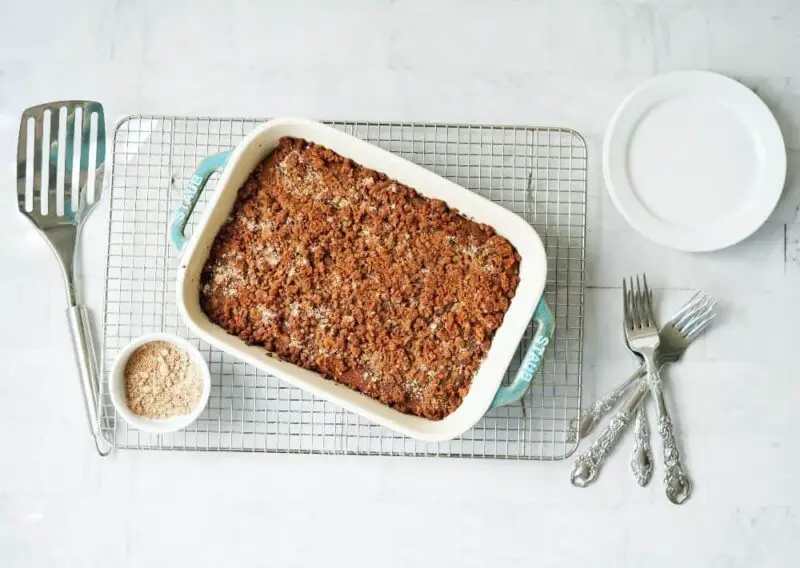 Coffee Cake Components
The Cake- The cake itself comes together pretty simply- just mix the wet ingredients in one bowl, the dry ingredients in another bowl, then combine them. You'll pour the mixture into a greased glass baking dish- the one I used is 8" x 11" but a round 10" dish would work well too. Just something in that ballpark should work fine. 
The Crumble- A very important part of most coffee cakes, the crumble is a mixture of coconut, sugar, coconut flour, coconut oil, cinnamon, and a little maple syrup. Mix these together by hand and try to keep some of the clumps intact. You'll add the crumble mid-way through the cooking process (about 30 minutes in). 
The Cinnamon Sprinkle Mixture- This is simply a blend of cinnamon and coconut flour, which adds some added cinnamon flavor and just looks pretty.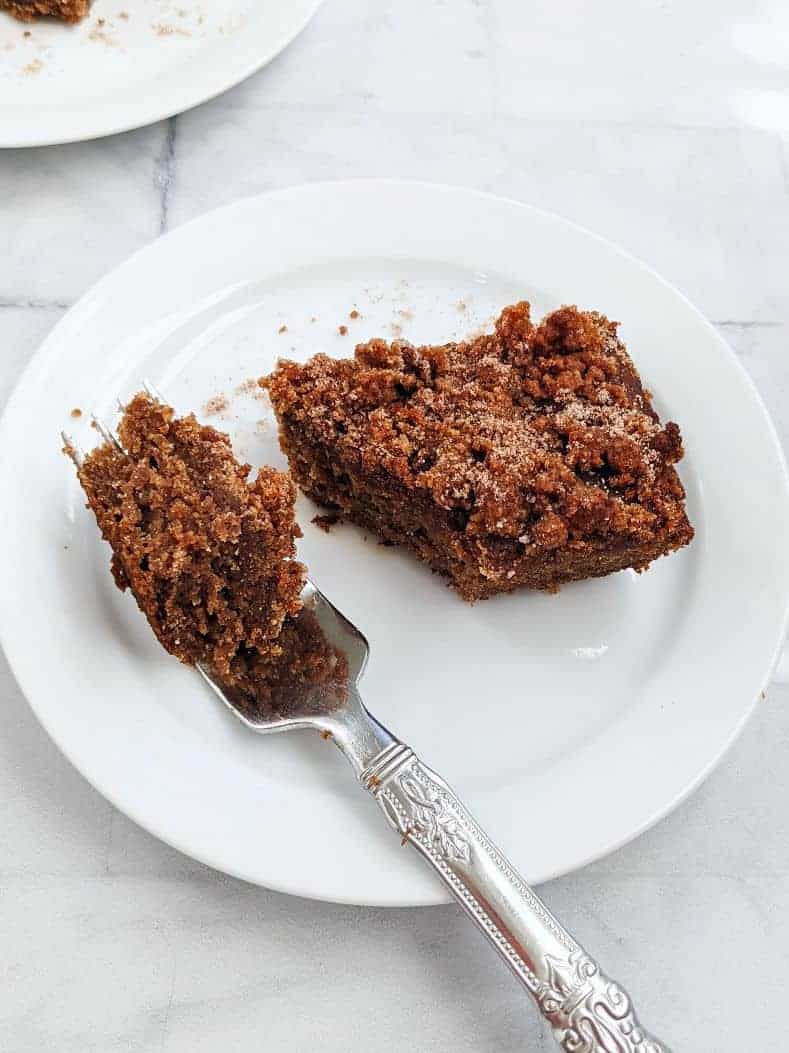 Storage
This will stay fresh in the fridge for 3-4 days or in the freezer in a tightly sealed container for up to 3 months.
If you enjoyed this post, you may also like:
87+ AIP Snack Ideas- Recipes and Packaged Foods
57+ AIP Pantry Items and What to do With Them
Conclusion
I hope you enjoyed this recipe. If you made it, leave a comment below and let me know what you thought. I'd love to hear from you! 
Also, follow me on Instagram @foodcourage for the latest recipes and Food Courage happenings!
This recipe is shared on the Paleo/AIP recipe roundtable.
Below are some of the kitchen tools and food items that are mentioned or pictured in this post and/or that I use frequently in general and recommend. They are affiliate links which means that when you click and purchase a product, I may receive a small commission at no additional cost to you. These earnings help to buffer the costs associated with maintaining the site.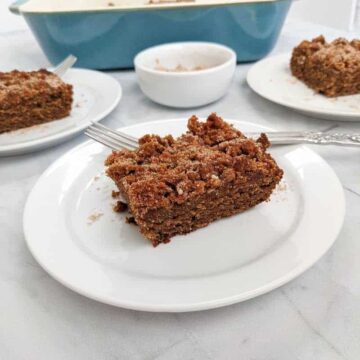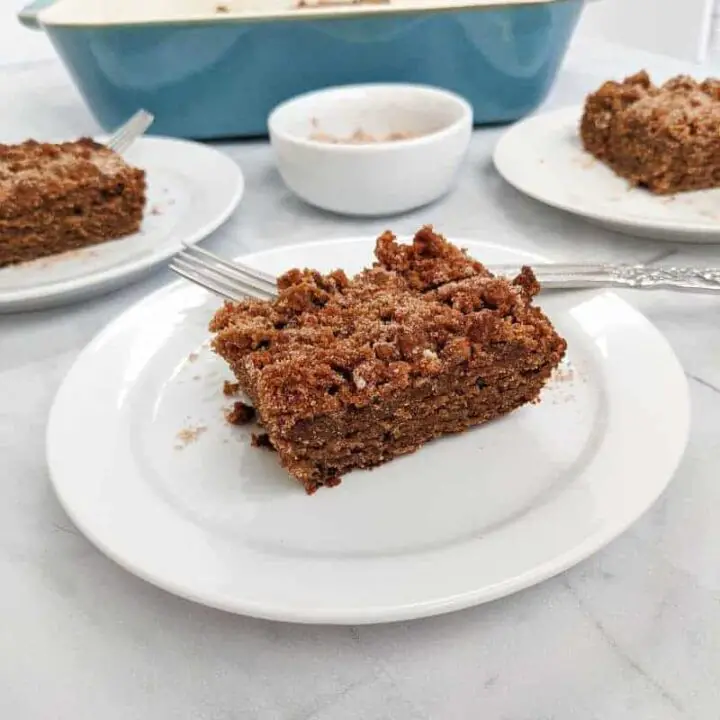 Cinnamon Crumb Coffee Cake (AIP, Paleo, GF, Vegan)
This satifying AIP friendly coffee cake is perfect for breakfast, brunch or snacks and can be frozen to enjoy later.
Ingredients  
Cinnamon Sprinkle Dusting (optional)
Instructions 
Preheat oven to 350 degrees Fahrenheit and grease a glass baking dish (I use a rectangle 8" x 11" dish but anything close in size to this will work).

*Sift the tigernut flour before measuring if desired (see notes).

In a medium bowl, mix the dry ingredients.

In another medium bowl mix wet ingredients.

Mix the dry ingredients into the wet ingredients and stir until smooth.

Pour the batter into a greased glass baking dish and place in the oven- (it will bake for 30 minutes and then be taken out for a moment to add the crumb topping).

Make the crumb topping- combine the crumb topping ingredients in a small bowl. Mix by hand and try to keep some of the clumps intact.

After 30 minutes of baking, remove the cake from the oven add the crumb topping, distributing it evenly across the top. Return it to the oven to bake for an additional 20-25 minutes or until a toothpick comes out clean.

In a small bowl, mix the cinnamon dusting sprinkle ingredients- this part is optional but adds some additional cinnamon flavor and it looks nice. Just keep it fairly light.

Once the cake has finished baking (about 50-55 minutes total), remove it from the oven and allow to cool. Sprinkle lightly with the cinnamon sprinkle dusting and serve!
Notes
*You can use a sifter or a strainer
to get any little clumps out of the tigernut flour. This is optional but
produces a better end product. However, it should be noted that sifting will change the measurements slightly.
If you don't sift the flour, you'll need 1 ½ cups. If you do sift it, you'll need 1 ¾ cups. 
This will stay fresh in the fridge for 3-4 days in a tightly sealed container or up to 3 months in the freezer. 
Nutrition
Nutrition Facts
Cinnamon Crumb Coffee Cake (AIP, Paleo, GF, Vegan)
Amount per Serving
% Daily Value*
* Percent Daily Values are based on a 2000 calorie diet.