These amazing little cranberry-orange bars are so moist, sweet, tangy, and satisfying while also being gluten-free, egg-free, dairy-free, and relatively healthy as far as baked goods go. They're relatively low in fat with only 2 tbsp of oil and get most of their moisture from healthier sources. 
These work great as a dessert, snack, breakfast, or even as a holiday gift. 
**Just a quick heads up- this post contains affiliate links which means if you click on them and buy something,  I will earn a small commission (at no additional cost to you) to help continue maintaining this site. 
The tartness of fresh cranberries
Fresh cranberries are, of course quite tart. I made this recipe with whole cranberries and I really like it this way but if you want, you can cut the cranberries in half to more evenly distribute the tartness throughout the bars.
Can I use dried cranberries?
Yes. If you just feel whole cranberries are not your thing, dried cranberries work great too- just add 1/2 cup of dried cranberries in place of fresh.
How do you replace eggs in baked goods?
This recipe uses several egg replacements in combination:
Gelatin egg (gelatin mixed with water) which acts similar to how an egg would. 
Vinegar and baking soda- When baking soda and vinegar combine, a chemical reaction occurs creating bubbles (carbon dioxide). These act as a leavener helping to lighten the texture of baked goods. 
Apple sauce- This not only works as an egg replacement but it adds natural sweetness and moisture to baked goods. Always go with unsweetened and organic if possible. 
Other AIP Cranberry Bar Ingredients
Tiger Nut Flour- This is a great AIP-friendly flour. I never get tired of it because it works so well in so many different recipes. It's a little pricey but it tastes great and the texture provides plenty of body to baked goods. 
Cassava Flour- This flour, derived from starchy tubers is higher in carbohydrates than tiger nut flour and is very versatile. It's probably as close as you can get to white flour while staying gluten/grain-free. I've only used Otto's brand since I starting doing Paleo and haven't tried any other brands since I've been happy with it.
Coconut Flour- This is a super fine naturally grain-free flour and it adds tenderness to baked items. 
Maple Syrup-If you're going to use a sweetener, maple syrup is a good choice as it provides many important minerals and antioxidants. Darker syrups have been found to be higher in antioxidants than lighter ones. 1
Coconut Oil- This provides moisture and mouthfeel to baked goods while also contributing to some health benefits. 
Orange juice- This just gives a hint of orange flavor while providing plenty of moisture to the bread, decreasing the need to add an excessive amount of oil. 
Coconut Flakes: Go with unsweetened. This completely optional but it makes it really good. 
Apple Sauce: Once again, go with unsweetened. I like to buy the individual apple sauce cups for recipes because we don't use enough apple sauce otherwise and it prevents waste. 
I hope you enjoy the recipe. If you made it, please leave a comment below and let me know what you thought! 
If you enjoyed this post, you may also like: 
Beginner's Guide to the Autoimmune Protocol
57+ AIP Pantry Items and What to do With Them
Conclusion:
I hope you love the recipe. Please leave a comment below and let me know what you thought!
Don't forget to follow me on Instagram @foodcourage for the latest AIP/Paleo recipes, autoimmune nutrition info, and Food Courage happenings!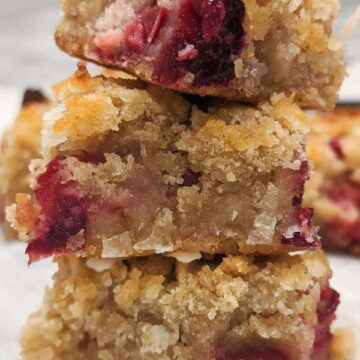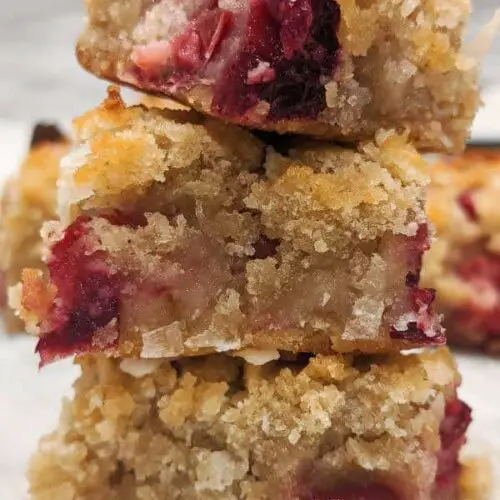 Cranberry Orange Coconut Bars (Paleo, AIP, GF)
These delicious little cranberry bars are moist, sweet, tangy, and super satisfying.
Ingredients  
Add Last
1/2

cup

fresh cranberries

1/4

cup

shredded unsweetened coconut
Instructions 
Preheat oven to 375 degrees Fahrenheit.

In a medium-sized bowl, mix wet ingredients.

In a separate small bowl mix gelatin and water, then add to wet ingredients.

In another medium-sized bowl, add dry ingredients and mix well.

Combine wet and dry ingredients together. Fold in cranberries and shredded coconut.

Pour mixture into an 8x8 inch glass baking dish and press down until even and smooth.

Bake at 375 degrees F for about 50 minutes or until toothpick comes out clean.
Notes
If you don't care for the tartness of fresh cranberries, replace them with 1/2 cup dried cranberries.
These will keep fresh for 3-4 days in the fridge in a tightly sealed container.