Chicken kelaguen, a Chamorro specialty, is about as flavorful as it gets! You are going to love this stuff.  I've literally made it 3 times this week because my family and I love it so much. This is the type of dish you can serve to guests and take to parties and they will rave about it. 
The dish is usually served cold as a side dish or main dish over rice or in tortillas. The recipe does take a little planning because the chicken needs to marinate for a while.
That aside, this is a very easy dish with only a few ingredients and little active prep time. I'm usually impatient when it comes to meal prep but this meal is completely worth the wait!
If you're wanting more chicken recipe ideas, check out my AIP Chicken Recipes post which has over 130 recipes.
**Just a quick heads up- this post contains affiliate links which means if you click on them and buy something,  I will earn a small commission (at no additional cost to you) to help continue maintaining this site. 
What is Chicken Kelaguen?
Chicken Kelaguen uses lemon juice, green onions, coconut, salt, and hot pepper (aka finadene sauce) to marinate cooked chicken, raw fish, or raw beef. Similar to ceviche, the acids in the marinade are used to "cook" the fish or meat. Chicken is cooked beforehand for food safety purposes.      
Chicken Kelaguen is a Chamorro dish. The Chamorro people are indigenous to the Marianna islands (think Guam). These are located southeast of Japan and to the south-west of Hawaii.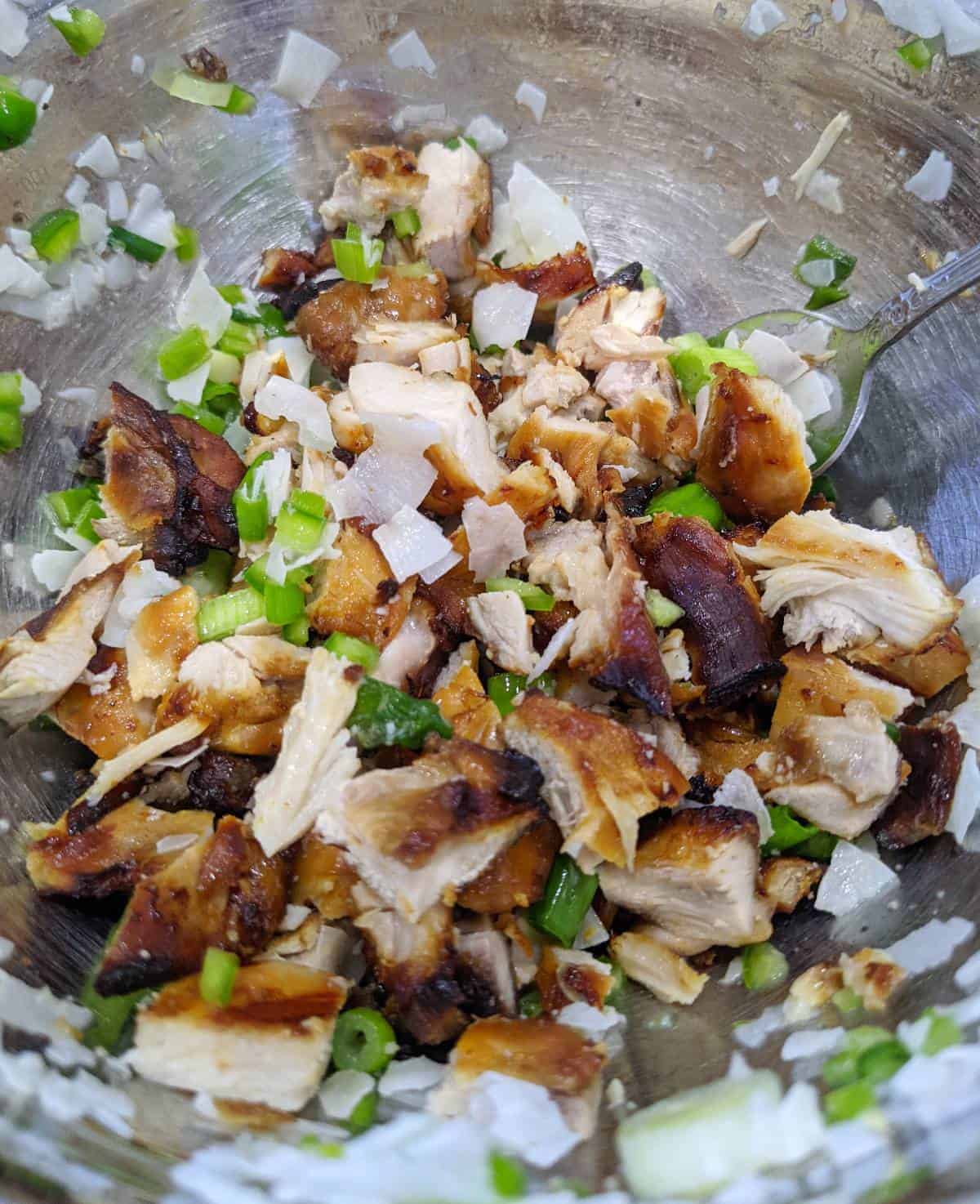 How to Make Chicken Kelaguen AIP Friendly
Luckily, there are very few adjustments that need to be made to make chicken Kelaguen AIP friendly. Often the chicken is first marinated in soy sauce, vinegar (or lemon juice), and chili peppers before cooking it. It's then mixed with it in lemon juice, onions, chili peppers, coconut, and sometimes a little bit of coconut milk. 
To make the chicken marinade AIP, I used coconut aminos instead of soy sauce and omitted the chili peppers. If you want some additional spice and you're not doing AIP, you could certainly add peppers to the marinade.
For the second part of the recipe (the lemon juice mixture), the typical ingredients are compliant except for the chili peppers. I left these in the recipe as an optional ingredient for those AIPers who have reintroduced nightshades and those who are doing Paleo or Whole30. I will say though that it is such a fabulous dish with or without the peppers. If you are in the elimination phase of AIP, just omit the chili peppers. 
What's In This Chicken Kelaguen Recipe?
This is a great condiment that adds a ton of flavor to pretty much anything. I tried to minimize the amount of coconut aminos needed for this recipe because they're not entirely cheap. They're necessary for this recipe though and completely worth it. 
Try to use white wine vinegar if possible. If you don't have it, you can alternatively use lemon juice or red wine vinegar in equal amounts. 
This adds another level of flavor to the marinade.
This is used for the second step of the recipe (after the chicken is cooked). The lemon juice adds a nice tang to the dish. 
Green onions seem to have a slightly subtler flavor than other onions. Thus, they work perfectly in this recipe and don't overpower the other flavors. 
Usually, fresh coconut is used in Kelaguen. That being said, I couldn't find fresh coconut the day I was testing this recipe. Also, I find it very very hard to open a coconut! Anyway, I decided to just use unsweetened coconut chips (basically just thick coconut shreds) for this recipe. They worked great. Of course, if you prefer to use fresh coconut, definitely go for it.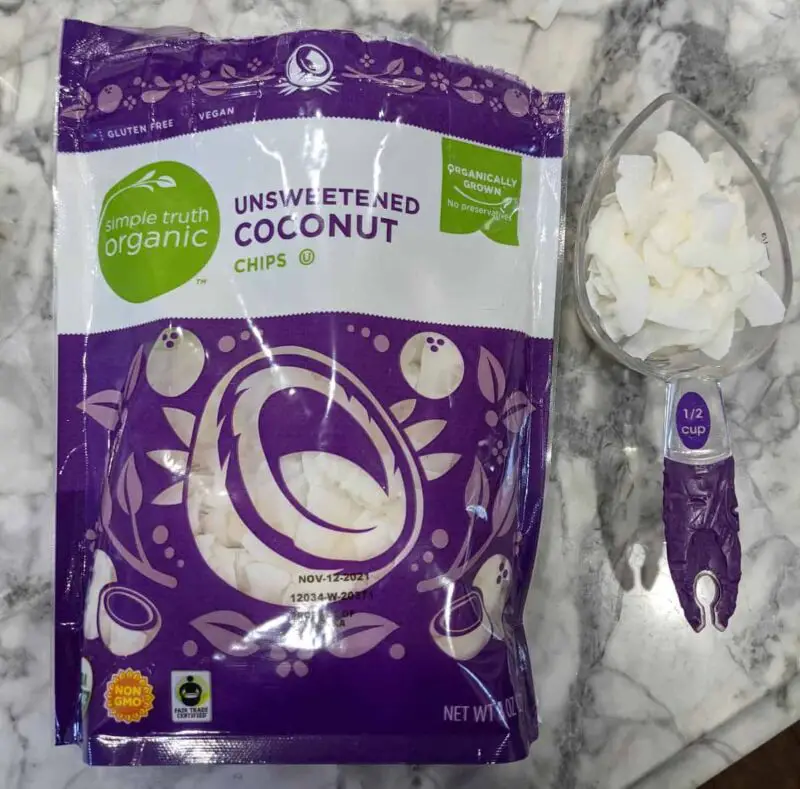 Hot Chili Peppers or Serrano Peppers
As mentioned above, you can just omit these if you're doing the AIP elimination phase. I couldn't find hot chili peppers at my Kroger, so I tested the recipe with serranos and they worked well. 
Just a tiny bit of full-fat coconut milk added to the chicken mixture adds a little bit of creaminess. It seems simple but it really transforms the flavor profile. It's so delicious with it- don't leave this part out!
My go-to for guar gum-free coconut milk continues to be
Thai Kitchen's 2 Simple Ingredient coconut milk
. It's by far, the most consistent product I've used. I've never had issues with it. I use it so much, that I keep it on a monthly subscribe and save delivery schedule with Amazon.
Any type of sea salt is fine. Make sure it's fine grain. 
Do I have to Marinate the Chicken?
Yes. While it may be tempting to skip this step, the magic of this recipe is in the marinade. I'd recommend marinating the chicken for at least 8 hours. Overnight is even better. You can marinate for less time but longer is better (up to 24 hours). 
I'd recommend putting the chicken in the marinade the night before you want to cook it. The marinade is just 3 ingredients so it's not a lot of prep to get it ready and toss the chicken in for dinner the following night. 
How Cook Chicken for Kelaguen
You have a few options for cooking the chicken. Ideally, you want to grill it or use an air fryer to get some good grill marks and a bit of smokey flavor. I used my Ninja Foodi air fryer to cook it (grill setting on Low/400 degrees) for about 16-18 minutes. It turned out so beautifully doing it this way. I definitely recommend it if it's an option for you. 
You can also just pan fry the chicken on medium-high heat for 5-6 minutes per side (or until it reaches 165 degrees F.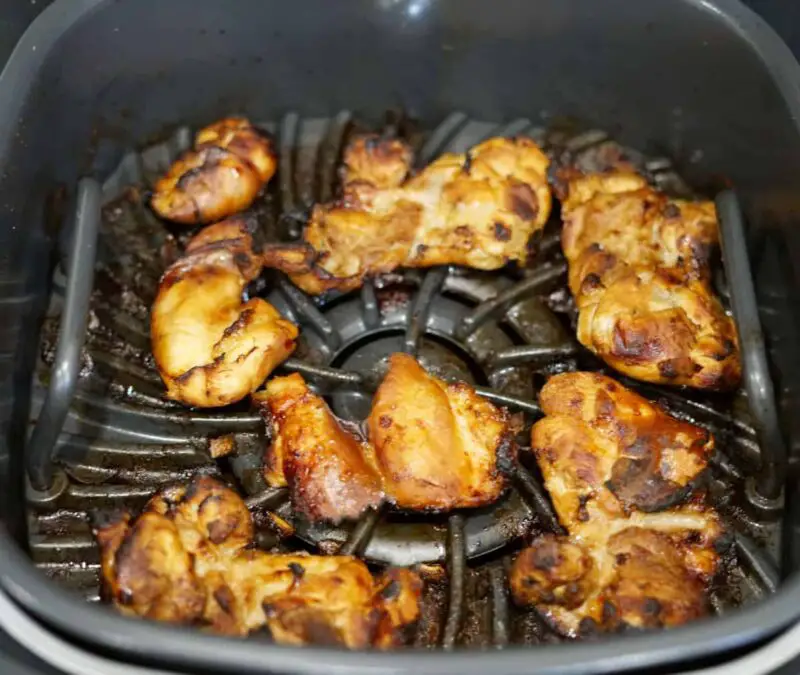 How to Serve Chicken Kelaguen
Over cauliflower rice
Over broccoli slaw
In a coconut wrap
In a lettuce wrap
How Long Does Chicken Kelaguen Keep in the Fridge?
This dish will keep for 3-4 days in an airtight container. 
Can You Freeze Chicken Kelaguen?
I haven't tried it but I wouldn't think it would freeze well. However, if you wanted to freeze the raw chicken in the marinate as a meal prep option, that would work beautifully!
If you enjoyed this post, you may also like: 
Air Fryer Ninja Foodi Teriyaki Chicken
Korean Glass Noodle Recipe with Ground Beef
57+ AIP Pantry Items and What to do With Them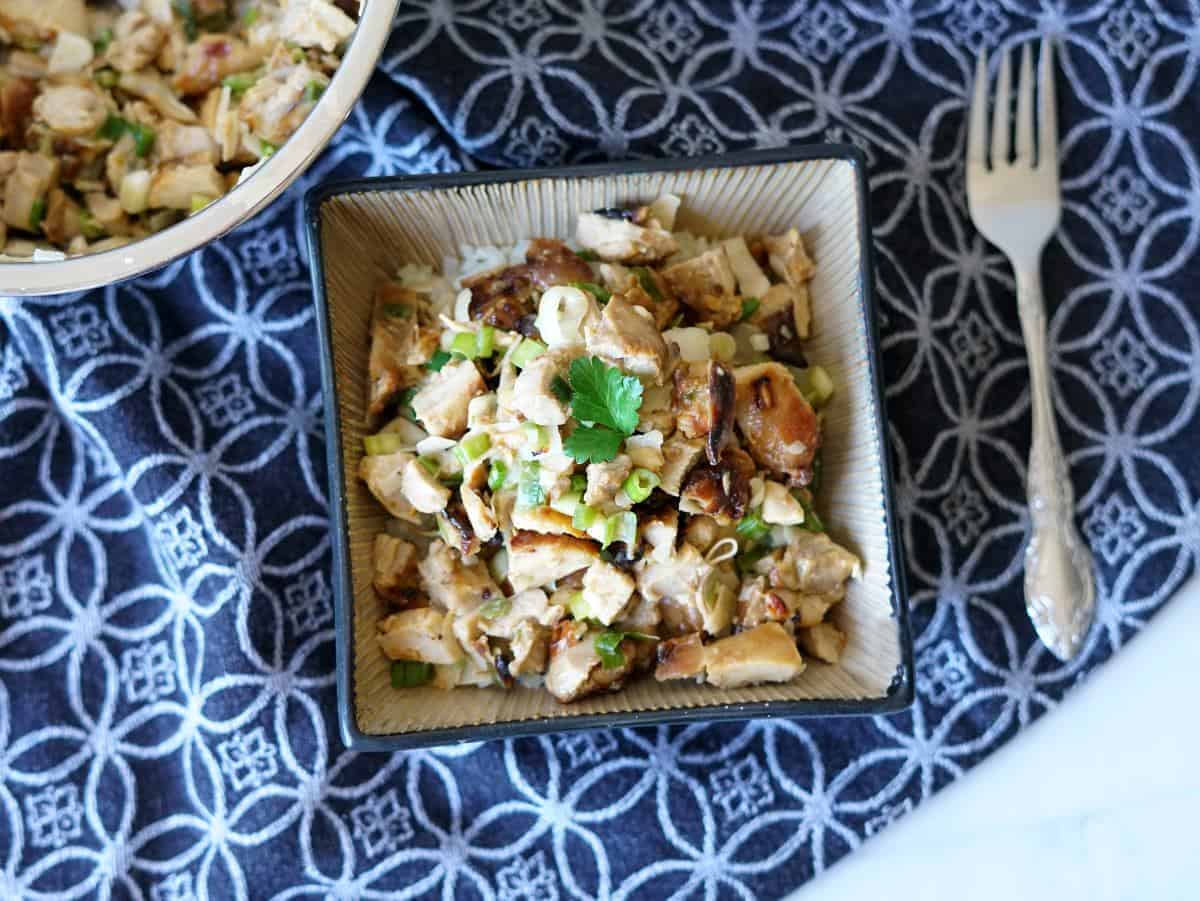 Conclusion:
I hope you found this post useful. What's your favorite variation of AIP cauliflower fried rice? Please leave a comment below!
Don't forget to follow me on Instagram @foodcourage for the latest AIP/Paleo recipes, autoimmune nutrition info, and Food Courage happenings!
This post is shared on the Paleo AIP recipe roundtable.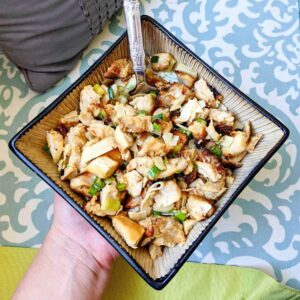 Chicken Kelaguen (Paleo, AIP, Whole30)
Chicken Kelaguen, a Chamorro specialty, is marinated in a super flavorful marinade, then grilled. Prep only takes about 15 minutes so it's pretty easy to make. It's definitely a crowd-pleaser.
Ingredients  
Marinade (for raw chicken)
Lemon Mixture (for cooked chicken)
1/4

cup

lemon juice

1

bunch

green onions, diced (about 6 green onions)

1-2

serrano peppers or hot chili peppers, minced

(Optional, Omit for AIP)

2-3

tbsp

full fat coconut milk

1/4

tsp

sea salt
Instructions 
Mix the marinade ingredients in a medium bowl, add the chicken and make sure it's covered. Refrigerate and allow to marinate for 8 hours or overnight.

If you have an air fryer, use the grill setting and preheat the air fryer to low (400 degrees), and set the time to 17 minutes.

Once preheated, add the chicken to the air fryer and discard the marinade. Close the lid. Flip it half-way through.

(If no air fryer, heat a pan with olive oil over medium-high heat on the stove and cook the chicken for 5-6 minutes per side or until it reaches an internal temp of at least 165 degrees Fahrenheit).

Once done cooking, put the chicken on a plate and allow it to cool for about 10 minutes.

While the chicken cools, combine the lemon juice, green onions, coconut shreds, coconut milk, and salt.

Dice the chicken into small bite-sized pieces and add it to the lemon juice mixture. Stir it well and put it in the fridge to chill for about an hour.

Serve with cauliflower rice or Paleo/AIP-friendly pitas/tortillas.
Notes
Makes 4 1 cup servings. 
Store in the fridge for up to 4 days in an airtight container. 
Nutrition
Nutrition Facts
Chicken Kelaguen (Paleo, AIP, Whole30)
Amount per Serving
% Daily Value*
* Percent Daily Values are based on a 2000 calorie diet.