Have you been looking for a tomatoless "nomato" pasta sauce that tastes even a little bit like tomatoes? I feel your pain.  My goodness, I honestly never thought I'd be able to find or develop an AIP pasta sauce that actually tastes like real marinara. However, this stuff is actually even better. Plus, this sauce is made without beets!!
Don't get me wrong, I love beets, but I know not everyone does. So, I'm psyched that I was able to come up with a great nomato sauce without beets. The other cool thing is, that it only requires a handful of ingredients. 
As with my other recipes, I tried this one on my family. It was a hit! They all agree it tastes like tomato sauce. Woohoo! 
This is a relatively thick nomato sauce, so it's awesome as a tomatoless pizza sauce as well as an AIP-friendly marinara. You can add a little bit of water or vegetable broth if you want to thin it out a bit as needed. 
**Just a quick heads up- this post contains affiliate links which means if you click on them and buy something,  I will earn a small commission (at no additional cost to you) to help continue maintaining this site. 
Nomato Pasta Sauce Ingredients
Olive Oil- Preferably organic and cold-pressed. You could also use avocado oil or coconut oil instead. This will be used to saute the onions and carrots.
Carrots- You'll want to peel the carrots and dice them very very small, so they cook relatively quickly.
Onion- Sweet onions or yellow onions work well. Dice them relatively small as well.
Red Wine Vinegar -Red wine vinegar contributes a slightly sweet and unique flavor to the sauce. I definitely recommend using it if you can. If you must substitute something in, white wine vinegar is probably the next closest thing.
Garlic Powder -This is a pretty typical ingredient in most pasta sauces and it helps to balance the sweetness of the other ingredients.
Dried Oregano -Another typical pasta sauce ingredient. This herb in just the right amount contributes to the perfect marinara flavor.
Dried Basil- This in combination with the other seasonings makes for an amazing sauce.
Frozen Sweet Dark Cherries- You may be wondering if cherries will make the sauce too sweet. It is a tad sweet but not as sweet as you might think. I wouldn't say it's any sweeter than most pasta sauces. Plus the garlic and salt balance out the flavor really nicely.
Try to get organic. You can of course use fresh cherries as well. but I like using frozen because they're already pitted. You'll just microwave the cherries to heat them up before adding them to the blender with the other ingredients.
You might be able to use canned cherries but the cherries won't be as red as fresh or frozen. This just means the sauce may not be as red. It may look a little more on the orange side. 
How to Make Tomatoless Pasta Sauce
Step 1:
Saute the onions and carrots in a pan with olive oil until tender.
Add the vinegar, salt, and seasonings.
Step 2: Cook a little longer until the vinegar evaporates. Remove from the heat.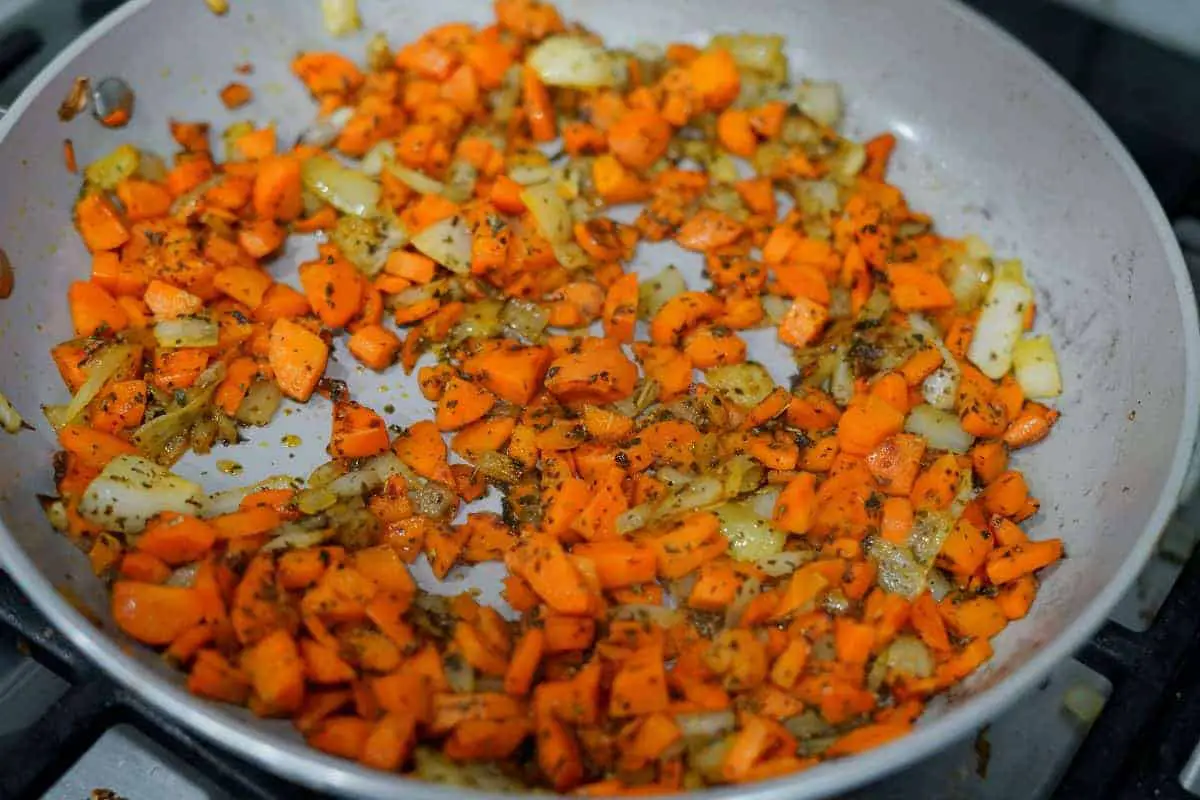 Step 3: Heat up the cherries in the microwave.
Step 4: Add the vegetables and cherries to a high-speed blender or food processor until smooth.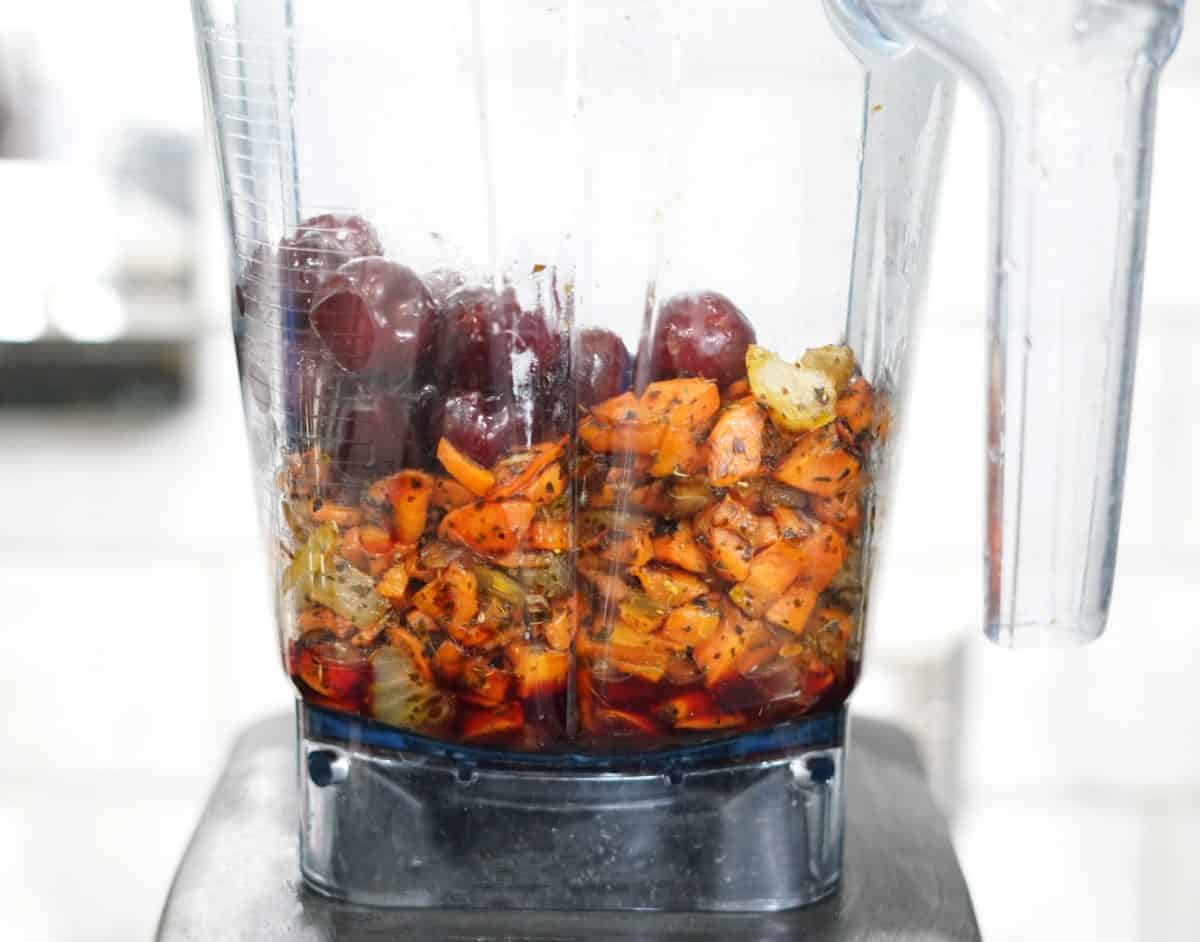 Step 5: Assess the consistency of the sauce then add a little bit of water or vegetable broth (if needed) to desired consistency. That's it!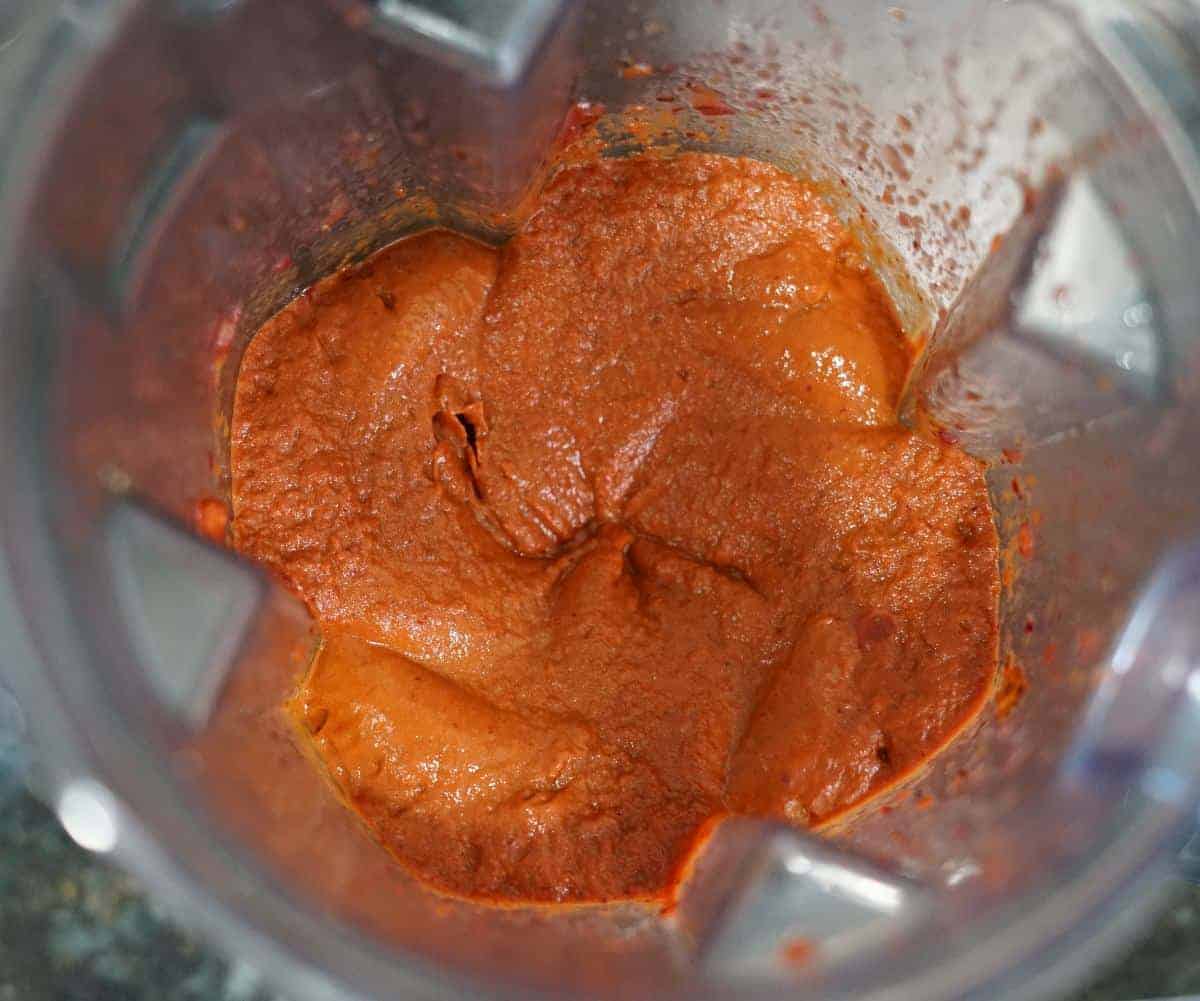 Can You Freeze Nightshade Free Spaghetti Sauce?
Yep! I recommend storing it in mason jars leaving a little bit of space at the top for expansion. It'll keep fresh in the freezer for at least 3 months. This is very easy to make in big batches and freeze so it's ready to go for future meals. 
Ways to Use No Tomato Pasta Sauce
AIP Pizza Sauce
Nightshade Free Ketchups
AIP BBQ Sauce
Other Sauces
Chilis
Soups
Casseroles
If you enjoyed this post, you may also like: 
Beginner's Guide to the Autoimmune Protocol
5 Ingredient Cherry Balsamic AIP Salad Dressing
AIP Mediterranean Flatbread Pizza
57+ AIP Pantry Items and What to do With Them
Conclusion:
I hope you love this recipe. If you try tried it, please leave a rating and/or comment! I'd love to hear what you thought!
Don't forget to follow me on Instagram @foodcourage for the latest AIP/Paleo recipes, autoimmune nutrition info, and Food Courage happenings!
This post is shared on the Paleo/AIP Recipe Roundtable.
If you liked this post, please share it!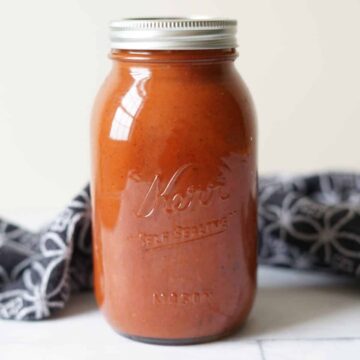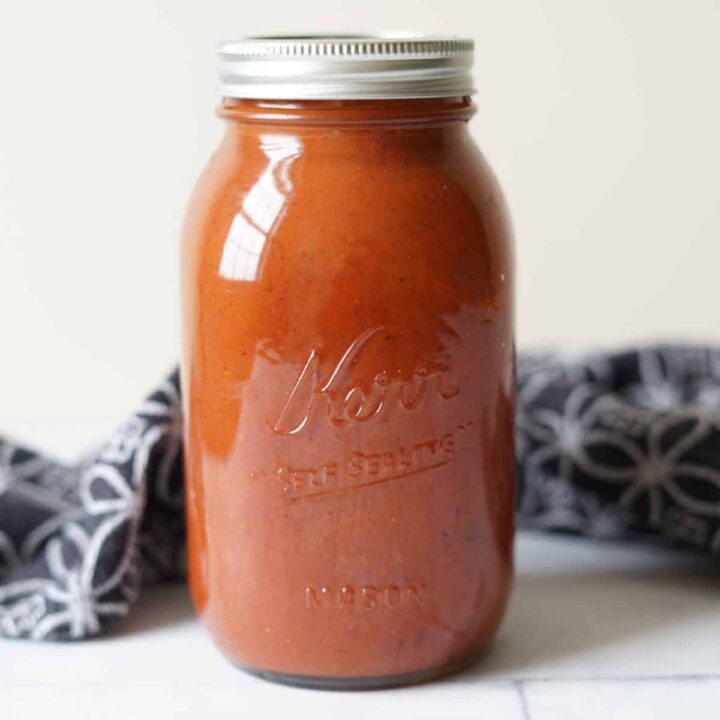 Nomato/Tomatoless Pizza and Pasta Sauce- No Beets!
This AIP pasta sauce actually tastes like real marinara but without tomatoes and without beets! It only takes about 30 minutes to make and you can also make it in larger batches to freeze for later! It's vegan, AIP, Paleo, and Whole30 friendly.
Equipment
high speed blender or food processor
Instructions 
Heat the oil in a pan over medium-high heat. Add the onions and saute for about 2 minutes.

Add the carrots to the pan. Turn heat down to medium. Cook for 10-12 minutes and continue stirring frequently to avoid burning.

Add the vinegar, salt, and seasonings to the pan and stir them in. Continue cooking for another 4-5 minutes or until the carrots are soft and tender. Remove from heat.

Place the cherries in a microwave-safe bowl and heat for about 4 minutes or until cherries are warm. Stop the microwave and stir them once or twice during heating.

Add the cherries and carrot/onion mixture to a high-speed blender or food processor and blend on high until smooth. Add up to 1/4 cup of water and assess consistency. If needed, add a little more water or vegetable broth if you'd like it thinner.

Use the sauce in recipes as needed.
Notes
Store in the fridge for up to 4 days or in the freezer for at least 3 months in an air-tight container. 
Makes about 3 cups of sauce. 
Nutrition
Nutrition Facts
Nomato/Tomatoless Pizza and Pasta Sauce- No Beets!
Amount per Serving
% Daily Value*
* Percent Daily Values are based on a 2000 calorie diet.