This lemony breakfast bread is so yummy and light-tasting. It's Paleo and gluten-free and super easy to make- just mix everything together and bake. For other breakfast ideas, check out 100+ AIP Paleo Breakfast Ideas.
Ingredients: 
Coconut Flour- This is a great low-carb gluten-free flour and a good source of protein and fiber. It works well with the almond flour and produces a beautiful texture.  
Almond Flour- If possible, go with super-fine almond flour (rather than almond meal which is made from whole almonds instead of blanched peeled almonds). The super-fine flour makes for a very soft texture. I usually use Bob's Red Mill.
Blueberries- Use fresh (organic if possible). 
Lemon Juice- This gives the bread that light fresh taste (in addition to the blueberries of course) not to mention a vitamin C boost.
Lemon Zest- This part's important; it gives a little bit of an extra lemon boost. 
Eggs- Omega 3 enriched are great if you can get them. This bread has a lot of eggs but it gives it a good texture and plenty of protein.
Baking Soda- This combines with the lemon juice and gets a little bit fizzy. As a leavening agent, it helps the bread to rise a little bit and makes it somewhat light and airy.
Salt- It not only contributes flavor but in combination with a leavening agent like baking soda, has a huge impact on the texture/tenderness of baked goods. 
Reasons to love this bread:
It's so easy- you can technically just mix everything together in one bowl.
The recipe says to mix dry ingredients and wet ingredients separately, then combine. While this is the correct way to do it, I will say I have gotten lazy and just thrown everything together in one bowl and it still turned out about the same. BUT still add the blueberries last and fold them in gently.
It's great if you need something on the go- Just take a slice or two along with you. If not for breakfast, it works as an awesome snack too. 
It's pretty healthy- It's made with wholesome natural ingredients, has a decent amount of protein, and is loaded with fruit.
The low carb version is pretty tasty- I made this with erythritol instead of maple syrup and it turned out really good.
If you want to cut down on the fat content- Subbing in unsweetened applesauce for the coconut oil works nicely.
It's completely delicious and goes great with coffee, tea or hot chocolate.
Tips:
You could use a whisk or spatula or mixer the mix this but it's really not necessary. I literally just used a fork to mix everything together. BUT a spatula is helpful when you transfer the dough to the loaf pan. 
Place the pan on the middle rack in the oven.
Use a piece of parchment paper in the loaf pan for easy cleanup. The parchment paper can be a little tricky to make stay in the pan at first. Just start by spooning a little dough into it to hold it down and then it's pretty easy to get the rest of the dough in. It's ok if you don't have parchment paper though; Just grease the pan with avocado oil, butter, or ghee.
It will go fast especially if you have multiple people living in your house. My kids and their friends finished off a loaf before it was even cold. Consider making two of them so you can have some too.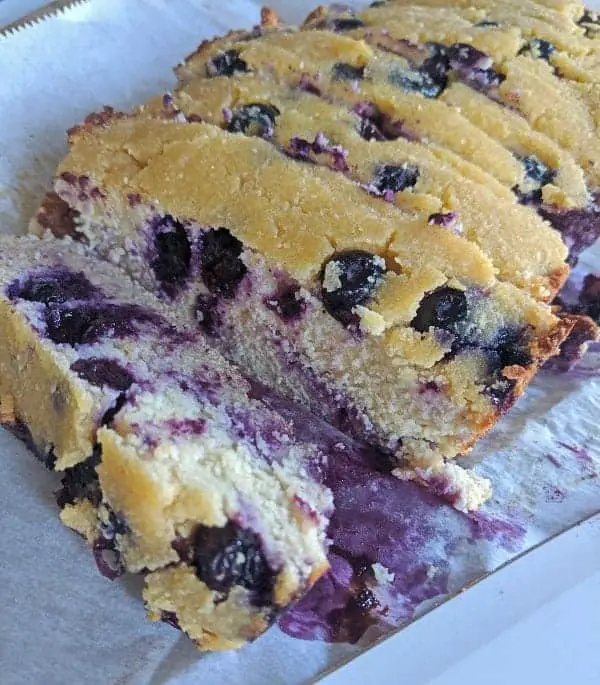 I hope you enjoy the recipe. If you made this, please leave a comment below and let me know what you thought! 
Other Paleo Bread and Cake Reipes: 
5 Ingredient Banana Bread Mug Cake
AIP Pineapple Upside Down Cake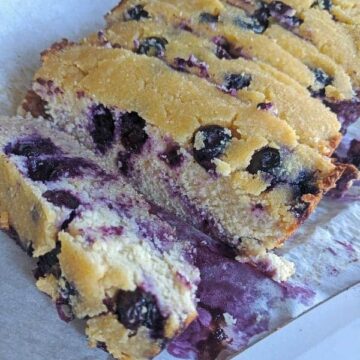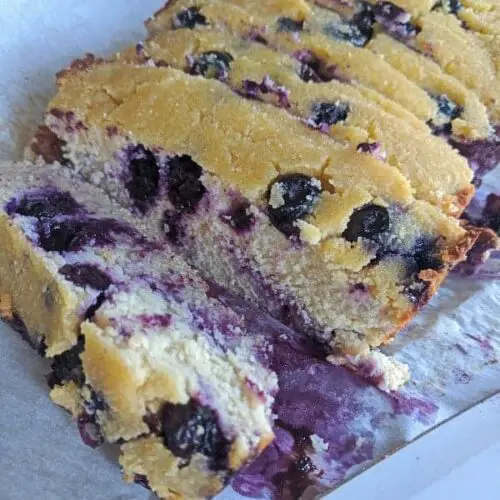 Lemon Blueberry Dessert Bread
This fabulous bread is similar to my Lemon Blueberry Breakfast Bread but a little sweeter and little moister making it more of a dessert.
Equipment
Medium mixing bowl

Medium loaf pan
Instructions 
Preheat oven to 350 degrees Fahrenheit.

Line a loaf pan with a sheet of parchment paper (or grease pan if not using parchment paper.)

Mix dry ingredients in a medium sized bowl.

Mix wet ingredients in another medium sized bowl.

Combine all ingredients together.

Pour mixture into pan and place on medium rack in preheated oven.

Bake at 350 degrees for 50-60 minutes or until toothpick comes out clean.