Coconut Aminos Teriyaki Sauce Recipe (AIP, Paleo, GF)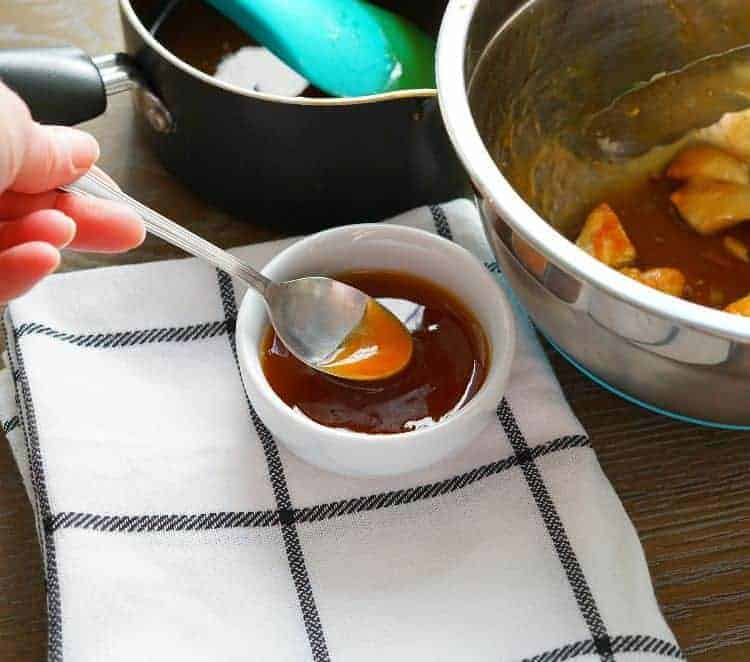 Coconut aminos teriyaki sauce is a much-needed condiment in any AIP kitchen. I love condiments in general because they bring so much versatility to foods. This sauce took a few tries to get right but it turned out delicious!! It only takes a few minutes to make and it's AIP, Paleo, gluten-free, and vegan.
While there are some coconut amino teriyaki sauce products out there, I've found most of them are not AIP compliant. This is because they contain things like cayenne pepper or sesame seeds. They're also relatively pricey. The good news is, it's very easy and more affordable to make your own. This is the same sauce used in my AIP Teriyaki Chicken recipe, so if you're craving teriyaki chicken, definitely check it out!
**Just a quick heads up- this post contains affiliate links which means if you click on them and buy something,  I will earn a small commission (at no additional cost to you) to help continue maintaining this site. 
Coconut Aminos Teriyaki Sauce Ingredients
Pineapple Juice- Make sure to use 100% juice. Orange just works great as well. 
Coconut Aminos- This is the closest soy sauce substitute you can get for AIP compliance. It's sweeter than soy sauce but still delicious. 
Maple Syrup- The sugar from the maple syrup and the pineapple juice caramelize when heated which contributes to the richness and texture of the sauce. 
Onion Powder- This isn't always a teriyaki ingredient but it rounds out the flavor nicely. 
Ginger Powder- Ginger is kind of a required flavor when it comes to teriyaki sauce. Fresh ginger would be fantastic in this sauce. If you'd like to use fresh, substitute 1 tsp of fresh ginger in place of ½ tsp ground ginger.
Garlic Powder- Fresh garlic tastes amazing as well. Use about 2 cloves of fresh garlic in place of the ½ tsp garlic powder. 
Arrowroot Starch (or tapioca starch)- The arrowroot starch acts as a thickener for the sauce. Tapioca starch works as a substitute 1:1. 
Cold Water- The water will be mixed with the arrowroot starch to form a slurry.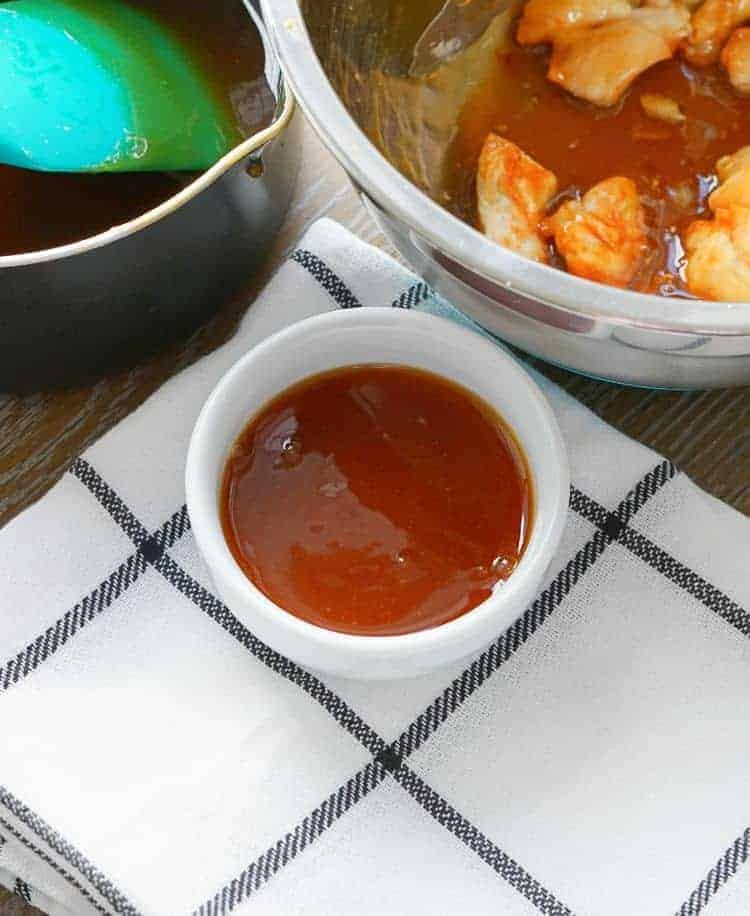 How Do You Make Coconut Aminos Teriyaki Sauce?
Here's how to make teriyaki sauce with coconut aminos:
Mix the first 6 ingredients in a small saucepan over medium heat for a couple minutes. 
Make a slurry with arrowroot starch and water, then add to the pan. (This will thicken the mixture). 

Continue stirring for a couple of minutes until the mixture starts to bubble. 

Remove the pan from the heat when the mixture reaches the desired thickness. 
Coconut Aminos Questions:
What Do Coconut Aminos Taste Like?
Coconut aminos basically taste like a sweet soy sauce. They're still fairly salty as well but not as salty as soy sauce.
What Are Coconut Aminos Used For?
Coconut aminos are used in many recipes including things like:
Where to Buy Coconut Aminos
Your Local Grocery Store:

I usually get them at Kroger or Walmart in the Asian foods aisle. Sometimes I find them near the honey as well for some reason. 

Asian Grocery Store
Coconut Aminos Replacements
I'll preface this by saying there are really not many AIP compliant ingredients that can be easily substituted for coconut aminos. 
If you are on an AIP diet and needing a coconut aminos substitute, you can make your own: Real Simple Real Good offers a great Coconut Aminos Substitute Recipe (omit the 2 tsp of tomato paste or find a replacement for it like pumpkin puree, butternut squash puree, or sweet potato puree)
For those not on an AIP diet, check out the coconut aminos substitutes below:
Soy Sauce

: Typically soy sauce and coconut aminos can be subbed in for one another 1:1, however, it does contain gluten and is not AIP compliant. 

Tamari

- Tamari is a Japanese soy sauce and it can be substituted 1:1 for coconut aminos. Again though, if you're doing AIP, this is not compliant. 

Liquid Aminos

- These contain soy but are gluten-free but not AIP compliant.
Coconut Aminos Benefits
Free of GMO's, MSG, phytoestrogen, and phytic acid

Contains 17 amino acids, vitamin B, vitamin C, an potassium

Scores low for glycemic index meaning it is good for preventing blood sugar spikes.

Lower salt content than soy sauce therefore less likely to contribute to hypertension and dehydration. 
 Storing Teriyaki Sauce
The great thing about this sauce is that you can make it and then store it in the fridge for later use. For example, let's say you have a batch of this sauce in the fridge ready to go. You can make a stir-fry or some chicken and just mix the sauce right into it. 
Can You Freeze Coconut Aminos Teriyaki Sauce?
Yes! This sauce freezes well for future use. Just thaw it in the fridge or defrost it in the microwave then heat it. It'll keep for about a week in the fridge (possibly longer). 
Reheating Coconut Aminos Teriyaki Sauce
To reheat your teriyaki sauce, just heat it in a pan on the stove (or add it to whatever recipe you're cooking on the stovetop). You can also just microwave it
What If My Sauce is Too Thick or Too Thin?
If it gets thicker than you would like just add a little pineapple juice. 
Conversely, If it's thinner than you want, just add a little more arrowroot starch (or tapioca starch). 
Note- This gets really thick and stretchy as it cools. This is because of its arrowroot starch content. It will thin a bit when you reheat it.
Conclusion:
I hope you enjoyed this post. If you liked the recipe, please leave a comment below. I'd love to hear what you thought!
Don't forget to follow me on Instagram @foodcourage for the latest AIP/Paleo recipes, autoimmune nutrition info, and Food Courage happenings!
If you liked this recipe, please share it!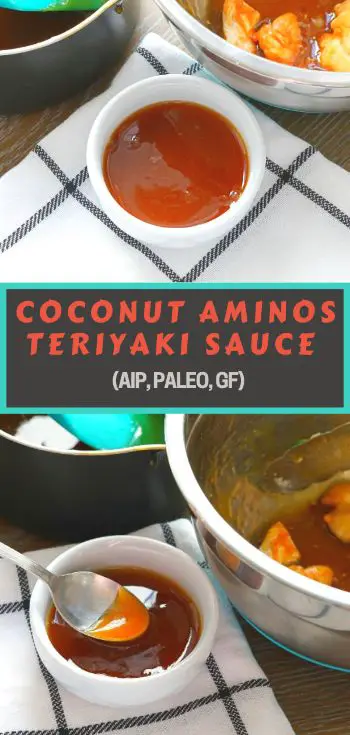 Ingredients
1

cup

pineapple juice (no added sugar)

1/2

cup

coconut aminos

1 tbsp

+1 tsp

maple syrup or honey

1/2

tsp

onion powder

1/2

tsp

ginger powder

1/2

tsp

garlic powder

2

tbsp

arrowroot starch

1/4

cup

cold water
Instructions
In a small sauce pan over medium heat, add the first 6 ingredients and heat for 1-2 minutes.

Make a slurry with the 1/4 cup cold water and arrowroot starch, then add it to the pan.

Whisk/stir the mixture continuously for a few minutes. The mixture will start to bubble and thicken. Remove the pan from the heat when the mixture reaches the desired thickness.
Notes
-Makes about 1 1/2 cups of sauce. 
-Store in the fridge in an air-tight container for up to a week. 
---
---