If you're looking for some motivational quotes for healthy living, you're in the right place! I love finding inspirational quotes on weight loss, eating a healthy diet, physical fitness, and general healthy choices. These can have a positive impact on your psyche and help you to see the forest through the trees. The secret to health is actually pretty simple but takes effort. It involves everyday things like having a nice long sleep, having a good laugh with friends, limiting junk food, moving your body, etc.
I hope you enjoy the post! You may also want to check out 165+ Motivational Workout Quotes For Her.
"The best investment you can ever make is in your own health." Unknown
"Take care of your body. It's the only place you have to live." Jim Rohn
"A fit healthy body. That is the best fashion statement." Jess C. Scott
"Tis in ourselves that we are thus or thus. Our bodies are our gardens to the which our wills are gardeners." William Shakespeare
"Man. Because he sacrifices his health in order to make money. Then he sacrifices money to recuperate his health." Dalai Lama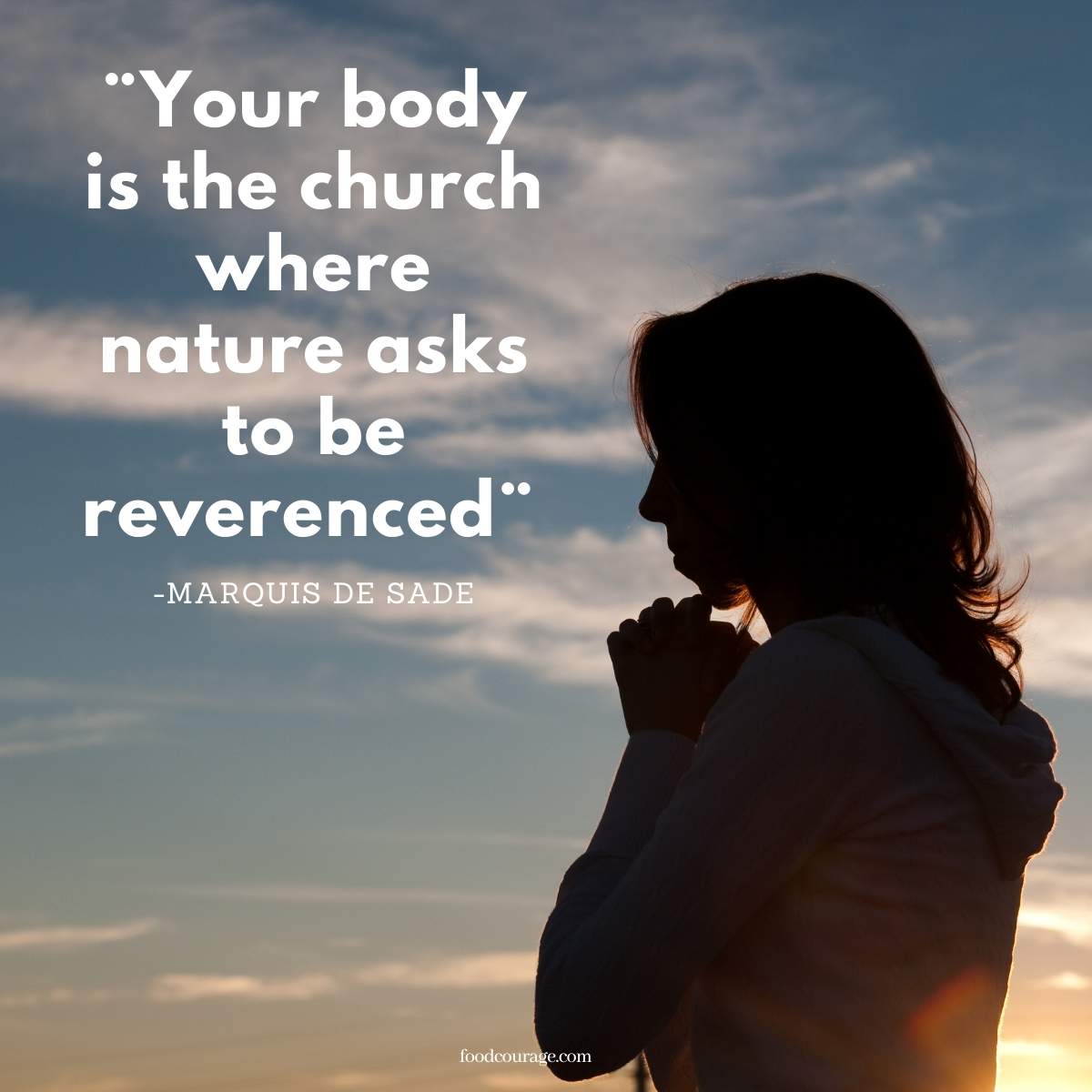 ¨Your body is the church where Nature asks to be reverenced.¨ Marquis de Sade
"It is health that is real wealth and not pieces of gold and silver." Mahatma Gandhi
¨The groundwork for all happiness is good health.¨  Leigh Hunt
"The reason I exercise is for the quality of life I enjoy. Kenneth H. Cooper
"He's the best physician that knows the worthlessness of most medicines." Benjamin Franklin
"He who has health, has hope; and he who has hope, has everything." Thomas Carlyle
"Your present circumstances don't determine where you can go; they merely determine where you start." Nido Qubein
Health is like money, we never have a true idea of its value until we lose it. Josh Billings
¨Living a healthy lifestyle will only deprive you of poor health, lethargy, and fat.¨ – Jill Johnson
"Create healthy habits, not restrictions." — Unknown
"Don't let the scale define you. Be active, be healthy, be happy." Unknown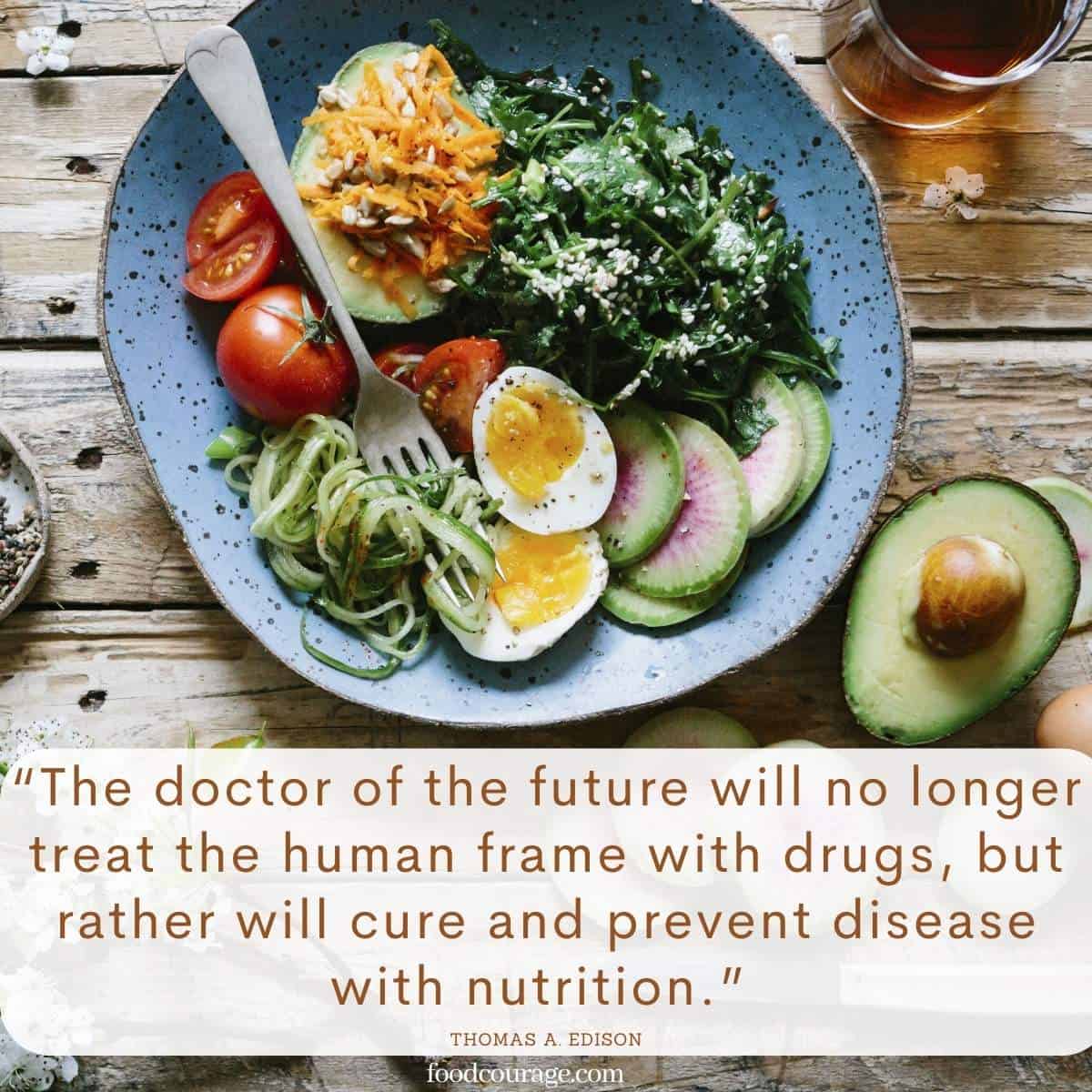 "The doctor of the future will give no medicine, but will interest his patient in the care of the human frame, in diet and in the cause and prevention of disease." Thomas Edison
"Fall in love with taking care of yourself."Unknown
"Self-care is not selfish. You cannot serve from an empty vessel." Eleanor Brown
"A healthy outside starts from the inside." Robert Urich
"Your health is an investment, not an expense." Unknown
"We are all accountable for ourselves. Think of yourself as a precious commodity, and then protect your investment each day." Monica Brant
"You can get better, or you can get all gooey, and crotchety, old, pathetic, icky, gross. Not me. Not into it." Tony Horton
"Your body hears everything your mind says."  Naomi Judd
"Let food be thy medicine and medicine be thy food."  Hippocrates
"Health is not valued until sickness comes."  Thomas Fuller
"Looking after my health today gives me a better hope for tomorrow." Anne Wilson Schaef
"Don't eat anything your great-grandmother wouldn't recognize as food." Michael Pollan
"Stop eating 'dead' foods: junk, fried, and fast foods, as well as processed carbs. They're loaded with sugar and other additives. The more live foods we eat (fruits and vegetables), the more alive we feel. The more dead foods we eat...well, you get the idea." Tony Horton
"At the end of the day, your health is your responsibility." Jillian Michaels
"Healthy body, healthy mind and healthy spirit. A Votre Sante." Kathy Smith
"You cannot buy your health; you must earn it through healthy living." Joel Fuhrman
"A man's health can be judged by which he takes two at a time: pills or stairs." Joan Walsh Anglund
"Lack of activity destroys the good condition of every human being." Plato
"Gaining control over your health and well-being is one of those times in your life that you get to be completely selfish and not feel bad about it. If you want to meet your goals, you have to make it about you. You have to make it work for you and you alone. Anything less is a setup for failure." Jennifer Hudson
"Let food be thy medicine and medicine be thy food. " Hippocrates
"One should eat to live, not live to eat." Moliere
"My happy thoughts help create my healthy body." Louise Hay
"An essential part of a happy, healthy life is being of service to others." Sue Thoele
"You can get old pretty young if you don't take care of yourself." Yogi Berra
"I am sick and tired of being sick and tired." Fannie Lou Hamer
"The doctor of the future will no longer treat the human frame with drugs, but rather will cure and prevent disease with nutrition." Thomas A. Edison
"Visualize your ultimate goal and then do the work to make it happen." Suzanne Somers
"We are not meant to be perfect; we are meant to be whole." Jane Fonda
"Healthy habits are learned in the same way as unhealthy ones - through practice." Wayne Dyer
"The food you eat can either be the safest and most powerful form of medicine, or the slowest form of poison." Ann Wigmore
"It's not food if it arrived through the window of your car." Michael Pollan
"Always laugh when you can. It is cheap medicine." Lord Byron
"Healing yourself is connected with healing others." Yoko Ono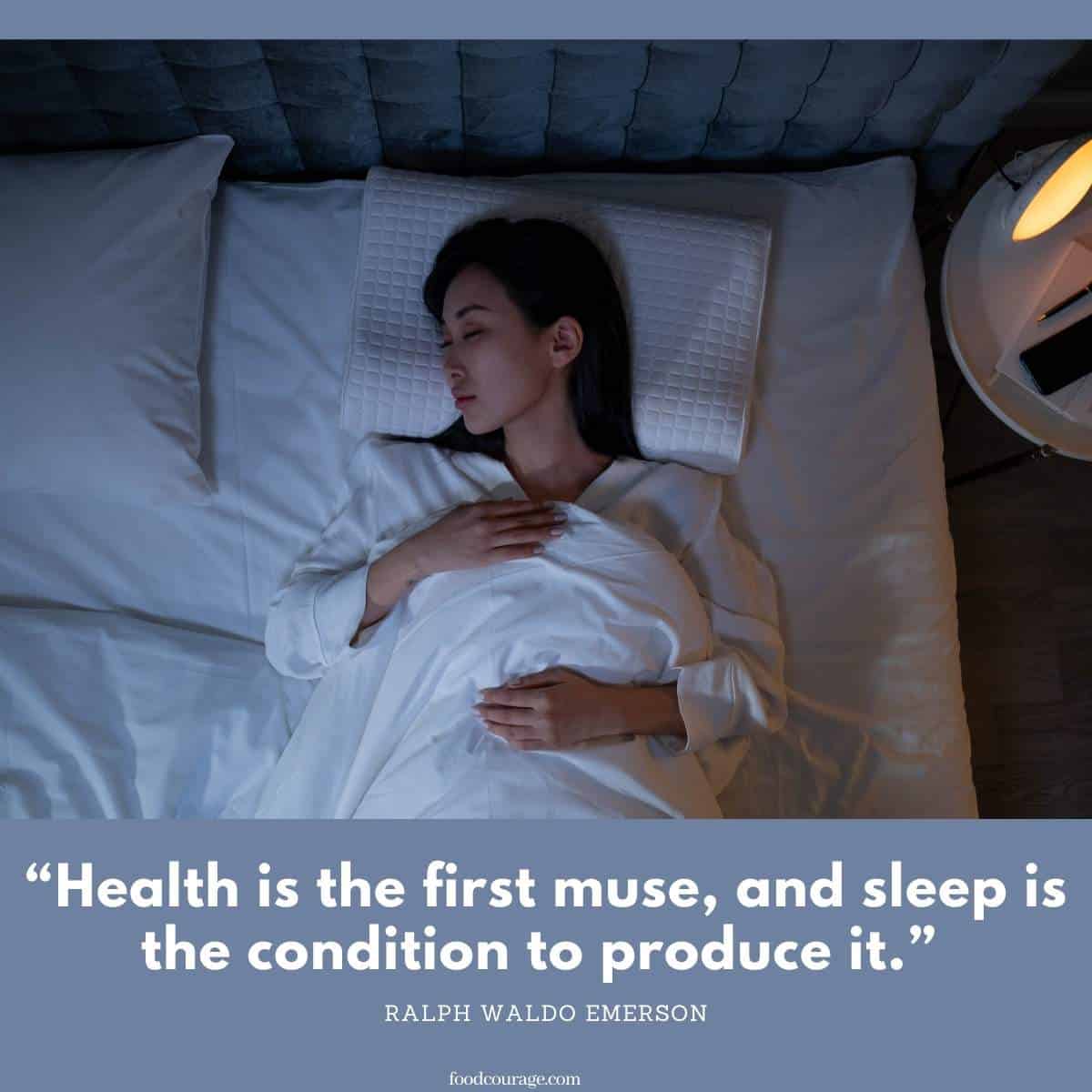 "Health is the first muse, and sleep is the condition to produce it." Ralph Waldo Emerson
"A lifestyle is what you pay for; a life is what pays you." Thomas Leonard
"Your genetics load the gun. Your lifestyle pulls the trigger." Mehmet Oz
"After you have been eating greens for 6 months, you will feel that something is missing unless you have them each day." Ann Wigmore
"Your lifestyle - how you live, eat, emote, and think - determines your health. To prevent disease, you may have to change how you live." Brian Carter
"Like everything else I teach in my coaching, staying in shape for me is about the little actions and changes in lifestyle that have a huge effect over time." Matthew Hussey
"You cannot be who and what you are unless you have a lifestyle, both internally and externally, that is designed to support that definition of self." Phil McGraw
"Most disease is lifestyle related and preventable." Andrew Weil
"We are led to think of diseases as isolated disturbances in a healthy body, not as the phases of certain periods of bodily development." Clifford Allbutt
"The best diet is the one that can be sustained over the long term, combined with other healthful lifestyle behaviors." Francis Collins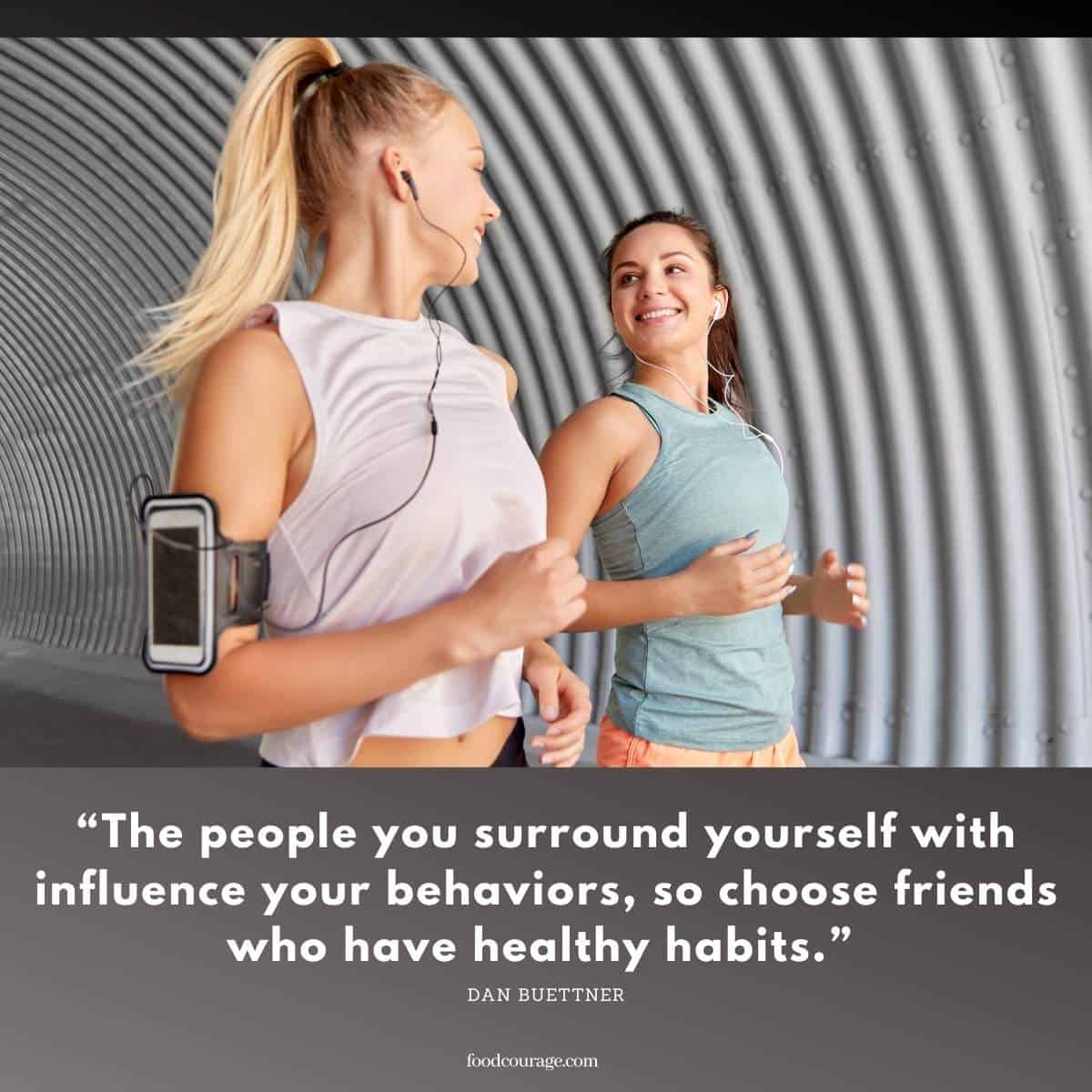 "The people you surround yourself with influence your behaviors, so choose friends who have healthy habits." Dan Buettner
"Understand that you have the ability to get healthy and stay healthy." Christiane Northrup
"Working out is modern couture. No outfit is going to make you look or feel as good as having a fit body. Buy less clothing and go to the gym instead." Rick Owens
"Healing is movement. Disease is inertia. If you put the body in motion, you will change." Gabrielle Roth
"A vigorous five-mile walk will do more good for an unhappy but otherwise healthy adult than all the medicine and psychology in the world." Paul Dudley White
"It's not about eating healthy to lose weight. It's about eating healthy to feel good. "Demi Lovato
"We should all be eating fruits and vegetables as if our lives depend on it - because they do." Michael Greger
"My skin doesn't look as good when I'm not eating enough fruits and vegetables, so I try to eat plenty." Joanne Froggatt
"The greatest wealth is health." Virgil
"To ensure good health: eat lightly, breathe deeply, live moderately, cultivate cheerfulness, and maintain an interest in life." – William Londen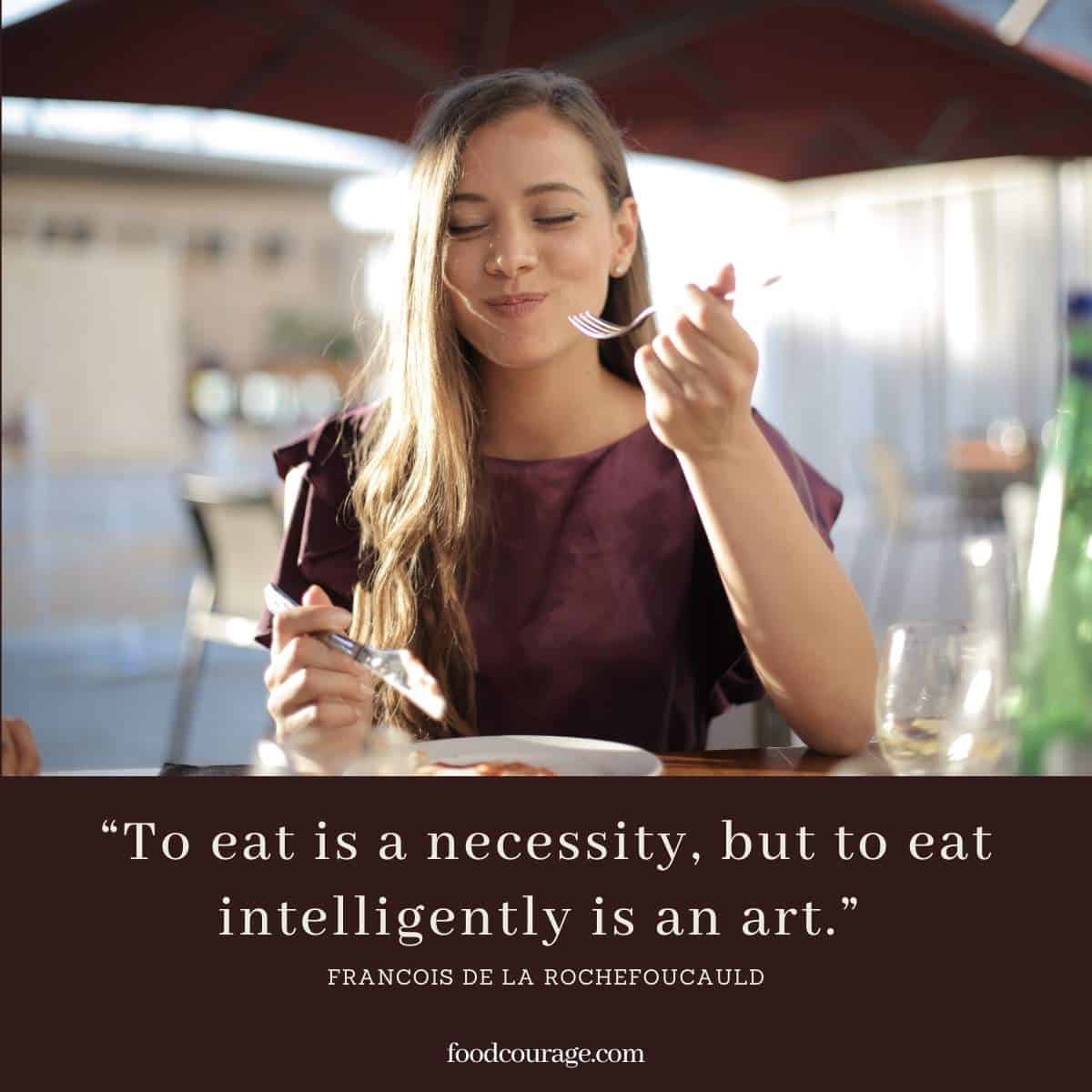 "To eat is a necessity, but to eat intelligently is an art." Francois de La Rochefoucauld
"Prevention is better than cure."  Desiderius Erasmus
"I have chosen to be happy because it is good for my health."  Voltaire
"Love yourself enough to live a healthy lifestyle." Unknown
"A healthy body is a guest-chamber for the soul; a sick body is a prison."  Francis Bacon
"Health is not about the weight you lose. It's about the life you gain."
"Health is a state of complete harmony of the body, mind, and spirit. When one is free from physical disabilities and mental distractions, the gates of the soul open."  B.K.S. Iyengar
"Eat Good Feel Good." unknown
"The greatest miracle on Earth is the human body. It is stronger and wiser than you may realize, and improving its ability to self– heal is within your control." – Dr. Fabrizio Mancini
"Keep your vitality. A life without health is like a river without water." Maxime Lagace 
"If you can't fly then run, if you can't run then walk, if you can't walk then crawl, but whatever you do you have to keep moving forward." Martin Luther King, Jr 
"Your health is what you make of it. Everything you do and think either adds to the vitality, energy, and spirit you possess or takes away from it." Ann Wigmore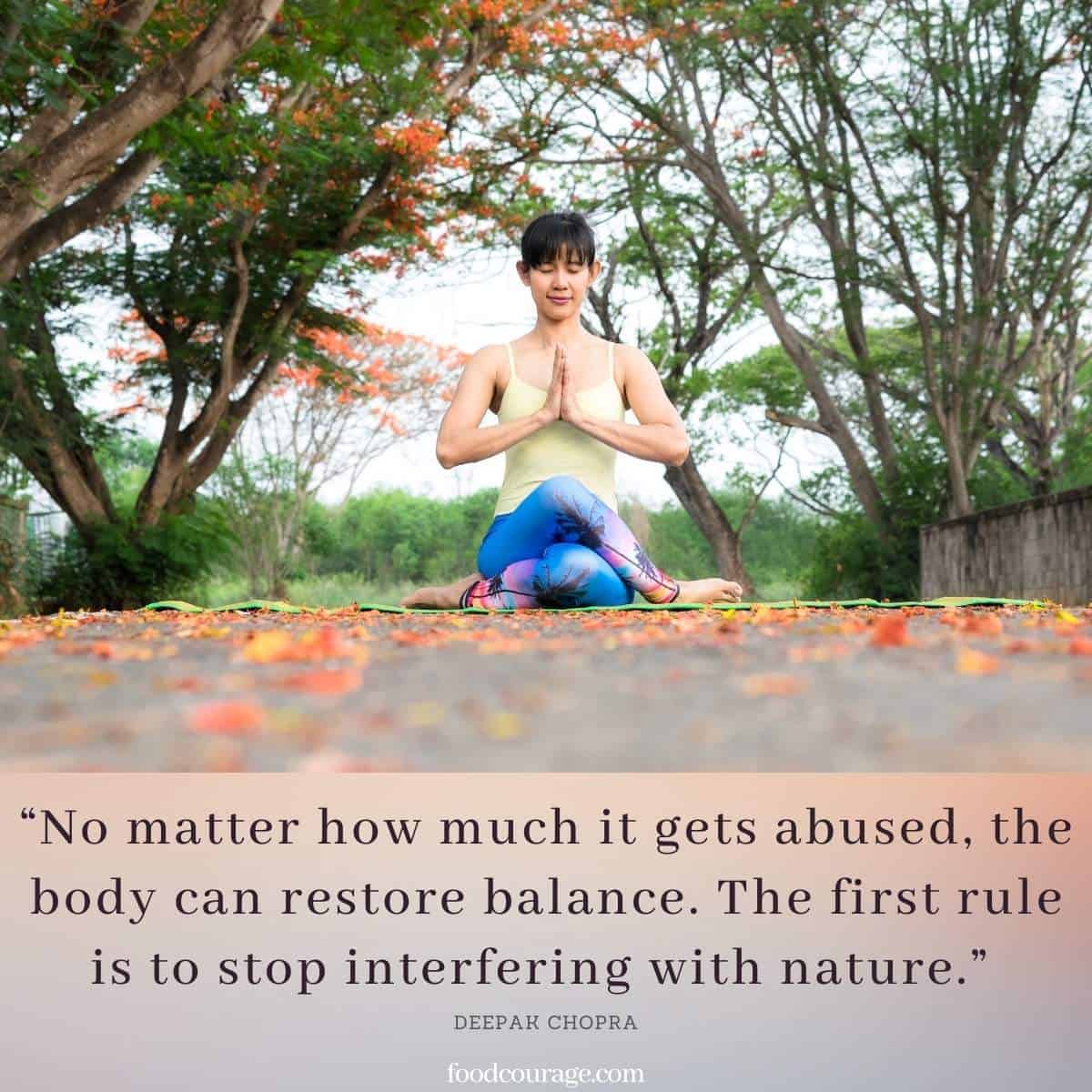 "No matter how much it gets abused, the body can restore balance. The first rule is to stop interfering with nature." Deepak Chopra
"Those who think they have no time for healthy eating, will sooner or later have to find time for illness." Edward Stanley
"When we learn to eat properly we begin to rebuild our bodies and to fulfill our purpose on this planet to grow in health, creativity, wisdom, and compassion." Ann Wigmore
"The best and most efficient pharmacy is within your own system." Robert C. Peale
"You can't enjoy abundance of wealth if you're not in good health."
"Nurturing yourself is not selfish – it's essential to your survival and your well-being. " Renee Peterson Trudeau
"Eat healthily, sleep well, breathe deeply, move harmoniously."  Jean-Pierre Barral
"If you're too busy to workout, your priorities need to change. I can't think of too many things more important than your health." Rolsey
"Sufficient sleep, exercise, healthy food, friendship, and peace of mind are necessities, not luxuries."  Mark Halperin
"The man who earns a million, but destroys his health in the process is not really a success." Zig Ziglar
"Sleep is the most important 'repair' mechanism our body has, and getting enough of it will ensure you're feeling fit and energized the next day." Jason Smith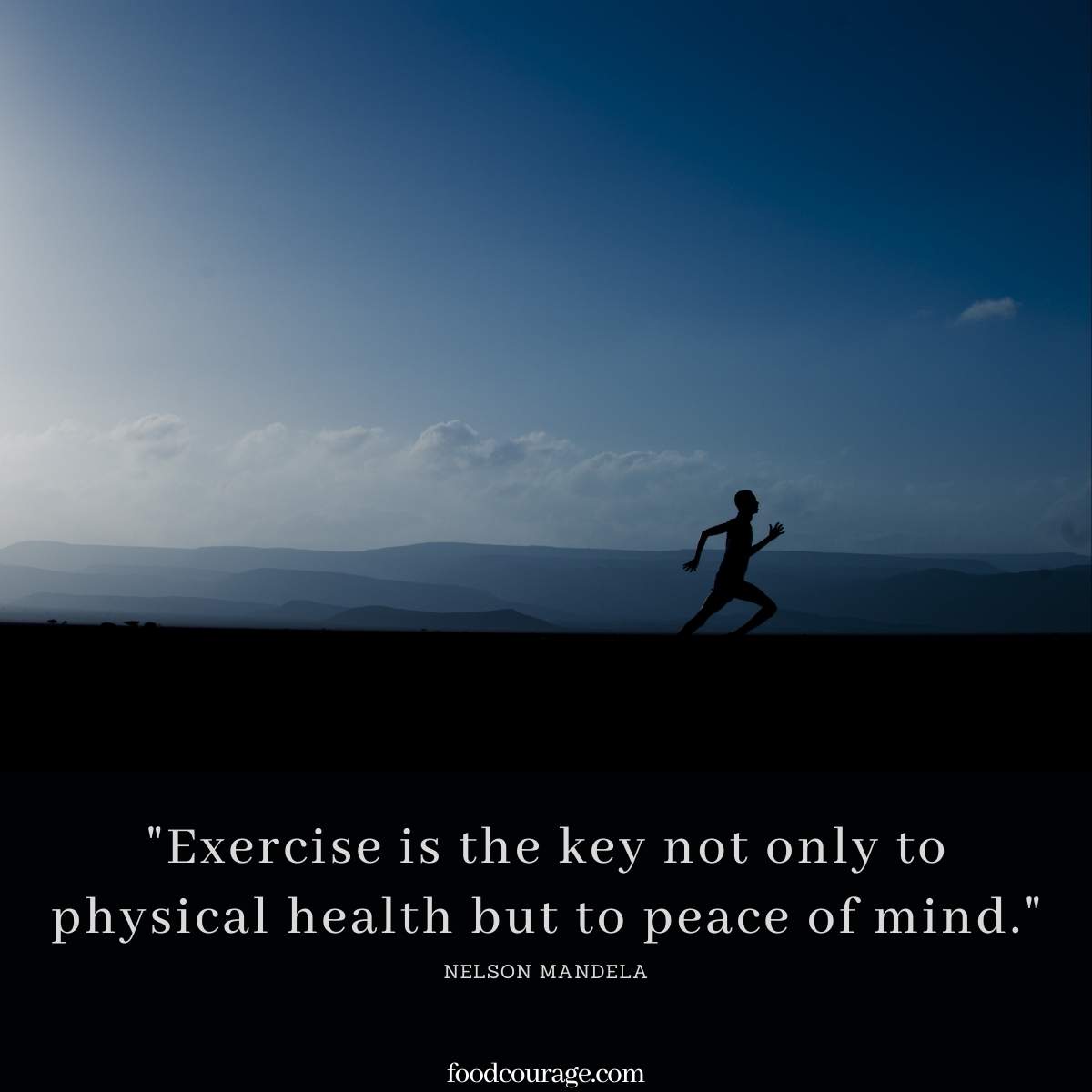 "Exercise is the key not only to physical health but to peace of mind." Nelson Mandela
"Write down the things that are on your mind. The simple act of listing your thoughts can have a cathartic and healing effect." Julia Laflin
"Your body hears everything your mind says."  Naomi Judd
"Our bodies are our gardens – our wills are our gardeners."  William Shakespeare
"Meditation is the ultimate mobile device; you can use it anywhere, anytime, unobtrusively."  Sharon Salzberg
"The only disease you have is your inability to see you have the power to heal yourself."  Ralph Smart
"Happiness is the highest form of health." Dalai Lama
"Only the disciplined are truly free. The undisciplined are slaves to moods, appetites and passions." Stephen Covey
"If your body's not right, the rest of your day will go all wrong. Take care of yourself." V.L. Allineare
"Sickness is the vengeance of nature for the violation of her laws." Charles Simmons
"Don't live in the past, don't ponder about the future, stay at the PRESENT moment NOW...always." Mark Twain
"The best cure for the body is a quiet mind." Napoleon Bonaparte
"The human body has been designed to resist an infinite number of changes and attacks brought about by its environment. The secret of good health lies in successful adjustment to changing stresses on the body." Harry Johnson
"Nurturing yourself is not selfish – it's essential to your survival and your well-being."Renee Peterson Trudeau
"Keeping your body healthy is an expression of gratitude to the whole cosmos — the trees, the clouds, everything." Nhat Hanh
"You can't stop the waves, but you can learn to surf." Jon Kabat-Zinn
"Never hurry. Take plenty of exercise. Always be cheerful. Take all the sleep you need. You may expect to be well." James Freeman Clarke
"Unexpressed emotions will never die. They are buried alive and will come forth later in uglier ways." Sigmund Freud
"What drains your spirit drains your body. What fuels your spirit fuels your body."Caroline Myss
"Very little is needed to make a happy life; it is all within yourself, in your way of thinking." Marcus Aurelius
"A positive attitude causes a chain reaction of positive thoughts, events and outcomes. It is a catalyst and it sparks extraordinary results." Wade Boggs
"The number one tip for glowing skin is not the skin products but the food you're eating." Emilie Toups
"Change is a pesky notion. For many folks, the biggest challenge in changing their eating habits isn't money, time, or education; it's reframing their connection between food and love." Kris Carr
"Your body holds deep wisdom. Trust in it. Learn from it. Nourish it. Watch your life transform and be healthy."Bella Bleue
"In calmness and confidence, thy strength manifest." Lailah Gifty Akita
"Chronic disease is a foodborne illness. We ate our way into this mess, and we must eat our way out." Mark Hyman, M.D.
"Wellness encompasses a healthy body, a sound mind, and a tranquil spirit. Enjoy the journey as you strive for wellness." Laurette Gagnon Beaulieu
"If you keep good food in your fridge, you will eat good food." Errick McAdams
"A calm mind brings inner strength and self-confidence, so that's very important for good health." Dalai Lama
"But the real secret to lifelong good health is actually the opposite: Let your body take care of you."Deepak Chopra
"Most people have no idea how good their body is designed to feel."Kevin Trudeau
"Remember that any exercise is better than no exercise." Unknown
"Self-care is how you take your power back." Lalah Delia
"Our health is what we make of it – give it attention and it improves, give it none and it subsides." John F. Demartini
"Health is a vehicle, not a destination." Joshua Fields Millburn
You May Also Like:
Beginners Guide to the AIP Diet
Small Lifestyle Changes for Improved Heart Health
5 Reasons Why a Balanced Diet is Important
Also, don't forget to follow me on Instagram @foodcourage for the latest AIP/Paleo recipes and Food Courage happenings!