If you're a big cereal fan, giving up grains and nuts can be a bummer when you're doing AIP. The good news is this awesome tigernut granola is completely grain-free, nut-free, and AIP friendly. It's so crunchy and satisfying, you won't miss the grains or the nuts. 
Most of us have grown up with cereal in some form or another. It is ingrained into us (pun intended).  I have memories of my brother and I getting up early in the morning and sneaking into my grandma's kitchen for cereal. In particular, when we went to her house for the summer, she always had a bunch of single-sized kids cereals (Fruit Loops, Lucky Charms, Smacks, etc. ) ready for us when we would come to visit. Though my tastes and dietary needs have evolved since then, this was such a treat and something that still makes me happy to think about to this day.
What's great about this granola is you can still have the satisfying morning ritual of eating cereal and it still can taste amazing. This granola is super easy. It only takes a few minutes to mix together and then about 35 minutes in the oven and it's good to go. The aroma of this stuff baking in the oven is unreal. My kids thought I was baking cinnamon rolls. 
Here's What's in This Recipe: 
Tigernuts
The tigernuts in this cereal do a good job of replacing nuts. Tigernuts themselves are not nuts, at all; they are tubers. It's important to use sliced tigernuts for this recipe if possible. I only had whole tigernuts on hand when I made this so I just chopped them into small pieces and it worked ok but they're a little hard to chew and sort of interrupt the flow of the mix. Sliced is much better because it allows them to roast evenly with the other ingredients.
Dried Mangos
The mangos give it a sweet tropical twist. An important note about the mangos- it's very important to dice them into tiny thin slices- about the size of grated cheese. If they are chopped small like this, they cook at the same rate as everything else and get nice and crunchy. If they are a little too big, they just get chewy. 
Plantain Chips
I love plantain chips because they are so versatile especially when it comes to granola and snack mixes. I like Terra brand chips which I usually get at Kroger but Barnana is good too and both are AIP compliant. Just be sure to crunch up the chips a little bit before adding them to the granola. You can do this with your bare hands or in a zip lock bag. 
Apple Chips
Just make sure these don't have any added ingredients. Often apple chips are made with various oils, sweeteners, and preservatives which are not AIP compliant. Try to get ones that are just apples. I use Bare brand chips which are made only with apples. These should be crunched up a little bit too. 
Coconut Chips
Be sure to get coconut chips rather than the tiny flakes. The chips are wider and sturdier and they won't burn as easily. 
The Coating
The coating is the best part of this whole recipe. It smells like salted caramel and would probably be delicious just eaten by itself. The coating is just a simple mixture of coconut oil, maple syrup, vanilla, cinnamon, and sea salt.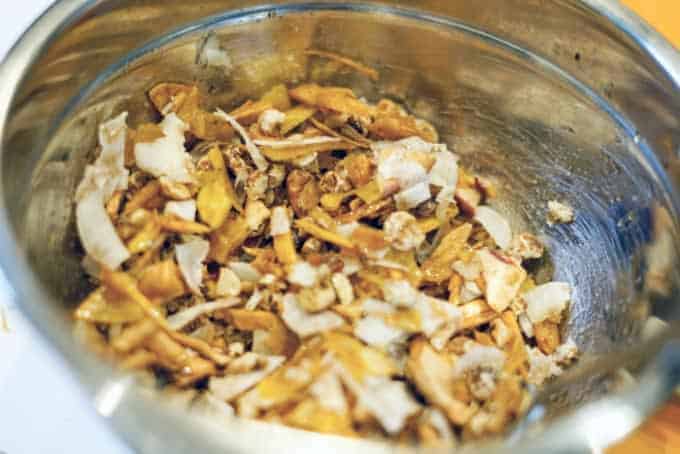 How to prevent burning
Preventing granola from burning can be a tricky business. I've found that cooking it at a low temp for a longer time produces a nice crunchy granola without burning it. 
Keep in mind that ovens vary so your cooking time may be a little more or less than this recipe indicates. Bake on the middle wrack and check it every 5-10 minutes. Keep an eye on the outer pieces because they brown the fastest. I like to just sweep those inward when I stir the mixture. 
Take the granola out of the oven before it looks dry- this is hard to do because it seems like it's not finished, but take it out and it will finish drying as it cools.
How to Eat Granola
Dry: Eat it dry as a quick breakfast or on the go snack. 
Cold Cereal Style with Your Favorite Dairy-Free Milk
Hot Porridge Style with your favorite dairy-free milk- Just heat 1/2 to 3/4 of a cup of coconut milk or other dairy-free milk in a saucepan on the stove over low heat until it gets a little foamy but not boiling. Add 1/2 cup granola along with any other fruit, coconut or other extras you might want. Continue cooking over low heat until the mixture softens. Allow to cool slightly, then eat! You can also make hot granola in the microwave by combining the milk and granola in a microwave-safe bowl and heating 30 seconds at a time until it reaches the texture you're wanting. 
Use Granola it as a Topping On Things Like:
Sweet Potato Breakfast Bowls
Porridge or N'oatmeal
Coconut Yogurt
Smoothie Bowls
AIP Ice Cream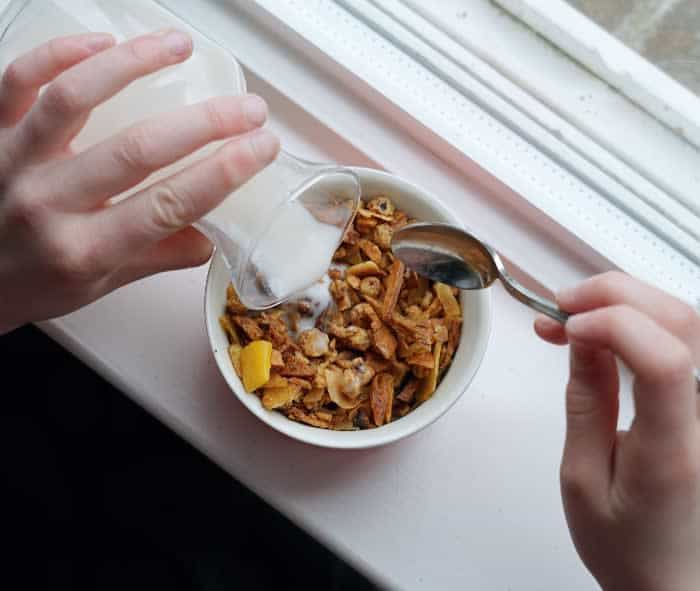 How to Store Granola
Granola generally can be stored at room temperature and should be kept in an air-tight container. This particular trail mix will stay fresh under these conditions for at least a week, but likely longer. 
Recipe Variations
You can use this recipe as a blueprint for other granola recipes by swapping out ingredients to fit your preferences. I've listed some ingredient ideas below.
Ingredient Ideas for Homemade AIP Granola
Beet chips
Apple chips
Banana chips
Plantain chips- Many plantain chips contain sunflower oil or canola oil, which are not AIP compliant. Compliant chips usually contain coconut oil and sea salt.
Carob Chips- Store-bought ones are generally not AIP compliant because they often contain soy lecithin but you can make your own. 
Raisins
Dried Cranberries
Dried Sour Cherries
Dried Blueberries
Dried Apricots
Dried Apples
Maple Syrup
Honey
Vanilla
Cinnamon
Sea Salt
 Conclusion
I hope you love this granola recipe. If you made it, leave me a comment below and let me know how you liked it! Also, if you've made your own AIP granola, what are your favorite combinations of ingredients to use?
If you enjoyed this post, you may also like: 
Purple Sweet Potato Breakfast Bowl
Noatmeal with Cinnamon and Apples
109 Awesome Breakfast Recipes You'll Love
57+ AIP Pantry Items and What to do With Them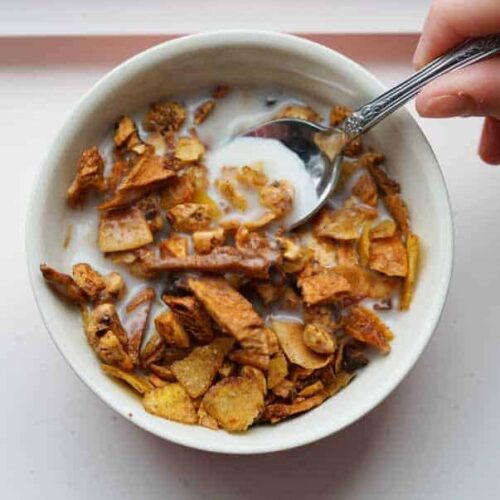 Easy Apple Mango Tigernut Granola (Paleo, AIP, Vegan)
This tigernut granola has the perfect balace of sweet and salty with the unique twist of mangos.
Instructions 
Preheat oven to 275 degrees Fahrenheit.

Combine tigernuts, coconut chips, apple chips, mangos, and plantain chips in a medium sized bowl.

In a separate small bowl, combine coconut oil, maple syrup, slat, cinnamon, and vanilla. Add mixture to dry ingredients in the large bowl and stir until the sauce coats everything.

Pour mixture onto a parchment paper-lined baking sheet and distribute evenly.

Bake on the middle rack in the oven for about 35 minutes checking and stirring every 5-10 minutes to prevent burning.

Remove granola after 35 minutes. It should be browned/toasted but not completely dry. It will become more dry and crispy once it cools.
Notes
The dried mangos should be diced very very thin and small (about the size of grated cheese). If they are not small enough, the don't get crispy enough in the oven by the time the other ingredients are done.
If you only have whole tigernuts on hand, just dice them into really small pieces. Whole one don't do very will in this granola because they end up bigger than the other ingredient pieces and they are kind of hard.
Nutrition
Nutrition Facts
Easy Apple Mango Tigernut Granola (Paleo, AIP, Vegan)
Amount per Serving
% Daily Value*
* Percent Daily Values are based on a 2000 calorie diet.
AIP Diet Food Lists (Free PDF)
Click the image or button below to subscribe to Food Courage newsletters and get your free AIP Food Lists PDF.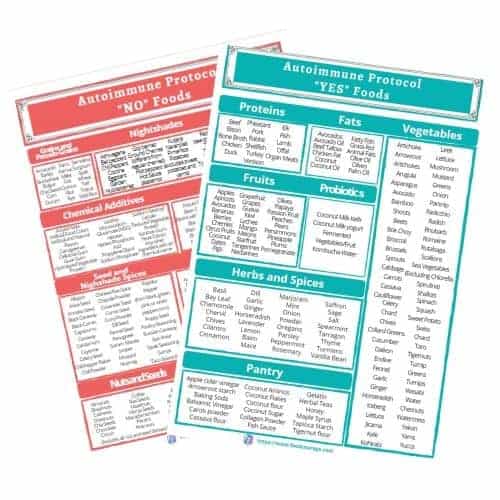 Get PDF!