Cranberry Apple Salsa (Paleo, AIP, Vegan)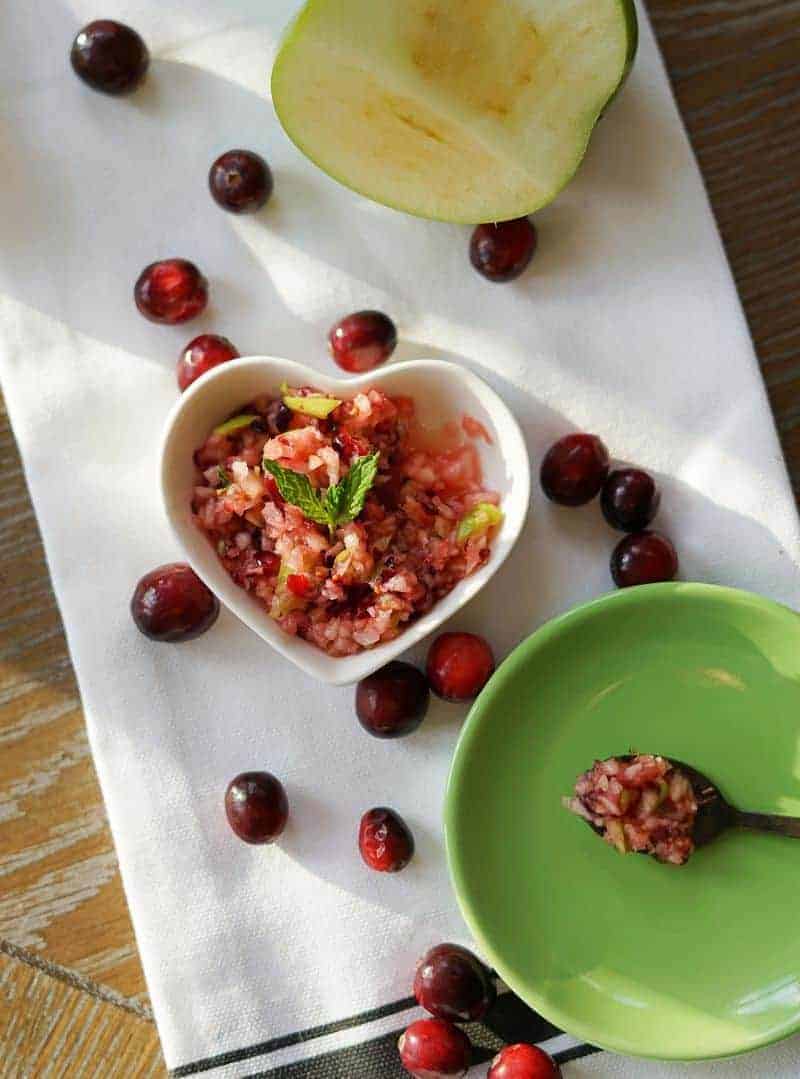 *Just a quick heads up- this post contains affiliate links which means if you click on them and buy something,  I will earn a small commission (at no additional cost to you) to help continue maintaining this site. 
This cranberry salsa comes together really quickly with just a handful of ingredients. It's super fresh tasting and goes well with meat, fish, and veggies. It's perfect as a condiment for holiday meals. It is AIP/Paleo, gluten-free, and vegan. 
Thanksgiving is right around the corner! I can't believe how fast it's all gone by this year. I couldn't resist getting some cranberries and playing around with some recipes. I love how simple and versatile this one is (and healthy!). While it's perfect for holiday meals, it really works great for so many other things too.
I think of this as more of a condiment but my husband says it would be good as a stand-alone salad or side dish, kind of like a slaw. You would maybe just chop the ingredients a little bigger if it's going to be a salad type thing. It's up to you how you want to use it!
Ingredients: 
Fresh Cranberries-

Fresh really is the best way to go here but in a pinch, you might be able to get away with frozen.
Granny Smith Apples-

Really any type of apple will work fine. Make sure they're organic if possible.
Lemon Juice

-

This will prevent the apples from browning and ties all the flavors together really nicely.

Maple Syrup

-

This offsets the tartness of the cranberries. Honey would work well too. 

Mint Leaves

- Mint pairs really well with cranberry and works great in this dish. Just be sure to use fresh mint if possible. 

Fresh Grated Ginger-

I use the edge of a spoon to peel the skin of the ginger and then grate it. This adds a hint of spice to the salsa. If you don't like that, just omit this. If you need to substitute ginger powder, go with about 1/8 tsp. 

Garlic Cloves-

Fresh is ideal but you could use garlic powder if needed. Use 1/4 tsp garlic powder in place of the 2 cloves.

Yellow Onion-

Again, fresh is best but if needed, use about 1/4 tsp onion powder in place of the 1 tbsp fresh.

Sea Salt

- Pink Himalayan is a good option because of its trace mineral content.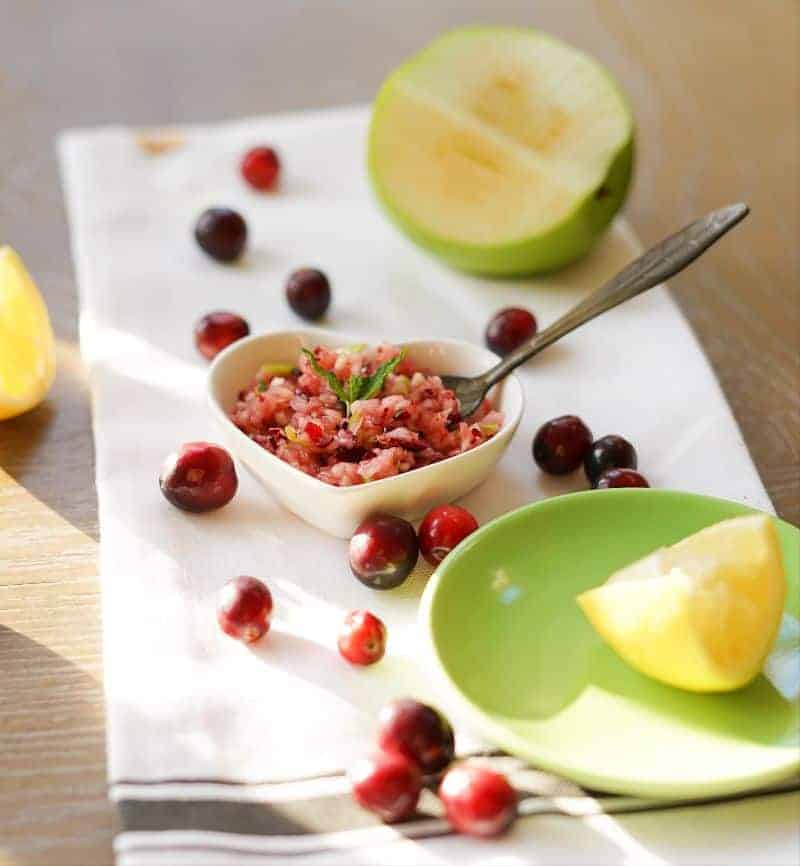 Uses for Cranberry Salsa
Dip for chips and veggies

In wraps

Topping on meats, fish, and vegetables

Condiment/dressing on salads

Use as a standalone salad/side dish
Notes:
The recipe calls for blending the ingredients in a food processor but how much you chop the mixture is up to you. If you want a chunkier salsa/relish, blend it less.
I use a cute mini food processor like this one because is it a lot easier to pull out of the cabinet and use it quickly and then wash it up when I'm done. Plus, a smaller food processor does a better job than a larger one when you have a small amount of food to blend.
Alternatively, you could skip the food processor entirely and just dice everything really small. It looks more like a really pretty salad if you do it this way.
Storage
This will stay fresh in the fridge for 3-4 days. I don't recommend freezing it.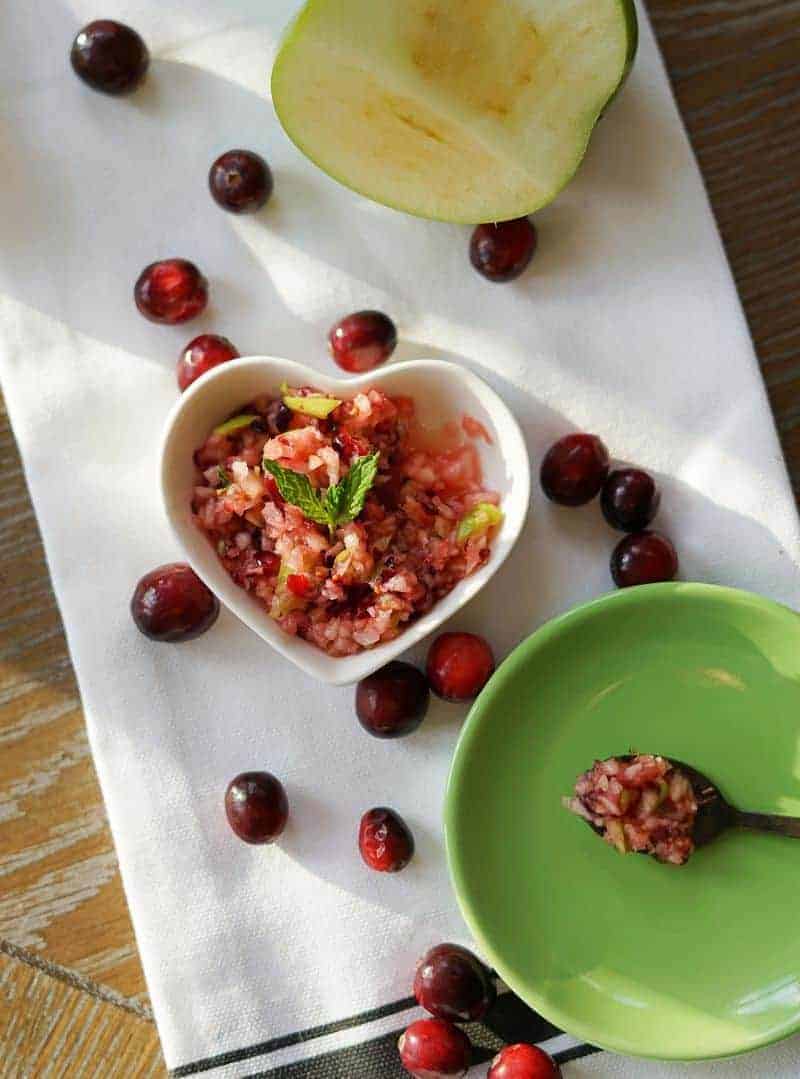 *If you like the heart-shaped sauce dish in the picture above you can find a set of those here.
If you like this recipe, you may also like:
AIP Pineapple Bacon Dipping Sauce
AIP Sweet Potato Casserole with Cinnamon Crumb Topping
Conclusion
I hope you enjoyed this recipe. If you made it, leave a comment below and let me know what you thought. I'd love to hear from you!
Don't forget to follow me on Instagram @foodcourage for the latest AIP/Paleo recipes and Food Courage happenings!
Below are some of the kitchen tools and/or food items that are mentioned or pictured in this post and/or that I use frequently in general and recommend. They are affiliate links which means that when you click and purchase a product, I will earn a small commission at no additional cost to you. These earnings help to buffer the costs associated with maintaining the site.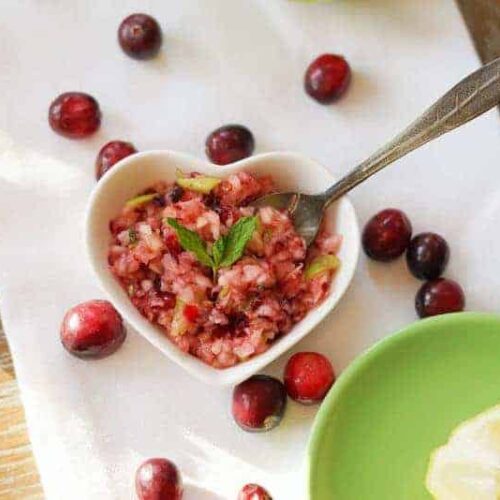 Equipment
Small food processor (optional)
Ingredients
1/2

cup

fresh cranberries

1

cup

Granny Smith apples, diced

2

tbsp

lemon juice

1

tbsp

maple syrup

6

fresh mint leaves

1/2

tsp

fresh grated ginger

2

garlic cloves, (about 1 tsp)

1

tbsp

yellow onion, diced

sea salt to taste
Instructions
Combine all ingredients in a food processor and blend into tiny pieces or desired consistency.
Notes
Storage: Keep in a tightly sealed container in the fridge for up to 3 or 4 days.
Substitutions: 
Fresh Grated Ginger-

If you need to substitute ginger powder, go with about 1/8 tsp. 

Garlic Cloves- Use 1/4 tsp garlic powder in place of the 2 cloves.
Yellow Onion- Use about 1/4 tsp onion powder in place of the 1 tbsp fresh.
---
---