There's something about cookie dough that never gets old- it's just so lovely and comforting. If you love cookie dough and you're following a Paleo/AIP diet, this recipe is for you. This yummy recipe puts a Fall twist on cookie dough with the addition of pumpkin and nice warm spices that complement pumpkin so well. It's a fairly healthy version of cookie dough and is gluten-free, dairy-free, and nut-free. It's super easy and only takes about 10-15 minutes to throw together a batch.
It also freezes well, so you can make larger batches and save for later. These are fantastic for on-the-go quick snacks or a quick way to satisfy your sweet tooth. I like to pre-portion them into snack bags or small containers with 3-4 balls each. 
For other pumpkin recipes, you may also want to check out my AIP Orange Pumpkin Cookies, Pumpkin Cherry Cake with Salted Caramel Sauce, Pumpkin Cranberry Cookie Dough Protein Balls, and Spiced Pumpkin Bread.
I should also mention, there's nothing that says you have to roll this cookie dough into balls- you can of course just eat it straight out of the bowl!
A Few Simple Ingredients:
Pumpkin- Pureed canned pumpkin is what you're going for; organic if possible. 
Dates- Pits removed. 
Dried Cranberries- Read the labels on these- dried cranberries often are packaged using sunflower oil and sometimes added sugars which are not AIP compliant. This product contains no added sugars, oils, or juices; only cranberries. 
Coconut Sugar- I wanted to not add sugar to these but I ended up using the tiniest bit of coconut sugar to offset the slight bitterness of the pumpkin- 1 tsp is all that is needed and works like a charm. 
Collagen Powder- Vital Proteins is a great brand and it doesn't alter the taste or texture at all. Collagen is widely used in Paleo/AIP because it is believed to be helpful in healing the gut lining. 
Tigernut Flour- I absolutely love tigernut flour. I have a hard time staying away from it when it comes to developing recipes. It is a little more expensive than cassava flour or coconut flour but it is so versatile and reliable and produces a very consistent texture, especially in baked goods. 
I used tigernut flour in this recipe because it behaves like almond flour which is made from nuts. I normally would make this type of recipe with nuts and fruit so I figured tigernut flour would work well. 
If you really don't want to use tigernut, coconut flour will likely work as well, though I haven't tested it on this particular recipe. 
A Few Spices: Cinnamon, ginger, cloves, and sea salt come together to develop that beautiful Fall-like Pumpkin-y flavor. Yum!
Storage
These will stay fresh in the fridge for 3-4 days and as I mentioned above, these freeze well too- they will stay fresh in the freezer for up to 3 months. They actually taste pretty good right out of the freezer.
If you freeze them, I'd recommend first freezing them on a parchment paper-lined baking sheet, not touching each other. This will prevent them from sticking together. Once they're frozen, they can be transferred to a storage container or ziplock bag. 
Conclusion
I hope you enjoyed this recipe. If you made it, leave a comment below and let me know what you thought. I'd love to hear from you!
Also, don't forget to follow me on Instagram @foodcourage for the latest AIP/Paleo recipes and Food Courage happenings!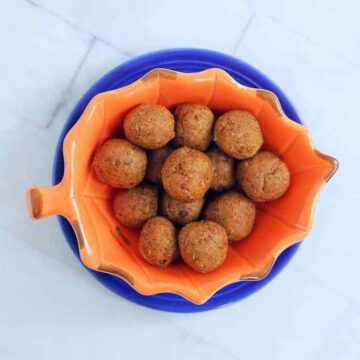 Pumpkin Cranberry Cookie Dough Protein Balls (Paleo, AIP, GF)
Instructions 
Combine the pumpkin, dates, and cranberries in a food processor and blend into small crumbles.

Combine remaining ingredients in a medium-sized bowl first before adding to the food processor. Add half of this mixture to the food processor and blend. Repeat with the second half of the mixture. *If the dough forms a ball too quickly, you may want to stop the food processor, break the ball up and redistribute the mixtue, then blend again.

Pour the dough mixture onto a sheet of parchment paper. Use your hands or fold the parchment paper over the mixture to press it together and form a dough ball. If it is a little sticky, add a little bit more tigernut flour.

Break off small pieces and roll them into balls. Enjoy!
Notes
This recipe makes about 12-14 1" balls. 
These will stay fresh in the fridge for 3-4 days and as I mentioned above, these freeze well too- they will stay fresh in the freezer for up to 3 months. They actually taste pretty good right out of the freezer. 
If you enjoyed this post, you may also like: 
No-Bake Carrot Cake Protein Balls
AIP Breakfast Bars with Cinnamon and Raisins
AIP Strawberry Rhubarb Muffins