Pumpkin Cherry Cake with Salted Caramel Glaze (Paleo, AIP, Vegan)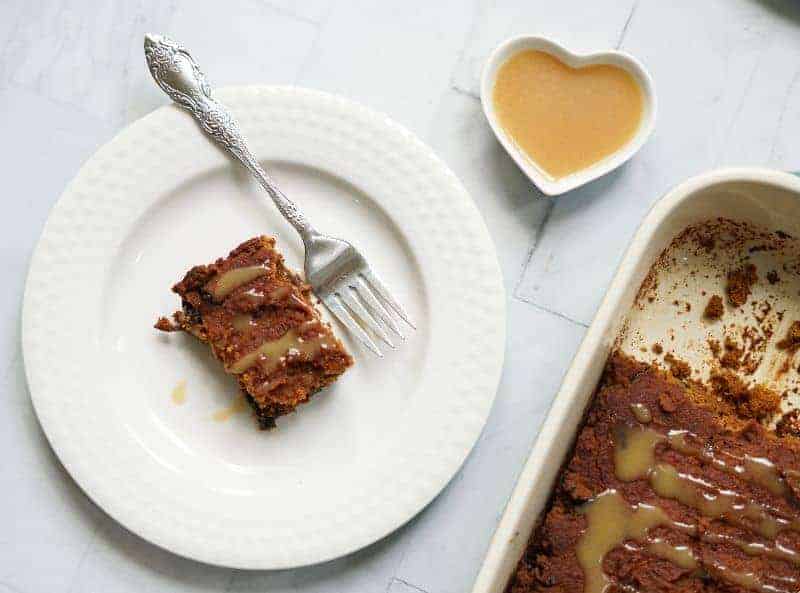 This pumpkin cake is so incredibly moist, fluffy, and indulgent with its cherries, salted caramel glaze, and warm fall spices. You would never guess it meets any dietary requirements. It is however Paleo/AIP compliant, gluten-free, dairy-free, and vegan. 
It's almost Labor Day, which means it's almost fall and time for pumpkin everything. Yay!! Such a wonderful time of year. This cake is so awesome- I can hardly believe how good it turned out. When my kids devoured it without a second thought, I knew I had a winner.
Ingredients:
Tigernut Flour

-

I say this pretty frequently but I do just love tigernut flour above all other AIP friendly flours. It consistently produces such a wonderfully fluffy texture in baked goods so I keep using it!
It is a little pricier than some other flours but worth it! It does tend to get some small clumps in it but you can either break them up by hand or sift them out with a strainer or sifter.
If you do sift the flour, it's easiest to measure first according to the recipe, then sift. This is because sifting makes the flour fluffier so it measures a little differently. For example, 1 cup unsifted= about 1 ¼ cup sifted.
Cassava Flour

-

Cassava flour is a great flour too but tends to be denser than some flours so I like to blend it with other flours to produce a lighter texture. 
Arrowroot Starch

-

Arrowroot starch helps to bind things together. It doesn't take much and it works wonders when combined with other flours.
Pumpkin

-

Just go with pureed canned pumpkin for this to keep things simple. 
Applesauce

-

Make sure it is unsweetened. Applesauce is a great baking tool because it adds moisture and natural sweetness which allows us to use less fat and sugar to the recipe. 
Maple Syrup

-

The darker the syrup, the better as it contains more antioxidants. 
Vanilla Extract

-

Most vanilla extract contains alcohol; this is ok for AIP in this recipe since it will be baked and the alcohol will cook off. Just make sure it is pure vanilla extract (not imitation).

Simply Organic

is a good brand.
Apple Cider Vinegar

, Baking Soda, Sea Salt- I like to use apple cider vinegar in combination with baking soda and salt in baked goods because it acts as a leavening agent which allows me not to use eggs or yeast.
Coconut Sugar

-

I added just a tiny bit of coconut sugar to give the crust a subtle crunch (I was originally intending this recipe to be cookie bars but it is definitely a cake). 
Coconut Oil

-

I added just a little bit of coconut oil for moisture and mouthfeel. As I mentioned above, applesauce provides most of the moisture but adding a tiny bit of oil makes it a little more decadent. 
The Salted Caramel Sauce
The salted caramel sauce is so indulgent and so easy and quick to throw together.  It's a mixture of coconut butter, maple syrup, arrowroot starch, coconut milk, and sea salt. Just melt the coconut butter and mix it with the other ingredients and you're good to go! Just drizzle it over the cake. 
If you don't have coconut butter, you can likely use palm shortening and get a similar result.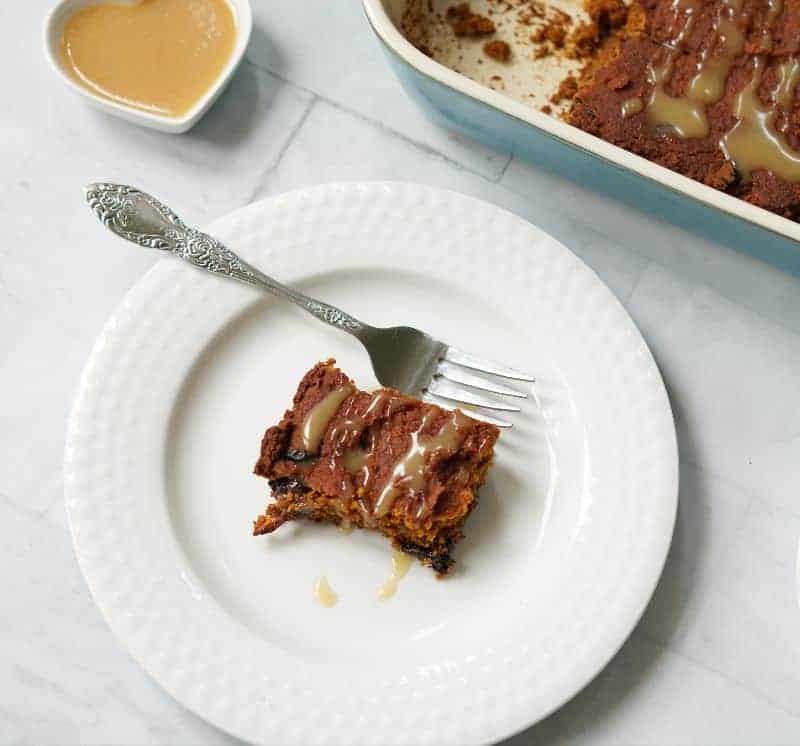 Note
I baked this in an 8 x 11 in glass baking dish but anything around this size will work well. A 9" round or square dish would work too.
Storage
This will stay fresh in the fridge for 3-4 days in an airtight container or in the freezer for about 3 months.
If you like this recipe, you may also like: 
Pumpkin Cranberry Cookie Dough Protein Balls
Conclusion I hope you enjoyed this recipe. If you made it, leave a comment below and let me know what you thought. I'd love to hear from you!
Don't forget to follow me on Instagram @foodcourage for the latest AIP/Paleo recipes and Food Courage happenings!
This recipe is shared on the Paleo/AIP recipe roundtable.
Below are some of the kitchen tools and food items that are mentioned or pictured in this post and/or that I use frequently in general and recommend. They are affiliate links which means that when you click and purchase a product, I may receive a small commission at no additional cost to you. These earnings help to buffer the costs associated with maintaining the site.
Instructions
Preheat oven to 350 degrees Fahrenheit.

In a medium-sized bowl, combine dry ingredients.

In another medium-sized bowl, combine wet ingredients, except the dried cherries.

Add wet ingredients to dry ingredients. Mix well, then fold in the dry cherries and pour batter into a greased or parchment paper-lined 8x11 inch glass dish.

Bake at 350 degrees for 45 minutes or until a toothpick comes out clean. Allow to cool slightly.

In a small bowl, mix the caramel sauce ingredients and drizzle over the top.
Notes
Notes
I baked this in an 8 x 11 in glass baking dish but anything around this size will work well. 
Storage
This will stay fresh in the fridge for 3-4 days in an airtight container in the freezer for about 3 months. 
---
---