Are you in search of a decadent, good looking AIP chocolate cake for a special occasion? Or maybe you're just craving a good chocolatey dessert. Either way, this lovely AIP German "chocolate" cake is amazing.
While I wanted to make an indulgent cake, I also wanted it to have at least some nutrient density to it. Therefore, the cake is made with sweet potatoes, while the frosting is made mainly with dates.
In fact, I used my 4 Ingredient Caramel Sauce recipe for the frosting. I made that caramel sauce recipe more than a year ago and said it tasted like German chocolate cake frosting then. So, I'm excited to finally use it for an AIP German Chocolate Cake. 
It took a lot of trial and error to get the taste and texture right. I literally made at least 10-12 mini cakes to test various ingredient combinations. It is fairly rich and the texture is on the denser side- almost like moist brownies. I tried several tactics to make it fluffier but it just wasn't happening. That being said, I like how it turned out. 
**Just a quick heads up- this post contains affiliate links which means if you click on them and buy something,  I will earn a small commission (at no additional cost to you) to help continue maintaining this site. 
AIP German Chocolate Cake Ingredients
These should be baked/boiled ahead of time, then peeled. 
This is a very stable flour and adds some structure to the cake. 
Coconut flour adds a lot less structure to baked goods but it's nice and soft. That's why I like flour blends so much. 
Carob powder has a pretty intense flavor so it doesn't take much to add a chocolatey flavor to recipes. I'm not a bit fan of carob in large quantities so I tried to go a little bit easy with it so as not to overwhelm the cake with carob-y taste.
Coconut sugar adds a rich caramel taste to things so I felt a little bit would really add to the overall flavor of the cake. 
Coconut oil provides some moisture to the cake. 
Maple syrup adds sweetness, moisture, and antioxidants to the cake and frosting. Honey is an acceptable substitute as well. 
Most vanilla extracts have some alcohol added in. Normally alcohol is not allowed on AIP. However, when it comes to baked goods, it's ok because the alcohol cooks off. 
Baking soda in combination with the vinegar adds a little bit of rise to the cake. 
As mentioned above, apple cider vinegar combines with the baking soda to form bubbles. This helps to cake to rise a little bit. 
A little bit of salt really helps brings out the flavor and sweetness of the cake. Pretty much any sea salt is ok and AIP compliance. Just make sure it's a relatively fine grain (not coarse).
The gelatin and water combine to make a gelatin egg. This helps to give some structure to baked goods. See below for substitutions suggestions. 
Medjool dates are so handy for so many things. When used for our coconut date cake frosting, they provide a delicious gooey sweet texture. It is very similar to an actual German chocolate cake frosting, which I love. *Be sure to use very moist dates. If they're dry, they won't blend as smoothly. If your dates are dry, just soak them in hot water for 10-15 minutes. 
I generally recommend the full-fat canned kind. That being said, my go-to coconut milk for everything is Thai Kitchen's 2 Simple Ingredient coconut milk. It comes in a carton and it's not quite as heavy as full-fat canned coconut milk but it works well in pretty much any recipe. Also, quite importantly, it doesn't contain guar gum which isn't AIP compliant. 
Make sure they're unsweetened and use the really thin kind, not the big chunky flakes. 
This ingredient is very optional. I just used it to make a small decorative dollop on the cake. If you're not planning to get super fancy, you can skip this ingredient. However, if you do want to get a little fancy, you can mix the palm shortening with a little maple syrup and carob powder. You'll then put it in a piping bag and start decorating! The recipe makes a small amount of decorative carob frosting, so if you're planning to do more than a couple of dollops, you'll need to increase the ingredient amounts. 
How Do You Make An AIP German Chocolate Cake?
This recipe is fairly straigh-forward. 
*As mentioned in the ingredient notes, you'll want to make sure the sweet potatoes have already been boiled or baked. 
Combine the cake ingredients (except for the gelatin and water) in a food processor and blend. 
Make the gelatin egg (see below for tips on how to avoid clumping). Add the gelatin egg to the food processor and blend again.
Pour the cake mixture into a greased 9" cake pan and bake at 350 degrees F for 35-40 minutes. 
While the cake is baking, you'll make the frosting. You'll need to use a food processor again so you'll have to wash it. 
Add the frosting ingredients (except for the coconut flakes) to the food processor and blend until smooth. When you make the frosting, start with about ½ cup of maple syrup, then add a little more if it's too thick. Alternatively, if it ends up too thin, just add some more dates. We do it this way because dates vary in size, so the sauce consistency will be a little different each time depending on how big or small the dates are. 
Once you're blended the frosting, fold the coconut flakes into it by hand. 
Take the cake out of the oven and allow to cool completely before adding the frosting. 
Spread the frosting over the cake. I found that using a butter knife is easiest for spreading a thick frosting.
If using the decorative carob frosting, mix those ingredients in a bowl until smooth. Next, add the carob frosting to a piping bag with your favorite tip and decorate!
*Note- This recipe makes one cake layer. If you'd like to make a 2 or 3 layer cake, just multiply the recipe by 2 or 3. 
Alternative Ways to do the AIP German Chocolate Cake Frosting
As I mentioned, I used my Simple 4 Ingredient Caramel Sauce for the frosting in this recipe. I don't like to use a ton of maple syrup in recipes but for this one, I felt it provided the best taste when compared to alternatives. 
In fact, I actually tested two other frosting versions in place of the caramel sauce recipe version in an attempt to lighten up on the maple syrup.
While I prefer the version you see in the recipe, I wanted to provide a couple other decent options if you want to make the frosting slightly healthier and lower in added sugar. 
*These amounts are enough for a 1 layer cake.
Option 1: Date Caramel Frosting
20 dates (about 2 cups)
2-3 tbsp water
1/16 tsp salt
¼ cup unsweetened coconut flakes
Option 2: Applesauce Sweetened Frosting 
16 dates
½ cup coconut milk
½-⅔ cup apple sauce
¼ tsp sea salt
½-¾ cup unsweetened coconut flakes
How to Keep Gelatin from Clumping
Sometimes I struggle with keeping gelatin from clumping but here's what seems to work well:
Use very cold water.
Pour the gelatin powder into the water, NOT the other way around.
Add the gelatin powder slowly while constantly stirring the mixture.
AIP Chocolate Cake Substitutions
As with many baked goods, this recipe can be altered drastically with just one ingredient swap. Also, note that I haven't tested any of these swaps- rather they are just things to try if you must substitute something.
There's not really a good AIP substitute for tiger nut flour. Cassava flour is a very different flour and the end result would be different. However, if you must sub something in, I think cassava flour subbed it 1:1 would work best. 
Again, there's not a great replacement for this flour, unfortunately.
You can substitute honey for maple syrup 1:1.
Agar-agar powder is a good gelatin replacement especially if you want to make the recipe vegan. However, there's not much of a consensus on how much agar agar powder to sub in for gelatin powder. Some say 1:1 while others say 1:3 agar to gelatin ratio or even more than that. Also, a lot more water is required for dissolving agar compared to gelatin. If you've used agar, you may be able to gauge how to use it in this recipe. I haven't used it enough to make a solid recommendation on the amount of agar and water to use. 
Vanilla powder works well as an alternative. Use ½ tsp vanilla powder in place of 1 tsp vanilla extract
Non-AIP Substitutions
If you're not doing AIP or have reintroduced some foods, here are some easy swaps:
Tigernut Flour- Sub in almond flour 1:1.
Gelatin and Water- Sub in 1 whole egg or a flax egg (vegan).
Carob Powder: Sub in cocao powder 1:1.
Coconut Oil: Sub in butter 1:1.
If you enjoyed this post, you may also like: 
AIP Frosting for German "Chocolate Cupcakes"
5 Simple Ingredients Banana Bread Mug Cake
AIP Pineapple Upside Down Cake
73+ AIP Comfort Food Substitutes
57+ AIP Pantry Items and What to do With Them
Conclusion:
I hope you love this recipe. If you tried it, I'd love to hear what you thought. Also, if you tried any substitutions and it went well (or not!), please leave a comment below! I always like to hear what works and what doesn't. Plus people love substitution options in general.
Don't forget to follow me on Instagram @foodcourage for the latest AIP/Paleo recipes, autoimmune nutrition info, and Food Courage happenings!
This recipe is shared on the Paleo/AIP Recipe Roundtable.
If you liked this post, please share it!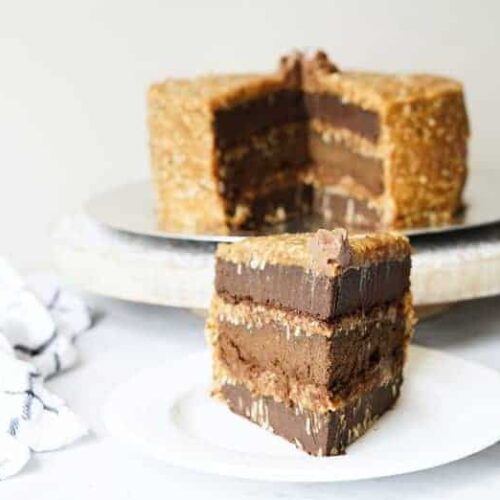 AIP German "Chocolate" Cake (Paleo, Gluten-Free)
This moist decadent sweet potato-based "chocolate" cake is delicious, easy to make, and perfect for special occasions. Make is as a single layer cake or as many as 3 levels.
Ingredients  
Optional Decorative Carob Frosting Dollop
Instructions 
Preheat the oven to 350 degrees Fahrenheit. Grease a 9" round cake pan with coconut oil (or desired oil).

The dates for the frosting should be very fresh and moist. If your dates are dry, soak them in warm/hot water for at least 10 minutes- set aside.

Combine all the cake ingredients (EXCEPT FOR the gelatin and water) in a food processor and blend until smooth.

In a separate small dish, add the gelatin to cold water stirring vigorously until smooth. Add the gelatin mixture to the food processor and blend again until well incorporated. *The mixture will be pretty thick- more like a dough than a batter.

Pour/transfer the cake mixture into the cake pan and smooth out the top with a spatula.

Bake at 350 degrees for 35-40 minutes.

While the cake is baking, make the frosting.

If you were soaking the dates, drain the water and remove the pits.

Clean the food processor, then add the frosting ingredients (EXCEPT FOR the coconut shreds). **For the maple syrup, start with 1/2 cup and blend the mixture to assess thickness and taste. Add a little more maple syrup (or coconut milk) if needed. *Note- if the mixture ends up too thin, add a few more dates. Blend until smooth, then fold in the coconut shreds by hand.

Remove the cake from the oven when a toothpick comes out clean and baking time is up. Allow it to cool completely before adding the frosting.

Once the cake has cooled, add the frosting and spread it evenly over the cake. *You could use a silicone spatula but I've found a butter knife to be easiest for spreading a thick frosting. *See notes below for multilayer cakes.

If you're using the decorative carob frosting, just mix the ingredients together in a small dish, then add to a piping bag with your prefered decorating tip. I just made a small dollop in the middle of the cake but you can really do whatever you want with it.
Notes
**This recipe makes a 1 layer cake. To make a 2 or 3 layer cake, double or triple the ingredients. 
Multilayer Cake Notes: 
If you're making a 2 or 3 level cake, allow to cakes to cool completely. You may notice some small cracks on the top of the cake. This is not a problem (the cracks will shrink as the cake cools) but cooling the cake is really important for making sure it's stable enough to take out of the pan and stack onto other layers of cake. I found it easiest to allow the cakes to cool to room temp then put them in the freezer for at least an hour before assembling the cake. 
For the frosting, just add a layer of frosting between each cake layer and then cover the entire cake (top and sides). 
Nutrition
Nutrition Facts
AIP German "Chocolate" Cake (Paleo, Gluten-Free)
Amount per Serving
% Daily Value*
* Percent Daily Values are based on a 2000 calorie diet.